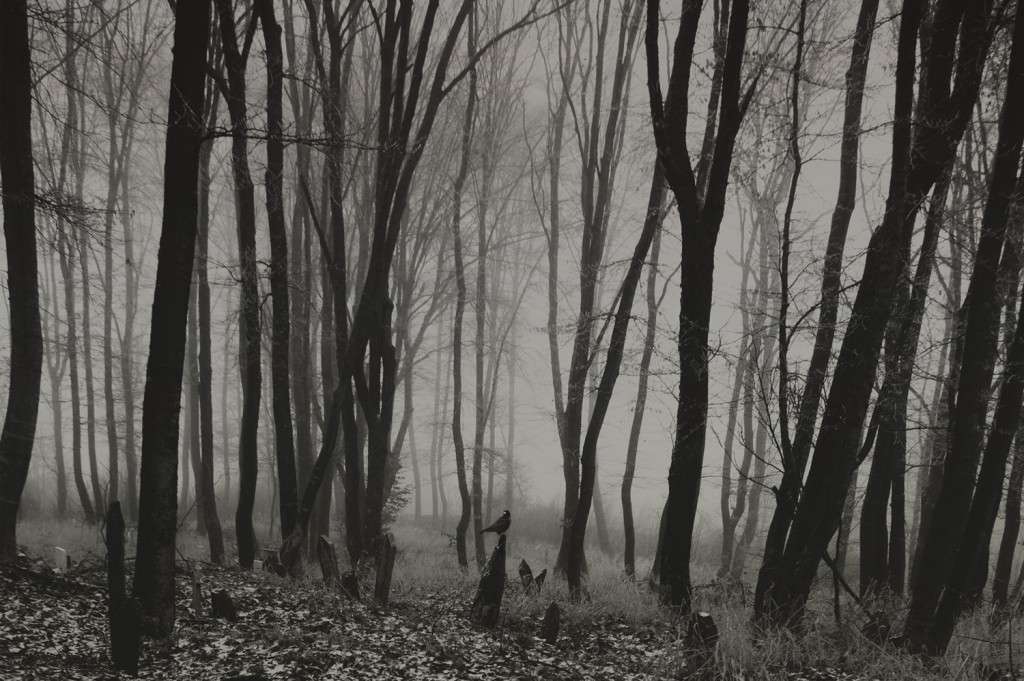 Hyderabad – the 'City of Nizams', famous for its biryani and cyber hubs, happens to have a store of spooky sinister secrets in store. From  the scary graveyards to  the spine-chilling location of a film city , Hyderabad  has some real terrifying  place  to explore. So, get the ghost-hunter in you to work and look out for our list of haunted places in Hyderabad that might blow your shrieks out.
10 Haunted Places In Hyderabad
Chekcout some of the haunted places in Hyderabad and go back home with some really interesting stories to tell to your freinds and family.
Shamshabad Airport 
Banjara Hills
Golkonda Fort
Ramoji Film City
Kundanbagh Witches' Lair
Ravindra Nagar
Khairatabad Science College
Dedh Lakh Ghar 
Uppal Stadium 
Graveyard On Road 12
1. Shamshabad Airport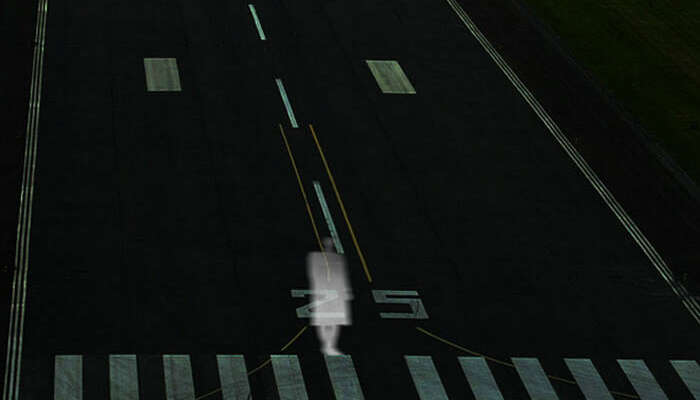 Background: Rajiv Gandhi International airport located near Shamshabad is popular by the name of Shamshabad Airport. It got established in the wake of various disputes which lead to numerous deaths. The victims of the violence were buried beneath the airport and the restless spirits of those bodies still haunt the premises. It's among some of the popular horror places in Hyderabad.
Spooky occurrence: Employees at the airport were called in the enquiry room, where they got stared and laughed at by a man whose head rotated 360 degrees.
Haunting Incident: A Qatar airways pilot stopped the plane instantly when he saw a lady dancing in a white saree on the runway. The authorities searched everywhere but in vain. Post such incidents, parts of the airport have become one of the most feared haunted places in Hyderabad.
Location: Shamshabad, Hyderabad, Telangana 500409
Suggested Read: 10 Reasons Why You Should Never Visit Hyderabad
2. Banjara Hills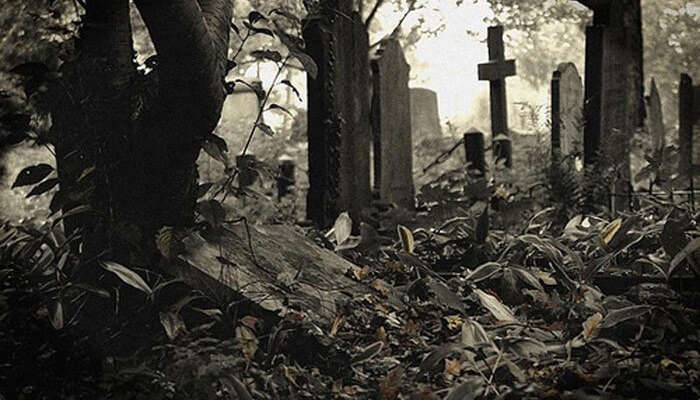 Background: Banjara Hills used to be a hilly forest, scarcely populated. Only a few superior members of the Nizam's dynasty made it their home, and used it as their hunting ground. The area is distinguished by road numbers and the graveyard on road number 12 is famous as a haunted place, with a reputation earned out of some weird  happenings accounted by some of the inhabitants. Banjara Hill is known to be one of the mysterious places in Hyderabad.
Spooky Occurrence: As night falls, the street lights go out mysteriously accompanied by an instant dip in temperature. Some drivers have complained of repeated tyre punctures around the place. Those who have encountered these spooky experiences do not dare to wander near this haunted place in Hyderabad.
Haunting Incident: "About 4 years back I & my friends were driving through the road no 12 on Banjara Hill. We had kept the windows open to be able to feel some fresh air. My friend was driving the car & I was next to him & a couple of guys at the back… I was not drunk, nor my friend driving the car. Suddenly the air became freezing cold and we started to shiver in a couple of minutes. We stopped to puff some smoke in order to beat the heat. Almost 5 minutes later, we heard the air leaking out of the car tyres and in seconds, all the four tyres went flat. All we could do is call for help and wait while every little sound was sending us to terrible shivers!" – accounts Marlon who shared his experience on a social networking site.
Location: 8-2-703, 6/G, Rd Number 12, Amrutha Estate, Bhola Nagar, Banjara Hills, Hyderabad, Telangana 500034
Suggested Read: 10 Scary Secrets Of The Haunted Yet Surreal Cemeteries In India
3. Golkonda Fort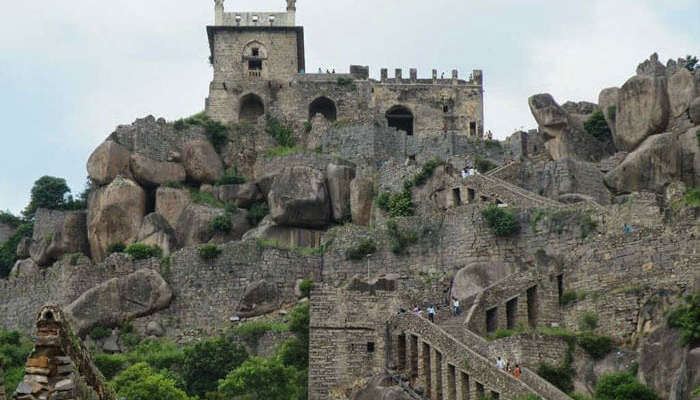 Background: Kakatiyas, the ruling dynasty of Andhra Pradesh built the Golkanda fort in 13th century. The fort got refurbished according to succeeding ruling parties' whims, during which the treasure of diamonds got exposed and kept safely in the fort. Spooky-fying the story is the presence of Taramati, the paramour queen of the king. Both died truly in love, and were buried together. Supposedly, the queen still dances on her former stage. While being a popular tourist attraction, it's also among some of the scary places in Hyderabad.
Spooky Occurrence: It is believed that spirits reside in trees and take the form of owner less shadows. Adding to the fear of this haunted place in Hyderabad, are the reported howls of someone in pain that are frequently heard.
Haunting Incident: Those who stayed back post 6, witnessed images hung against the walls turn upside down by themselves. Shooting late at night, many crew members heard troubling voices and noticed various other paranormal activities, adding the fort to the list of the most haunted places in Hyderabad.
Location: Khair Complex, Ibrahim Bagh, Hyderabad, Telangana 500008
Suggested Read: 25 Most haunted Places in India
4. Ramoji Film City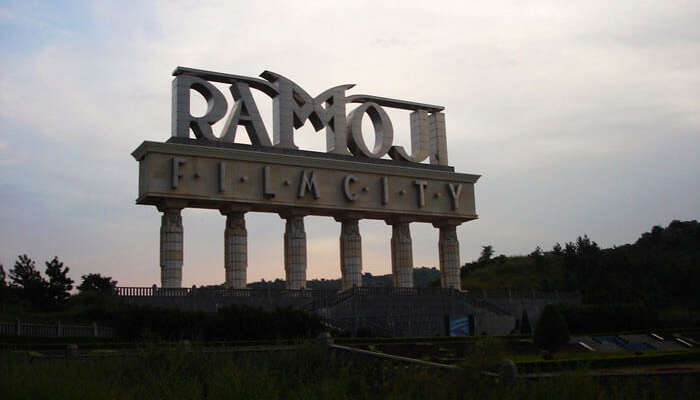 Background: The second largest integrated film city with an amusement park for children, Ramoji Film City was inaugurated by producer Ramoji Rao in 1996. It is believed that the ghost spirits of the deceased soldiers pervade the region as the grounds originally belonged to the Nizams, making it one among the most haunted places in Hyderabad.
Spooky Occurrence: Scattered  leftover food around the room, mirrors scribbled with strange Urdu words – film city is famous for numerous such accounts. The most interesting and amusing fact about this haunted place in Hyderabad is that the ghosts have their favourites – girls. Allegedly, these ghosts attack girls' clothes, knock rigorously on bathroom doors and are responsible for scary images appearing in girls changing room.
Haunting Incident: Few witnesses claim, while on a film shooting, the workers in the production team managing spotlights from high positions, fell down as if they were brutally pushed. Majority of the occurrences suggest the presence of ghosts in hotel rooms.
Location: #1-10-76, Fair Field, Mayuri Marg, Begumpet, Hyderabad, Telangana 500016
Suggested Read: 10 Resorts Near Hyderabad For Couples For The Most Romantic Time Together
5. Kundanbagh Witches' Lair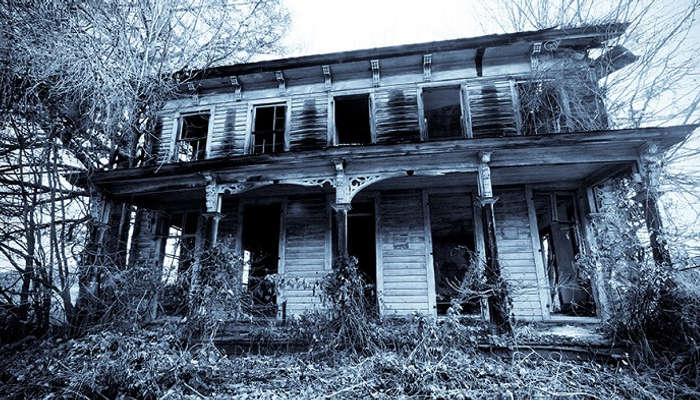 Background: Kundanbagh is said to be a posh area in Hyderabad, where one particular house is now believed to be haunted, because of its preternatural activities.
Spooky Occurrence: In the middle of the night, three women strolled with candles in the balcony of the house. They stored and carried garbage in the car and lived in the dark, without electricity. Also, one of the three once tried to attack people with an axe.
Haunting Incidents: When a thief entered this haunted house in Hyderabad, he saw three dead bodies of  ladies, rotting on the bed. He informed the Police and post research it was found that the decomposed corpses were at least 6 months old. The strangest part was yet to come – neighbors claimed that they had been seeing them almost daily.
Location: Begumpet, Hyderabad, Telangana
Suggested Read: 10 Best Beaches Near Hyderabad For A Relaxing 2021 Vacation With Your Loved Ones!
6. Ravindra Nagar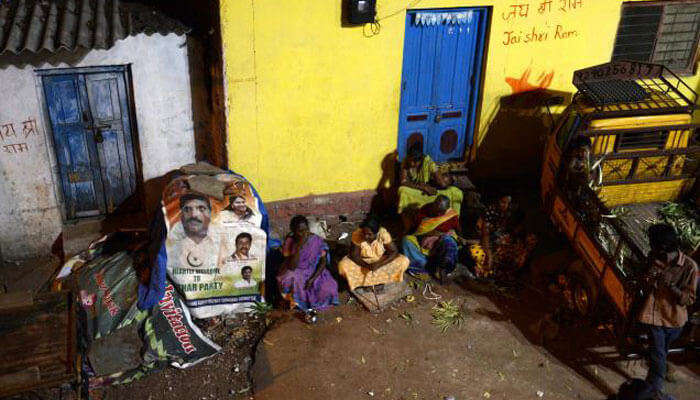 Background: After a temple was destroyed in Ravindra Nagar colony in Hyderabad, residents started witnessing strange happenings. The numerous suicides committed by the locals were attributed to the presence of a ghost.The residents believed, it was the wrath of gods being unleashed.
Spooky Occurrence: Entering Ravindra Nagar in Sitaphalmandi, considerably one of the most real haunted places in Hyderabad, especially after 6 pm is nauseating. The streets get deserted, and with 'Jai Shri Ram' inscribed on the walls and doors in red color a strange creepy feeling is emitted.
Haunting Incidents: The residents of Ravindra Nagar spent sleepless nights for two months, gripped by a fear that a 'ghost' was frequenting the area during night. 13 committed suicide by hanging after the rumors of the 'ghost' haunting the locality. While a large part of the population took shelter in a nearby temple, almost half a dozen families vacated their houses.
Location: Habsiguda, Secunderabad, Telangana
Suggested Read: 13 Gorgeous Waterfalls Near Hyderabad That You Can Visit In 2021 For A Jaw-Dropping Experience
7. Khairatabad Science College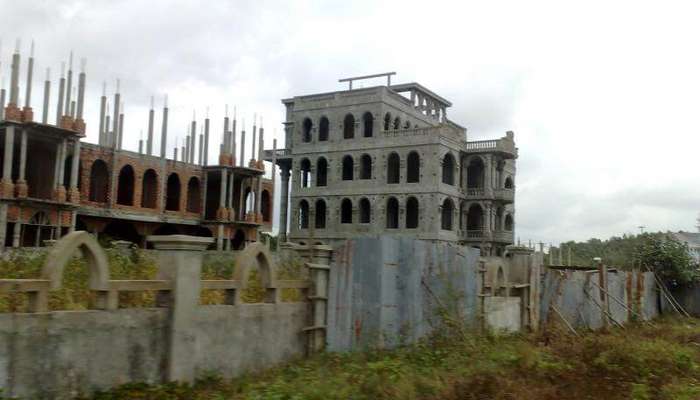 Background: A science college in Hyderabad was built to learn the advancement of science and contribute to society, but something tragic happened and this college was turned into a haunted spot.
Spooky Occurences: It is said that the college is haunted by the ghosts of the people whose dead bodies were brought to the lab of the college for experiments.
Haunting Incidents: Nobody ever dares to step inside the premises, and the guard who was appointed to make sure nobody enters the haunted place was found dead under mysterious circumstances. Among all the abandoned places in Hyderabad, this one certianly stands out.
Location: Masab Tank, Hyderabad, Telangana 500004
Suggested Read: 44 Fascinating Places To Visit In Hyderabad In 2021 To Witness The Rich History And Glory!
8. Dedh Lakh Ghar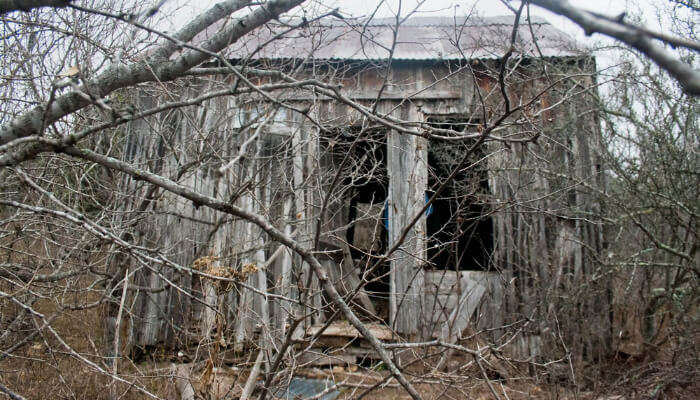 Disclaimer: This image is for visual representation only
Background: This is considered to be one of the most haunted places in Hyderabad which has a strange vibe around. Believed to be constructed around 40 years ago at a cost of around 1.50 lakhs hence the name. In the present day it remains barren and desolate.
Spooky Occurrence: It is said that every family who started living here committed suicide and the surroundings of this house is filled with misery and despair. People feel scared to even pass nearby this house in the daytime. Standing amidst the ruins, this house gives a spooky vibe.
Haunting Incidents: According to the locals there are instances where strange noises have been heard coming out from this house and also a vailing of a woman.
Location: Sithaphal Mandi area, Hyderabad
Suggested Read: Delve Into The Nightlife In Hyderabad At These 21 Exquisite Clubs And Bars
9. Uppal Stadium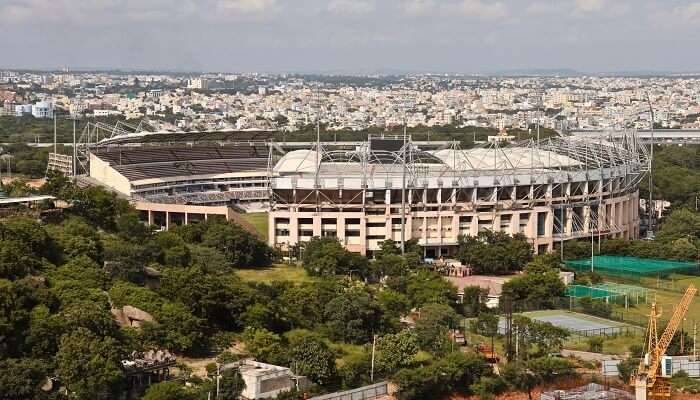 Background: There is no doubt that several people visit this stadium to watch their favorite cricket match, but beyond something eerie about this place is here. Considered to be one of the haunted places in Hyderabad, this stadium turns into a spooky place at night.
Spooky Occurrence: People claim to feel an eerie vibe at night here and guards have witnessed paranormal instances which makes this place more famous as a haunted location than for being a stadium.
Haunting Incidents: Ghostly appearances and shadows have been witnessed at the corridors along with flickering stadium lights at night. The mystery behind these instances are still not solved, but visiting this place at night is definitely giving a challenge to your fear.
Location: Uppal, Hyderabad, Telangana 500039
Suggested Read: 10 Haunted Places Of Karnataka In 2021: Are You Ready To Challenge Your Soul?

10. Graveyard On Road 12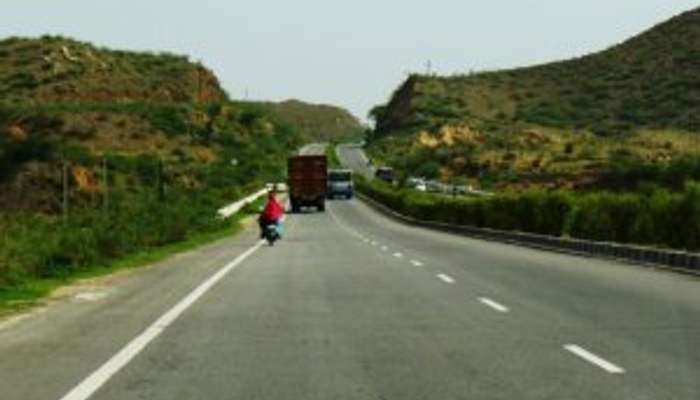 Background: Back in the ancient times when the Mughals rules the nation, this one of the horror places in Hyderabad was a prime location for recreational activities such as hunting the rulers. Now it is listed under the top haunted places in Hyderabad.
Spooky occurrence: The place is environed by stories and spooky accidents. Be it any rapid deteriorations in the prevailing temperature or incidents like cars passing through the forest being stopped because of the out-of-the-blue tire puncture.
Haunting Incident: There are daunting stories about the place developing every day by trespassers. If you are up for some serious thrilling adventure then visit this GraveYard on Road 12.
Location: Graveyard, near Road Number 12, Banjara Hills, Hyderabad, Telangana
Further Read: 5 Most Haunted Places In Bangalore To Creep You
Did you hear it too? These most haunted places in Hyderabad are calling your name. Time to take up the challenge. Take a trip to Hyderabad right away and become a storyteller for life. Yes yes, plan your trip to this gorgeous place and prepare yourself for some amazing stories and adventurers with your loved ones. 
Disclaimer: TravelTriangle claims no credit for images featured on our blog site unless otherwise noted. All visual content is copyrighted to its respectful owners. We try to link back to original sources whenever possible. If you own rights to any of the images, and do not wish them to appear on TravelTriangle, please contact us and they will be promptly removed. We believe in providing proper attribution to the original author, artist or photographer.
Frequently Asked Questions About Haunted Places In Hyderabad
Is it safe to travel during COVID times?
You need to follow all the mandatory guidelines mentioned by the government such as maintaining social distance, wearing a mask at public places, washing or sanitizing hands after entry & exit, etc.
Which is the most haunted place in India?
Bhangarh Fort in Alwar, Brij Raj Bhavan in Kota, Kuldhara in Jaisalmer, Dumas Beach in Surat, Tunnel 33 on Shimla-Kalka train route, and the Charleville Mansion in Shimla are some of the most haunted places in India with real stories of supernatural occurrences and ghost appearances.
Which is the legally haunted place in India?
Bhangarh Fort is the only legally haunted place in India. It is also known as the 'ghost town' of India.
Can kids visit haunted places in India?
There is no prohibition related to kids' visits to the haunted places, however, if you can surely take your kids there at your own risk.
Do we need to take prior permission before visiting haunted places in Hyderabad?
It depends on the place you are heading to. It is advised to check the prescribed guidelines of the haunted places in Hyderabad before planning an excursion.
---
Looking To Book A Holiday Package?
---
People Also Read:
Haunted Places In Delhi Haunted Places In Bangalore Haunted Places In Kolkata
Comments
comments