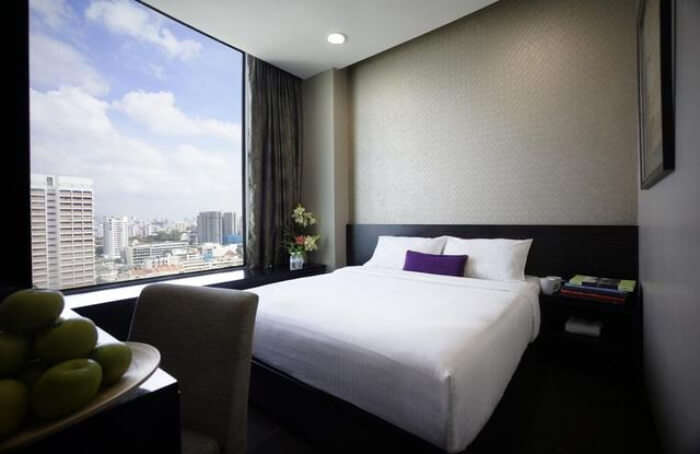 Overview
Lavender is a small town where all the development and modernization of Singapore comes to a grinding halt. With a large area dominated by commercial complexes, Lavender may not seem like much in the first glance, but that is as far from the truth as possible. This quaint town is a perfect way to unwind from all the holiday stress that can build up when traveling through the wonderful country of Singapore.The hotels in Lavender are well equipped to take care of any and every single need of their guests. Making all travelers satisfied is the main aim of all the hotels in Lavender Singapore. This slightly vintage looking town is decked with many music cafes and small artistic coffee shops among which rise tall and proud some of the best hotels in all of Singapore. Excellent services and a welcoming staff take all their guests on a heartwarming journey through the rich heritage and culture of Singapore, that is reflected in all its glory in these hotels. Right from within the comfort of the hotel, guests can avail many services all at their fingertips. A walking distance away from major tourist attractions like Little India and well connected to the rest of Singapore, these hotels in Lavender can prove to be a very well suited choice of accommodation without burning a hole through the pocket.
Special Experiences
Being one the oldest cities in Singapore, Lavender has not changed much since the days of old, and this can be seen from the hotels here. With plush interiors, these hotels in Lavender Singapore maintain a 1980s decor on the outside making them look like they come out of a storybook. Inside the hotel, however, it is a whole different story. With well-maintained gardens and vast lawns in the V Hotel Lavender along with a terrace where the guests can enjoy fantastic views of the city spread out below, to the sun lounger chairs around the amazing pool in the PARKROYAL on Kitchener Road guests can enjoy themselves to the fullest when living in these hotels in Lavender Singapore. For the five star hotels, salon services where the girls can get their hair and makeup done, as well as spacious suites and rooms decked with mini bars are a common site.
Facilities
When travelers think of a hotel for their vacation, everyone has an idea in their minds about the basic facilities that they would require. The hotels in Lavender Singapore live up to these expectations of their guests with many modern and world-class amenities at the disposal of the guests. Swimming pools are a common sight regardless of whether the hotel is a luxurious one like the Hilton or a budget hotel like the Fragrance hotel. Basic facilities provided by all hotels include free access to the WiFi at the hotel as well as access to the gym and fitness centre where one can shed off all the holiday calories. One can start the day at the Tour desk in these hotels where the members of the hotel staff can help the guests plan a day while the concierge service can help travelers book tickets to various shows and events happening around town. All in all, hotels in Lavender Singapore do know how to take care of their guests and make all travelers fall in love with their time at this sleepy old town.
Dining
The hotels in Lavender Singapore are all well known for the excellent food served at their in-house restaurants like the one at the Aqueen Hotel Lavender. Not only do these restaurants server authentic local cuisine, but one can also find a wide array of international dishes all made by some very talented chefs. Meals in the restaurants like the ones at the Hotel Boss can take holidaymakers on a journey through the land of flavours and make them fall in love with the flavours unique to this mesmerizing city-state. Should the travelers have any specific dietary requirement or request, the kitchen staff do their best to make some fantastic food for those guests while keeping their instructions and needs in mind. The daily breakfasts are another amazing thing about the food in these hotels with a huge spread and multiple options to choose from, and these breakfasts are sure to give everyone's day a perfect start. Special kids menus and kid-friendly dishes can also be made available upon request.
FAQs
Q1. Do these hotels in Lavender Singapore offer airport shuttle services?
A. Yes, most of the hotels in Lavender offer airport shuttle services. Should the guests prefer, these hotels also have special pickup and drop services which can be availed at a minimal extra cost.
Q2. Are hotels in Lavender Singapore hotels child-friendly?
A. It is difficult to find childcare services in most of the hotels in Lavender. However one can always see children's entertainment channels on the television, and some hotels do have a play area reserved for their young guests.
Q3. What are some of the family activities that one can pursue when staying at these hotels?
A. Tours of the area around the hotel where one can learn about the history and culture, tickets to various cultural events happening around the town, sun loungers and sauna are some of the activities that can be enjoyed by the family together during their visit to Lavender.
Q4. Can these hotels offer currency exchange services?
A. Yes, hotels like the Hilton and ParkRoyal do offer currency exchange services at the hotel to facilitate the payment procedure of the guests.
Q5. Do hotels in Lavender Singapore allow pets?
A. No, pets are not allowed at these hotels.
When it comes to a perfect stay in Singapore travelers do have a lot of options. However, the hotels are rivaled by only a few. These hotels fit perfectly in all budgets and can guarantee any tourists some of the perfect days of their vacation. With more and more people wanting to travel to this quaint town, the hotels here are also growing fast to meet the needs of all its tourists. These restaurants at hotels in Lavender Singapore are often attached to a bar where the travelers can enjoy a lovely cocktail or a perfect drink made by well-trained bartenders as well as some live entertainment to keep them company. To help holidaymakers with options for their hotels, here are a few names: Arcadia Hotel, Hotel Yan, Classique Hotel, Park Hotel Farrer Park.