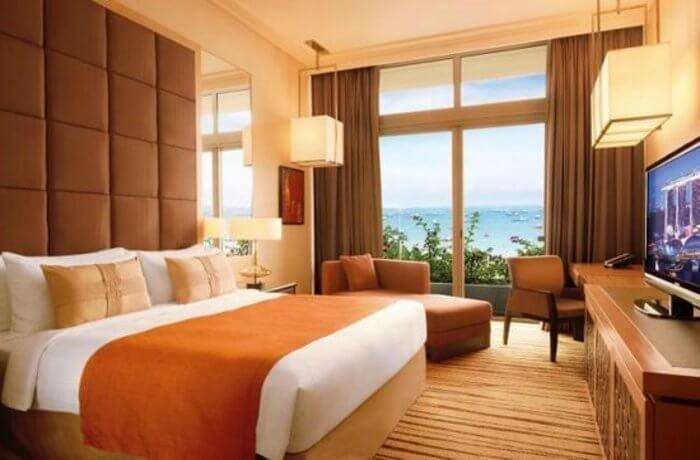 Overview
One of the best, most developed and well planned countries in the whole world, Singapore and has many different modern marvels that one can witness when traveling here. However, the sight of the blue waters stretched out into the horizon and the sea-breezy gently caressing one's face are some of the most cherished feelings in the world.The Marina Bay in Singapore is one such amazing destination where travelers can get the best of both worlds on their vacation here. Marina Bay has always been a tourist hotspot in Singapore and the hotels in Marina Bay Singapore are well known for their services, amenities and different experiences they provide for the entertainment of their guests.
Sharing the skyline with the supertrees in the Gardens by the bay, these hotels present some stunning sights that can light up the night sky in a million different shades. Insides of these hotels are just as beautiful with plush interiors that reflect the traditions of the land without being too overbearing and the rooms decorated in the chic and tasteful style all together give these hotels in Marina Bay Singapore a pleasant ambiance. Travelers often come here with mixed ideas in their heads, about traveling and relaxing and just lounging in the pool yet trying to make the most of their days here. These hotels can help one clear the mind and improve their guests plan a perfect vacation.
Special Experiences
Accommodation in the Hotels in Marina Bay Singapore is for those who wish to spend their days amidst luxurious comfort and can afford to pay a big amount on their stay alone. As such these hotels do live up to their names and are sure to give the guests a time of their lives and worth every penny spent here. With many different ways in which these hotels provide to their guests, the special services in these hotels are famed all over Singapore. One can spend some time relaxing at the massage parlour in the Conrad Centennial Singapore hotel and enjoy full body massage from some of the most talented masseuses in the country. Spa services and hot tubs are a common sight in all these Hotels, along with swimming pools with mesmerising views. One such fantastic feature at the Ritz-Carlton, Millenia Singapore is the pool bar where one can enjoy a drink sitting by the poolside and enjoy a beautiful sunset on the horizon.
Facilities
Unlike other hotels in the area surrounding Marina Bay, like Geylang or Lavender, hotels in Marina Bay Singapore are well known for their full family entertainment choices that they provide for their guests. Childcare and babysitting services can be found in all these hotels along with indoor and outdoor area for the children to play and enjoy themselves. The guests can also enjoy board games or puzzle games which are available in the common areas of these hotels. The Westin Singapore also has special yoga classes for its guests so that every day of their vacation can have a great start. 24 front desk facilities, concierge services as well as tour desks are available at all these hotels so that the travelers can enjoy their stay to the fullest.
Dining
Food takes on whole new dimension when one is dining at the hotels in Marina Bay Singapore. The Fullerton Hotel Singapore boasts of multiple restaurants like the Lighthouse Restaurant where one can enjoy authentic Italian Cuisine along with some fantastic views of the Marina Bay skyline while the Town Restaurant offers its diners all other international cuisine and seafood specialties from local Singapore area. As such there are certain hotels like the Pan Pacific Singapore include Keyaki and Hai Tien Lo restaurants where one can enjoy the real taste of authentic Asian cuisine. As amazing and famed as the local street food in Singapore, the dishes served at these restaurants are sure to leave all diners wanting for more. Talented chefs work hard to make each meal a success for their guests. Making special kids meals and child-friendly dishes is another task welcomed by the staff here along with catering to guests with special needs and dietary requirements. With a vast menu here at the hotels in Marina Bay Singapore, diners are
FAQs
Q1. What are some of the best hotels to stay at when in Marina Bay?
A. Some of the best hotels in Marina Bay, Apart from the ones mentioned above are Oakwood Premier OUE Singapore, The Fullerton Bay Hotel Singapore, So Sofitel Singapore, Marina Bay Sands, Mandarin Oriental, Singapore.
Q2. Do these hotels provide Shuttle services?
A. Yes, all these hotels in Marina bay provide airport shuttle services free of charge.
Q3. When is the ideal check in check out time at the hotels in Marina Bay Singapore?
A. For most hotels in Marina Bay, the ideal check-in time is at 2 pm while the check out time is noon.
Q4. Can one find ATM or currency exchange services at the hotel?
A. Yes, hotels do offer currency exchange services at the hotel to facilitate the payment procedure of the guests.
Q5. Are hotels in Marina Bay Singapore hotels pet-friendly?
A. No, these hotels are no pet-friendly.
Hotels in Marina Bay Singapore have plenty of amenities and facilities to offer to its guests. Here guests can also continue the fitness regime with a personal trainer who can assist them during the time at the gym in these hotels. One of the most well-developed regions of the country, Marina Bay hotels boast of some world-class services for their guests and travelers. Infinity pools, as well as free-form pools as well spa and wellness treatments, can be availed by the guests staying at these hotels. The helpful and friendly staff at these hotels leave no stone unturned to provide their guests with a happy holiday.