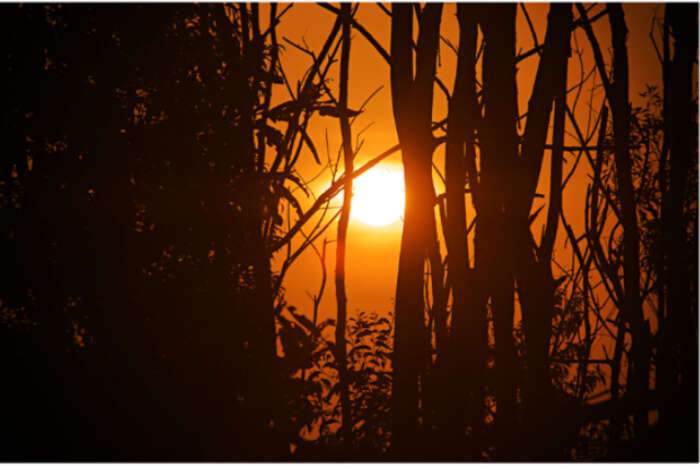 Satiated by having to go different places to experience once-in-a-lifetime adventurous sports, cultural bliss, scenic flora and fauna and some nature walks? Places to visit in Dandeli in North Karnataka call you to offer a perfect mix of water adventure sports, mystic flora and fauna, vibrant traditions and serene nature walks which will give you the ultimate peace of mind, all in one place. Dandeli is one the most visited tourist spots out of the wide range offered by Indian Tourism to the travelers. At a distance of mere hours from Goa, Dandeli is an amazing escape from the mundane city life for a while.
So just decide a date, gather your friends or family and pack your bags as we have listed down some of the best places to visit near Dandeli for a hassle-free trip. Get ready to roll!
20 Places To Visit In Dandeli
Concerned with what places to visit in Dandeli Karnataka? Jump not and have a quick look at some of the most desired tourist destinations to visit in Dandeli. From water sports to wildlife and from temple tours to scenic nature sightseeing, Dandeli has everything for every age kind.
1. River Kali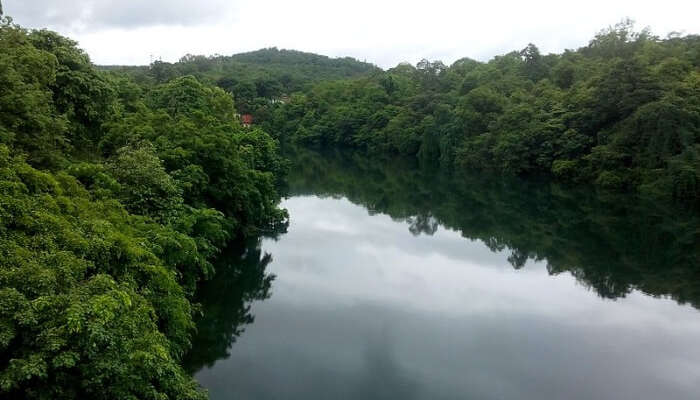 Kayaking, white water rafting, canoeing and many more water adventures offered by the mighty Kali river attracts a huge number of adventure seekers throughout the year. Not such a big deal for a tropical location, but river rafting never loses its charm. Which is why, Kali river has become one of the most promising places to visit in Dandeli.
Visit the mighty river on your trip to Dandeli and strengthen your bond with nature.
Location: North Karnataka
Entry Fees: Fluctuates with the seasonal rush
Tips: Wear comfortable clothes and walking shoes
Suggested Read: 8 Haunted Places In Karnataka: Are You Ready To Challenge Your Soul?
---
South Weekend Holiday Packages On TravelTriangle
A trip to South India has a lot to offer – from the tranquillity of forests to charm of sizzling beaches and from lost kingdoms to chills of a hill station. Visit Kerala, Coorg, Ooty, Mysore, or Kodaikanal. Book holiday packages inclusive of airport transfers, cab, resort, sightseeing, and meals.
---
2. Dandeli Wildlife Sanctuary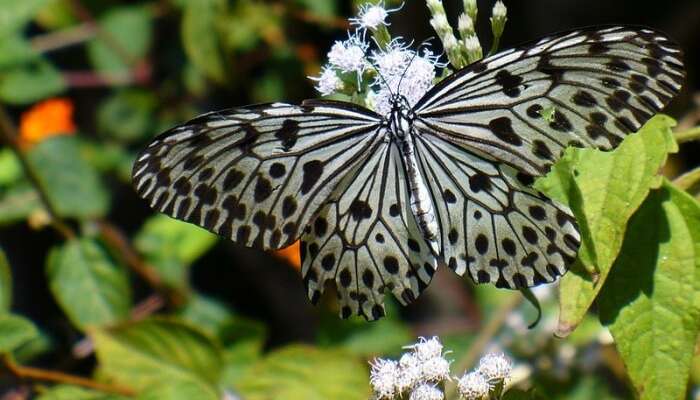 Glorious enough to give shelter to an amazing range of flora and fauna, Dandeli wildlife sanctuary is yet another cannot-miss-while-in-Dandeli tourist places. With the opening of various camps and resorts in Dandeli inside the sanctuary, the place has started attracting a huge number of nature lovers and vacationers throughout the year. A trip to Dandeli is totally incomplete without visiting the Dandeli Wildlife Sanctuary.
One can easily undertake various exciting activities inside the sanctuary such as, trekking, safari tours, coracle boat rides, mountain biking, eco-tourism and cycling.
Location: Uttara Kannada, Karnataka (neighboring Anshi National Park)
Best time to visit: Between September and May
Main attractions: Crocodiles, Great hornbill, Black Panther
Ideal duration: 8 hours
Timings: 6:00 am to 6:00 pm
Entry fees:
Indian Adults – INR 200
Foreign Adults – INR 1000
Children below 5 years – Free
Children between 5-12 years – 50% off on tariff
Rafting and trekking guide – INR 500 each
Must Read: 6 Itineraries Including Best Honeymoon Places In & Around Karnataka
3. Shiroli Peak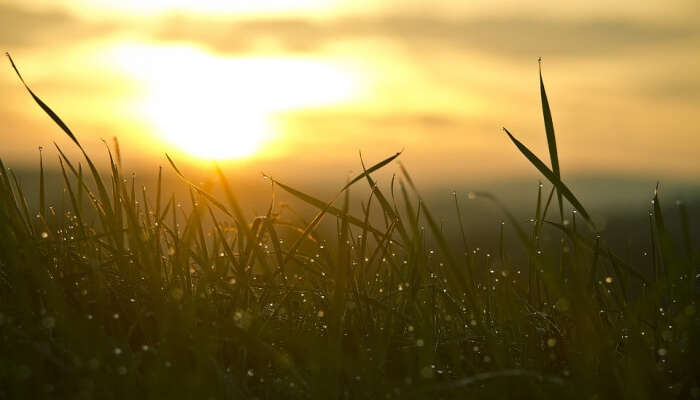 Deduced to be the highest peak in the Dandeli Wildlife Sanctuary, Shiroli Peak is a must see on the list of places to visit in Dandeli. Shiroli Peak serves in many ways to the travelers. First, they act as trek routes due to the altitude of the place. Second, they enable the vacationers to witness magnificent sunsets and last but not the least, Shiroli Peak allow the travelers from across the nation to see and sink in the beauty of the widely spread Western Ghats. Besides nature and photography lovers, Shiroli Peak is also an ideal place for adventure lovers.
Location: Inside Dandeli Wildlife Sanctuary
Entry fees: None
Best time to visit: any time of the year
Timings: 6:00 am to 6:00 pm
Suggested Read: 10 Festivals In Karnataka That Will Give You A Glimpse Into Its Vibrant Culture In 2019
4. Dandelappa Temple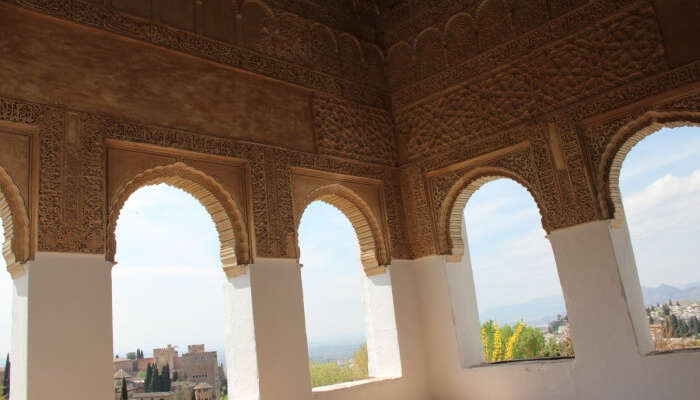 Dedicated to Dandelappa, as the name suggests, Dandelappa Temple is one of the important places to visit in Dandeli which attracts pilgrims and devotees all over the year. This is one of the oldest temples in the Dandeli town. Also, according to the people of Dandeli, it is believed that if one worships Dandelappa, his wishes might get fulfilled with the love of Dandelappa.
Location: Ganesh Gudi, Uttara Kannada, Karnataka – 581365
5. Molangi Falls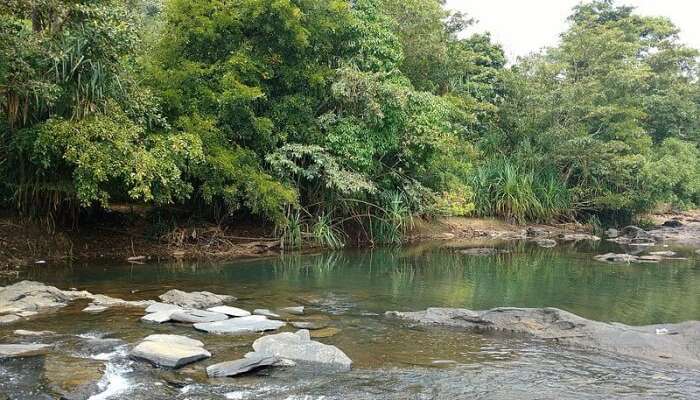 Not just yet another picnic spot among other Dandeli sightseeing places but also a perfect place to swim out the city stress, Molangi Falls are located amidst the dense, lush green tropical forests of Dandeli. Molangi Falls meet the mighty river Kali and this is the place where rafting ends. One can spend some real quality time at this picnic spot to strengthen their bond with their loved ones.
Location: Near Molangi
Distance from the city centre: 8 kilometres
Suggested Read: Karnataka Cuisine: 15 Popular Karnataka Dishes For A Flavorful Culinary Journey
Places To Visit Near Dandeli
Located a stone's throw away from Dandeli, a visit to these places nearby is a must for on a trip to Dandeli and can be easily explored. While you will have to travel a bit more of some of these, they will be totally worth the while
6. Sri Mallikarjuna Temple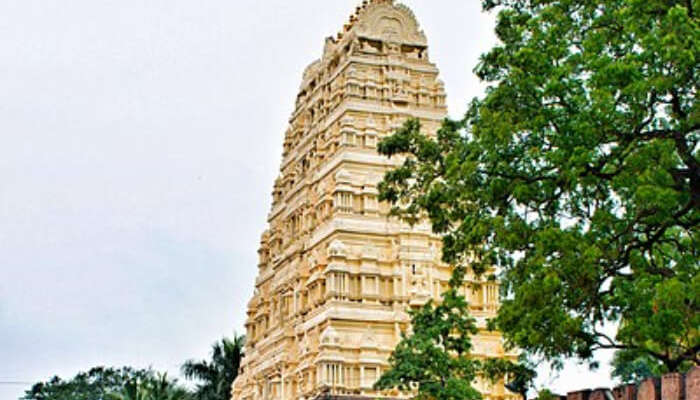 Pre-dating the Shivaji fort, Sri Mallikarjuna Temple stands as yet another oldest and most important Dandeli places. The temple witnesses pilgrims throughout the year. Majorly famous for the incomparable architecture of the temple.
Location: GaneshGudi, Uttara Kannada District, Karnataka – 581365
Distance from city centre: 20 kilometres
Nearby attractions: Dandelappa Temple, Supa Dam, Dandeli wildlife sanctuary
Suggested Read: These Best Places To Visit In Karnataka Will Totally Knock You Out
7. Shivaji Fort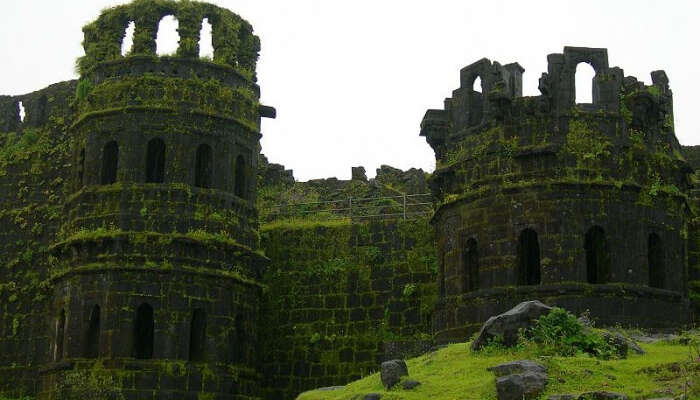 An impeccable destination for heritage lovers and trek enthusiasts, another most desired tourist destination among the places to visit in Dandeli is the historic Shivaji Fort.
It is believed to be once built by the Maratha Head, Chhatrapati Shivaji back in his times. The fort proudly boasts of the clever warring techniques and strategies implemented by the warriors to win an ongoing war and protect the fort from the enemies.
Location: Haliyal Taluk, Uttara Kannada District, Karnataka
Distance from Dandeli: 22 kilometres
8. Sykes Point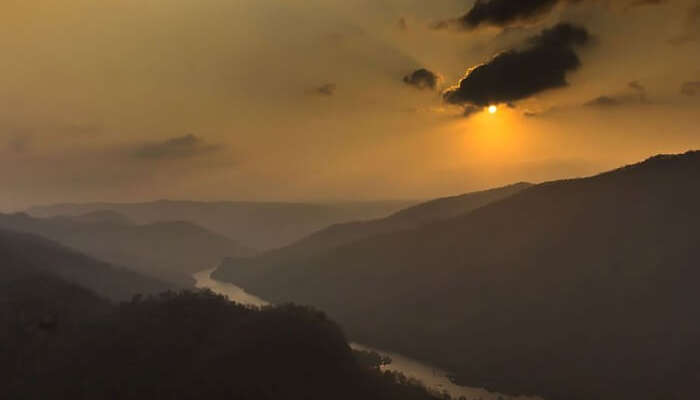 Adding to the list of bountiful attractions that Dandeli offers, Sykes Point is another fascinating destination in the Dandeli tourist spots. Located atop one of the most beautiful hill stations in Karnataka, Sykes Point is famous for the beautiful and mesmerizing views of the silently flowing River Kali for as far as one can see. Also, the point is an ideal location for the bird watchers. Sink in the serenity of this unusual yet beautiful place. Witness the awe inspiring sunsets from the hilltop and lush green thick valleys.
Location: Ambikanagar – Bommanalli Rd, Lalguli, Karnataka 581363
Distance from Dandeli: 23 kilometres
Timings: 5:00 am to 7:00 pm
Entry fees: None
Best time to visit: Between October and February
Suggested Read: 9 Museums In Karnataka: Top Creative Spots With A Rich Heritage
9. Kavala Caves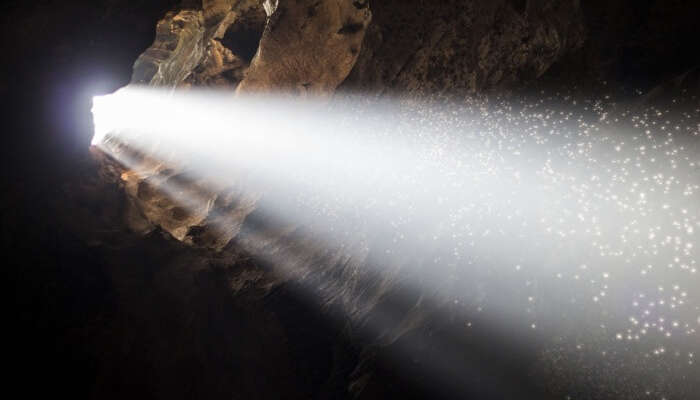 Get ready for some trek down 375 steps to see the age back Shivlinga formed by some volcanic activities in the exotic Kavala Caves. Visited by pilgrims from all over the country especially on occasions like Shiv Ratri, Kavala Caves also welcome nature lovers and photography freaks to witness a phenomenal creation of the nature. River Kali slowly enters the caves from 40 feet down. Kavala caves is a surreal yet an important place on the list of Dandeli attractions.
Location: Kavala Caves, Lalguli, Karnataka 581363
Ideal time: 1 to 2 hours
Distance from Dandeli: 25 kilometres
Entry fee: 10 rupees
Timings: 8:00 am to 5:00 pm , All days
Suggested Read: 20 Things To Do In Gokarna For Escaping The Monotony Of Life!
10. Sathodi Falls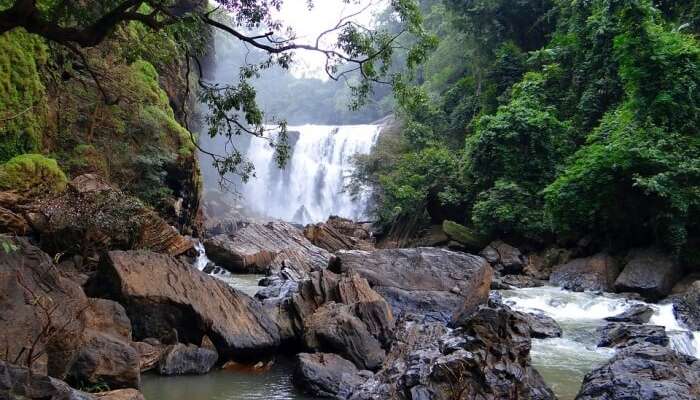 The fresh mountain air and the panoramic view of the water cascading from a great height makes Sathodi Falls an ultimate destination for people who want to experience a peaceful and soulful getaway from the chaotic city life. The melancholy of the daily routines, disappears on planning a one day picnic to the marvellous Sathodi falls. However, Sathodi falls becomes a salient attraction amongst the famous places to visit in Dandeli and is one of the most serene waterfalls near Bangalore in Karnataka
Location: Balagar, Karnataka
Distance from Dandeli: 34 kilometres
Ideal season to visit: Between July and November
Entry fee: 5 rupees
Tips: Beware of leeches and do carry food and water along.
11. Syntheri Rocks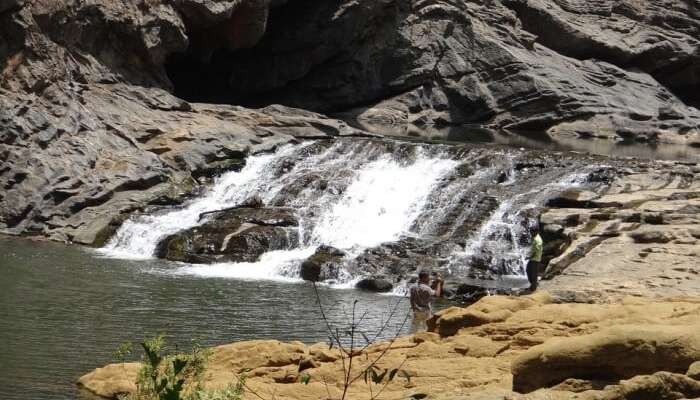 Situated in the close proximity of the Ulavi Temple, Syntheri Rocks becomes a must visit for all the devotees who visit the temple at first. Syntheri Rocks is a granite structure attracting vacationers from all over the nation to witness this simply elegant home of numerous bird species, specially pigeons. Tourist places around Dandeli surely calls for a halt at Syntheri Rocks to witness the giant magnificent rocks made of granite. One can easily reach the destination either by walking down about 200 steps from Ulavi Temple or hiring a jeep to the rocks.
Location: Gund, Karnataka, 581186
Entry hours: 8:00 am to 6:00 pm
Distance from Dandeli: 35 kilometres
Suggested Read: 10 Dandeli Resorts For That Dreamy Stay Amidst Woods
12. Anshi National Park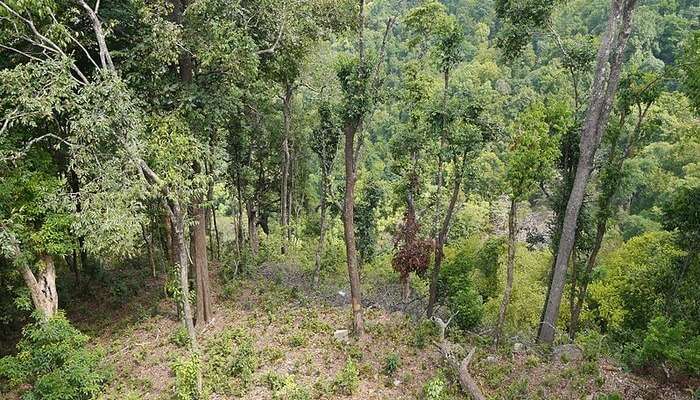 Dandeli is truly a chest full of treasures. Places to visit in Dandeli include Anshi National Park which is extremely rich in flora and fauna. Nature lovers and wildlife photographers find this Dandeli National Park an exciting place to fancy their photography fanatics. While in Dandeli, do take your kids for a safari ride in the national park which is an abode to vulnerable species like Indian Bison and Mouse deer among animals; King cobra, rat snake and python among reptiles and Malabar hornbills, Yellow footed pigeon among bird species. This place is also considered to be the only place in Asia where you can witness black panther in its natural habitat.
Location: Uttara Kannada district, Karnataka
Distance from Dandeli: 55 kilometres
Places near by: Ulavi Channabasaveshwara Temple, Mahamuni caves, Rudrakshi Mandap, Kadra Valley and Devbagh beach.
Timings: Monday to Sunday, 6:00 am to 8:30 am and 4:00 pm to 6:30 pm
Entry fees:
Indian Adults – INR 200
Foreigner Adults – INR 1000
50% off on tariff for children
Trek guide generally costs INR 500 per person
Best season to visit: Between November and June
13. Magod Falls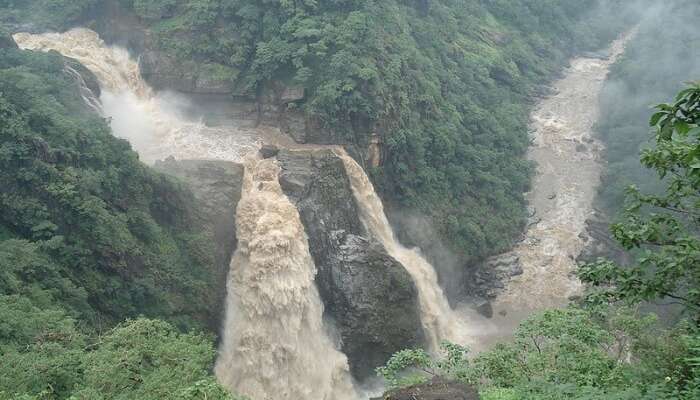 Cascading from a height of nearly 200 m, Magod Falls are located over River Bedti which flows in the Magod Village of North Karnataka. The fascinating and gorgeous views of the water flowing down into two steps freshens up every stressed mind.
Kids love the serene ambience of the place which is why it is another ideal picnic spot for vacationers with families and a trekking paradise for adventure lovers. Magod Falls are an appropriate fit to the list of Dandeli tourist places.
Location: Magod village, Karnataka
Nearby places: Jenukallu Gudda, Kavadi Kere
Best season to visit: Between October and January
Distance from Dandeli: 81 kilometres
Suggested Read: 10 Best Places To Visit In South India In December
14. Kavadi Kere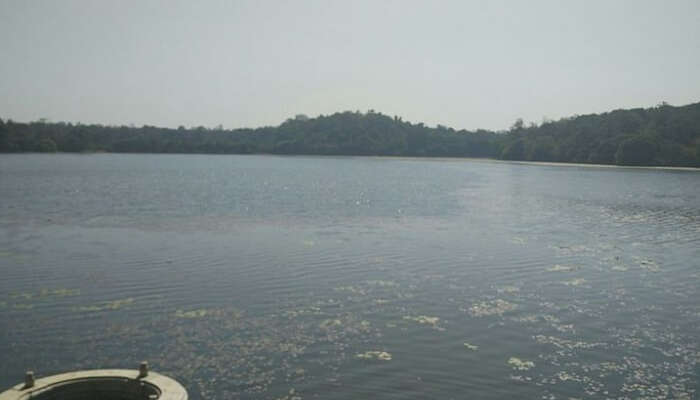 It is rightly said that "Every picture tells a story". The scenic beauty of the lakes in Kavadi Kere is such that you might feel a picture coming to reality. The reflections of the sky and hills that the clean waters of the lake showcase are incomparable. The lakeside witnesses pilgrims majorly to visit the temple of Goddess Durgadevi. Kavadi Kere is en route Magod Falls and is a beautiful tourist attraction among places around Dandeli.
Location: Uttara Kannada District, Karnataka
Distance from Dandeli: 60 kilometres via Mirjan-Ramnagar Road
15. Mini Tibet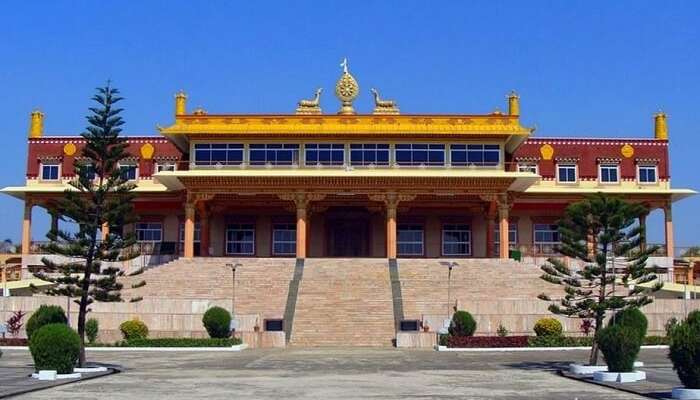 As the name suggests, Mini Tibet rightfully makes one feel like Tibet. As Dharamshala is to little Lhasa, similarly, Mundgod is to Mini Tibet. Established in 1996, Mini Tibet surely showcases the ambitious Tibetan culture of the refugees and also reflects their thought process to some extent. Do visit the Tibetan Monastery on your trip to Dandeli. Places to visit in Dandeli include such knowledgeable places as well.
Location: Mundgod, Uttara Kannada District, Karnataka.
Distance from Dandeli: 80 kilometres
Suggested Read: 20 Gorgeous Places To Visit In India This December
16. Supa Dam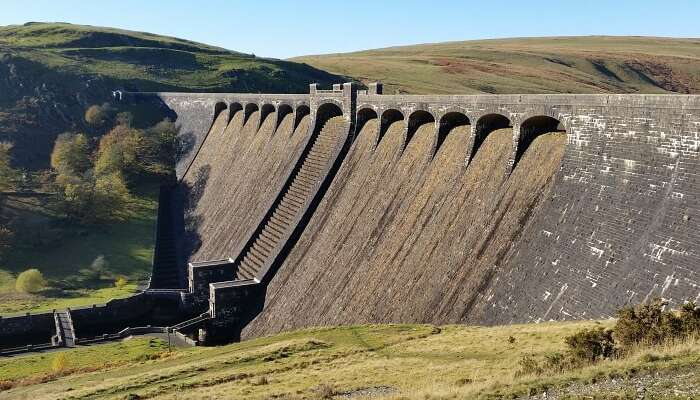 Image Source
Renowned for its hydroelectricity plant, Supa Dam is built on River Kali and is one of the best places to visit in Dandeli. The elevation allows tourists to enjoy panoramic views of the river as well as the town. The dam is also important for the farmers as it provides enough water to irrigate the crops. The area around the dam is covered with woods and the banks are the perfect spot for a picnic. You can also go boating or just watch gushing river.
Location: Uttara Kannada, Karnataka; 25 km from Dandeli Bus Stand
Entry fee: None
When to visit: between June and December
17. Kulgi Nature Camp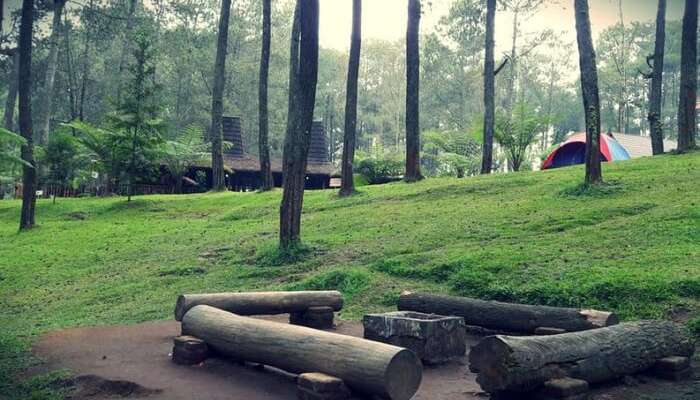 Image Source
If you are a nature enthusiast, you will be impressed by this camp. It is one of the best places to visit in Dandeli for 2 days. You can enjoy watersports here or simply do one of the more famous activities like rock-climbing, jungle trekking, safari, and rafting. The camp is surrounded by unsullied environs and has a lot to offer in terms of accommodation. There are cottages, dormitories, and tents for guests. It offers a close-up view of Dandeli Wildlife Sanctuary as well.
Location: Dandeli Wildlife Sanctuary; 12 km from the bus stand
Timings: 6 am to 6 pm
Entry fee: Between INR 5000-9600
Suggested Read: Dandeli Wildlife Sanctuary: Experience The Best Of Nature, Wildlife, And Adventure!
18. Ulavi Temple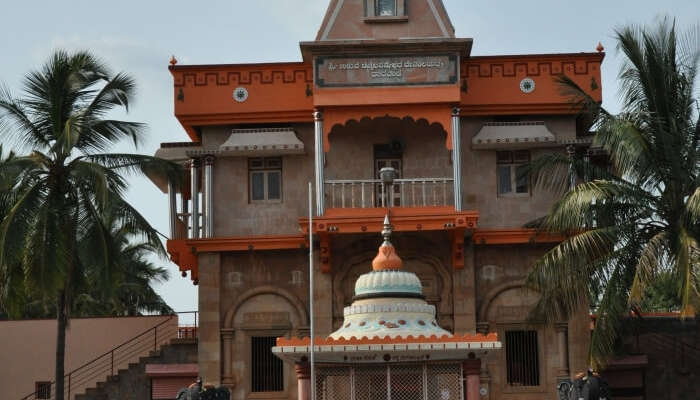 Image Source
Blanketed by forests on every side, Ulavi Temple draws a lot of pilgrims every year. While the forests are the perfect place for a safari, with many cheetahs, tigers, elephants, and cobras, the temple in itself holds a special place. Said to be the samadhi place of Channabasveshara, a Lingayat saint in the 12th century, it has been constructed in Chalukya style. Also, the caves and natural geographical features like stalactites are also worth a visit.
Location: Uttara Kannada, Karnataka; 35 km from the bus stand
Timings: 8 am – 6 pm
Entry Fee: N/A
19. Moulangi Eco Park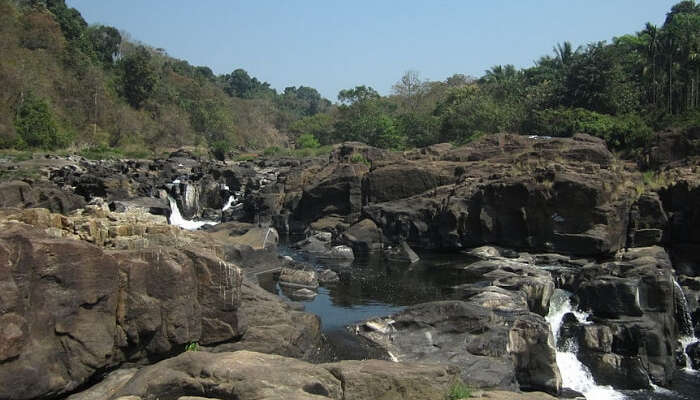 Image Source
With beautiful bamboo trees and plenty of camping spots around the area, Moulangi Eco Park is a must visit place in Dandeli. You can go trekking in the jungle or go rock climbing if you are ready to take on the steep cliffs, that is. The place is quite charming and will give you a perfect opportunity to see nature up close. Visit this place if you want to have a satisfying family getaway. It is one of the best places to visit in Dandeli Karnataka.
Location: Moulangi, Dandeli
Timings: 9:00 am – 6:00 pm
Entry fee: None
20. Dandakaranya Park
Image Source
Once an eco-park, today, Dandakaranya Park is now more of a theme park. With statues of many fictional characters and Hollywood actors, this place was built to stop enchroachment of forest land. It now houses statues of Chalie Chaplin, The Transformers and most of the characters of the Avengers. Kids will also like the statue of Motu Patlu and Chhota Bheem. It is best to visit the park between November and March. It is one of the places to visit in Dandeli in one day.
Location: Main Road, Near Dandeli Bus Stand
Timings: between 9:30 am and 6:30 pm
Entry Fee: None
Further Read: 15 Charming Places To Visit In January In India
Mark the calendars to explore the unseen. The town of Dandeli and its tourist places await you to visit and experience a never-been-on-before tour. Book a fun tour to Karnataka with TravelTriangle right away to witness the above listed places to visit in Dandeli in their full glory and get a glimpse of the plethora of awe inspiring places the town has in its close proximity.
Frequently Asked Questions About Places To Visit In Dandeli
Q. What is the best time to visit Dandeli?
A. Winters are the most preferable time to visit Dandeli as the weather is pleasant and cool. The average temperature in winters goes barely below 20 degree Celsius. However, summers can also be considered a good time of the year for planning a trip to Dandeli, as the weather is moderate and the temperature rarely goes above 30 degree Celsius. The least preferable time to visit the town is Monsoons.
Q. How to reach Dandeli?
A. Dandeli is well connected by buses, trains, and flights.
By Air: The nearest airport to Dandeli is the Hubli Airport located in Huballi, Karnataka around 74 kilometres away from the town of Dandeli. Once at the airport, one can take a bus from Hubli to Dandeli and begin the Dandeli sightseeing.
By Train: The nearest railway station to Dandeli is Dharwad which is approximately at a distance of 55 kilometres from Dandeli. Again, one can then get to Dandeli from here by taking Lokmanya Tt Express from Dharwad to Alnavar then taking a taxi from Alnavar to Dandeli
By Road: One can conveniently board buses to reach Dandeli from nearby cities like Goa, Bangalore, Dharwad, Hyderabad, Gokarna and Hubli. Also, one can embark upon a self-introspective road trip to places to visit in Dandeli.
Q. What are good tourist places near Dandeli?
A. Dandeli is full of amazing tourist places within its close proximity. Sathodi falls, Tibet Monastery, Shivaji Fort, Kavadi Kere and Magod Falls are some of the most desired tourist places near Dandeli.
Q. What is famous in Dandeli?
A. The places mentioned above, like the hydroelectricity generating Supa Dam and the treacherous Magod Falls, are just a few of the things Dandeli, Karnataka is famous for.
Q. How can I go to Dandeli from Bangalore?
A. Dandeli is about 460 km from Bangalore. This is a large distance that can be covered by road in 8-10 hours. You can go there using a direct route through any bus service. There is no direct train route between Dandeli and Bangalore, but if you wish, you can take Janshatabdi express, deboard at Hubli and then leave for Dandeli in a cab.
Q. Where is Dandeli located?
A. Dandeli is located in the Uttara Kannada district of Karnataka. Located in the Western Ghats region this place is stunning.
Q. What is special in Dandeli?
A. The many famous places to visit in Dandeli such as Kavala Caves, Dandeli Wildlife Sanctuary, Sykes Point, and Sathodi Falls are some of the most special things about Dandeli.
Q. Is Dandeli safe?
A. Yes, Dandeli is completely safe and somewhere you must visit. However, if you are planning to try river rafting in Dandeli then make sure you do it with skilled instructors as it can be tricky.
People Also Read
Places To Visit In Kerala Places To Visit In Vijayawada Places To Visit In Madhya Pradesh
Comments
comments