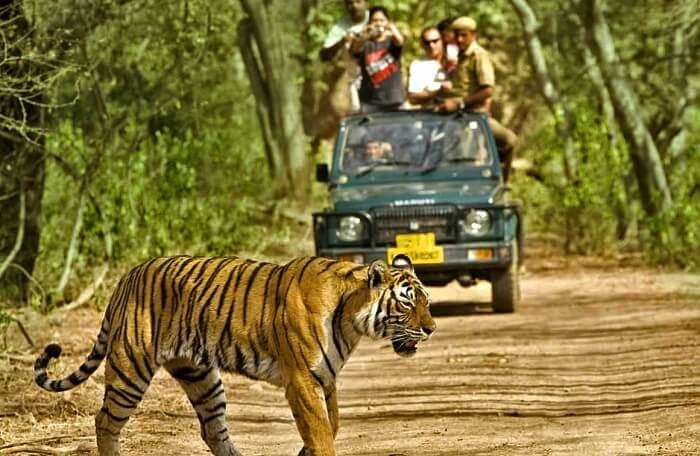 Places with beaches, mountains, and deserts usually remain at the top of our holiday list. But, have you ever wondered about escaping to a lush green forest, living nearby a river, feeling young & free while literally spotting a variety of flora and fauna? Well, if you haven't, you're in for a surprise because the Dandeli Wildlife Sanctuary situated in Karnataka is a hidden gem, and is absolutely perfect for your next holiday! (Also, we're impressed if you have, but we would still want you to read further & tick this place off your list.)
And before we get down to everything from the top Dandeli Wildlife Sanctuary tourist places to the best accommodation, know that it's not a place to be mistaken as a destination only for wildlife enthusiasts. It's as much as a paradise for nature admirers, as it is for offbeat backpack travelers and adventure seekers.
About Dandeli Wildlife Sanctuary

Be it the trees that provide food for the birds or plants that are revered for their medicinal or healing properties, everything here is magical. But there are still a few things you must know about the sanctuary before you get down to planning your trip!
Located in Karnataka, it is the second largest wildlife sanctuary of the state.
It is home to a rich diversity of flora and fauna, which means it's not just a natural abode of tigers, but also of elephants, deers, antelopes, reptiles, and birds.
With more than 300 species of birds nesting amidst the forest, The Dandeli Wildlife Sanctuary is also a bird lover's paradise
Be it indulging in experiences like white water rafting or bird watching and wildlife photography, this sanctuary is perfect for both an adventure-packed holiday and a rejuvenating break in the lap of nature.
Reaching here is not difficult at all as it is well connected with rail and road networks, which makes it accessible to travelers coming from different corners.
Sloth bears, barking deer, and Malabar giant squirrel are a few unusual mammals you can spot in the sanctuary.
Thanks to the numerous Dandeli Wildlife Sanctuary accommodation options, one can literally experience the joy of living in the forests.
Must Read: 47 Best Places To Visit In Karnataka That Will Totally Knock You Out In 2022!
Best Time To Visit Dandeli Wildlife Sanctuary

While you can plan your trip to the sanctuary anytime during the year, the best time to enjoy and witness the Dandeli Wildlife Sanctuary at its best is between October to May. The weather during this period is pleasant and then moderate, which lets a lot of birds fly back and rests in their nests at this time, and a lot of animals come out of their homes.
Suggested Read: 10 Dandeli Resorts For That Dreamy Stay Amidst Woods
Dandeli Wildlife Sanctuary Timings And Entry Fees

The park stays open from 1st October to 30th June. However, safaris can be availed within the national park and is permissible in the buffer zone area from 1st July to 30th September every year. The timings of the sanctuary for tourists is 6:00 AM to 10:00 PM, and a visit duration of 7 to 8 hours is recommended if you wish to explore the sanctuary properly and at your own pace.
The entry fees for Indians is INR 40 and for foreigners is INR 80. If you wish to carry your camera along and use it for photography, a ticket for INR 100 is also to be bought.
Flora And Fauna Of Dandeli Wildlife Sanctuary

Image Credit: Vikas Patil for Wikimedia Commons
If you are up for an encounter with the wild, then Dandeli Wildlife Sanctuary will offer you the best of it. This sanctuary is home to deciduous trees bamboo and teak plantations. You can spot various animal species like crocodiles, black panthers, elephants, Indian sloth bears, amphibian species, bird species, and reptiles. The bird species that you can spot in this sanctuary are Malabar pied hornbill and Indian hornbill.
Suggested Read: 24 Places To Visit In Dandeli In 2022 For Unforgettable Adventure
Unique Things To Do In Dandeli Wildlife Sanctuary
A holiday here is like none other, and the best proof of that are the numerous activities that the sanctuary offers. While rappelling, kayaking, canyoning, river side fishing, overnight or outdoor camping, nature walks, adventure trekking, and river island visits are already on the list, there a few ones you must definitely indulge in!
1. Natural Jacuzzi

Nothing gets fancier and more relaxing than this. At Dandeli, the rapids of the river Kali act as beds for a rejuvenating therapy followed by a massage from the hosts themselves. For this experience, all you need to do is travel to the nearby island via a boat ride and witness the nature at its best, for free!
Price: There are no charges for enjoying in the natural Jacuzzi.
Suggested Read: This Private Island Homestay In Karnataka Is A Treasure & You Won't Doubt It!
2. Jungle Safari

The Dandeli Wildlife Sanctuary safari is a pulsating experience you must have while you're here. Through the dense vegetation, one is taken in an open jeep to the rugged forests where bison and malabar giant squirrels are more commonly spotted than any other animals. It is the perfect activity to indulge in for feeling young and free.
Timings: 6:00 AM to 9:00 PM and 3:00 PM to 6:00 PM
Price: INR 50 to INR 500 per person (depends on the type of safari you take) and INR 150 for a guide
Suggested Read: 14 Itineraries Including Best Honeymoon Places In And Around Karnataka In 2022!
3. Coracle Ride

It's not the ordinary riding experience, but an adventure that could send chills down your spine. In a sturdy saucer-shaped coracle that is made of bamboo and tanned buffalo hide, one is tossed like a doll over the rapids. While bird watching during this time might feel beautiful, the crocodiles around basking in the sun are a sight that'll pump up your adrenaline.
Timings: 9:00 AM to 6:00 PM
Price: INR 100 per person
Suggested Read:  15 Top Hill Stations In Karnataka In 2022 To Rejuvenate Yourself
4. Moonlight Boat Ride

A perfect activity for couples, and even a better one for nature admirers, a moonlight boat ride is the most surreal experience that Dandeli offers. Accompanied with night vision binoculars, it lets one catch up with all the nocturnal activity in the jungle and enriches his or her holiday experience.
Price: NA
Suggested Read:  Monsoon In Karnataka: Here's 15 Places You Must Visit During Monsoon
5. White Water Rafting

If you're down south and craving for some adventure, this activity in Dandeli is meant for you. From a nine kilometer run that lasts for four hours to a shorter one, the joy of plunging up and down the river stays nevertheless.
Timings: 9:00 AM to 12:00 PM and 2:30 PM to 5:30 PM
Price: INR 950 to INR 1,500 per person
Suggested Read: 15 Top Hill Stations In Karnataka In 2022 To Rejuvenate Yourself
6. Jungle Camping

Image Credit: Snapwire for pxhere.com
Disclaimer: The image is for representation purposes only.
Another enticing thing to do in Dandeli Wildlife Sanctuary is setting up a camp and staying amidst the jungle. Spend your night under the stars and enjoy a serene stay with your family and friends on your next enthralling vacation at Dandeli Wildlife Sanctuary.
Suggested Read: 13 Churches In Mysore You Should Definitely Visit During Your Karnataka Tour
Top Places To Visit Near Dandeli Wildlife Sanctuary
Apart from taking a serene nature walk or climbing up the waterfalls, Dandeli also has spectacular places located right within its heart that you can explore and admire during your trip.
1. Syntheri Rocks

Located on the banks of river Kalindi, which further merges into Kali, these magnificent rocks look like small gems amidst 300 feet tall granite. What accentuates the beauty of these syntheri rocks is a small waterfall, which also becomes home to pigeons and bees.
Suggested Read:  12 Best Places To Visit In Karnataka In March 2022 For A Fulfilling Vacay
2. Kavala Caves

While on a route that is a little difficult one to tread, especially in the times of drizzle, Kavala Caves is a beauty worth witnessing. If luckily you get to visit here, make sure you capture the grandeur of these caves on your camera whilst being beware of the hanging bats and snakes around.
Suggested Read: 21 Historical Places In Karnataka Every History Buff Should Visit In 2022
3. Tribal Villages

Another exceptional thing to see in Dandeli is the tribal life. After driving into the forest, the numerous tribal communities like the Siddis and Gowlis who make a living usually through rearing cows, and selling milk & milk products can be encountered. This is a perfect experience for those who wish to witness the local lifestyle at its best.
Suggested Read: Top 51 National Parks In India In 2022: A List You Just Can't Ignore!
Best Places To Stay In And Near Dandeli Wildlife Sanctuary
With a good number of places to stay in its vicinity, finding resorts or hotels in Dandeli Wildlife Sanctuary shouldn't be a concern at all. And while there are a lot luxury and budget accommodation options around, here are the best ones that you can consider:
1. Bison River Resort

Offering an experiential stay with impeccable hospitality and adventurous activities like river crossing, kayaking, and more, this resort is one-of-its-kind in Dandeli. Most of the rooms here have private balconies, which gives a better chance to stay closer to nature and for enjoying the gorgeous views of the river Kali flowing nearby.
Price: INR 3,500
TripAdvisor Rating: 3.5/5
Location: Village – Ilva, Post District – Uttar Kannada, Ganeshgudi, Karnataka
Website | Reviews
Suggested Read: 15 Best Places To Visit In Karnataka In Winter In 2022: Take Your Pick!
2. Kali Adventure Camp

Nestled amidst the lush greenery, and set right on the banks of River Kali, this is one of the most famous places to stay in Dandeli. Built like a bungalow accommodation, it has spacious rooms with top-notch comfort that assures a relaxing stay in this jungle resort.
Price: INR 2,000 to INR 5,900
TripAdvisor Rating: 4/5
Location: Kogilban, Haliyal Taluk, Uttar Kannada District, Dandeli, Karnataka
Website | Reviews
Suggested Read: 18 Places You Need To Visit For The Best Wildlife Experience In India
3. Shri Sai River View Jungle Resort

Set up along the banks of the River Gangavali, this spectacular resort offers an experience like none other. Hilltop views, friendly hospitality, joyrides on the river, and guided tours are some of the exceptional qualities of this resort apart from a relaxing stay in its cottages.
Price: INR 3,000
Location: Hubli – Karwar Rd, Ramanguli, Karnataka
Website
How To Reach 

Located in the Uttara Kannada district of Karnataka, on the banks of river Kali, this wildlife sanctuary is quite accessible by all the means of transport.
By Air
The closest airports to Dandeli are Belgaum (110 kms), Hubli (75 kms), and Goa (150 kms), all of which can be reached easily via daily flights by Air Deccan from Mumbai or Bangalore.
By Train
You can also travel to Dandeli via train by deboarding at the nearest railheads like Alnavar (32 kms), Londa (48 kms), Dharwad (57 kms), or Hubli (75 kms).
By Road
A road trip is always fun and since Dandeli is well connected to Bangalore, Mumbai, Goa, Belgaum, Karwar and Dharwad, and Hubli by road, it is all the more easier for planning one with your family or friends. Several buses ply to Dandeli everyday. If not a bus, you can also drive your car or hire a taxi for getting here.
Suggested Read: 25 Stunning Places To Visit In Summer In Karnataka For A Relaxing Retreat In 2022!
Tips
Try planning your trip between October to May as it is the best time for visiting this place.
Check the weather and pack accordingly.
Don't forget to wear sturdy shoes, and carry a torch, a good camera, mosquito repellent, a sunscreen, and your essential medicines & toiletries.
During the coracle ride, beware of the crocodiles and make sure you do not make too much noise.
The natural Jacuzzi experience is a unique thing to do in Dandeli. Do not miss out on it!
Keep your eyes around during the jungle safari, and keep your camera ready for capturing the wildlife on your lens.
Overnight camping is another exceptional experience worth having, especially if you're visiting here for the first time.
To explore the sanctuary properly, make sure you plan at least a full day tour.
Further Read: Mudumalai National Park: Every Adventurer's Heaven In The Nilgiris
While it may not be one of the most famous places to visit on the map, believe us, it is definitely the ideal place to be if all you wish is to do is taste a little thrill, indulge in adventure, witness the best of nature, and unwind with your close ones!  Feel like taking a trip to Karnataka already? Don't forget to carry your polaroids to capture all your memories!
Disclaimer: TravelTriangle claims no credit for images featured on our blog site unless otherwise noted. All visual content is copyrighted to its respectful owners. We try to link back to original sources whenever possible. If you own rights to any of the images and do not wish them to appear on TravelTriangle, please contact us and they will be promptly removed. We believe in providing proper attribution to the original author, artist or photographer.
Frequently Asked Questions About Dandeli Wildlife Sanctuary
How can one visit the Dandeli wildlife sanctuary?
You can get to Dandeli wildlife sanctuary via a flight as the sanctuary is located at a distance of 75 km only from the nearest airport. You can also reach there via trains because Dandeli wildlife sanctuary is located 32 km from the Alnavor railway station and 48 km from the Londa railway station.
What is the best time to visit Dandeli wildlife sanctuary?
The perfect time to visit the Dandeli wildlife sanctuary is between October and February because during that time you will be able to enjoy the trip entirely as the temperature is perfect for sightseeing.
Which tourist spots are located quite close to Dandeli wildlife sanctuary?
Other than Dandeli wildlife sanctuary, there are many tourist places in the area as well including Sathodi Falls, Shivaji Fort, Magod Falls, and Kavadi Kere that one can explore.
What is the total distance between Bangalore and Dandeli?
The distance between Bangalore and Dandeli is 460 Km. Though most people prefer to go to Dandeli from Belgaum since it is located at a distance of 66 km from there.
Can one do river rafting in Dandeli?
River rafting in Dandeli is performed in the river Kali. The whole activity continues for about four hours and no matter how inexperienced you are, you will be able to take part in the activity without any problem.
Are there tigers in the Dandeli wildlife sanctuary?
Yes, tigers can be found in Dandeli wildlife sanctuary. There are around 11 tigers out there. Two more tigers can be found in the neighboring Anshi national park.
What clothes should one wear in Dandeli?
Since you will be visiting Dandeli for the wildlife sanctuary trip, it would be better if you wear full-sleeved clothes that are of green, olive or brown color. Always remember to avoid clothes that are of bright colors including red, black, orange or blue because the animals get distracted if any tourists wear bright-colored clothes.
Which river is present in Dandeli wildlife sanctuary?
River Kali flows from the wildlife sanctuary where you can also opt for river rafting.
---
People Also Read:
Binsar Wildlife Sanctuary Bhimashankar Wildlife Sanctuary Dalma Wildlife Sanctuary