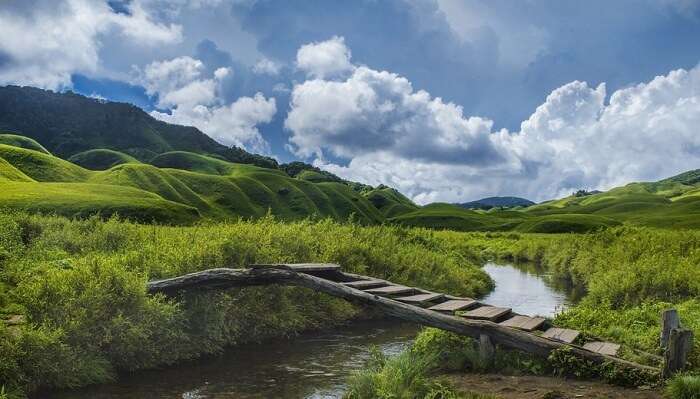 Cover Image Credit: By Digantarajkhowa
Everything about Nagaland spells 'different'. From their attires to colorful festival celebrations to distinct food choices. Nagaland is also a place of abundant beauty evident in its mystifying hills and valleys spread everywhere. These along with the distinct culture of Nagaland and its people give it an other-worldly look and feel. Has Nagaland never been on your visiting list? If it hasn't or if it has, this blog will make you want to pack your bags and head to this lesser-known place right now. Have a look at these 20 places to visit in Nagaland.
20 Best Places To Visit In Nagaland
Nagaland is an unexplored beauty. Have a look at the best places to explore on a trip to this state and enjoy a great time away from the hustle-bustle. 
1. Kohima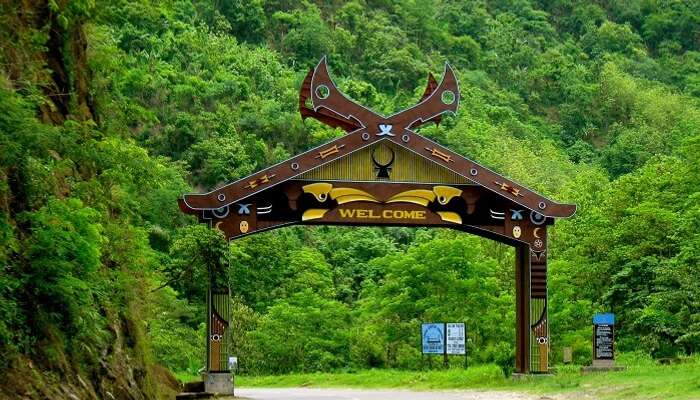 Image Source
The capital of Nagaland deserves to be on the must-visit list of everyone. Kohima, originally Kewhira, is pure bliss for anyone who loves being amidst untouched nature. It is located at a height of 1500 meters above sea level. It is surrounded by breath-taking mountains and forests. One can also indulge in adventures like trekking, hiking, and camping in this region. This place is home to the Angami tribe.
While you are here, do visit the Commonwealth War Cemetery. It has graves of over 1400 soldiers who died fighting the Japanese invading India from Burma in World War 2. Other major attractions include the Japfu Peak and Naga Heritage Village among others.
Must-See Attractions: Kohima War Cemetery, Japfu Peak, Dzukou Valley, Kohima State Museum, Naga Heritage Village
Must Read: Foreigners Can Now Travel To Nagaland, Mizoram & Manipur Without A Permit!
2. Dimapur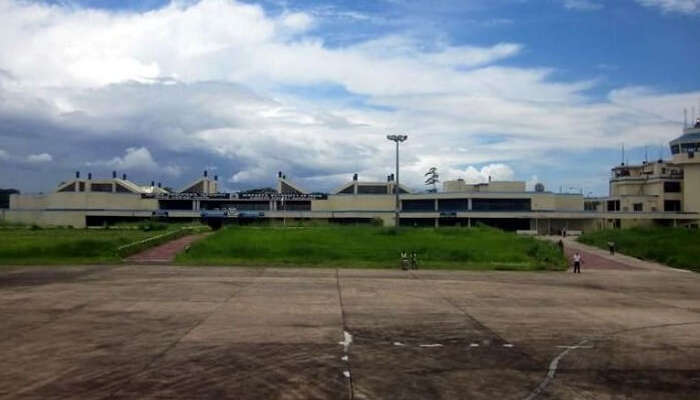 Image Source
One enters Nagaland through Dimapur, as the airport is situated here. This place, counted amongst the top Nagaland tourist spots, offers an equal amount of delight to both nature and history lovers. Watch out for Kachari ruins from the 10th century that stands in the backdrop of enthralling nature. There are plenty of locations you can visit in and around Dimapur to experience surreal nature or marvel at historically rich old ruins.
Must-See Attractions: Kachari ruins, Diezephe Craft Village, Rangapahar Reserve Forest, Dimapur Ao Baptist Church, Kuki Dolong Village
Suggested Read: It Took 10 Years, 2000+ Workers & About 36 Crores To Build Asia's Largest Church In Nagaland
3. Mokokchung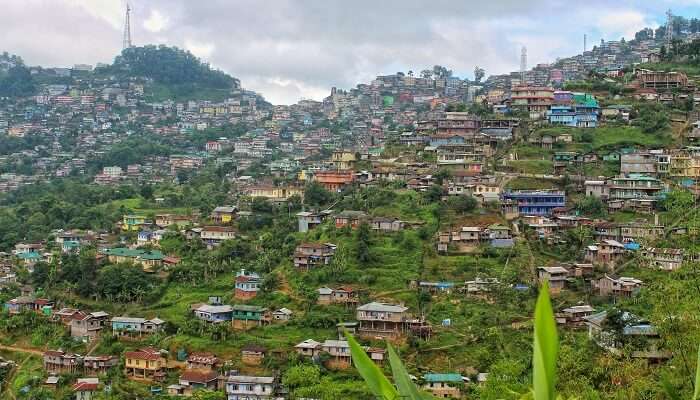 Image Source
This is the liveliest district of Nagaland owing to the beautiful traditions and festivals and hospitality of the vibrant Ao tribe who calls this place their home. Get ready to soak your senses in the beauty of the mesmerizing hills and streams. There are many wonderful places situated in and close to Mokokchung that will leave the traveler with tales to tell for years.
Must-See Attractions: Longkhum, Mokokchung Village and Park, Changtongya, Chuchuyimlang, Ungma village
Suggested Read: 15 Captivating Honeymoon Destinations In North East India
4. Mon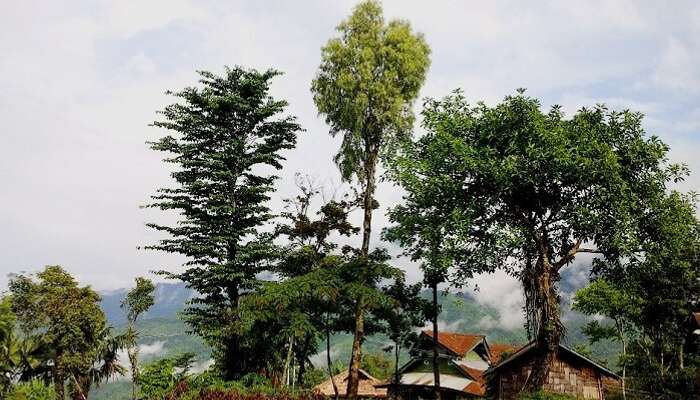 Image Source
Mon belongs to Konyak Nagas, who believe themselves to be the descendants of Noah. The location of Mon is at an altitude of 897.64 m above sea level. In the entire state of Nagaland, Mon is considered to be the most fascinating and mystifying place because of its rich tribal heritage and uphill location. There is something in the air that pulls you and makes you dream with your eyes wide open here.
Must-See Attractions: Veda peak, Shangnyu Village, Longwa Village, Chui Village
Suggested Read: North East Trip: Explore The Seven Sisters, One Brother, And A Neighbor In 2021
5. Wokha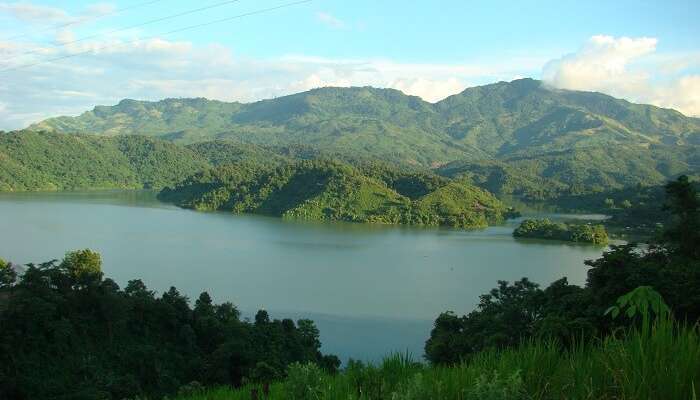 Image Source
As you reach Wokha, the hills and green landscape, constant in the state, turn livelier and prettier. You will find scores of plants bursting with multicolored flowers, juicy and fresh fruits and freely flowing rivers enchanting with their beauty. The tribe that resides here is the Lotha tribe.
Must-See Attractions: Mount Tiyi, Doyang River, Totsu Cliff, Tehurang valley
Suggested Read: 20 Mesmerizing Hill Stations In South India That Are A Must Visit In 2021
---
Planning your holiday but confused about where to go? These travel stories help you find your best trip ever!
---
6. Khonoma Green Village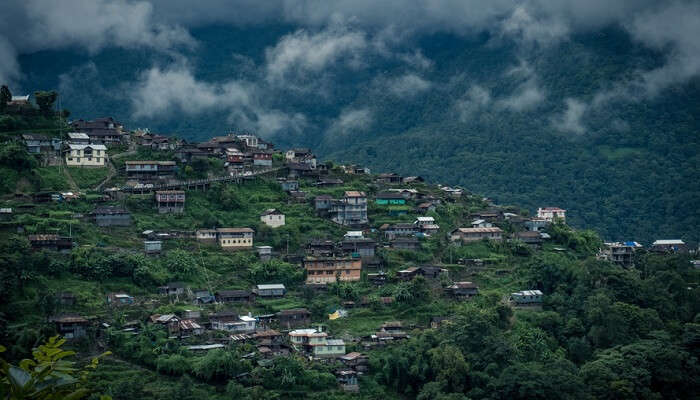 If one wants to witness the result of a continued and harmonious responsible living, then Khonoma Green Village in Nagaland is that place. This village is brimming with clean, fresh air, a peaceful atmosphere, and an unspoiled environment. The Angami tribe lives in the village in huts made from natural and recycled resources. This is the tribe that earns its living through agriculture, handlooms, and weaving. This village is a living example of what a community with a combined effort can create. In this age of increasing climate change, visiting the village can make one more inspired to create such an environment for self and future generations back home.
Must-See Attractions: G H Damant Tomb Monument, Naga Heritage Village, Dovipie Inn
Suggested Read: 25 Amazing Places In India To Celebrate New Year 2021!
7. Benreu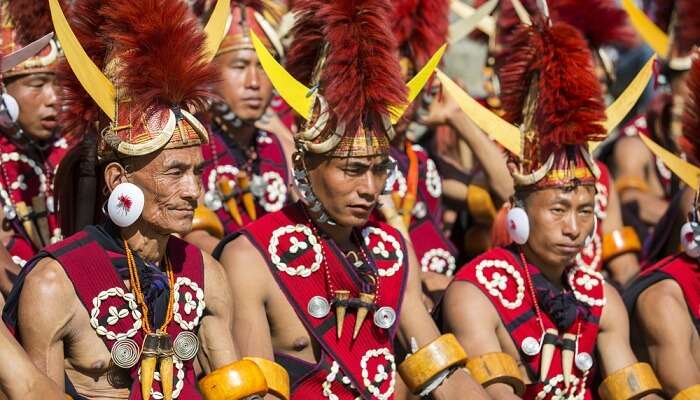 Benreu in Peren district is total solitude. It is an unexplored village with 20 percent of its inhabitants being nature and animals. It is at a height of 1950 meters and sits across Mount Pauna, the third highest peak of Nagaland. Benreu is the home of the Zeliang tribe and also of rains and clouds owing to its heightened location. Apart from enjoying the quiet and beauty of nature, look out for the simple village life of the Naga culture here.
Must-See Attractions: Peren, Mt.Pauna Tourist Village
Suggested Read: Foreigners Can Now Travel To Nagaland, Mizoram & Manipur Without A Permit!
8. Meluri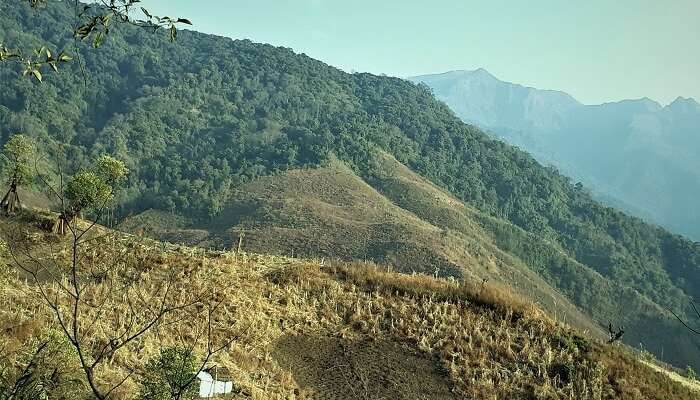 Image Source
Meluri is a small and quaint village lying halfway to Mt. Saramati in Kiphire district. This village is home to the Pochury tribe, known for its exceptional hunting skills. This village is a must-visit place in Nagaland not only because of its beauty but also for its fascinating rock formations. Do not miss the brine salt and cane furniture that is a specialty of this village. Also, don't miss the Zanibu Peak that offers a magnificent view of Nagaland state and Mount Everest.
Must-See Attractions: Dzudu Lake, Zanibu Peak, Shilloi Lake
Suggested Read: 15 Airports In India That Make A Dreamy Halt For Every Traveler
9. Tuensang
Experience the mixed culture and traditions of the co-living tribes in Tuensang. This district will let you take away some of the most beautiful and artistically rich handlooms, handicrafts, artwork, and jewelry. Also get a taste of the interesting history of Nagas by visiting the Living Stone of Tuensang, 60 km away from Tuensang town.
Must-See Attractions: The Living Stone of Tuensang, Tsadang
Suggested Read: Skydiving In India: 9 Best Locations For Exploring The Skies In 2021
10. Longleng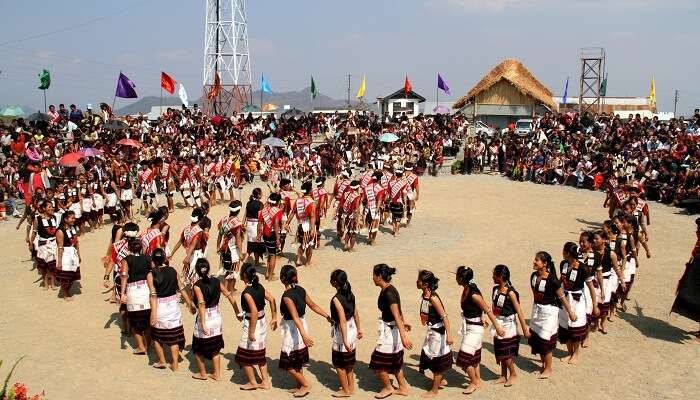 Image Source
Longleng is a thrill-seekers heaven on earth. This district is accessible by road from Changtongya. The 34 km journey offers scenic views and an adventurous ride to motorists. The villages and markets that line the route look like they haven't aged at all. They carry a mystic, era-old charm that adds to the beautiful natural scenes all around. Longleng is where Phom Nagas live, earn their living and celebrate the age-old traditions vibrantly. The tribe is known for its pottery, bamboo work and spinning skills. So you may find many artifacts to take back home here. A must-visit attraction close to Longleng is Dhiku River where you can relax and have fun family time.
Must-See Attractions: Dikhu River
Suggested Read: Group Tours In India: Travel Smartly In 2021 In An Economic Way!
11. Kiphire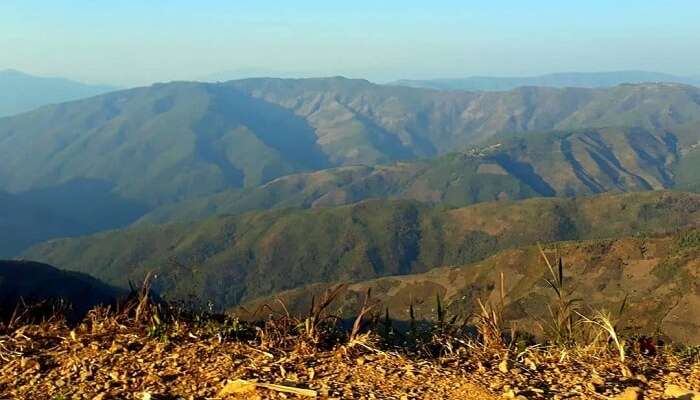 Image Source
If you are seeking adventurous time in the lap of nature, Kiphire is your place. It is home to the highest peak in Nagaland- Saramati. Spend 3 days trekking in this awe-inspiring mountain range passing through a beautiful Rhododendron forest. There are several other popular adventures offering attractions in and around Kiphire like Cavers' delight, Sukhayap or Lover's Paradise, and Wawade.
Must-See Attractions: Saramati Peak, Cavers' delight, Sukhayap or Lover's Paradise, Wawade waterfall, Thanamir- apple village, Fakim Wildlife Sanctuary
Suggested Read: 71 Places To Visit In India Before You Turn 30 in 2021
12. Zunheboto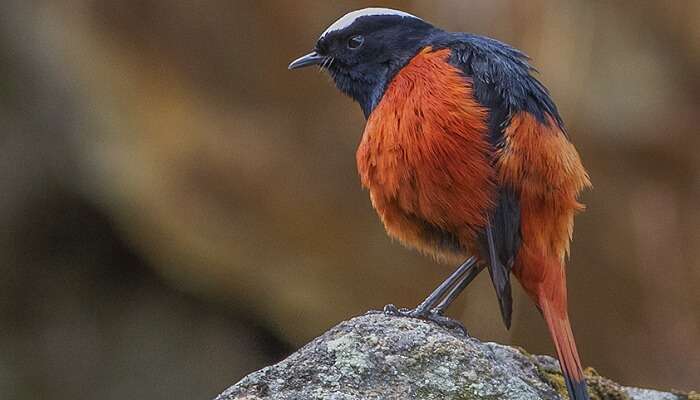 Image Source
As you visit Zunheboto or Zunhebo, you will be introduced to the colorful culture of Sumi Nagas. They are a strong tribe who are believed to have brought martial arts to the Nagas. Zunhebo has a lot to offer a traveler with its largest Baptist church in Asia, a peaceful hamlet, a sanctuary housing endangered species of birds and more.
Must-See Attractions: Sumi Baptist Church Zunheboto, Keltomi Village, Ghosu Bird Sanctuary, Satoi Range
13. Phek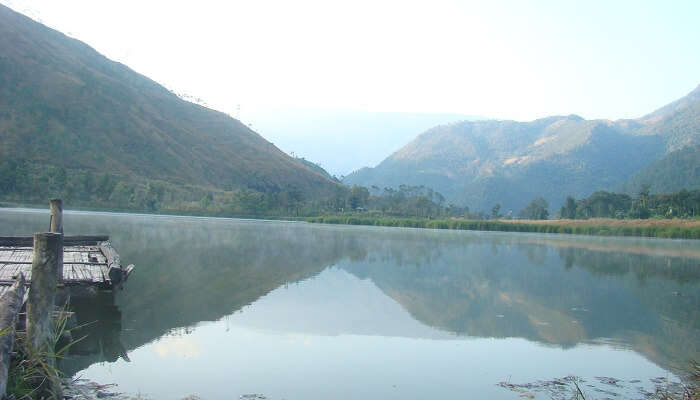 Image Credit: Murari521 for Wikipedia
This is a beautiful district in Nagaland which is known for having a vast number of attractions. Surrounded by a spellbinding beauty, this place is home to many lakes, rivers, and water bodies which are magnificent. Phek is considered to be one of the best tourist places in Nagaland which also has a heritage village named Khezakeno. People visiting here can indulge in activities like hiking, trekking, and birdwatching.
Must-See Attractions: Naga Heritage Village, Triple Falls 
14. Dzukou Valley
Image Credit: Mongyamba for Wikipedia
Resting at an altitude of 2462 metres above sea level, Dzukou Valley is located in Kohima and considered to be one of the picturesque places in Nagaland. Surrounded by the lilies which compliments the green valley, this place is situated at the border of Nagaland and Manipur states. Usually visited by many tourists, this place offers a wide array of adventurous activities which include trekking and camping.
Must-See Attractions: NA 
15. Touphema Village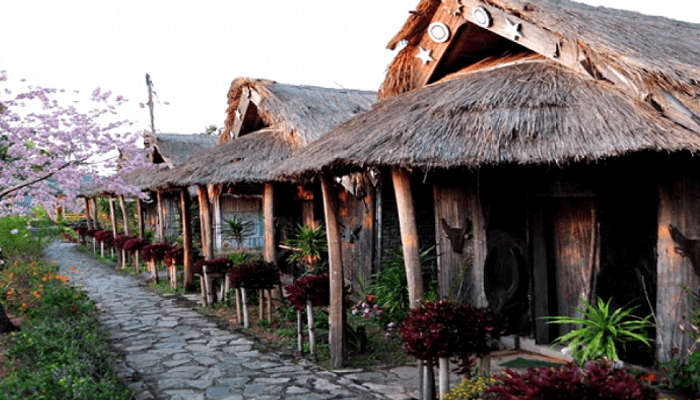 Indulge in a traditional and heritage experience at this cultural Naga village. Brimming with all the authentic things which also includes local cuisine and local rice beer, this place is perfect for the culture connoisseur. This is one of the best and unique places to visit in Nagaland which gives an old-world experience along with a beautiful view of the hills in the backdrop. To enjoy the best of the local life, a stay at the huts is also a good experience to enjoy.
Must-See Attractions: Khonoma Fort, Angami Bridge
16. Naga Heritage Village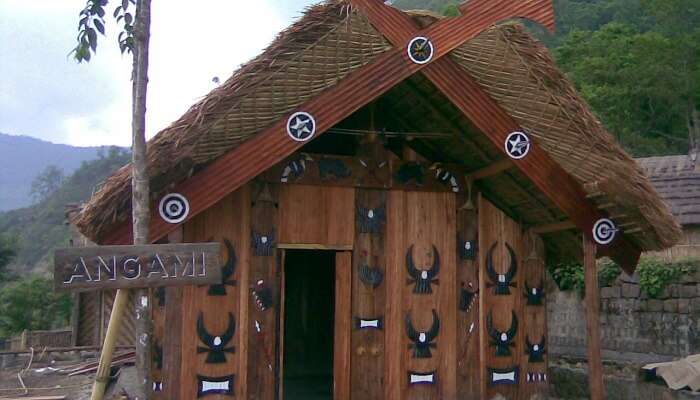 Image Credit: Acavnala for Wikipedia
Also called Kisama Heritage Village, this place holds the beautiful culture and tradition of the Nagas. The main purpose of this Heritage village is to protect and preserve the ethnicities of the Naga tribes in its true form. This place is a paradise for the people who love to explore art and learn about history. The main highlight of the place is the Hornbill Festival which is held in December.
Must-See Attractions: Shiirho View Point, World War 2 museum Kisama, Puliebadze, Jotsoma, Kohima
17. Pfutsero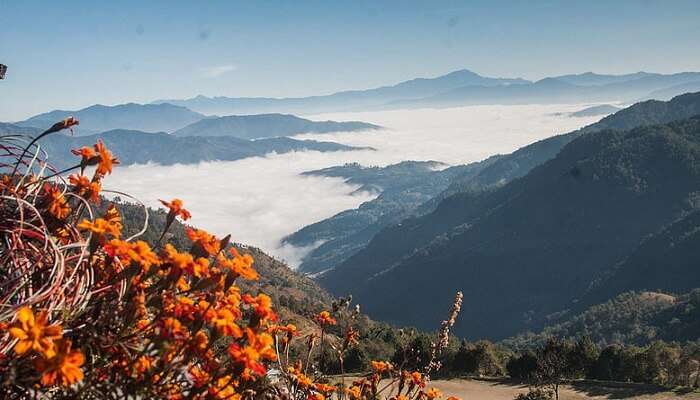 Image Credit: travelingslacker.com
Resting at a height of 2,133 above sea level, this small town is one of the coldest towns in Nagaland. The Glory Peak is one of the highest points in the town which is the main highlight to witness. Alongside that, there are lakes in Pfutsero which freeze during the winters and add a true Christmas spirit among the Christian locals. Cherry blossoms can also be seen blooming in this historical town during the months of March-April when the Chakesang families celebrate Tsukhenye Festival.
Must-See Attractions: Loho Lake, Kigwema
18. Japfu Peak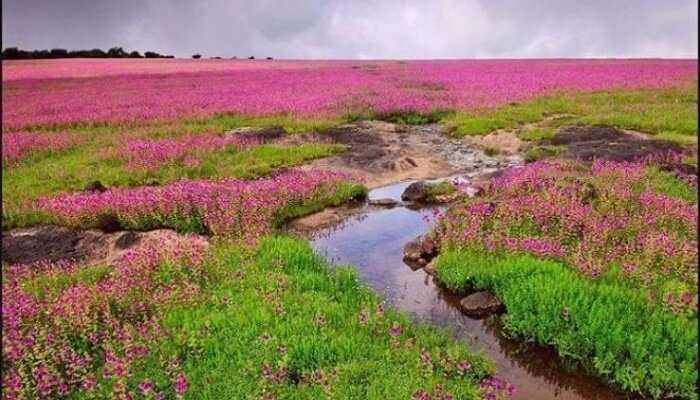 This is the second-highest point of Nagaland which is located at a height of 3084 meters above the sea level. Japfu Peak is considered to be one of the best places to visit in Nagaland which offers a spellbinding view to enjoy and have the best time away from the hustle and bustle. This is a paradise for adventure junkies and offers a chance to enjoy bird-watching and explore the flora and fauna. It is also called the "Valley of Flowers" of Northeast which is worth a visit.
Must-See Attractions: Dzokou Valley 
19. Kachari Ruins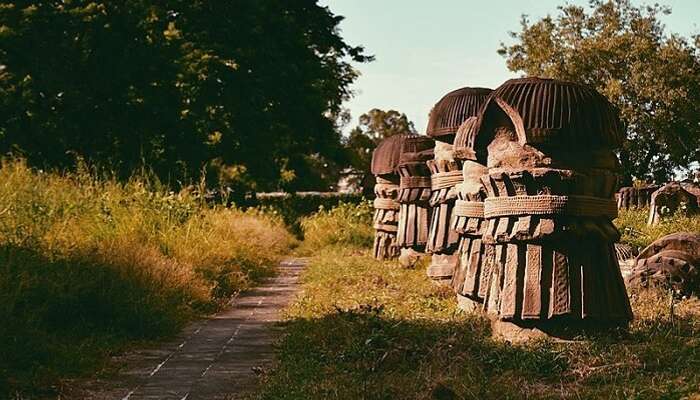 Image Credit: Mithun Katula for Wikipedia
The Kachari Ruins is also called the Dimasa Kachari Ruins, which is a series of mushroom doomed pillars and houses. These are believed to have emerged during the DimasaKachari Kingdoms in around the 13th century. The Kachari Ruins is an offbeat place which is definitely a delight for the art and history lovers. These ruins are actually scattered pillars which are surrounded by the overgrown grasses and unkempt vegetation.
Must-See Attractions: Nagaland Science Centre, Hong Kong Market, Dieziphe Village
20. Chumukedima Village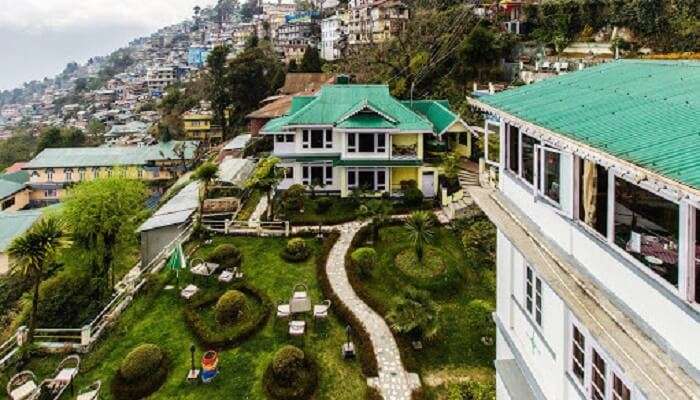 Image Credit: Famousplacesinindia.com
This is a surreal hill station which gives a bird's eye view of the beauty surrounding Dimapur district. From enjoying the beautiful views to feeling the cool breeze on the face, this place is a paradise. There are beautiful waterfalls to explore along with the wilderness of the place. Its tranquil beauty makes it one of the best places to visit in Nagaland.
Must-See Attractions: Triple Falls, Nagaland Zoological Park 
Further Read: 13 Offbeat Destinations In India In December That You Must Explore This Year!
These were the best places to visit in Nagaland. Plan your trip to Nagaland today to this land that is still unexplored by many. Book with TravelTraingle and have a great time exploring Nagaland and its gems.
Disclaimer: TravelTriangle claims no credit for images featured on our blog site unless otherwise noted. All visual content is copyrighted to its respectful owners. We try to link back to original sources whenever possible. If you own rights to any of the images and do not wish them to appear on TravelTriangle, please contact us and they will be promptly removed. We believe in providing proper attribution to the original author, artist, or photographer.
Frequently Asked Questions About Places To Visit In Nagaland
Q. What is the best time to visit Nagaland?
A. Nagaland is situated on the northeast part and has pleasant weather most time of the year. Summers and winters in the region are not too harsh, which makes it an ideal time to visit the state. October till May are the best months to visit this state.
Q. How many days are enough for Nagaland?
A. In order to fully experience the culturally rich state with an abundance of nature, you need at least 3 to 7 days.
Q. What are the top things to do in Nagaland?
A. There are plenty of things to do in Nagaland. For adventure seekers, there's trekking and mountain biking. The state holds various colorful festivals that are a must-see like the Hornbill Festival and Aoling Festival. History lovers can enjoy exploring ruins, museums, and the war cemetery.
Q. What can I buy in Nagaland?
A. Nagaland is home to many Naga tribes who are naturally skilled at crafts like handlooms, weaving, and pottery. One can buy handmade things like shawls, bamboo mugs, cane carpets, silk mekhela among others.
Q. Which are some of the best shopping centers in Nagaland?
A. Kohima, being the capital of the state, has most number of shopping centers. Handicraft and Handloom Emporium is one of the most famous shops in Kohima offering brilliant shawls, silk clothes, and jewelry. Other places in Nagaland to shop for handcrafts are Tuensang and Longleng.
---
Looking To Book An International Holiday?
---
People Also Read:
Places to visit in Kufri Places to visit in old Goa Places to visit in Chengdu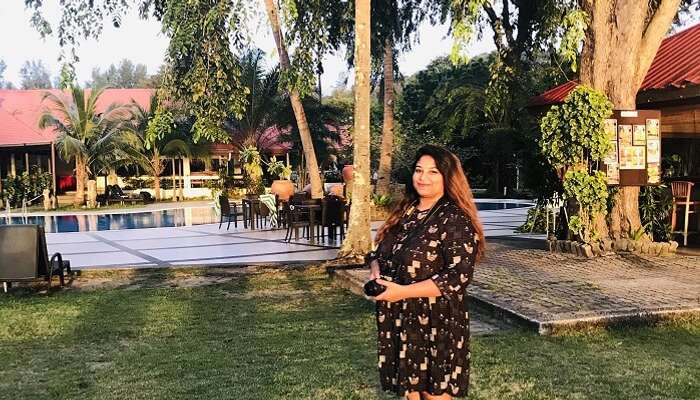 Comments
comments