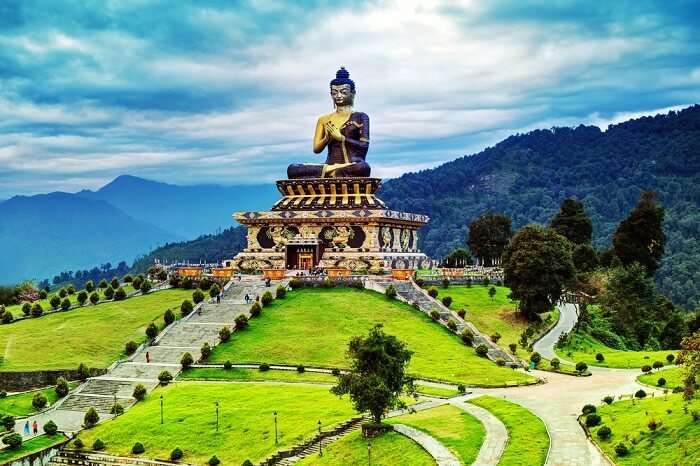 Encompassing the best of dense forests, ancient monasteries, snow-capped mountains, pristine valleys, glistening lakes, and cascading waterfalls, every bit of North East India feels like magic. Taking you one step closer to heaven, every person who's a traveler by heart, must go on a North East trip at least once in their lifetime to unravel the secrets of North East India! Make sure to check out our guide to know more about these awesome destinations.
Feel at home at the cleanest villages in Asia, trek on the oldest root bridges, chill in the most beautiful hill stations, encounter the one-horned rhinoceros, explore the numerous monasteries, enjoy boating in one of the river islands, and much more. Whatever your reason may be, the fact remains intact that a major part of North East India still remains unexplored. It doesn't matter whether you're traveling solo, with friends, family, or your better half, a North East vacation is an experience which should definitely be included in every traveler's bucket list.
If you're expecting a safe North East trip during coronavirus, then the below discussed destinations will come in handy. Even during this time of pandemic, they are getting quite frequent visitors.
Table Of Content
Total States In North East India

Ever asked that question to yourself? We did too and it turns out, that the North East India comprises of seven sister states, i.e., Arunachal Pradesh, Assam, Manipur, Meghalaya, Mizoram, Nagaland, Tripura, and one brother state of Sikkim. Not just that, you'll discover on your trip to North East India that the region also comprises of the North Eastern area of West Bengal which happens to be the famous Darjeeling.
Best Time To Visit North East India

Owing much to its stunning location wherein North-East India shares its borders with the neighbouring countries of Tibet, Bhutan, Bangladesh, and Myanmar, the whole region is dominated by hills and mountains to a large extent. Due to this, the climate in North East India generally remains cool while winters do get extremely cold.
Having said that, it is advised that travelling to North-East regions should be avoided in the rainy season from May to September-end. Hence, the best time to visit North East India is from the months of November to April, which also happens to be the peak season for travellers. The weather is at its best at this time, which also makes it perfect for heading out and witnessing the true charm of the states.
North East India Trip: Places To Visit
The famous northeast tourist attractions are a mix of nature, adventure, and romantic getaways. With picturesque views of the snow-bound mountains, these attractions are sought mostly by families, couples, and adventure enthusiasts as a holiday in Northeast India are sure to be a hit:
1. Darjeeling – Get Lost Amidst Stunning Mountains

Located on the foothills of the Himalayas, Darjeeling is the quaint, little, yet one of the famous hill stations in India. Much famed to have served as the summer getaway during the times of the British Raj, Darjeeling is known for its aromatic tea plantations, the famous toy train, and offers breathtaking views with Mount Kanchenjunga in the backdrop. If you're a nature lover who loves a quaint vibe during a holiday, then is the place to be!
Must Experience: Enjoy a ride on the Darjeeling Himalayan Railway or the toy train
Places To See: Batasia Loop, Peace Pagoda, Padmaja Naidu Himalayan Zoological Park, and more.
Things To Do: Cycling in Senchal Wildlife Sanctuary, Trek to the Tiger Hills, explore the Rock Garden, boating in Mirik, Tenzing Rock climbing, and more.
Key Attractions: Rock garden, Observatory hill viewpoint
Famous Food: Aloo dum, Thukpa, Momos, Churpee
Best Time To Visit: April to June
Must Read: 60 Best Honeymoon Destinations In India
2. Sikkim – Fall In Love With The Mountains

Popularly known as the brother state in the North East states, travelers find it very easy to fall in love with the great mountainous kingdom of Sikkim. Home to the famous Pemayangtse Monastery and the highest motorable roads of Nathula Pass, Sikkim serves as a peaceful getaway for every traveler alike. No matter how long or short your trip is, this is one place that ought to be a part of your North East trip itinerary.
Must Experience: A bike trip via Nathula Pass – the highest motorable road at a height of 4,310 metres
Capital City: Gangtok
Places To See: Lake Tsomgo, Rumtek Monastery, Gurudongmar Lake, Zemu Glacier, Pemayangtse Monastery, and more.
Things To Do: Backpacking through the Yumthang Valley of Flowers, explore the Singalila National Park, camping at Goecha La Pass, and more.
Key Attractions:  Zuluch, Tsongmo Lake, Gangtok
Famous Food: Sikkim tea, Gundruk, Sael Roti
Best Time To Visit: Between October and mid-December
Suggested Read: 48 Places To Visit In Sikkim: Extraordinary Realms In The North East!
Soul-Stirring Seven Sisters
Apart from the above, there are a total of seven sisters in the northeast that oozes eternal charm and beauty. Take a look below to know all about them and plan a magical holiday amidst nature with your loved ones:
3. Arunachal Pradesh – Mystic Views

Literally translating into the "land of dawn-lit mountains", Arunachal Pradesh is the lesser known North East states which is yet to be explored to the fullest on an epic 5 days trip to North East India. Located in the North Eastern-most extreme of India, Arunachal Pradesh also happens to be the largest state of all seven sisters which is truly blessed naturally. While it may not be as famous as the other sisters, it is definitely worth a visit at least once in your life.
Must Experience: Explore the natural beauty of Tawang – the largest monastery in India, second to the world-largest Lhasa Monastery in Tibet, and the birthplace of Dalai Lama.
Capital City: Itanagar
Places To See: Pakhui Wildlife Sanctuary, Namdapha National Park, Dirang, Parasuram Kund, Daporijo, and more.
Things To Do: Trek to Ziro, trek to Sella Pass, indulge in Ziro music festival, and more.
Key Attractions: Nuranang falls, Bhalukpong
Famous Food: Pika Pika, Chura Sabzi, Marua
Best Time To Visit: October to March
Suggested Read: 16 Beautiful Places To Visit In Mizoram On A Trip
4. Assam – Treat Your Taste Buds

Rich in flora and fauna alike, Assam is one of the most famous North East states that is all about positive vibes and good feels. Famous for its vast tea plantations, and archeological sites, Assam is also home to one of the greatest UNESCO World Heritage Sites of Kaziranga National Park which is one of the best places to visit when traveling to North East. Be it pampering the wildlife lover in you or treating your taste buds to a soothing cup of chai, Assam will amaze you.
Must Experience: Encounter one-horned rhinoceros at Kaziranga National Park, and enjoy boating in Dawki River near the Indo-Bangladesh border.
Capital City: Guwahati
Places To See: Kamakhya Temple, Manas National Park, Assam State Zoo & Botanical Garden, Pobitora Wildlife Sanctuary, and more.
Things To Do: Brahmaputra river cruise, Wildlife safari at Manas National Park, experience the ecotourism of Majuli, shopping in Jorhat, and more.
Key Attractions: Majuli Island, Guwahati Planetarium
Famous Food: Duck Meat Curry, Aloo Pitika, Ou Tenga
Best Time To Visit: October to March
 Suggested Read: 43 Places To Visit When Travelling To North East
5. Manipur – Explore Natural Marvels In Abundance

Famous for being a multicultural society and offering natural marvels in abundance, Manipur is a little jewel in the heart of North East India. Popularly known as the land of festivals, Manipur is also eminent for its majestic hills, indigenous games, rich culture, handicrafts and handlooms, and martial arts. If you're looking for a budget trip to North East India, this is one place you can definitely consider exploring.
Must Experience: Taste Bhut Jolokia (Ghost Pepper) – world's hottest pepper, and shop at Khwairamband Bazaar – a local market with a matriarchal setting and run wholly and only by women
Capital City: Imphal
Places To See: War cemetery, Shri Govindajee Temple, Sendra Island, Keibul Lamjao National Park, and more.
Things To Do: Boating in Loktak Lake, watch a great performance in the theatre, explore the ancient Andro village, chariot ride in Moreh near the border, and more.
Key Attractions: INA session, Kangla Fort, Loktak Lake
Famous Food: Paaknam, Chak Hao Kheer, Morok Metpa
Best Time To Visit: Between September to April
Suggested Read: 20 Perfect Reasons To Visit India: We Bet You Can't Resist Packing Your Bags
6. Meghalaya – Home To The Cleanest Village

True to its name, Meghalaya is indeed an abode of clouds, which gained much fame for being home to the cleanest village in Asia, Mawlynnong. Considered to be the Scotland of the East ever since the times of British Rule, Meghalaya is filled with natural attractions like that of living root bridge, cascading waterfalls, and some of the longest caves in Asia. Visiting this place is undoubtedly a must, especially with a kick-ass camera. Meghalaya is a must-visit place and should be included in your North East trip plan.
Must Experience: Explore Mawlynnong – the cleanest village in Asia and let the charm of living root bridge cast a magical spell on you.
Capital City: Shillong
Places To See: Laitlum Canyon, Double Decker Living Root Bridge in Cherrapunjee, Balpakram National Park, Umiam Lake, and more.
Things To Do: Trekking on David Scott trail, rafting in Barapani Lake, kayaking on Kynshi River, camp on Khasi hills, and more.
Key Attractions: Umiam Lake, Elephant Falls,
Famous Food: Bamboo shoots, Jadoh, Jaintia
Best Time To Visit: April to June,
7. Mizoram – Place Of Hilly People

Renowned to be the "land of the hill people", Mizoram is not only a destination but a whole experience in itself. Featuring mighty mountains that are nestled in north-south ways and numerous narrow rivers, Mizoram offers countless opportunities for adventure enthusiasts to quench their wanderlust. Make sure you include this place in your North East trip itinerary for a mesmerizing holiday experience with your loved ones.
Must Experience: In case you visit Mizoram during the spring season, do take part in the Chapchar Kut Spring Festival which happens to be the oldest festival of the state
Capital City: Aizawl
Places To See: Murlen National Park, Dampa Tiger Reserve, Phawngpui Hills, Vantawng Falls, Luangmual Handicrafts Centre, and more.
Things To Do: Visit the Palak Lake, enjoy mountain biking in the Hmuifang Hills, trekking in the Blue Mountain National Park, and more.
Key Attractions: Mizoram State Museum, Solomon Temple, Rih Dil
Famous Food: Chhum Han, Bamboo Shoot Fry, Misa Mach Poora
Best Time To Visit: November to March
Suggested Read: 31 Reasons Why You Should Never Visit Northeast India
8. Nagaland – Witness The Vibrant Views

Encompassing striking beauty, lush greenery, massive mountains, and quixotic valleys, Nagaland is one North Eastern state that never fails to bedazzle everyone. Housing some of the aboriginal Naga tribes, Nagaland also is famous for the most lively, vibrant, and colorful festivals of India, that celebrate the diverse culture and traditions of its tribes. Perfect for a good long 10 days trip to North East India along with its sister gems, this place would surely leave you in awe.
Must Experience: Usually held in December, it is a must for everyone to witness the joys, and colors of the Hornbill Festival in Nagaland
Capital City: Kohima
Places To See: The war cemetery, Kohima Museum, Tuphema Village, Kachari Ruins, Triple Falls, Veda Peak, and more.
Things To Do: Trekking in Dzoukou valley, enjoy birdwatching in Khonoma, wildlife safari at Intanki Wildlife Sanctuary, hike the Japfu Peak, and more.
Key Attractions: Dimapur, Khonoma Village, view at Dzoukou valley
Famous Food: Zutho, Smoked Pork, Akini Chokibo,  Fish
Best Time To Visit: July to October
Suggested Read: Travel Bucket List India: 27 Light-On-Pocket Experiences
9. Tripura – Beautiful Haven For Art

A lesser-known paradise in the heart of North East, Tripura is yet to receive the attention that it deserves for housing some of the most artistic, and royal palaces, and enchanting temples. Having said that, Tripura is indeed a haven for art, architecture, and history buffs, and also a great place to visit on a trip to North-East India if you love exploring the lesser-known gems. With beauty that you may have never seen before, Tripura will surely take you by surprise.
Must Experience: Every traveler must visit the royal Ujjayanta Palace which takes one back into the historical past of Tripura
Capital City: Agartala
Places To See Neermahal, Unakoti, Gumti Wildlife Sanctuary, Jagannath Bari, Rowa Wildlife Sanctuary, Tripura Government Museum, and more.
Things To Do: Explore the Trishna Wildlife Sanctuary, trek to Jampui Hills, shop the famous bamboo and cane artefacts, boating in Sepahijala Wildlife Sanctuary, and more.
Key Attractions: Tripurasundari Temple, Jampui Hill, Unakoti
Famous Food: Apong, Mui Borok
Best Time To Visit: April to July
Further, Read: Travel To These Buddhist Monasteries In India To Find Inner Peace
Did you know of all these amazing places to visit and incredible things to do on a North-East trip? If your answer is a no, then you're not alone in this. And as it is believed that it's never too late, pack your bags and embark on an unforgettable journey to discover a paradisical place by planning a trip to India. The trip will feel like nothing less than pure magic!
Frequently Asked Questions About North East Trip
Is it safe to visit North East during Coronavirus?
All the places in the North East have maintained their own touch of safety, where all the right measures are being taken and people here are not taking things lightly. Furthermore, because of being less populated, the spread of the virus is comparatively lesser here and can be visited without a worry.
How to plan a trip to northeast India?
While planning a trip to the northeast might seem like a task, it is not if you follow this handy guide. The first step to begin planning is checking the best time to visit the northeast and picking your holiday dates. Keeping the duration of your trip in mind, you can choose the places you wish to visit during your trip and prepare an itinerary for the same. With all that done, a pocket-friendly northeast package is all you have to book and you're then set to head out!
---