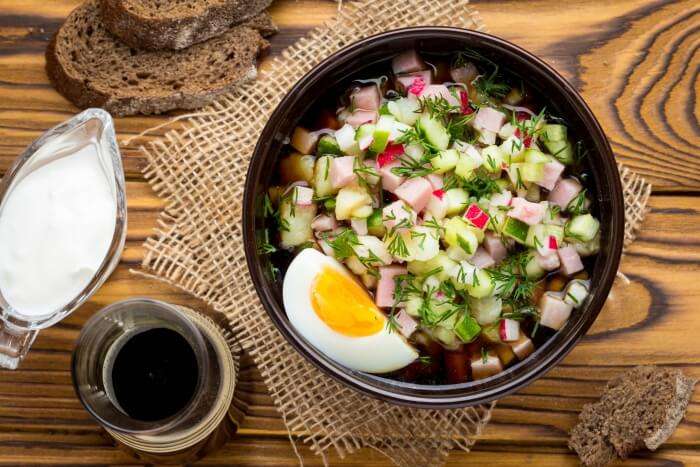 Reasons behind why people go to Moscow is one that it has many awesome places to visit and the other thing is that the wide range of restaurants. But when you think of going to a restaurant you will surely be confused as there are many restaurants in this place. So, you also have to be prepared for everything including restaurants. That is the reason why we have this article that enlists 10 amazing restaurants you can go to in Moscow.
10 Drool-worthy Restaurants In Moscow
If you are in Moscow, then food is the last thing you should be worried about. With an array of restaurants, there is a lot in the city that can satisfy your platter. Here is a detailed walkthrough of the best restaurants in Moscow:
1. Buono
At the time of the Ginza project, there was a leading company that owns many of the very famous restaurants in Moscow, so this company announced to the people that they would be coming up with another restaurant that would be at the 29th floor of Radisson royal hotel. And you could expect how people would be willing to eat in it. And once you go there you will just lick your fingers with the goodness of the dishes. So, overall this is one of the best restaurants in Moscow you could have lunch or dinner in.
Must Read: 15 Interesting Things To Do In Moscow: Trekking, Opera, And More
2. Piccolino
Image Source
You could find many people who are really very fond of homely restaurants. And for sure am one from them. The experience that you get in such restaurants is remarkable. You might be wondering about why am I speaking about homely restaurants now? Yes, this has a reason because Piccolino Moscow restaurants is a homely restaurant. If you are a vegetarian then this restaurant can turn out to be vegetarian restaurants in Moscow. One more thing about this restaurant is that they provide the best as well as the most delicious Italian food. The final thing we would like to say is that this is one of the best restaurants you can visit.
3. Bon
This marvelous restaurant is the creation of Philippe Starck, if you don't know him then he is a very renowned designer. The interior of this place is covered in an electric mix black walls that give it a rich look. There are some people who are very attractive against unusual restaurants, well am not. So, this is one of the Moscow restaurants that you will feel a bit unusual. But the inclusion of all these the food is also one of the plus points of this restaurant.
Suggested Read: 10 Best Hotels In Moscow That Redefine Luxury Like None Other!
4. Café Pushkin
If you like experience Russia's elite in front of you then this Moscow restaurant is a place to go. And once you visit this place you will really feel the feeling of the 19th-century aristocrat's house. With that sort of feel and also the deliciousness in the food this restaurant has turned out to be the best Moscow restaurants. Many people have a dream to feel the feeling of a Novel or a tsar and this restaurant can be the best choices of you to go. But remember you need to have a reservation in advance to dine at this place.
5. CDL
When you get into the interior of this place you will surely be stunned by the beauty of it. And this place is also designed to get the feeling of the silver age of Russian culture. And we give you the surety that it will be an awesome experience of yours. The fire room at this Moscow city restaurant is another amazing place in this restaurant. And this also used as a meeting place sometimes by the president. When you to think to go here you will not have any difficulty in getting the address because this is in the center of the city.
Suggested Read: Shopping In Moscow: 14 Top Places That Will Make You Believe The City Is As Classy & Chic As Milan
6. Gallery café
This place is one of the best loved as well as one of the trendy restaurants in Moscow where you will enjoy your meal for sure. The reason why this place is called the best-loved restaurants has 2 reasons one is because of the delicious food and the second reason is that of the look of the place. This place looks as well as feels very luxurious. This place will also suit you if you like such sort of restaurants.
Suggested Read: Summer In Moscow: Soak In The Landscapes Of This Stunning City
7. O2 lounge
Despite being a restaurant, this place is also very good for seeing. You might not understand what i'm saying because I used the word see, some people can get a doubt how can we see a restaurant instead of eating in it. I probably have an explanation for it. This place is one of the restaurants in Moscow Russia that is half a Chinese restaurant and another bit of it is a pre-club hangout where you can enjoy. The O2 lounge is the second place after dark the restaurant which is the coolest bars present in this city.
Suggested Read: Russian Museums: For A Tour Down The Country's Expansive And Profound Culture!
8. Varvary
The Varvary restaurant is one of a kind restaurant because of its menu created by the head chef based on the concept of molecular gastronomy. And if you order an item, we are sure that it will not be the same as given in the menu. As with the other awesome restaurants in Moscow, this place also has a very amazing interior. You might sometimes get a doubt about this restaurant but definitely, don't have to be doubted because this restaurant has been ranked between the 50 best restaurants in San Pellegrino's in the year 2011.
Suggested Read: 20 Fascinating Places To Visit In Moscow That Reflect The Real Russian Beauty!
9. Oblomov
When you get into this restaurant you will surely feel like the merchants in the time of the 19th century, and this place is also very royal looking that acts as a plus point for this place. The prices of the dishes in here are really very reasonable and also affordable. We are not familiar with the correct prices of it but can say that a pudding or a wild strawberry ice-cream costs 5 of the money in that place. Your mouth will just start watering as soon as you see the menu and especially the pictures on the menu, and this is because of the delicious as well as the most awesome dishes..
Suggested Read: Castles In Moscow: Visit The Country's Stunning Architectural Beauties To Explore
10. Serveryane
If any of your friends visits Moscow, then you will surely try to show them the place beyond the matryoshka dolls, vodka, and Kremlins, then you can really have an idea to show them the Russian restaurants festival, and if you want to do so, then you must take him or her or them to this place. The look of it might not be that good but the taste of the food provided here is completely awesome.
Further Read: With The Red Square Turning White, Snowfall In Moscow Hits A 100-Year High!
If you are going to stay here for a long time like 10 or 15 days then you can visit all the places listed here. These famous restaurants in Moscow can make your Russian holiday a raving success. All you need to do is plan your holiday properly and everything will be fine.
---
Looking To Book An International Holiday?
Book memorable holidays on TravelTriangle with 650+ verified travel agents for 65+ domestic and international destinations.
---