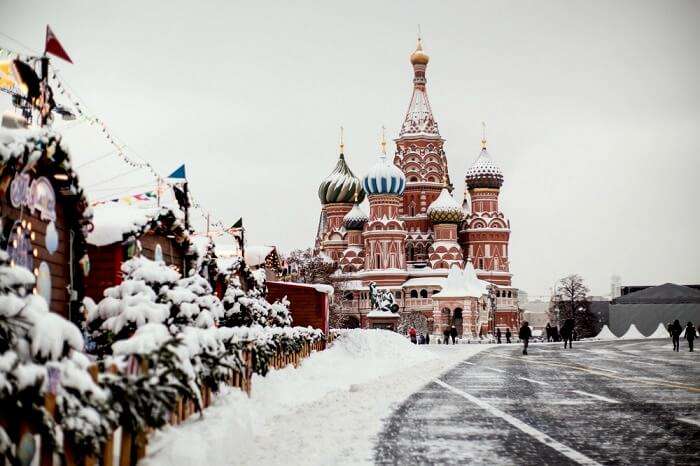 Home to some of the coldest inhabited places in the world, a country like Russia is quite accustomed to harsh weather conditions in winters. But this time around, winters in Russia are not as normal as they used to be as the capital city of Moscow, is witnessing the heaviest snowfall of the century.
According to the data supplied by the government agencies, it has been reported that Moscow has witnessed 45 centimeters of snow within a period of three to five days while one of the weather stations in the city has reported over 55 centimeters of snow right outside their studio. Amazing isn't it? That's like a month's snowfall in just a few days.

Suggested Read: The Glass Beach In Russia Turns Empty Beer Bottles Into A Stunning Kaleidoscope Of Colourful Pebbles!
As snowfall in Moscow breaks a 100 year record, the city is facing numerous flaws in its functionality with major effects on the transportation system. More than 850 flights have either been canceled or postponed, and the road transport has also been hampered as the local services have not been able to clear the ice from roads yet.
With snowfall hitting the city hard, it has also been reported that more than 2,000 trees have collapsed. While the situation is being controlled by the Russian military, the whole city has turned into a winter wonderland indeed.

Suggested Read: Trans Siberian Railway: World's Longest Rail Network That Crosses 8 Time Zones Across 9300 Kms!
However, regardless of such severe conditions, the attractions like Red Square, Moscow Kremlin, and Saint Basil's Cathedral have turned into a pure snowy delight giving a window to the tourists to relish the best of snowfall while it lasts.
With climate change showcasing drastic effects on the environment and changing the face of the world at a fast pace, it would be best for the travelers to explore these places while the time is still right. So when are you packing your bags?