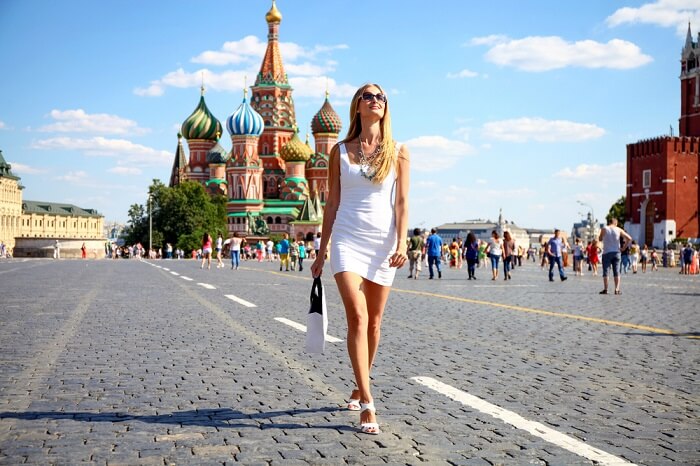 The cities in Russia may not be as popular as the fashion capitals Milan and Paris, but if you go for shopping in Moscow, your opinion will change, pockets will feel lighter, and heart happier than ever. Home to both high-end brands and stylish street styles, Moscow offers just the ideal shopping therapy you might need. Though what makes shopping there a one-of-its-kind experience is the fact that the city has something for every type of a Shopaholic, and never disappoints.
From chic to classy, it has got it all and we can vouch that after shopping at these 10 best places in the city, even you would agree that Moscow is as good as Milan or Paris.
10 Best Places For Shopping In Moscow For A Unique Experience
1. GUM
Located in the Red Square's eastern side, the GUM is the most famous mall and department store in the city. Due to its 19th century architectural style, it looks like a royal palace and indeed offers an experience that's no less than royalty-like. With brands like Dolce & Gabbana, Valentino, Saint Laurent, Jimmy Choo, Emilio Pucci, and more, you'd surely end up having the most classic shopping experience in Russia.
Timings: 10 AM to 10 PM on all the days
Location: Red Square, 3, Moskva, Russia
2. Arbat Street
Suggested Read: 15 Fascinating Places To Visit In Moscow That Reflect The Real Russian Beauty!
Situated in the historical centre of the city, this is the best Moscow shopping street. From classy souvenirs to innumerable elegant stores, you'd end up finding a lot that you didn't even want to buy in the first place. But, we can vouch that there wouldn't be any regrets since the Arbat Street is the oldest and most popular place for cheap shopping in Moscow.
Timings: 10:00 AM to 9:00 PM
Location: Arbat Ulitsa | Arbatskaya Metro, Moscow, Russia
3. TsUM
For shopping in Russia, Moscow is indeed the best place to be and TsUM proves that well. Situated on the Petrovka Street, this high-end mall can be reached on foot from most of the popular tourist attractions like Red Square and the History Museum. It is home to around 1,000 brands of clothing, footwear, accessories, and cosmetics. So, if you're on a shopping spree and wish to give your wardrobe a makeover, this is the place where you need to stop by.
Timings: 10:00 AM to 10:00 Pm from Monday to Friday, and 11:00 AM to 10:00 PM on every Sunday
Location: Petrovka Ulitsa, 2, Moskva, Russia
4. Izmailovo Market
Suggested Read: Russia Plans To Open A Luxury Hotel In Space By 2022 Since Earth Is Too Mainstream!
Located near the Partizanskaya metro station, this craft, flea, art & antiquity market is undoubtedly the best place to buy Moscow souvenirs and Russian handicrafts. Classic paintings, icons, handmade items, books, fashion wear, bags, and furniture are some of the things that you can buy here. Also, if you wish to shop more and spend less, visit here between 10 to 3.
Timings: 10:00 AM to 8:00 PM from Monday to Friday, and 10:00 AM to 6:00 PM on Wednesday, Saturday & Sunday
Location: 2, Moskva, Russia
5. Kuznetsky Most
Famous for its boutiques and bookstores, Kuznetsky Most is indeed a famous shopping street in the city. From German fashion to French styles, you can find the best of everything chic here. Trendy accessories, top-notch fragrances, and elegant apparel are some of the things to look forward to if you're visiting this popular place.
Timings: 10:00 AM to 10:00 Pm on all the days
Location: Ulitsa Kuznetskiy Most, Moskva, Russia
Suggested Read: Museums In Moscow: 10 Places In Moscow That Are A Reminder Of Russia's Glorious Past
6. Aviapark
Must Read: 10 Places To Visit In Russia To Witness The Beauty Of This Incredible Nation
Located in the northern part of the city in the Sokol district, Aviapark Mall is one of the newly opened shops in Moscow. It has gained popularity for being the biggest mall in Europe till now and we bet you won't be disappointed once you're here. With innumerable high-end brands under one roof, top-notch restaurants, and cinemas, it makes for the perfect place to pamper or treat yourself.
Timings: 10:00 AM to 10:00 PM on all the days
Location: Khodynskiy Bul'var, 4, Moskva, Russia
7. Okhotny Ryad
Okhotny Ryad is yet another popular shopping mall in Moscow, but the largest. It has innumerable brands where you would easily find everything you'd be looking for. You can go around and shop everything that you desire until you find yourself in the need for a relaxing break. And when you do, just visit this mall's food court which will pamper the foodie in you equally.
Timings: 10:00 AM to 10:00 PM on all the days
Location: Manege Square, 1, Moscow
8. Flacon Design Factory
Suggested Read: The Glass Beach In Russia Turns Empty Beer Bottles Into A Stunning Kaleidoscope Of Colourful Pebbles!
Once known as a perfume factory, Falcon is now an amazing place that houses high-end clothing stores, trendy local shops, classic restaurants, entertaining fairs, and more. With so much to do and see, 'what to do in Moscow' would never be your concern if you are spending a day at Falcon. This place is not only a great place to shop, but indeed an impeccable spot to catch a glimpse of the Russian culture & lifestyle.
Timings: Open for 24 hours
Location: Bol'shaya Novodmitrovskaya Ulitsa, 36, Moskva, Russia
9. Gorbushka Market
Home to countless number of stores and stalls selling all kinds of electronics, Gorbushka in Moscow is the place to visit if you're looking for anything like gadgets, home appliances, or cheap DVDs. While there is no significant difference in the prices, the variety is endless. Also, the CDs or DVDs sold here are mostly pirated, so be careful about buying them or carrying them out of the country as it is illegal.
Timings: 10:00 AM to 9:00 PM on all the days
Location: Ulitsa Barklaya, 8, Moskva, Russia
10. Tverskaya
Suggested Read: A Freak Portable Charger Explosion On Flight Caused An Evacuation In Russia
Tverskaya is amongst the most famous Moscow shopping streets where you can find everything from a gem on the street to a jewel in a store. This radial road is a mecca for Shopaholics and there is no reason why you should not visit this place. With hundreds of luxury stores and mid-range shops, you'd surely end up with a lot of bags in your hand and gleam in your eyes.
Timings: 10:00 AM to 10:00 PM on all the days
Location: Tverskaya ulitsa, Moscow, Russia
Most Exclusive Things To Buy In Russia
Suggested Read: Starting Next Year, You Could Walk Through Space, And Here's How!
While Russia houses almost every high-end brand or exquisite new store, it also offers some pretty unique things, especially to for tourists to take home as souvenirs. Some of these exclusive things that you must buy while shopping in Moscow, Russia are imperial porcelains, Russian shawls, gzhel ceramics, palekh miniatures, Faberge replicas, Russian chocolate, and space food. Since these things are definitely items you wouldn't find anywhere else, make sure you pick them first!
Tips For Shopping In Moscow
While buying historical artwork and artefacts, make sure you check with the seller how old is the item and get a certificate as a Russian law prohibits the export of such items.
During shopping in Russia, you may definitely want to splurge on high-end brands. But don't forget to buy the unique gems in the country like the space food, Faberge replicas, imperial porcelains, and more.
Bargaining is not something that you can do at every place in Moscow. So make sure to look around for any 'Prices are fixed' signs before you try and make a bargain.
Try to learn some important Russian words that help you while you're shopping in the malls or the famous markets.
Don't forget to take a look at the duty free allowance before you make your purchases.
Check the weather and wear comfortable clothes before you head for street shopping.
Further Read: Moscow In Winter: 8 Things To Do In The City That Holds To The Key To Russia's Past
So, the next time you're planning a trip to Russia or are looking for the best places across the world to fulfil your shopping desires, make sure you count Moscow in it. Also, don't forget to carry this Moscow shopping guide with you for having the most impeccable experience!
Comments
comments