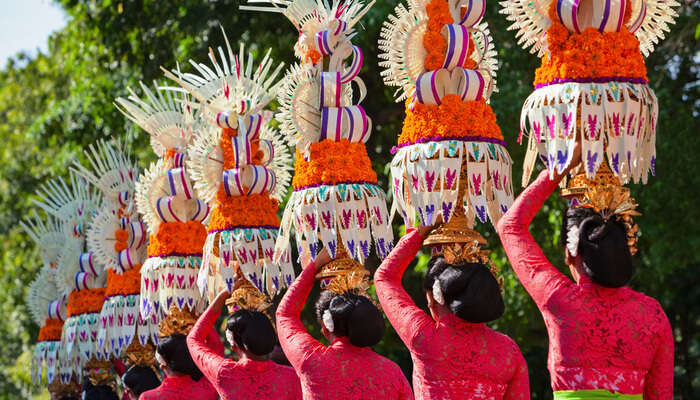 Bali is a glorious destination, it has everything that can amaze you. From beaches to temples, clubs to shopping spots, it is a perfect mix of different cultures and traditions. It features beautiful landscapes, some of the best beach resorts in the world and rich flora and fauna. You can do surfing, snorkeling, scuba diving and a lot more here. To sum up, it is a must-visit destination and a perfect destination for your family vacation.There are a lot of things to do in Bali with family such as visiting beautiful organic farms, watching dolphins, shopping and much more! You should try all these activities as they provide you with a great experience. Have a look at the list of things to do in Bali with family for your vacay!
15 Best Things To Do In Bali With Family
Did you know that Bali is home to the only chocolate factory in the world fully made from bamboo? To assist you, here's a list of the most popular things to do in Bali with Family.
1. Organic Farms: Pay A Visit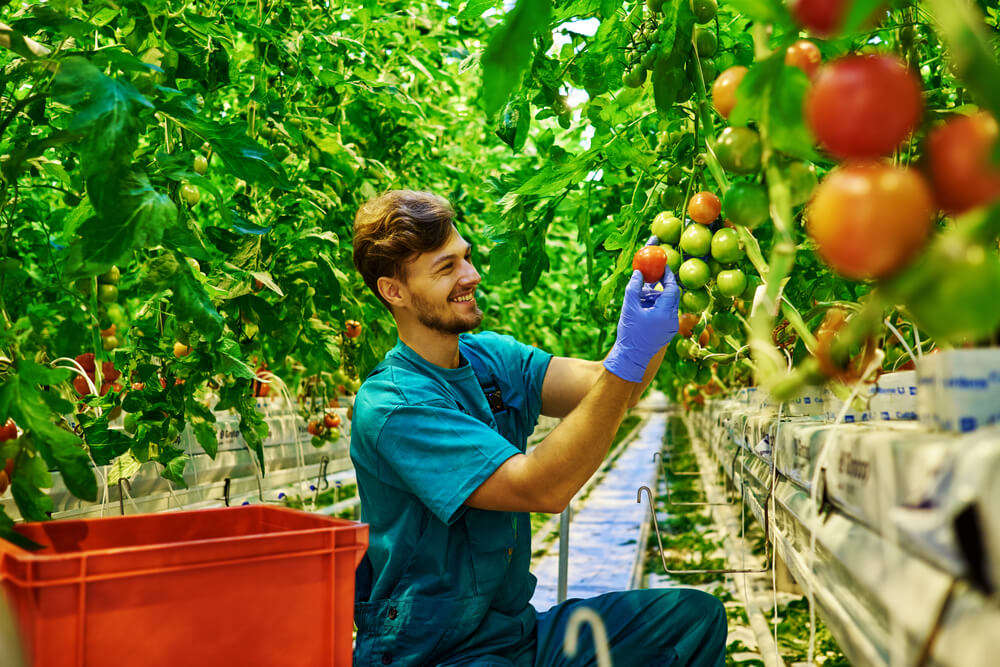 The best thing about Kintamani and Bali, in general, is that you can find scenic landscapes even in mundane places. These organic farms are just a blooming example of how beautiful this island is. The Organic farms and their produce is rich in nutritious value that it gets from the volcanic soil. If you take a tour you can see a variety of fruit and vegetables that are pure and fresh.
Location: Jalan Raya Belantih No.binyan, Belantih, Kec. Kintamani, Kabupaten Bangli, Bali 80652, Indonesia
Timings: 6 am to 6 pm
Average Cost: N.A.
Tips: Make sure you ask for some samples to take back home!
Top 6 Markets In Seminyak Bali To Be Visited For A Great Shopping Experience In 2022
2. Lovina Beach: Go For Dolphin Watching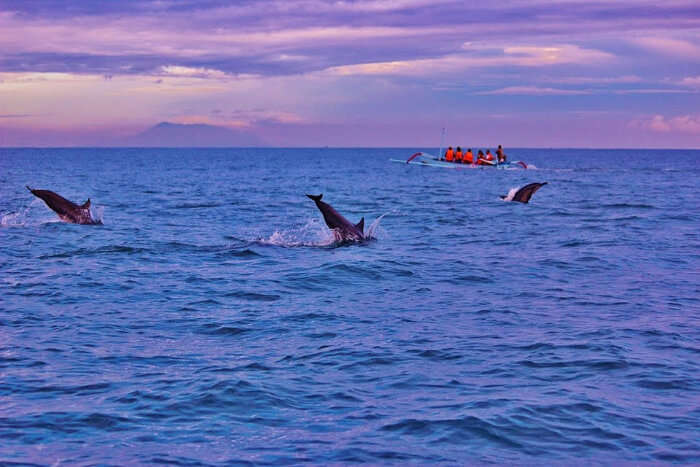 If you're an early bird, and even otherwise, you should not miss out on their early morning Lovina Beach dolphin tour. Dolphin swimming in Lovina beach is known all over Bali and there are many boatmen who will readily take you on a tour to watch these magnificent fish jump over the waves. The best option would be to book your ride a day in advance with the boatmen, to avoid last-minute unavailability. Did you know that dolphins are considered lucky and are a symbol of peace? You should not miss out on dolphin watching when you are in Bali.
Location: Lovina Beach, Bali, Indonesia
Timings: 7 am to 10 pm
Average Cost: INR 2,800
Tips: Do not feed the dolphins anything. Make sure you follow the instructions carefully.
6 Must-Visit Waterfalls In Bedugul Bali For An Adventurous Trip In 2022
3. Markets: Shop Your Heart Out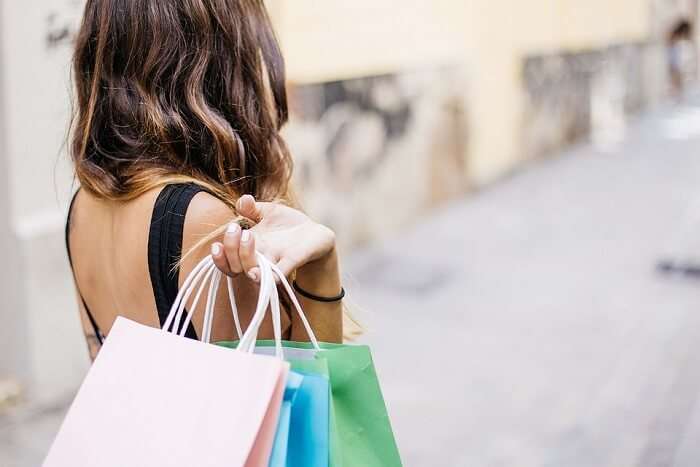 Image Credit: gonghuimin468 for Pixabay
There are a lot of market stalls on the way to the Gitgit waterfall. So, if you want to carry souvenirs back home from your Bali trip, you will get plenty of options on this path. While youre out and about in this charming land, make sure you shop your way through the famous Bali streets and take home more than just memories! Shopping is the most famous thing in Bali among tourists. Bali has some of the hottest shopping spots in Indonesia like Ubud Art Market, Guwang Art Market and Sukawati Market where you can shop for various products like handicrafts, paintings, clothes and souvenirs.
Location: Ubud Art Market, Sukawati Market, and Guwang Art Market
Timings: 9 am to 6 pm
Average Cost: N.A.
Tips: Make sure your bargaining skills are on point!
6 Amazing Waterfalls In Amlapura Bali Worth Exploring On Your Vacay In 2022!
---
Planning your holiday in Bali but confused about what to do? These Bali travel stories help you find your best trip ever!
---
4. Jatiluwih Green Land: Go For Farm Expedition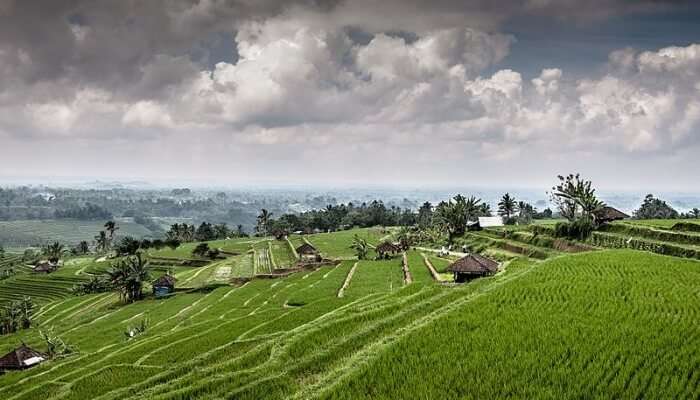 Another most loved activity in Jatiluwih Green Land in Bali is investigating the outback. Basically, lease a bike and drive along small side roads and appreciate genuine immaculate Bali. You will find little towns and perceive how local people in real life. Ranchers in the towns utilize customary approaches to collecting their harvests and many areas yet carrying on with an extremely conventional life. Most likely, you can have a little knowledge of services and family life. Say Hi to the great local people and recover a colossal grin. Meet the genuine fortunes of Indonesia Meet local people!
Location: Village, Jl. Jatiluwih Kawan No.Desa, Jatiluwih, Penebel, Kabupaten Tabanan, Bali 82152, Indonesia
Timings: 6 am to 7 pm
Average Cost: INR 100
Tips: Do indulge in rice field trekking when in this location
 Flea Markets In Padangbai Bali For An Unstoppable Shopping Spree In 2022!
5. Pura Luhur Batukaru Temple: Pay Homage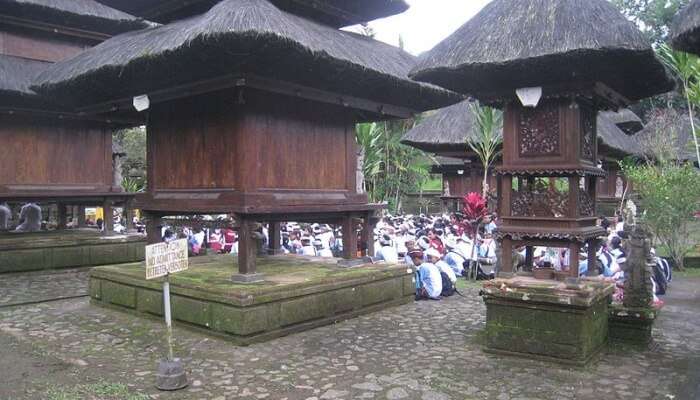 Pura Luhur Batukaru is a standout amongst the most hallowed temples on Bali and was worked in the eleventh century. Situated amidst the wilderness and unquestionably a supernatural place. It is mandatory to wear a scarf and a sarong, you can acquire both for nothing out of pocket at the entry of the temple. Sightseers are allowed to enter the first yard, the entrance to the main temple zone is disallowed. Because of the foggy evening, the best time to visit Pura Luhur Batukaru is toward the beginning of the day.
Location: Tabanan, Bali, Indonesia
Timings: 24 hours
Average Cost: INR 100
Tips: The best way to reach is here by taking a ride on the motorcycle!
10 Amazing Night Markets In Bali In 2022 For The Shopaholic Inside You
6. Hanging Gardens: Take A Plunge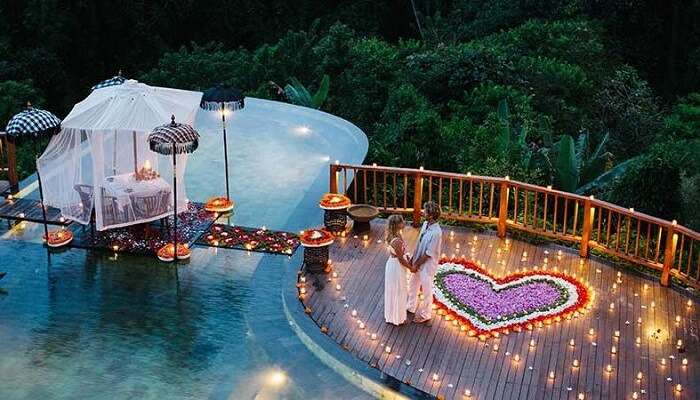 One of the best things to do in Bali with family is definitely spending some leisure time in one of the most mystical jungle resorts of Bali – The Hanging Gardens. Nestled amidst the stunning rain forest on all four corners, this resort offers a jaw-dropping infinity pool with some picturesque views of the valley. While the little ones can take a plunge in the world's best swimming pool ever, the adults can simply relax and rejuvenate in the spa that is sitting right next to the river. The facilities and services offered by this jungle resort are definitely unmatchable.
Location: Buahan, Payangan, Gianyar, Bali 80571, Indonesia
Timings: 24 hours
Average Cost: INR 55,000
Tips: Make sure you plan your trip to Hanging Gardens for more than one night as they follow the policy of stay longer, save more!
10 Best Places To Visit In Bali With Kids For A Fun Filled Holiday In 2022!
7. Bali Marine And Safari Park: Witness The Majestic Lions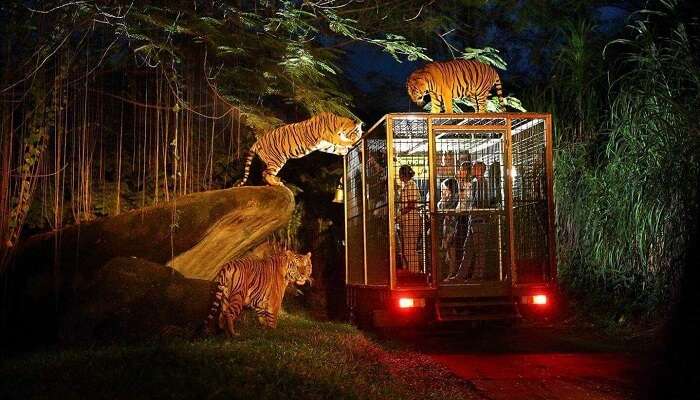 If you are one of the animal lovers and nature admirers, then taking a trip in Bali Marine And Safari Park is one of the top things to do in Bali for you. This is the park where the tables turn. You get to witness the wild from up close while riding in a cage tram that is specifically designed for this tour. One can witness the majestic lions and chivalrous tigers in their natural habitat, living their life to the fullest. If you are looking for some night activity, you can go for the night safari. At night, one can witness the traditional Balinese dance show and indulge in barbeque dinner with a pride of lions!
Location: Jl. Profesor Ida Bagus Mantra km 19,8, Serongga, Kec. Gianyar, Kabupaten Gianyar, Bali 80551, Indonesia
Timings: 9 am to 5 pm
Average Cost: INR 4,000
Tips: Please do not try to feed the tigers and lions. Make sure you follow the instructions given by the guide completely.
10 Exquisite Places To Visit In Seminyak Bali In 2022 For An Absolute Escape!
8. Nusa Penida Island: Stroll Around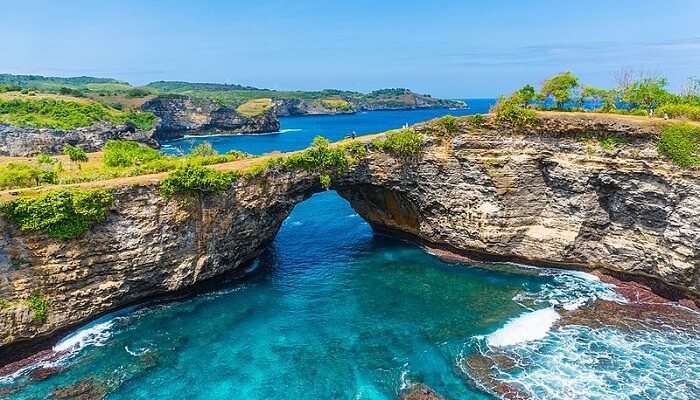 For those families who are always on a lookout for some paths less taken, do not forget to add Nusa Penida Island in your places to see on your Balinese escape. Full of natural marvels and wonders, this island is relatively unexplored, hence unspoiled by human contact. With the blended colors of azure and aqua that can be seen in the waters, white sandy beaches, lush green vegetation, and the tranquility of the atmosphere, this island has plenty to offer. The naturally formed infinity pool that exhibits landscape of the dinosaur head-shaped viewpoint and the greener than ever lagoon is enough to leave the jaws dropped to the ground.
Location: Klungkung Regency District, Bali
Timings: 7 am to 10 pm and 2 pm to 5 pm (Speedboat)
Average Cost: INR 4,100
Tips: Make sure you have some good walking shoes and are carrying your flip-flops along when planning to visit this site.
12 Best Restaurants In Uluwatu Bali For A Scrumptious Getaway In 2022!
9. Waterbom: Beat The Heat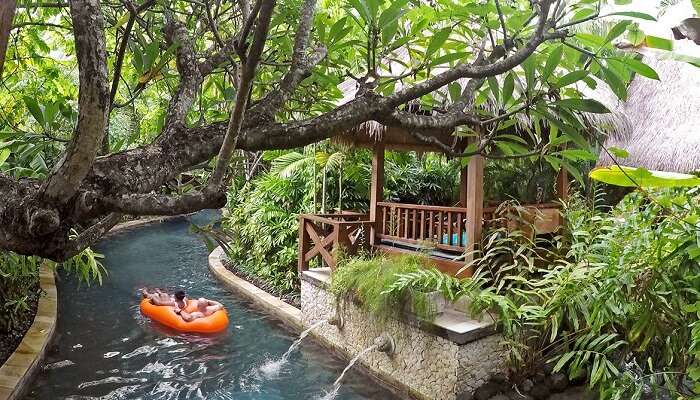 One of the fun things to do in Bali for family is surely paying a visit to the most happening waterpark of Bali – Waterbom. This waterpark has been often tagged as Asia's number one and offers some refreshing garden spaces, and some of the world-class rides for both adults and kids. Being a tropical location, Bali often experiences a hot and humid climate. This waterpark is hence, a perfect respite from the summer heat that encircles the destination. Moreover, this waterpark also houses some restaurants that serve scrumptious and nutritious food for all age groups.
Location: Jl. Kartika Plaza Tuban, Kuta – Bali 80361 Indonesia
Timings: 9 am to 6 pm
Average Cost: Starts from INR 1,700
Tips: Make sure you carry your swimsuits and towels along on your trip to Bali!
Read More: 5 Places To Visit Near Finns Beach Club Bali With Family For A Delightful 2022 Vacay
10. Kintamani: Witness The Volcano Up Close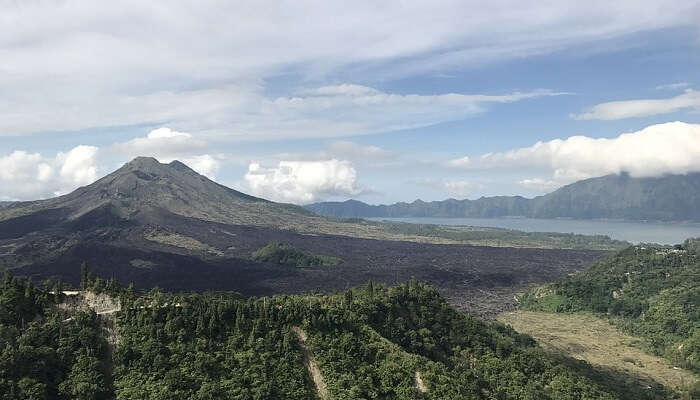 Individuals can indulge in taking a tour of Kintamani which often turns out to be one of the favorite things to do in Bali with family. Kintamani is home to one of the most beautiful and picturesque natural settings one has ever seen. Azure, clear blue waters, an active volcano standing tall and proud, and the majestic temples surrounding it forms a view that leaves the jaws dropped to the ground. This natural setting is often the reason to attract all the photographers and nature loves to Kintamani. The tour not only offers a chance to get the first hand experience of an active volcano but also includes strolling around rice terraces, walking among coffee plantations, witnessing traditional Balinese dance, learning the crafting of gold and silver ornaments, and much more.
Location: Near Mount Batur, Bali
Timings: 6 am to 6 pm
Average Cost: INR 3,300
Tips: Do take a dip in the natural hot springs that are present in the Toya Bungkah Village.
3 Awesome Places To Visit Near Taman Tirtagangga Bali For Your 2022 Vacay!
11. Temples: Explore The Stunning Places Of Worship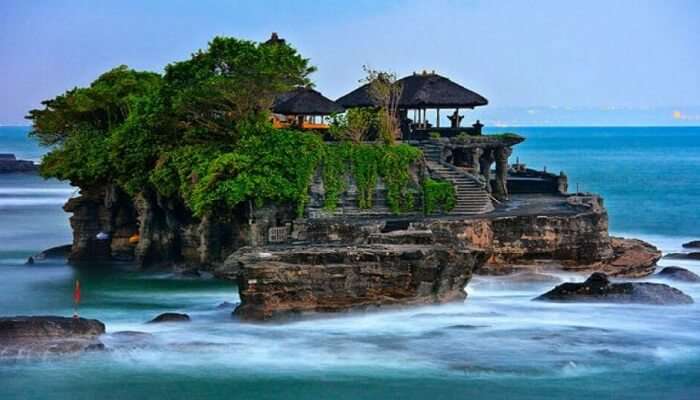 Not only some of the best places to embrace solitude and peace, but the temples of Bali are also famed for the magnificent structures. Bali is not known as the 'Island of God' for no reason. This destination is home to hundreds and hundreds of temples that are also a part of the picturesque landscapes of Bali. One of the most famous ones and the must-visit ones is Uluwatu. This temple is located at the peak of a cliff that is sitting around 70 meters above sea level. Another one of the famous temples of Bali is the sea temple Tanah Lot. This temple is located on the rocky outcrop and is best visited when the tides are low.
Location: All over Bali
Timings: 7 am to 7 pm (Mostly)
Average Cost: INR 300
Tips: Dress decent when paying a visit to various temples in Bali as a token of respect.
3 Enchanting Islands Near Dream Beach Bali For A Vacation In 2022
12. Bali Hai: Cruise Along The Indonesian Waters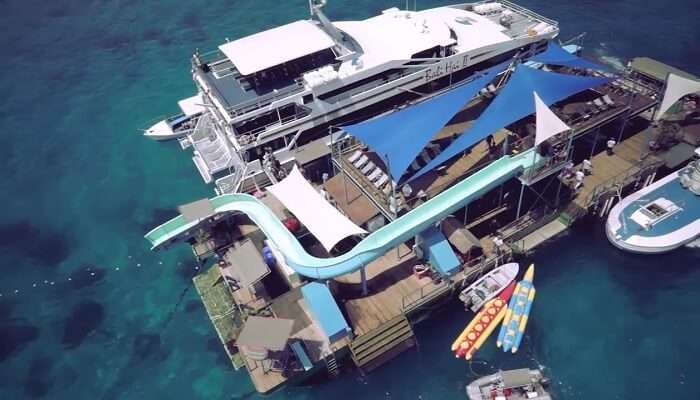 Another one of the fun things that one can do in Bali when traveling with family is spending a day on the waters, in a cruise. Nothing is more relaxing and refreshing than spending some leisure time on a luxury cruise. Imagine sunbathing on the sundecks, witnessing the calm waters that are spread all around, and the idea of getting away from the crowd. The best part about the cruise is that along with some leisure time, the cruise also gives those who wish to be a part of watersports like scuba diving and cliff diving. The Bali Hai cruise also offers a giant water slide that drops one right into the ocean.
Location: Denpasar City, Bali, Indonesia
Timings: 7 am to 9 pm
Average Cost: INR 5,700
Tips: Make sure you have all your pre-bookings done when planning to take a cruise in Bali.
9 Stunning Must Visit Markets In Uluwatu Bali In 2022 For Shopaholics
13. Bali Bird Park: Spectate The Colorful Birds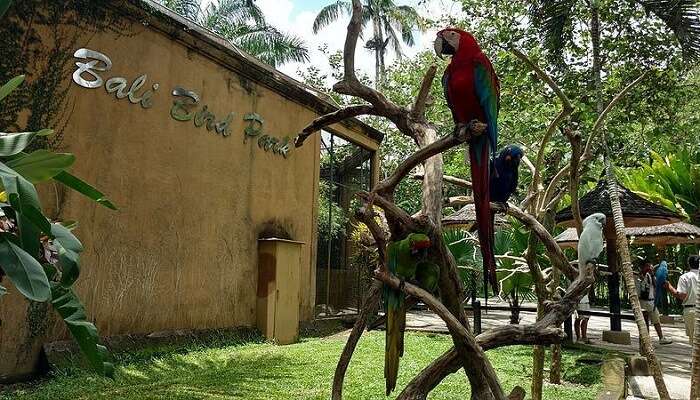 One of the best things to do in Bali with family is visiting the Bali Bird Park. This Park is home to thousands and thousands of birds from various corners of the world. One can witness some of the most stunning and beautifully colored birds up close. The park offers natural habitat to the birds residing here and most of them can be seen roaming around freely in this retreat. Nature,birds, and the jungles make it a perfect time to gain some education while having the time of their lives. To add, the birds can be seen exhibiting some outstanding acrobatics in their habitat.
Location: Batubulan, Bali, Indonesia
Timings: 9 am to 5:30 pm
Average Cost: INR 900
Tips: Do not feed the birds anything on your own. Talk to the instructor first and then take the necessary steps.
3 Best Places To Visit In Iseh Bali For 7 Days To Have An Enthralling Holiday In 2022!
14. Tjampuhan Spa: Get Yourself Pampered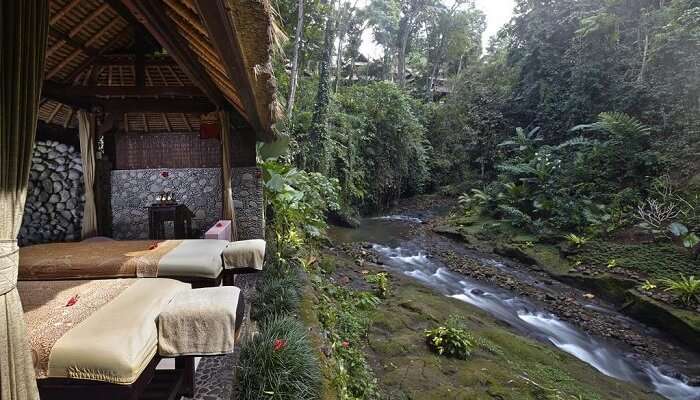 If you skip the traditional Balinese spa treatment when in Bali, your vacation will definitely be incomplete. One of the best spas in Bali is nestled in the tropical jungles and offers some of the most extravagant and rejuvenating spa experience to travelers. With the fragrance of aromatic oils and the sounds of gushing river nearby filling the atmosphere of this Spa, one tends to get de-stressed and relaxed in an instant. The spa offers open air massage to guests which gives them a chance to get closer to mother nature right in the middle of lush green forest. The spa is famed for completely utilizing the therapeutic and medicinal properties that are present in the water.
Location: Jl. Raya Tjampuhan PO Box 198, Ubud 80571, Bali, Indonesia
Timings: 9 am to 8 pm
Average Cost: Starts from INR 700
Tips: Visit the spa when you have time on your hands. Do not rush the spa treatment offered here.
3 Amusing Places To Visit Near Mount Agung Bali For A Great Vacation In 2022!
15. Upside Down House: Get Some Snaps For Your Insta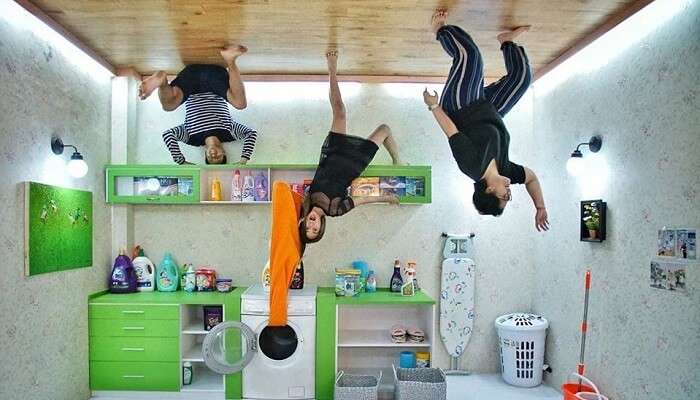 Another one of the locations that gives one a chance to embrace their inner child is the Upside Down House. This is one of those unique places to visit that will only help you gain some great pictures for your 'Gram. Upside Down House blankets a total of seven rooms that have been specially designed. These rooms are adorned with quirky decor and interiors where everything is topsy turvy. When you enter this spot, it is definitely going to blow your mind. Upside Down House happens to be one of the best places to get some crazy family photographs clicked.
Location: Jl. By Pass Ngurah Rai No.762, Pemogan, Kec. Denpasar Sel., Kota Denpasar, Bali 80221, Indonesia
Timings: 9 am to 8 pm
Average Cost: INR 100 for adults and INR 50 for kids
Tips: Do not forget to carry your cameras to get some crazy pictures clicked!
Read More: 5 Places To Visit Near Tegalalang Rice Terraces Bali In September 2022 With Your Loved Ones!
Excited to explore these things to do in Bali with family? These are the best things you can try here, you may also try other activities like island walking, sunbathing and enjoying the beautiful sunset. Looking for more reasons to visit Bali? It is also the best destination in the world for beach holidays because it has some of the best beaches in the world such as Kuta Beach, Sanur Beach, Lovina Beach and Legian Beach. Now that you know Bali has many great places to visit and exciting things to do, what are you thinking about? Plan your vacation to Bali now and explore this aesthetic island. Be fearless in the pursuit of what sets your soul on fire, Bali is one such destination that will offer you a soul-soothing experience.
---
Looking To Book An International Holiday?
---