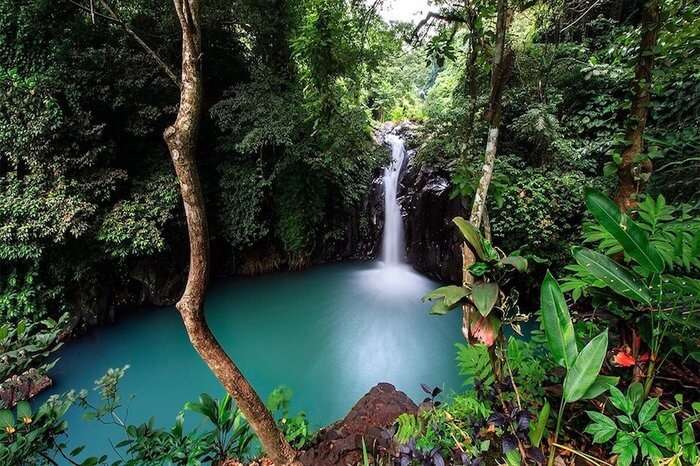 The most amazing waterfalls in Bali are hidden treasures that you can find in lush rainforests and deep mountain valleys in the island's central highlands. They're among the great sites to add to your list of adventurous things to do in Bali. Most are at the end of scenic routes, usually requiring treks past rambling creeks. You may sometimes need to cross wooden bridges and descend a series of rocky steps. Upon discovery, these popular Bali waterfalls reward you with immersive experiences. The waterfalls in Amlapura Bali are no different. Its breathtaking view and lush green surroundings are totally worth the rough and tiring trek that leads to it. You can take a dip in the pebbly pools under cascading falls for a soothing break. Some of Bali's best waterfalls let you take in their magnificent views from down at their surrounding base or from above adjacent hilltops.
Apart from waterfalls, Amlapura has a lot of interesting things to see and explore. Amlapura was previously named Karangasem, but its name was changed after the eruption of Mount Agung in 1963. Amlapura is an important transportation hub in east Bali and has several beautiful palaces from the turn of the century. Despite its relatively small size, it's a busy and multicultural place, with Chinese shophouses and several mosques. Amlapura makes a great destination for honeymooners or adventure seekers who wish to uncover the hidden treasures of Bali.
6 Most Amazing Waterfalls In Amlapura Bali
The beautiful waterfalls in Bali attract people from the world over for their striking natural settings and hypnotic allure. People seeking to spend time amidst pristine wilderness find these falls to be a great way to escape the chaos of the cities. Here are the 6 most amazing waterfalls in Amlapura Bali that you just can afford to miss.
1. Tegenungan Waterfall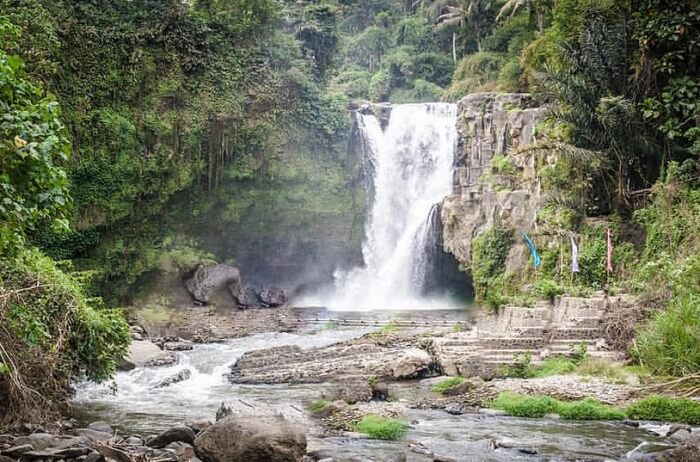 If it is a hot and humid day in Ubud then you can go to the Tegenungan Waterfall which is just 10 minute to the South of Ubud. The waterfall is located in a small valley. You can enjoy a swim in the pool at the bottom of the waterfall and wander around the gorge. The waterfall is surrounded by dense greenery and the volume of the water in the waterfall is quite impressive throughout the year. The water volume increases during the monsoons, that is, October to April. It is not advised to go to the waterfall during heavy rainfall due to the danger of flash floods.
Location: Jalan Ir. Sutami, Kemenuh, Sukawati, Kemenuh, Sukawati, Kabupaten Gianyar, Bali, Indonesia
Timing: 6:30 am to 6:30 pm
Entry fee: INR 77/person
Mount Kawi: A Pocket Guide To Add More Scenic Charm To Your Bali Holiday
2. Nungnung Waterfall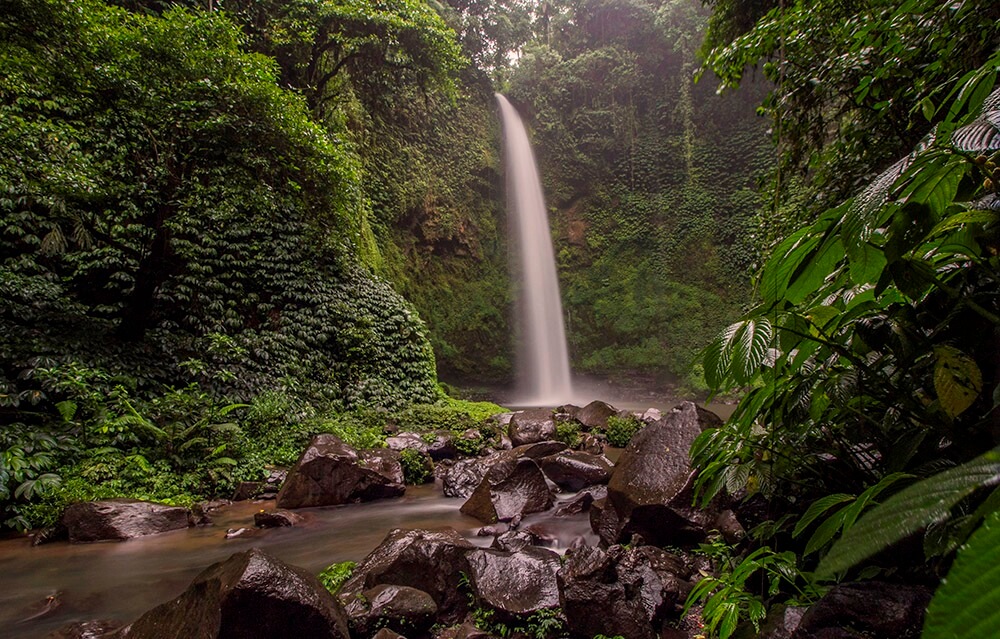 Air Terjun Nungnung, lies between Bedugul and Ubud. It is a beautiful waterfall which is just the perfect place to refresh yourself and recharge your senses. Situated around 900 meters above the sea level, the waterfall is surrounded by beautiful lush greenery and is a welcoming sight for nature lovers as well. Bring your camera with you to take some amazing photographs. It should be noted that this water isn't ideal for swimming and moreover, the 500 step pathway which leads to it can prove to be taxing for many.
Timing: 9am to 4 pm
Entry fee: INR 51/person
60 Spellbinding Bali Tourist Attractions To Visit In 2022
3. Gitgit Waterfall

One of the most popular and beautiful waterfalls in Bali is Gitgit. Cascading down from a height of 35 meters, it is a spectacular fall, surrounded by lush green forests. Located between Bedugul and Singaraja, this Gitgit waterfall can be reached by a small hike. People travelling to Lovina beach, make a stopover here at Gitgit falls. It plunges down to a small pool, guarded by a shrine.
One can take a dip and swim to spend some chilled-out time here. There are some cafes and souvenir shops at the entrance of the waterfall, for some quick bites and retail therapy.
Location: Jalan Raya Bedugul, Singaraja, Gitgit, Kabupaten Buleleng, Bali
Timing: Round the clock
Entry fee: INR 135/person
Bali In Summer: A Pocket Guide For A 2022 Holiday Affair In Indonesia
4. Sekumpul Waterfall

Sekumpul Waterfall is every nature lovers delight. Known as one of the best waterfalls in Bali, Sekumpul is a cluster of 6 to 7 narrow cascades, plunging down from an average height of 80 metres. Surrounded by lush green bamboo woods, this waterfall is reached by a moderately challenging trek, on the route to Lovina Beach.
Tourists can enjoy the breathtaking view of 7 cascades from the top while those who love adventure, can enjoy the hike by crossing small streams and trekking down. Moreover, this is one of the best swimming waterfalls in Bali, so you can dive into the plunge pool to chill out and unwind, as well.
Location: Sekumpul, Sawan, Lemukih, Sawan, Kabupaten Buleleng, Bali
Timing: Round the clock
Entry: INR 48/person
10 Picturesque Waterfalls In Bali Where You'll Find Heaven On Earth
---
Planning your holiday in Bali but confused about what to do? These Bali travel stories help you find your best trip ever!
---
5. Aling Aling Waterfall

Are you an adventure buff- Then, this is one of the best Bali waterfalls for you. The natural water slide, refreshing plunge pool, verdant surrounding and shower like spray beneath the falls, make the entire valley look stunning and picturesque. This is the best place to spend some thrilling moments with family and your better half.
Location: Jalan Raya Desa Sambangan, Sambangan, Sukasada, Kabupaten Buleleng, Bali
Timing: 8 am to 4 pm
Entry fee: INR 96/ person
43 Best Private Pool Villas In Bali For 2022: Classiest Abodes For Luxury & Romance
6. Banyumala Waterfall

If you wish to move away from the touristy crowd, head to Banyumala waterfall, for complete relaxation and rejuvenation. Located amid the opulent valleys of the Wanagiri village in Buleleng, one needs to trek quite a bit to reach this scenic marvel. Popular as Air Terjun Tirta Kuning or Yellow Waterfalls; this is definitely among the most beautiful waterfalls in Indonesia.
Location: Wanagiri, Sukasada, Wanagiri, Sukasada, Kabupaten Buleleng, Bali
Timing: 7 am to 6 pm
Entry fee: INR 73/person
What To Expect From Bali In September: Events, Weather, And More
Bali is a limitless source of amazing places to discover and explore. This archipelago of 17000 islands has a lot many more amazing waterfalls and beautiful places to explore than what you can read about over the internet. The amazing waterfalls in Amlapura Bali that are mentioned above don't even begin to cover a small portion of it. Bali is known as an amazing harmony of rich culture, religious grandeur, and breath-taking nature. Even if you are visiting its nature attractions, still you will find some spots that dedicated to the Deities. If this doesn't excite you to visit Bali and experience its otherworldly beauty, nothing else will.
Frequently Asked Questions Related To Waterfalls In Amlapura Bali
What is there to do in Bali at night?
Kuta, Seminyak and Legian region are the epicenter of nightlife in Bali. You can walk on the beach or enjoy a rooftop BBQ.
Which is the most beautiful place to visit in Bali?
Some of the most beautiful places to visit in Bali are Pura Ulun Danu Bratan, Uluwatu temple Pura Tanah Lot, Nusa Dua beach, and Mount Batur. All these places are famous for its beautiful landscape.
What is famous in Bali for shopping?
Bali is famous for its Balinese silver jewellery, Batik fabric and clothing. Other things include Bali ceramics, Organic beauty products which can be bought as a souvenir along with chocolates.
When is the cheapest month to visit Bali?
February is considered as the cheapest month to visit Bali.
What is there to do in Bali on honeymoon?
On your Bali honeymoon, you can visit the many beaches like Kuta Beach, Seminyak Beach and many more and can enjoy the sunset at Uluwatu Temple and Tanah Lot Temple.
---
Looking To Book An International Holiday?
---