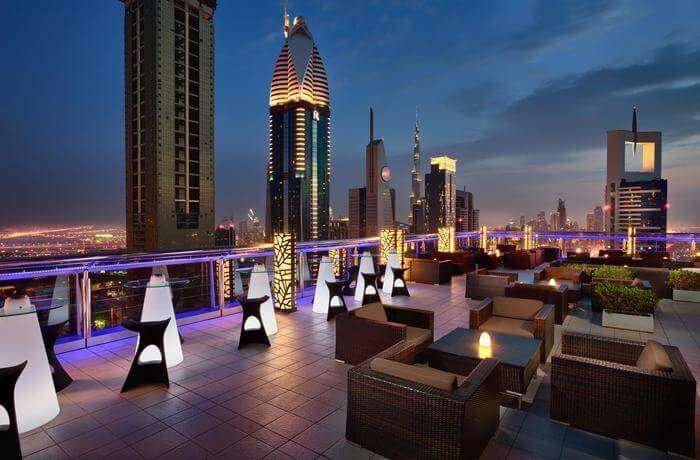 Overview
The E11 highway is the longest road in the United Arab Emirates. It starts from Al-Silah in Abu Dhabi and ends in the Ras al-Khaimah emirate. It has various names in all the different Emirates that it passes but in Dubai, it is called the Sheikh Zayed Road. Being the main lifeline of Dubai, one can find many different types of 4 star hotels on Sheikh Zayed Road from business hotels with quick, efficient business-oriented services, to luxury 4 star properties where guests can see some of the most amazing facilities.
Decked on both sides by some of the tallest building in Dubai the Sheikh Zayed Road add an elegant charm to the skyline of this desert city. The 4 star hotels on Sheikh Zayed Road are no less when it comes to grandeur and opulence. With spacious, marble studded lobbies to plush rooms and expansive gardens, these hotels can easily make anyone forget how close they are to the bustle of the city. What makes these 4 star hotels in Sheikh Zayed Road so popular among tourists is their easy of connectivity from other attractions in Dubai. Being located on the main artery of the city, these 4 star hotels in Sheikh Zayed Road enjoy proximity with the bus routes as well as right lanes leading to the beaches around Dubai.
Special Experiences
Dubai as a city, take a lot of effort to offer new and varied experiences to its tourists every time they visit. As such the 4 star hotels in Sheikh Zayed Road also keep up to the tradition and aim to provide their guests with the different activities and things to do, that can make their stay truly memorable. Being the hub for the skyscrapers of Dubai, The hotels boast of some mesmerizing views from their rooftop infinity pools where the guests can enjoy some stunning views of the sunset. These hotels also have heated pools where the guests can enjoy themselves in the water even if the night is chilly and cold. Holiday Inn Dubai Al Barsha lies in close proximity to the golf course where the guests can try their hand at putting with a day outing arranged by the hotel itself. The hotels also have certain couple oriented services like couples massages and spa treatments as well as arrangements for special candlelit romantic dinners at the on-site restaurants where the honeymooners or couples can enjoy their romantic getaway in the real sense.
Facilities
4 star hotels in Sheikh Zayed Road are all luxurious modern properties decked with world-class amenities without any exception. Dubai is a tourism-oriented city and as such the hotels as well as the government here take special care to provide their guests with all the world-class services. Being located on the main street in Dubai, the 4 star hotels in Sheikh Zayed Road are divided into two major categories. Business hotels and luxury holiday accommodation. The business hotels in this area like The Four Points by Sheraton are well equipped with amenities that their guests might need on their visit, like a meeting or conference rooms, fax and photocopying services, projector rooms with white screens, and a business bay where the guests can access the internet through a mainframe computer. With so many things to do right inside the hotel, it is rare that the guests would leave the hotel for anything other than sightseeing.
Dining
Having broken down any cultural barriers and preconceptions that people here might have had, the Sheikh Zayed road in Dubai is a beautiful amalgamation of different cultures and traditions. This mix can be seen in the food that one can get in the restaurants at the 4 star hotels in Sheikh Zayed Road. For those who want to explore the Emirati cuisine, they are in for a treat as one can find a long list of local dishes at the restaurants within the hotels. Gevora Hotel has five in-house dining options where the guests can enjoy a meal with an abundance of options to choose from. Novotel World Trade Centre Dubai is a 4 star luxury hotel where guests can enjoy international cuisine at the Entre Nous Restaurant while its award-winning Blue Bar is where guest can sip on delicious cocktails along with some smashing live entertainment to keep them company.
FAQs
Q1. Do these hotels provide childcare facilities?
A. Yes, most of the hotels here provide childcare facilities like babysitting and outdoor play area with nanny services where one can entrust their child to the hotel staff and spend some time with themselves.
Q2. Do these 4 star hotels offer airport shuttle services?
A. These hotels do offer airport shuttle services as well as shuttle buses to take the guests around the city. Private airport transfers can also be booked at a small extra charge.
Q3. Are these hotels located close to the beach?
A. Yes, most of the hotels mentioned above are about 10-15 minutes away from the beach.
Q4. Can one find currency exchanges services at these 4 star hotels?
A. Hotels do offer currency exchange services on site. For specific hotels where these services are not available, they accept foreign currency, and usually, all hotels have an ATM on-site.
Q5. Is it possible to hire cars for sightseeing from these hotels?
A. Some like the Marina Byblos Hotel do offer car hire services where the guests can rent a vehicle and set out for sightseeing on their own.
More often than not, people dislike staying at hotels which are located in the middle of the city, due to the lack of peace that they so desire from a vacation. But the hotels are sure to change that perception for anyone who spends a few days at these lavish properties being pampered like royalty. Some hotels that one can look at when planning to stay at the 4 star hotels in Sheikh Zayed Road are Marina Byblos Hotel, Wyndham Dubai Marina, Carlton Downtown Hotel, Emirates Grand Hotel, Flora Al Barsha, Rose Rayhaan by Rotana – Dubai. All these hotels offer the best possible services and experiences for their guests along with multiple choices of rooms and dining. Spend a few days enjoying the best hospitality that the Sheikh Zayed road has to offer at these 4 star hotels in Sheikh Zayed Road.