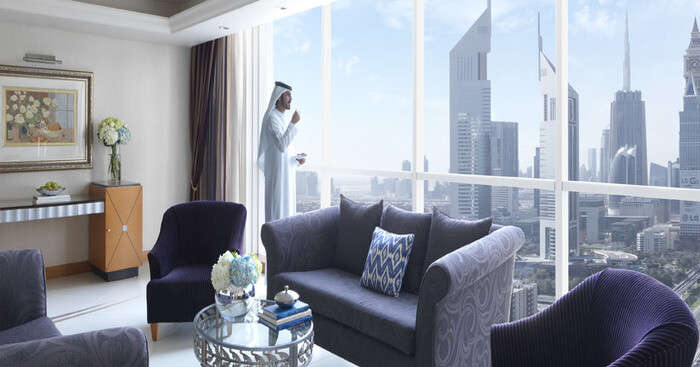 Overview
For spending one's vacations at any destination, one needs to choose reliable accommodations that do not disappoint during the stay. The 5 star hotels Sheikh Zayed Road with their charming ambiances are sure to earn and bring a satisfactory smile on the face. These hotels come with the best of the possible amenities and services in the area along with some real evidence of heartwarming hospitality.The rooms and suites, designed with beautiful interiors and decorations make one's day with their impression. These are further well furnished and equipped with all the desired amenities like Wi-Fi connectivity, flat screen TVs, minibars, tea and coffee makers etc. Some suites would even provide living and dining rooms along with private areas. Dine at their excellent and exclusive restaurants and diners that serve up to the best of their capabilities to satisfy the hunger. Travelers can also relax and energise at their spa centres that offer a wide variety of therapeutic services. The unique experiences offered by each of these hotels are worth mentioning and admiring. One should not miss the glorious moments that they plan to offer and spend a few days at 5 star hotels Sheikh Zayed Road and know what hospitality feels like.
Special Experiences
The 5 star hotels Sheikh Zayed Road bring for travelers some fantastic and exclusive services which come as special cookies in their packages. Shangri-la Hotel provides a ballroom and meeting space along with airport shuttle service. Conard Dubai Hotel has a special yoga pavilion. Fairmount Dubai Hotel has two nightclubs and an independent circus theatre. Dusit Thani hotel offers whirlpool tubs and butler service in some of its rooms. Millennium Plaza Hotel has ten meeting rooms, a business centre and a rooftop infinity pool. Travelers can enjoy the feeling of these luxurious services at the 5 star hotels Sheikh Zayed Road and spend the vacation time with a little more excitement.
Facilities
5 star hotels Sheikh Zayed Road offer an amazing range of facilities for their guests to make their stay completely cozy and unforgettable. One can stay inside the lush rooms and suites of these hotels which are well equipped with the best of the possible facilities like Wi-Fi connectivity, flat screened TVs, tea and coffee making facilities, private balconies, laundry services, mini bars etc. The blue sparkling water of outdoor pools of the hotels also promise fun. Parking facilities are also provided fro added convenience. Conard Dubai Hotel offers child care, baggage storage, and currency exchange and concierge services. Nassima Royal Hotel provides hot tubs and also a kids' club. Emirates Grand Hotel offers a tennis court and sauna as well. One must spend a few days of luxury with no worries at hotels and enjoy each moment to the best.
Dining
Travelers can savour the taste of the mouth-watering delicacies from various cuisines served at the 5 star hotels Sheikh Zayed Road. Each hotel has one to multiple eateries in its possession that leave no loopholes in catering to the diners with some amazing food. Shangri-la Hotel Dubai has three eateries, two lounges and an outdoor bar which is seasonal to offer. Fairmount Dubai Hotel has eight posh restaurants and 4 bars among which the hotel also offers a rooftop lounge and a cigar bar. At the Sheraton Grand Hotel, one can enjoy the food at a New York-style eatery. The hotel also has an international restaurant and a Pan-Asian restaurant with live DJs. The bartenders, staff, and management at the 5 star hotels Sheikh Zayed Road make their dining experience worth looking forward to.
FAQs
Q1. Are the 5 star hotels Sheikh Zayed Road pets-friendly here?
A. No, most of these hotels are not friendly towards pets. Hence, it is best advised not to bring them along. Some may make exceptions but that should be verified with the hotel before making the booking.
Q2. Do the hotels provide airport shuttle service?
A. Yes, many of them do provide airport shuttle service from the hotel to the airport and vice-versa. Some hotels may even be open to booking guests shuttle from the hotel to different tourist spots.
Q3. Is there a way to avail facilities for childcare or babysitting facilities?
A. Some of the hotels do have special provision for the services that are looking for. Confirm before checking at the hotel.
Q4. Do the hotels charge for the Wi-Fi connectivity?
A. Yes, some of the hotels here do charge for Wi-Fi connectivity while it is not the same for the remaining. One will have to confirm with the hotel authorities.
Q5. Can the payments be made using credit cards or debit cards?
A. Yes, credit cards and debit cards are accepted at most of the hotels. However, the debit card should be internationally accepted.
Vacationers who are visiting Dubai must opt for a stay at the 5 star hotels Sheikh Zayed Road that takes care of all the departments from accommodation and dining to relaxation, entertainment and enjoyment. Most of these hotels provide wheelchair accessible entrance, and some even go a step further and make the wheelchair accessible lift and parking also available. These hotels try at their level best with the cooperation of their highly skilled and professional staff and management to make everything comfortable, pleasing and satisfactory. Beautiful ambiance, delightful food and exceptional services, 5-star hotels here are known to provide unparalleled services to guests. Some hotels even have spa and massage centers making them wonderful places for guests to relax and rejuvenate. A successful vacation always ensures to leave some positive and delightful imprints down the memory lane and the 5 star hotels Sheikh Zayed Road undoubtedly try and do the same.