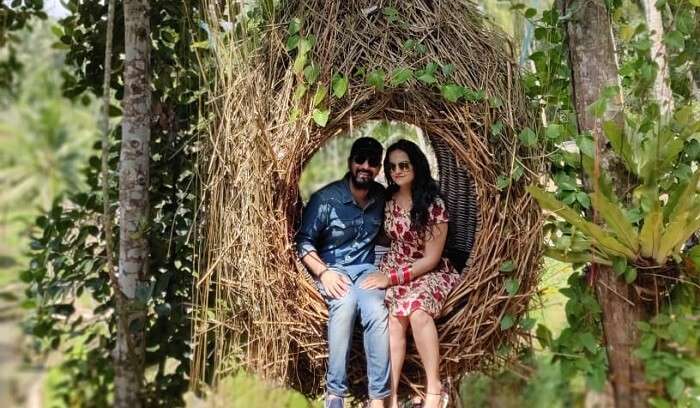 Bali is a tropical paradise that oodes of sunshine and happiness all year-round. This hot-spot tourist destination is an Indonesian island that is famous for honeymooners coming here to rekindle their romance with love lingering in the salty air and ocean breeze of Bali. the scenic landscape and the rice paddy fields in Ubud will get couples swooning. While there are plenty of reasons to visit Bali for a honeymoon trip, let's have a closer look at vikram and his partner's wonderful experience for 6 days in Bali for honeymoon trip.
The reason why I chose Bali as my destination because firstly, I love beaches and secondly, the range of activities in Bali were an ideal opportunity to bond and spend time with my wife. The idyllic beaches and the surreal sunsets were a hallmark of a good trip to Bali.
Details Of Our 6 Days In Bali For Honeymoon Trip
Trip Cost: INR 1,16,444
No. Of People: 2 adults
Trip Duration: 6 days & 5 nights
Inclusions: Hotel tariff, breakfast, airport transfers, sightseeing
Exclusions: Lunch, dinner, travel insurance, airfare, any expense of personal nature
Day-Wise Itinerary Of Our 6 Days In Bali For Honeymoon
Day 1: A romantic candle light dinner at the beach
Day 2: Water sports and spa
Day 3: Bali market
Day 4: Tanah lot temple and other excursion activities
Day 5: Ubud tour and Kintamani Volcano
Day 6: Departure
A Sojourn In Thailand Or Bali For Honeymoon In 2022? We'll Help You Decide
Weather In Bali
The weather in Bali in July is pleasant with occasional spell of rains. The average temperature remains to be 27 to 30 degree celsius. Few spells of rains make the evening pleasant. It might hamper your excursion activities but nonetheless, it is a good time to travel to Bali in July. It is neither too hot nor too cold.
Best Experiences From Our 6 Days In Bali
Have a look at our best experiences from our 6 days trip in Bali that will certainly enhance your holiday experience.
1. Candle Light Dinner At Jimbaran Beach


On the day of our arrival, we were blessed enough to have a surreal candle light dinner at the stunning jimbaran Beach. Loved how exclusive and private it was, an ideal night to spend in the company of my partner and with mesmerizing views of the ocean waves.
2. Water Sports

We were taken to Tanjung Benoa beach for water sport activities. Bali is the ideal destination if you're a water baby and love water sports. Take part in water sports at various beaches in Bali. Water activities include Jet ski, parasailing, Banana boat ride and more. We thoroughly enjoyed the thrill of a banana boat ride and the experience of high speeds on Jet ski.
3. Spa

Bali reserves a unique place for spa relaxations and ayurvedic therapy. The authentic Balinese treatment at a spa is a must try. Bali Orchid offers therapeutic massage for health and beauty, featuring traditional Indonesian essential oils that revive the senses and leave the skin radiant. It is a uniquely Balinese spa experience with techniques based on the ancient wisdom of Ayurveda.
4. Visit To Tanah Lot Temple



One of the most famous temples in Bali, Tanah Lot temple is a rock formation off the island and is home to ancient hindu pilgrimage, it is a popular tourist attraction in Bali and an icon for photography. This cultural icon is symbolic of the Hindu pilgrimage and a peaceful site that exudes calm and positivity, a must visit on your Bali trip.
13 Things To Do In Denpasar For A Fun-Filled Vacation In Bali In 2022
5. Shopping At Ubud Art Village






Exploring the Bli markets was one of the great things off the Bali trip. Ubud's art villages like Celuk as the center of Gold and Silver smith, Batuan as the place of traditional painting and other artworks. Mas is also part of Ubud where you will see the activity of the master of wood carvers. You'll find art treasures and other items that are valuable enough to take home as souvenirs.
6. Tegenungan Waterfall


One of the most famous waterfalls in Bali, Tegenungan Waterfall located at sacred river of Petanu River, Tegenungan Village. There are many steps to go down to the river if you would like to see the waterfall closer. Scenic waterfall in a lush jungle setting above a shallow bathing area, with cafes nearby.
Shopping In Bali: A 2022 Retail Therapy Guide On What To Buy And From Where!
7. Exploring Nusa Penida


Exploring Nusa Penida island which is an hour's ferry ride away from Bali was one of the best things about our 5 days Bali trip. We explored the island all day in a private car driver and relished delicious set menu lunch. We visited the Angel Billabong, Broken Beach and the Kelingking cliff before lunch. After lunch, got ready to explore Crystal Bay, known for its serene aura and spectacular beauty. Crystal Bay is a perfect site for snorkelling. You will have the option to experience Snorkelling at Crystal Bay.
New Year In Bali: Know Where To Go And What To Do To Welcome 2022 With A Bang!
Best Time To Travel To Bali
The island's driest seasons are ideally the best time to visit Bali or travel to Bali. The months between April and October are the driest and hence, the best time to travel in Bali with no chance of rain. The beaches are full and you can get ample of sunshine to kick-start your day. However, peak season in Bali is during the months of July and August, during the Easter holidays, and Christmas or New Years.
What To Pack For 6 Days Bali Trip
Beach destinations require some essentials, here a few items that you shouldn't miss out while packing for a trip to Bali.
Sarongs (for sun protection and some Hindu temples require men wear one to enter)
Hats
Sunglasses
Beach bags
Swimsuits / beach cover-ups
Evening and sundresses
Flip-flops / sandals
Our Experience With TravelTriangle
It was a wonderful experience to travel with TravelTriangle. Starting from Mr Parveen who managed all the bookings and suggested us. I would like to thank you for making our trip memorable, everything from hotels to villas was top notch and managed very well. The company is very professional and caters to all your needs and requirements. The Whatsapp group is a benefit as you can get real-time solutions for any queries. Thank you again for making this trip possible for us without any hassle!
Murali's Trip For 4 Days In Bali Will Inspire You To Set Your Own Travel Goals
We hope this enticed you enough to book a trip to Bali and experience the island life like they did! Witness surreal sunsets, go on adventure trails and beach hopping and enjoy 6 days in Bali for honeymoon. Get into the tropical state of mind and live the best life on your vacation in Bali!
Common Queries For 6 Days Trip In Bali
How many days are sufficient to visit Bali?
6-7 days are enough to explore Bali. You can cover each attraction and all the places in this much time.
Is 5 days enough in Bali?
Yes, 5 days are enough in Bali, you can spend 2 days in each place.
Is Bali expensive to visit?
Bali can be slightly expensive to visit. However, you can find cheap food and accommodations at reasonable prices.
How much is a meal in Bali?
A meal in Bali will cost IDR 80,000 (approx.) which converts to INR 400 (approx.).
Is 4 days in Bali enough?
No, 4 days are not enough to explore all the attractions of Bali. However, you can cover Kuta and Seminyak in 4 days trip to Bali.
Comments
comments