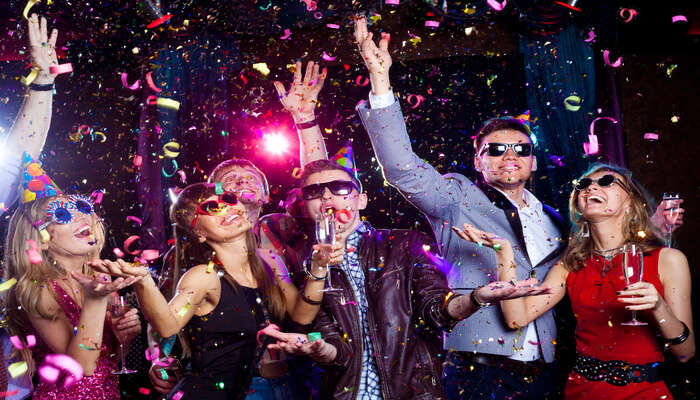 Bali is considered to be Indonesia's forefront destination which attracts people with its beautiful beaches, extravagant nightclubs and of course the relaxing spas to relax your mind and soul. But for the people who are visiting during the New Year, then they can be surprised to see a different side of this Island of Gods. There is something for every kind of traveler. Whether they want to get drunk and dance till the sunrise or they want to welcome the New Year in a stylish way, this place has all the answers. To avoid any confusion and experience the best of new year in Bali, here are some of the experiences which cannot be missed.
Things To Do During New Year In Bali
Here are some of the best things to experience in Bali during New Year which will give a chance to enjoy the extravagant parties and welcome 2022 with a bang.
1. Kuta: Go On A Party Hopping Spree
Kuta is one of the most vibrant places in Bali where with the sunset parties rise up along with the moon. New Year's Eve in Kuta is worth an experience where every corner of the island brims with music and bottomless booze to welcome the new year with a bang. This is considered to be one of the best places in Bali for New Year's Eve. The entire area starting from Kuta, Legian to Seminyak and Petitenget turns into an extravagant party place. And to experience all this one does not have to go somewhere else. The people can just walk alongside the beach-side road and rest at any of the spots which appears intriguing.
Best Places To Explore In Kuta: Potato Head Beach Club, Bali Ku De Ta Echo Beach Club
Must Read: 10 Picturesque Waterfalls In Bali Where You'll Find Heaven On Earth
2. Denpasar: Celebrate Like A Local
The main highlight of Denpasar city towards the New Year is the celebration which takes place around Puputan Badung Park. Though the city is the province's capital, but there are quite a less touristy town which are located at a distance of just 15 minutes away from Kuta. The new year celebration in Denpasar starts from the prayers and cultural parades which is followed by extravagant fireworks show at night.
Tip To Enjoy New Year Eve In Denpasar: Make sure that you learn to say "Selamat Tahun Baru" (Happy New Year) which will help in blend with the locals easily.
Suggested Read: These 6 Engrossing Museums In Bali Are Enough To Satiate Your Curiosity!
3. Jimbaran Beach: Gaze At The Fireworks
The Bali new year parties are quite fascinating, but Jimbaran Beach has something more than that. A new year's eve is incomplete without beautiful and dramatic fireworks which covers the entire sky. Standing by the Jimbaran Bay, people can enjoy the beautiful fireworks while enjoying their scrumptious platter of seafood. There are restaurants with outdoor beach setting which gives the travelers a scope to enjoy the surreal view of the sunset and the festive fireworks.
Main Attraction: Puputan Carnival Held At The Badung Square
Suggested Read: Bali Travel Tips: 10 Tips To Improve Your Bali Holiday Experience
4. Ubud: Spend A Jazzy Evening
Going beyond the Bali's rave parties and the beaches, there is something more peaceful to enjoy the Bali new year celebration. If you're at this island during this time, then make sure to take a break from the nightclubs at Kuta and enjoy Bali's art and culture capital Ubud. Here the party vibe is different and people can find bars and restaurants located across the streets hosting various events. There are traditional events which includes Balinese dance and music shows where Jazz performance and Latin dance are the main highlights.
Best Nightclubs In Ubud: CP Lounge, No Mas Bar, XL Shisha Lounge
Suggested Read: Kanto Lampo Waterfall: All You Need To Know About This Magical Attraction In Bali
5. Sanur: Take A Look At The Traditional Performances
On one hand Kuta brims with all the EDM madness and endless booze shower, the beach town of Sanur is a silent and sober place in Bali. But during the New Year's Eve, this place enlivens into a different note. There are cultural performances and traditional dances to enjoy along with the gamelan music playing in the backdrop all night long. There are a vast number of bars and restaurants which line up across the coastline and offers a long list of special events to enjoy and welcome 2022 in the most extravagant way.
Best Nightclubs In Sanur: Casablanca, Linga Longa, The Fire Station
Suggested Read: Four Seasons Bali: Know Why You Should Be Spending Your Balinese Holiday Here
6. Karma Beach Club: Attend The Masquerade Ball
Well let the beach parties be a passe, because there is something more exciting to enjoy on the New Year's Eve In Bali. Yes, the Karma Beach club ensures that you don't regret visiting that place out of any other place in Bali. And the main highlight of the NYE at this club is the Masquerade Ball which is followed by a vast preferences of cocktails and formal wear. This place hosts an amazing cocktail party along with dinner. On top of that there is the much awaited midnight countdown which one can experience in style.
Rating: 4.6/5
Location: Karma Kandara Bali, Jalan Villa Kandara, Ungasan, Kec. Kuta Sel., Kabupaten Badung, Bali 80362,
Further Read: Know All About Bali 2022- Frequently Asked Questions From Travelers
Are you excited to take that last vacation before the year ends? Then Bali is the place which has all the best things to make your year ending a memorable one. From the enthralling new year parties to the dramatic fireworks, there are more than one reasons to visit this Indonesian island during this time. So, if all this excites you then plan your much awaited vacation in Bali and enjoy the lit NYE parties and much more.
People Also Read:
New Year Party In Thailand New Year In Jakarta Dubai New Year