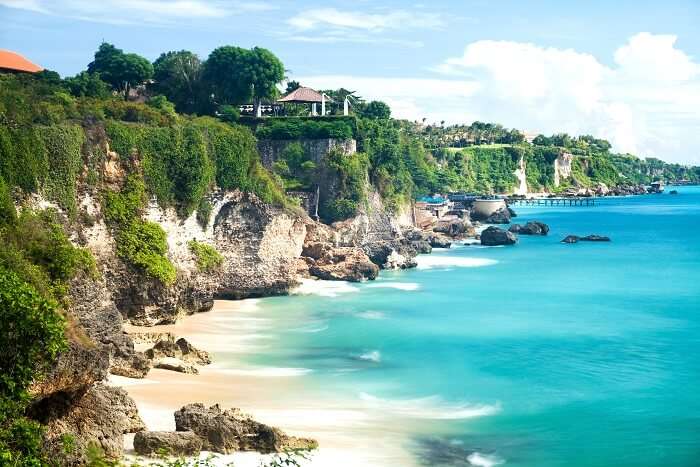 The beautiful island of Bali isn't just a place, but a balmy state of mind. Just the thought of it fills one's mind with picturesque images of sparkling sand beaches and deep blue waters. The island of Bali is a paradisiacal getaway with luxury resorts and private pool villas catering to the qualms of all its visitors. The scenic treks to the volcanic mountains through the lush forests, the iconic rice paddies, and the beaches to laze at are all out of the dream. With ornate temples, amazing yoga retreats, thrilling water sports, and dazzling nightclubs, Bali in August gives its visitors the best of all the worlds!
Visiting Bali In August
Wondering if traveling to Bali in August is a good option or not? Well, you should then be packing your bags already! August is a great time to visit the tropical island of Bali which has a long duration of monsoons from October to April. August is therefore quite dry and you need not worry about incessant showers. The weather in Bali during August is relatively warm with the temperatures ranging between 29ºC to 23ºC.
How To Reach Bali
By Air: There are international flights available to and fro from the Denpasar International Airport which is at a distance of 13 kms from Denpasar, the capital city of Bali.
By Ship: One can travel to Bali via sea from Singapore, Sumatra, and Java.
Things To Do In Bali
If you are visiting Bali in August then you are in for a cultural treat. Here are a few things that you shouldn't miss when visiting Bali in August:
1. Enjoy the Sanur Village Festival
Held in the coastal village of Sanur, this is one of the best Bali festival in August which celebrates art, culture, food, and environment. Engage yourself with the locals and participate in the activities like the planting corals and exotic endangered plant species. Other than the environment conservation programs there are a lot of food stalls to gorge on the local culinary delights.
Location: Maisonnette Area Inna Grand Bali Beach
Dates: 21 August 2021 to 25 August 2021
Must Read: 13 Indian Restaurants In Bali For Times You Crave Desi Food In Phoren Land
2. Participate in the Lively Legian Beach Festival
Image Source
This outdoor day and night festival is one of the other exciting events in Bali in August. It flaunts the longest beachfront bazaar amongst other fun activities and competitions to keep its visitors entertained. Let Balis best bartenders entertain you with their skills as you enjoy the live music, dance, surfing competitions, and the local Balinese food here.
Location: Legian Beachfront
3. Experience a Kecak show
Watch the Balinese traditional dance which is a lot more than just an art form for the locals there. The Kecak is a recital of the epic Ramayana demonstrated through the Balinese dance form. There are multiple places where you can watch the Kecak being performed. The best experience is at the Uluwatu temple where it is performed against the beautiful sunset in the backdrop.
Here are the beautiful places that you should definitely visit on your trip to Bali in August:
Suggested Read: Best Things To Do In Seminyak To Make The Most Of The Happening Beach Area In Bali
Places To Visit In Bali In August
Here are the beautiful places that you should definitely visit on your trip to Bali in August:
1. Mount Batur Volcano in Kintamani
Image Source
The Kintamani is a popular breathtaking trek in Bali. Climb up to Mount Batur and enjoy calming sunrises on your early morning treks. Penelokan, one of the villages in the Kintamani area, gives one the best vistas of Baturs rugged lava slopes against the lush green vegetation. On the way also lies the village of Toya Bungkah which has hot springs known for their healing mineral water.
2. Sekumpul Waterfall
Sekumpul Waterfalls are one of the most beautiful scenic attractions of Bali. These waterfalls are 6-7 cascades bunched together in Balis densely forested bamboo valley. The falls are a three-hour trek along the rice paddies, coffee plantations, and forested trails. Crossing over various streams throughout this scenic trek, one finally reaches to the base of these 80 meters high pretty cascades.
Suggested Read: 10 Picturesque Waterfalls In Bali Where You'll Find Heaven On Earth
3. Bali Safari & Marine Park
Image Source
This is one park that one shouldnt miss when traveling to Bali in August. The safari and marine park is full of fun and adventure. There are various packages that one can choose from which provides with different activities. Some even include transfers from ones hotel. You can enjoy the Elephant Trek, and the Bali Agung show which is Indonesias best cultural theatre performances amongst many others here.
4. Seminyak Beach
Seminyak is the most lively of all the beaches of Bali. It is a long stretch of beautiful white sand with amazing beach bars and plenty of restaurants. Starting at the outskirts of Kuta and going all the way to Canggu, Seminyak is a destination in itself. Soak up the sunshine and enjoy the waves as you lie back on comfortable bean bags here!
Further Read: 12 Places To Visit In Nusa Dua For An Extra Dose Of Excitement To Your Bali Holiday In 2022
Excited to visit Bali in August 2022? Book your trip to Bali now. Enjoy your Bali holidays in August 2022 with Balinese cuisine, culture, dance, and more!
---
People Also Read: