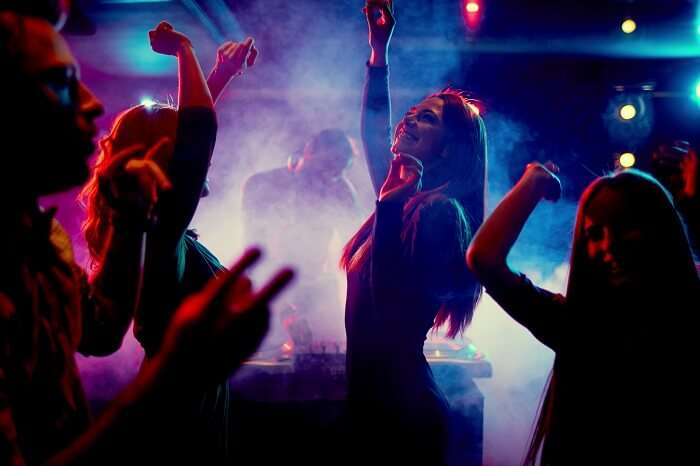 Thriving and ever-vibrant, Vienna nightlife definitely tops all lists of things to do in Vienna. From jazzy nightclubs to quaint bars, there's nothing that this city doesn't offer to night crawlers, party-goers, and those looking for a peaceful night out. So the next time you're in this sprightly city, make sure to soak in its glittering side that comes to life post-sundown. Enjoy the dazzling nightlife in Vienna!
Vienna Nightlife: What All It's Got
Do you want to know where to head for some great music, booze, and a fun time with friends? Here is a complete Vienna nightlife guide telling you about the best Vienna nightlife clubs. Read on!
1. Elektro Gonner

Located in an electrical shop in the Mariahilferstraße courtyard, Elektro Gonner is the top Vienna nightclub, apart from being a space for video installations and art exhibitions. It serves everything from good drinks to electronic music, both during stuffed long weekend nights and slow weekday evenings. Depending on your mood, you can shift places between the dance area, courtyard, and bar area. You must try out their Weißer Spritzer and Gin tonic, and as for the food, the best options are Haribo, Mannerschnitten, Vegetarian or Turkish toast and peanuts.
Location: Mariahilfer Straße 101, 1060
Timings: 7 PM – 2 AM (till 4 AM on weekends)
Must Read: Top 20 Places To Visit In Vienna On Your Next Trip
2. Volksgarten

Image Source
If you really want to unveil the best of Vienna nightlife, you must visit this fancy avenue among the Vienna nightclubs. Reconstructed after 180 years since its establishment, it now has three parts: the old part with the Säulenhalle (the second floor hosting a second DJ line or maybe entire events at times) as well as a dance floor. The winter garden is a much newer part. Enjoy their Long Drink and dance to the tunes of the hot DJ music.
Location: Burgring, 1010
3. Opera Club

Do you want a less crazy time in Vienna at night? Opera Club is what you need! With a small bar area and a dance floor along with an expansive lounge area, it can help refuel your energy after some floor-breaking dance. Sip on to some Gin Tonic while the weird and wonky ambience grips you.
Location: Mahlerstraße 11, 1010
Timings: 10 PM – 6 AM
Suggested Read: 10 Things To Do In Vienna For A Memorable Austrian Vacation
4. Sass Music Club

Image Source
You can call this place Vienna's light yet stylish electro–club. Visiting the place gives you an advantage of checking out the nearby clubs and bars as well. It has a classy ambiance and Vienna's best sound and light systems. There will be a friendly staff to attend to your needs at all times while you're exploring Vienna nightlife. Though the place focuses more on quality liquor, you can easily find beer and spritzer if that's your thing.
Location: Karlsplatz 1, 1010
Timings: 11 PM – 6 AM (weekdays)
5. Fluc und Fluc Wanne

This is among the darker kinds of clubs in Vienna located right next to the train station and some food stalls serving delicious Vienna street food. though slightly shabby, it is a favourite of all party-lovers, be it a tourist or a local owing to its heavy bass lines and great DJ music. Branded alcohol may not be available here, but one can definitely find spritzer, beer and soft drinks.
Location: Praterstern 5, 1020
Timings: 8 PM – 5 AM (till 6 AM on weekends)
Suggested Read: 20 Vienna Hotels That Offer Much More Than Luxury And Comfort!
6. Flex

Image Source
Among the best nightclubs in Vienna, it is also one of the first clubs Vienna ever saw. Since then, neither has the place lost its badass attitude, nor a taste for hard partying. Even after twenty years, it delivers the best electronic music that can surely get anyone in the mood!
Location: Augartenbrücke 1, 1010
Timings: 8 PM – 6 AM
7. Celeste

Ever since its remodeling, this concert venue-cum-wine bar-cum jazz club has climbed it's way to the top of the list of the best clubs in Vienna. It offers a selection of everything you need to make your night happening. It has good food and wine, a sprawling art gallery, and Jazz music to get you going.
Location: Hamburgerstraße 18, 1050
Timings: 4 PM – 2 AM (till 6 AM from Thursday to Saturday)
Suggested Read: 34 Best Places To Visit In Austria That Look Straight Out Of A Picture Book
8. Grelle Forelle

Image Source
Let the bass sneak into your bones with Grelle Forelle's electronic tones ranging from Dubstep, minimal, techno, to house. Photography and videography are prohibited inside the venue, so if you have to take some cheerful groupfies with your gang, we suggest you wait until you've left (if at all your heart allows you to!)
Location: Spittelauer Lände 12, 1090
Suggested Read: Day Trips From Vienna Remain Incomplete Without Visiting These 10 Places
Best Bars In Vienna
Those looking for a quiet drink after a tiring day in the city can head here:
9. Extrazimmer

This secret, yet authentic bar in Vienna won't let you down. Now belonging to Vienna's most legendary bartenders, it was formerly a tiny studio apartment home to an artist. Located in the basement, Extrazimmer has a reputation (among the few who know about it!) to serve the best cocktails in town.
Suggested Read: 13 Invigorating Things To Do In Austria That Will Make You Want To Visit Right Away
10. Le Loft

Image Source
The plush Sofitel Vienna Stephansdom houses this beautiful bar at its top floor. If fine cocktails are your thing, then this is the place to be! What more, the great ambience will make for a pretty backdrop to your selfies while you're having a fun time with friends!
Location: Praterstraße 1, 1020 Wien, Austria
Further Read: Austria Nightlife: 8 Cities That Put On A Show For Party Animals
Had enough of the historic avenues and starry attractions of the city? Well, it's time to explore the sparkling Vienna nightlife! And now that you know where all to head after sunset, we suggest you book your dream trip to Austria at once and start packing.
Frequently Asked Questions About Vienna Nightlife
Which is the best Vienna beach club?

The best Vienna beach club is Strandbar Herrmann.

Does Vienna have good nightlife?

Vienna has a more timid, cleaner image. However, Austria's capital city has a surprisingly lively nightlife within the city's subcultures.

Is Vienna safe at night?

Vienna is a very safe city and in general women and men will have no trouble walking around at night.

What is Vienna known for?

It is famous for its cultural events, imperial sights, coffee houses, cozy wine taverns

What can you do in Vienna for free?

Here are some of the free things to do in Vienna: 1. Gardens at Schonbrunn Palace. 2. Bike. 3. St. Stephen's Cathedral (Stephansdom) 4. Naschmarkt & Brunnenmarkt. 5. City Hall (Rathaus) 6. MUSA (Museum Start Gallery Artothek) 7. Street Art Passage.

Is public transport free in Vienna?

Vienna works on an honesty system. There are no ticket barriers at stations and no formal ticket checks on trains, trams and buses.