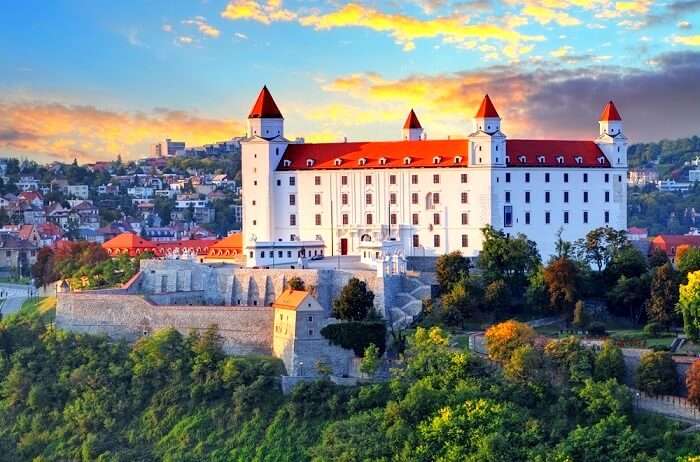 Visit these, Visiting Slovakia is equivalent to attending a lecture of your history professor. Wondering why? This country is home to hundreds of castles, some properly maintained while some lie in ruins. These castles and their ruins tell us the entire history of Slovakia, right from the 5th century. Over the years, Slovakia has been the seat of power for many rulers, nobles as well as chancellors. It is no wonder then, that the country is considered to be a castle superpower, as castles were extensively used to demonstrate the wealth and power of the rulers.
Despite its many tourist attractions, the castles in Slovakia continue to attract millions of visitors every year. These magnificent architectural wonders have stood the test of time and tell us stories of the past. Apart from its historical significance, these fortresses offer breathtaking vistas of the Slovakian countryside. Get ready to lose track of time as you enter these marvelous creations of mankind. You can even check for Slovakia castles for sale as there are a few on the list.
Top 10 Castles In Slovakia
Here is the perfect list of castles in Slovakia that you should definitely explore while you are on your trip. Keep scrolling down and no more!
1. Orava Castle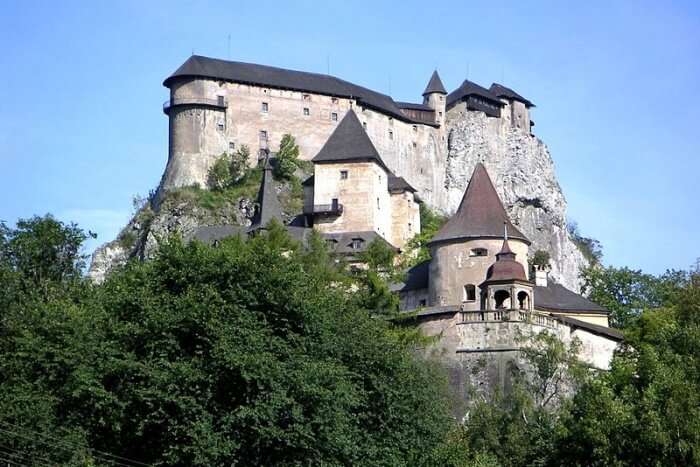 Situated on a rock overseeing the Orava River, is the majestic medieval castle of Orava. This national cultural heritage site is one of the most-visited tourist destinations in Slovakia. The entire castle sits on top of a rocky limestone cliff, 112 meters above the river. Personal tours to the castle are not permitted and it is advisable to visit this place during the months of July and August. The English guided tours take you around the castle and enjoy the archaeological exhibition and the ethnological exhibition, which are the tour highlights. Visitors can cover this site in three hours.
Location: Oravský Podzámok, 027 41 Oravský Podzámok
Timings: 9.30 Am – 3 Pm, all days
Entry Fees: Adults – 7.00 €; Children (Above the age of 6) – 3.50 €
Must Read: Islands In Turkey 2022: 6 Spectacular Islands In The Europe Of Asia
2. Trenčín Castle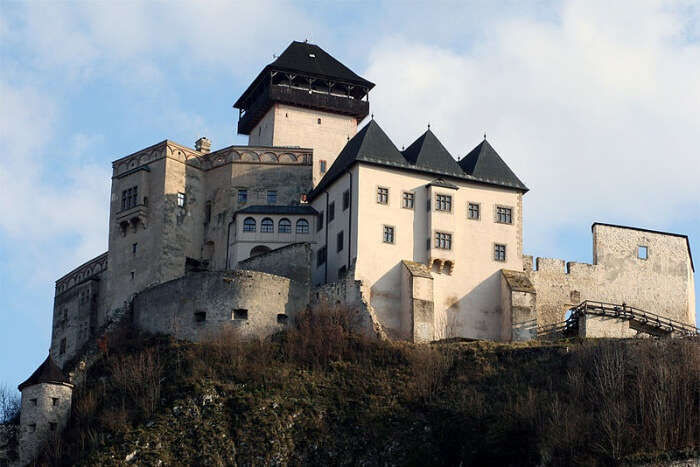 The Trenčín Castle is the most significant landmark in the entire region of Považie. It is also the site where the Celts, the Germanic, the Turks as well as the Slavic lived and prospered. The castle is also regarded as one of the largest castles to be ever built in entire Europe. Pay a visit to the oldest structure in this fortress-castle – the pre-Romanesque rotunda, whose origins still remain a mystery. The castle is now administered under a museum and displays oriental guns, sabers, gothic swords and rifles amongst others. Try the night sightseeing tour which is a new addition to the castle.
Location: Trenčiansky hrad, 911 01 Trenčín
Timings: 9 Am – 4.30 Pm
Entry Fees: Adults – 1.00 €; Children (Above the age of 6) – 0.60 €
3. Spiš Castle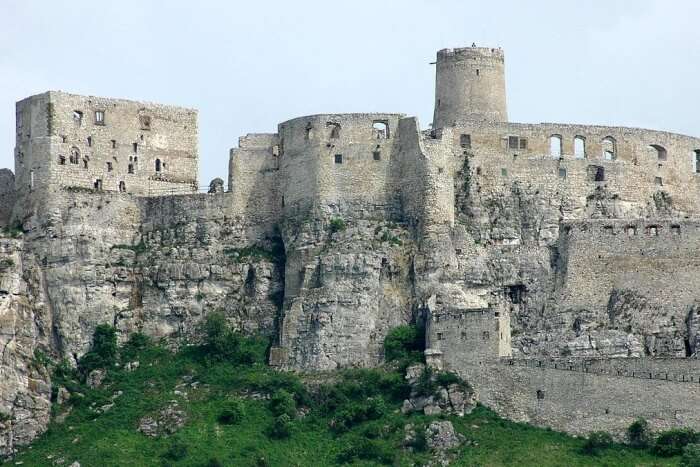 The proud gem of Slovakia, this humongous castle complex is the largest in Central Europe. It is spread around 41 thousand square meters and has grown over the years to become an important political, economic and cultural center. Climb atop this gigantic castle and immerse yourself in the stunning views of the High Tatras mountains. An 18th-century fire destroyed this proud castle and things have never been the same ever again. Major pictures like Dragonheart, The Last Legion, etc, were shot here. Owing to its cultural significance, it has been bestowed with UNESCO World Heritage Site tag.
Location: Spisske Podhradie, 053 04 Spišské Podhradie
Timings: 9 Am – 6 Pm (October to April: 9 am to 4 pm)
Entry Fees: Adults – 8.00 €; Children – 4.00 €
Suggested Read: 8 Restaurants In Hungary That Can Match Any European City For Culinary Travel
4. Bratislava Castle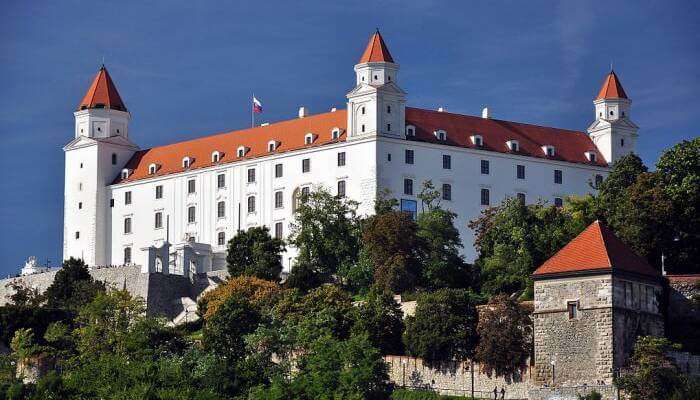 The present-day capital city of Slovakia also is the home to one of the magnificent castles of Europe. It is visible from most parts of the city, thanks to its location atop a hill. This rectangularly shaped castle with four majestic towers is the most famous landmark in Bratislava. You must have read about the mighty Hungarian and Austrian empires during your school history classes. This castle was an integral part of both these empires thanks to its strategic location, above the Danube River. History apart, this historic site is a must-visit attraction for tourists visiting Slovakia.
Location: Bratislava, 08001 Bratislava
Timings: Always open
Entry Fees: Free
5. Cerveny Kamen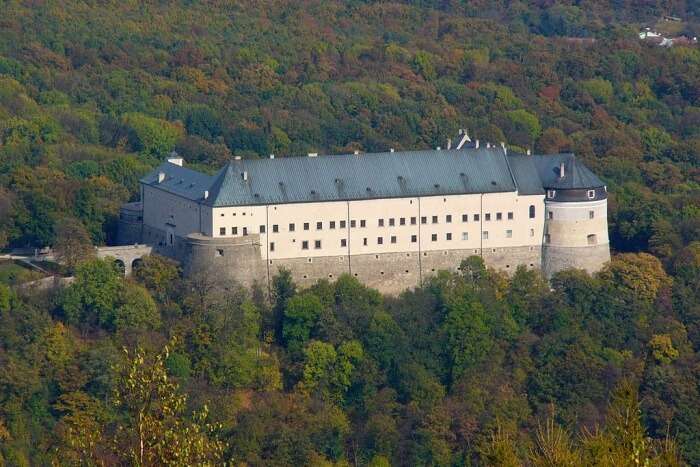 The Malé Karpaty mountains, home to spectacular natural flora and fauna, is also the home of this beautiful red-stone castle. This fortress-cum-castle is one of the best-preserved castles in Slovakia, making it also a favorite tourist attraction. Two sightseeing tours are offered – the Museum tour and the Renaissance fortress tour, both equally enthralling. Apart from these regular tours, try visiting this castle during summers to enjoy the Summer night tours. Also, fencing festivals and falconers shows are a regular feature of this castle.
Location: Hrad Červený Kameň, 900 89 Častá
Timings: 9Am – 5 Pm
Entry Fees: Ranges from 2.00 € to 19.00 €
Suggested Read: 6 Museums In Italy Across 6 Cities. Which One Will You Choose For Your European Adventure?
6. Bojnice Castle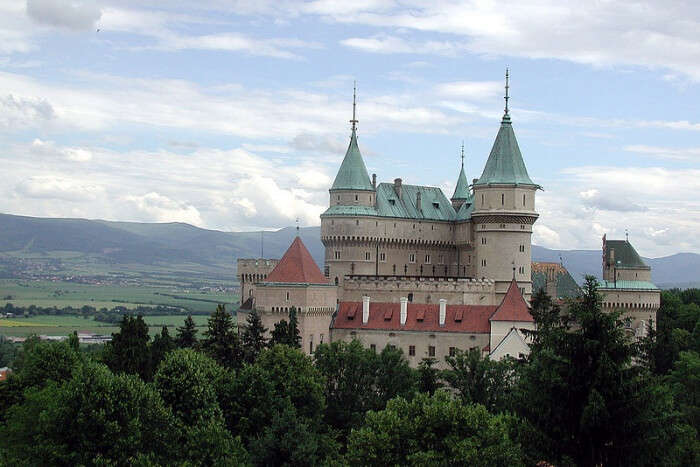 Once the home for Hungarian nobles, this castle today, is celebrated for its romantic and fairy-tale like appearance. One of the most-visited castles in Slovakia, its beauty is enhanced by the enormous chapels, towers, and steep roofs. This neo-gothic style castle also houses a museum which runs various tours for visitors. Enjoy the views of the Strážovské vrchy mountains from atop this castle. Don't forget to see the 600-year old lime tree of Bojnice, at the entrance of this castle.
Location: Zámok a okolie 1, 972 01 Bojnice
Timings: 10 Am – 3 Pm, except Mondays
Entry Fees: Children from 3 to 6 years – 1.00 €; Children from 6 to 15 years – 3.50 €; Student 15 – 18 years – 7.00 €; Adults – 9.00 €
7. Smolenice Castle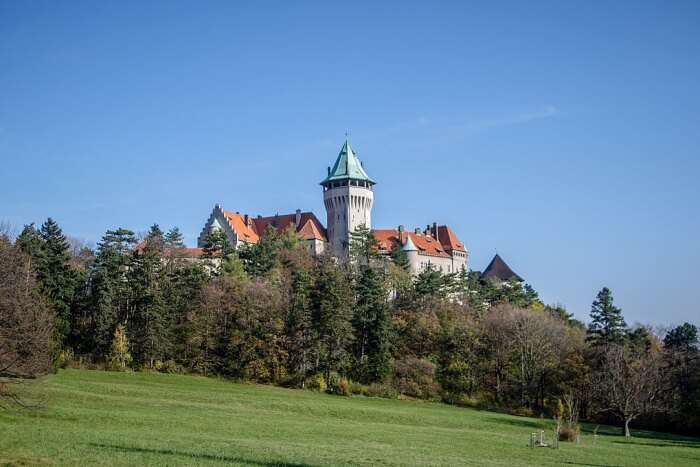 An hour's drive from Bratislava brings you to the Smolenice Castle, that today serves as a convention center. This castle is the perfect setting for your next conference, seminar or a big fat wedding. As with other castles in Slovakia, this historic site fell prey to fire and was reconstructed recently. Beware, the castle is open for public only during the summer months.
Location: Zámocká 18, 919 04 Smolenice
Timings: 10 Am – 6 Pm
Entry Fees: N/A
Suggested Read: Shopping In Czech Republic: To Add A European Touch To Your Wardrobe
8. Strečno Castle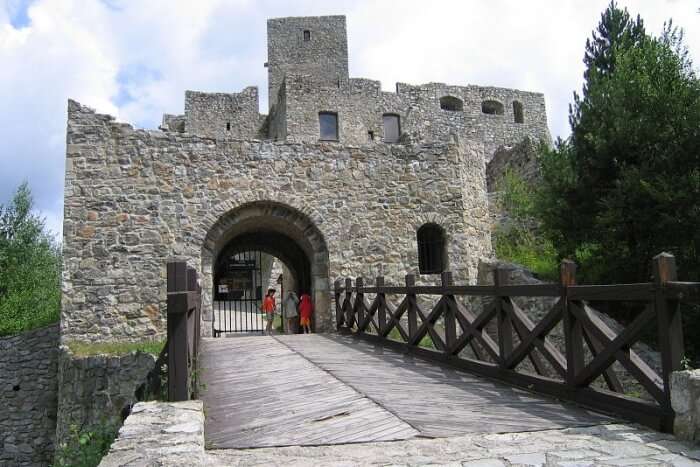 An indispensable part of the Malá Fatra mountains, the Strečno Castle offers jaw-dropping views of the Domašínsky meander, the Žilinská kotlina basin, the Strečniansky priesmyk mountain pass, and other natural wonders. Apart from its views, this castle offers a history lesson to architectural students. Visit this place to know about the story of Žofia Bosniaková, who is closely associated with this castle's history. Don't miss out on visiting her mummy kept at the castle's chapel.
Location: Hradná 1, 013 24 Strečno
Timings: 9 Am – 6 Pm
Entry Fees: Adults – 5.00 €; Children (Above the age of 6) – 3.00 €
Suggested Read: 13 Places To Visit In Slovakia In 2022 That Will Mesmerize You Immensely
9. Stará Ľubovňa Castle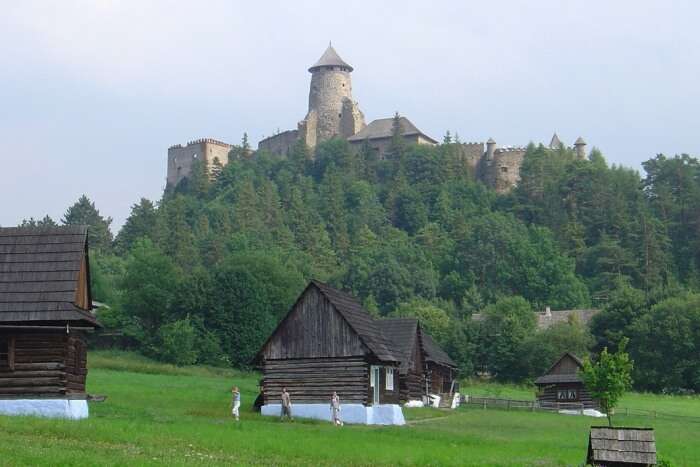 This site serves as a reminder to the country's Polish roots. The large stone castle was once an important shelter for Polish Crown jewels. Today, it is open for visitors to enjoy its sights and structures all year round. The open-air museum at its entrance showcases folk architecture and is a terrific place to visit.
Location: Zámocká 22, 064 01 Stará ľubovňa
Timings: 9 Am To 7 Pm
Entry Fees: Adults – 5.00 €; Children (Above the age of 6) – 2.50 €
Suggested Read: 35 Best Places To Spend Christmas In Europe In 2022
10. Devín Castle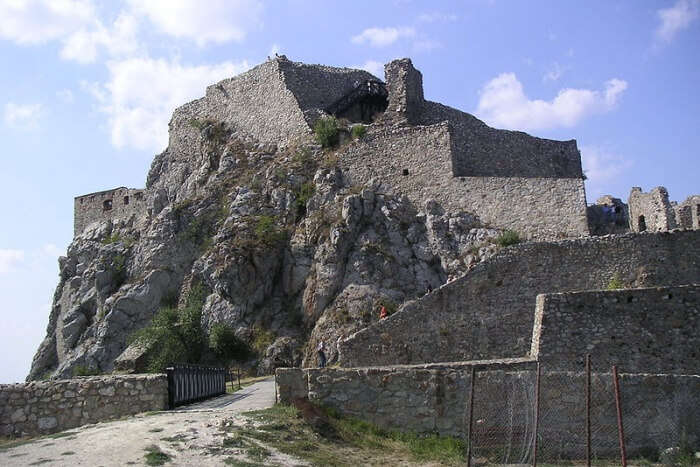 Standing on a massive cliff amidst lush natural greenery, this castle is the perfect weekend getaway. You can fancy seeing the Alps from the highest platform of the castle during clearer weather conditions. Thanks to its convenient location, just 10 kilometers off Bratislava, this castle is visited by millions each year. A favorite bit of history is that this castle was partly destroyed by Napoleon's army in 1809. Do click ample pictures of the confluence of Danube and Morava rivers.
Location: Muránská, 84110 Devín
Timings: 10 Am – 5 Pm
Entry Fees: Adults – 5.00 €; Children – 2.50 €
Further Read: 10 Cafes In Prague: Enjoy Croissants, Sausages And More In A Perfect European Fare
Time might not have completely healed the scars of these mighty and best castles of Slovakia, but they serve as important cultural and historical centers, a stark reminder of Slovakia's bloodied past. As tales of the magnificence of these man-made structures spread across the globe, Slovakia takes immense pride in its castles and welcomes you with world-class hospitality. So, pack your bags, book your trip to Slovakia and explore the castles!
---
Looking To Book An International Holiday?
Book memorable holidays on TravelTriangle with 650+ verified travel agents for 65+ domestic and international destinations.
---