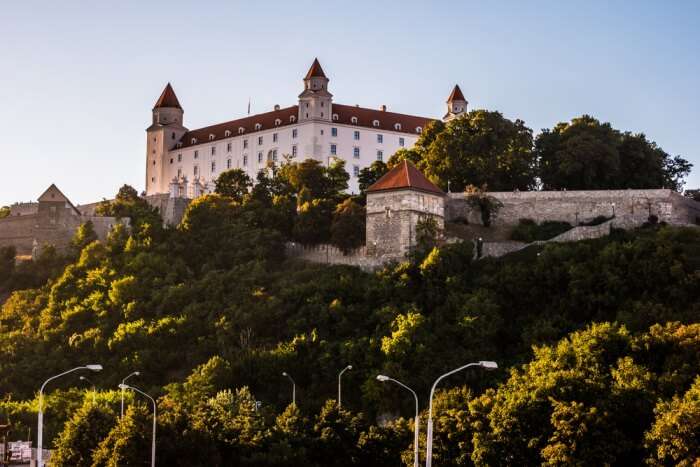 There are quite a number of popular places to visit in Slovakia which makes it one of the best-known tourists' destinations in the world. Slovakia is a beautifully landlocked country in central Europe which is surrounded by five different countries, namely, Poland, Hungary, Ukraine, Austria, and the Czech Republic. The population here is approximately 5.4 million and the official language spoken here is Slovak. Slovakia is a highly urbanized country with a high-income advanced economy and has a very high ranking in the Human Development Index. The country is also known to be the largest per capita car producing company as well as the seventh-largest producer of cars in the world.

The people of this place have a high standard of living and 90% of them are said to live in their own houses. This country is known for its civil liberties and peacefulness. The cities here are well planned, reflecting their rich artistic cultural and historical influence from their buildings and narrow lanes. Also, this country is majorly famous for its mountain landscapes and the hundred of caves that showcase the ancient inscriptions. The country has in total of 9 national parks that cover an area of 6.5% of the total Slovak land. Slovakia also has rich biodiversity and is a land of a number of different animals and endangered species.
13 Best Places To Visit In Slovakia
Slovakia is a country of artistic cities and magnificent natural surroundings. Its majestic castles and major cities of Slovakia draw people from every corner of the world. It is one of the points of pride of the entire European continent and thus highly maintained. From its majestic archaic castles to modern developed cities, from lush mountains to rivers flowing by, the beauty of this city is incomparable. If you ever plan to come to Slovakia, make sure that you visit these places mentioned below.
Bratislava Castle
Spiš Castle
St Martin's Cathedral
Slovak Paradise National Park
Grassalkovich Palace
Aquapark Tatralandia
Demänovská Cave Of Liberty
Old Town Hall
Devín Castle
Bojnice Castle
Štrbské Pleso
Michael's Gate
Košice
1. Bratislava Castle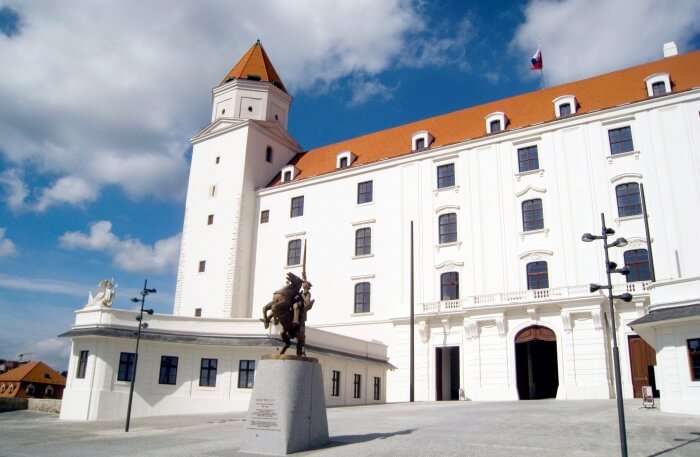 If you are searching for the best places to visit in Bratislava, Slovakia, then this can be the ideal one. It is a beautiful ethereal castle located in this small town. This castle is located on a plateau and was built in the 10th century. This is a huge ancient building which is almost rectangular in shape and is surrounded by four long towers.
For tourists who are more into arts and culture, this place will be worth the visit for them. From the top of the castle, you can get a spectacular view of the city – ideal for witnessing sunsets!
Location: 811 06 Bratislava, Slovakia
Contact: +421 2/544 114 44
---
Europe Holiday Packages On TravelTriangle
Explore the most beautiful places to visit in Europe, from Paris to the Venice canals and from the Greek islands to the Swiss alps. Book customized packages by expert agents on TravelTriangle. Inclusive of airport transfers, cab, resort, sightseeing, and meals. Best holiday experience Guaranteed. Book Now
---
2. Spiš Castle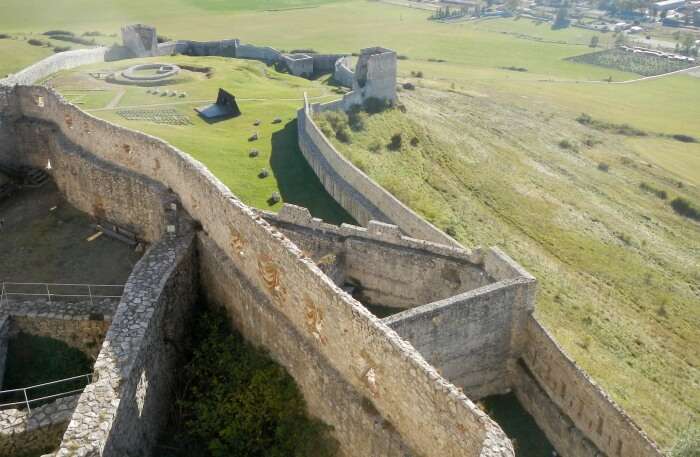 Built-in the 12th century, this is one of the largest castles you will come across in entire Europe. This beautiful castle is located in the eastern part of Slovakia. Built-in the 12th century this castle is spread over an area of 10 acres.
This historic castle is famous for its magnificent architecture that features Gothic, Romanesque and Renaissance architecture. In the year 1993, this castle also made it to the list of World Heritage Site by UNESCO.
Location: 053 61 Žehra, Slovakia
Contact: +421 53/454 13 36
Must Read: 10 Impeccable Castles In Slovakia That You Must-Visit On Your Trip!
3. St Martin's Cathedral – Bratislava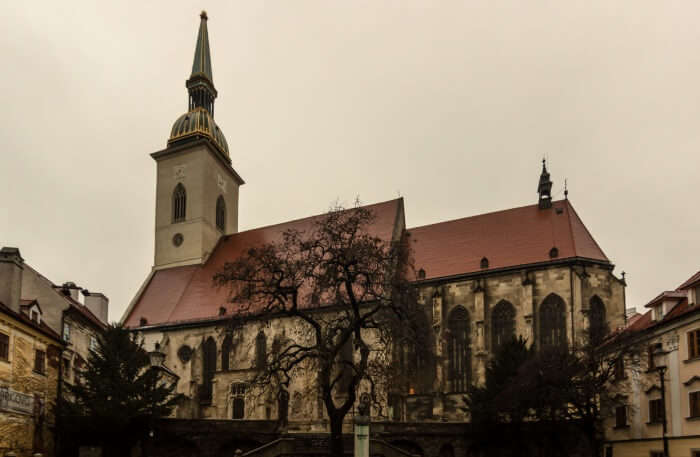 Looking for well-known places in Slovakia? St Martin's Cathedral was opened in the year 1452 and hence is one of the oldest existing churches in Europe. Situated at the western border of the Bratislava Castle, the design of this castle is inspired by gothic architecture.
This castle is amongst the historical places to visit in Slovakia, Europe, as it is majorly famous for the various events that took place like the coronations of Hungarian monarchs and also Queen Maria Theresa. There is also one golden crown on the top of the castle which adds more beauty to it.
Location: Rudnayovo námestie 1, 811 01 Bratislava, Slovakia
Contact: +421 2/544 313 59
4. Slovak Paradise National Park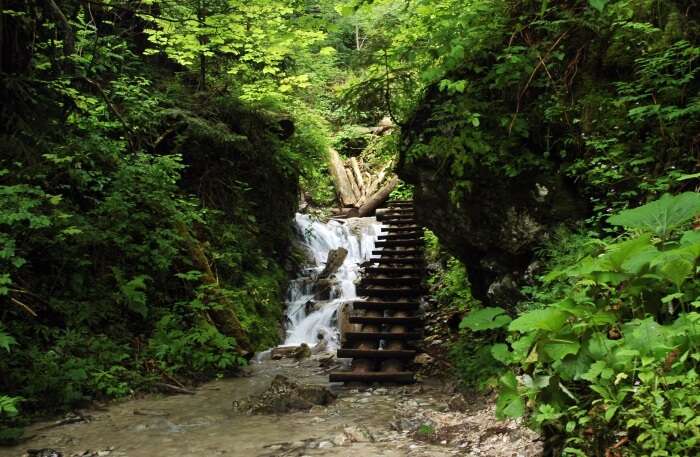 Situated in the eastern parts of Slovakia, this is one of the nine national parks of this country. It aims to conserving the wildlife and their natural reserves. This park was opened in the year 1988.
This park has got so many things to keep you entertained throughout the tour. It has got beautiful lakes that soothe your soul, waterfalls, picturesque canyons, and a dense forest with rich flora and fauna. You can also go hiking or simply stroll amidst nature and attend peacefulness of mind.
Location: Slovakia
Contact: +421 53/442 20 10
Suggested Read: Christmas In Slovakia: 10 Incredible Places To Have A Heartwarming Christmas Eve
5. Grassalkovich Palace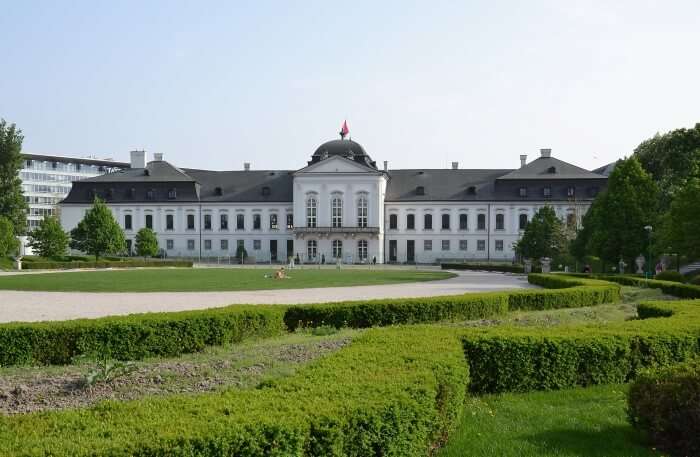 Located in Bratislava, this palace was opened in the year 1760 and is a resident of Slovakia's President. The design of this palace is inspired by Rococo-late Baroque summer palace. Also, this palace is famous for its architecture which reflects the authentic European vibes.
The style of the architecture is influenced by Baroque architecture. There is also a French garden in front of the palace which makes this place even more attractive for the tourists.
Location: Hodžovo námestie 2978/1, 811 06 Bratislava, Slovakia
Contact: +421 53/442 20 10
6. Aquapark Tatralandia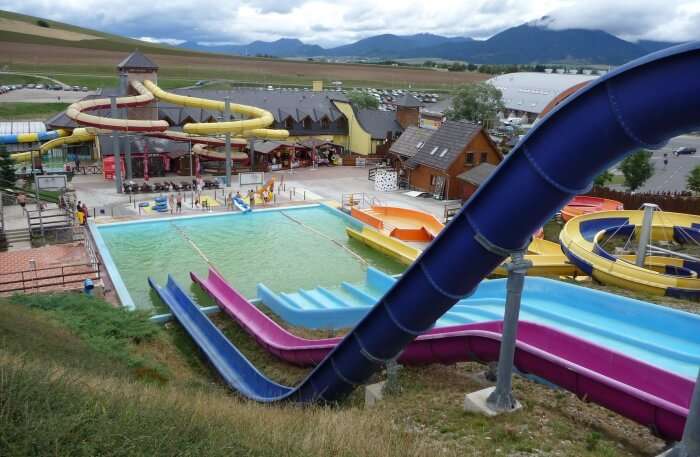 For people who have had enough of the historical glimpses of this place and would like to indulge into some fun yet a little adventurous activities can visit the Aquapark Tatralandia.
This water park is sure to give you some jaw-dropping experiences as it has got thrilling water rides and slides. Also, the food stalls here serve some of the amazing food delicacies. The water park is well maintained and the staff here is warm and welcoming.
Location: Ráztocká 21, 031 05 Liptovský Mikuláš, Slovakia
Contact: +421 915 834 644
Suggested Read: 13 Frolicsome Beaches In Europe For All The Excited Beach Bums Across The Globe
7. Demänovská Cave Of Liberty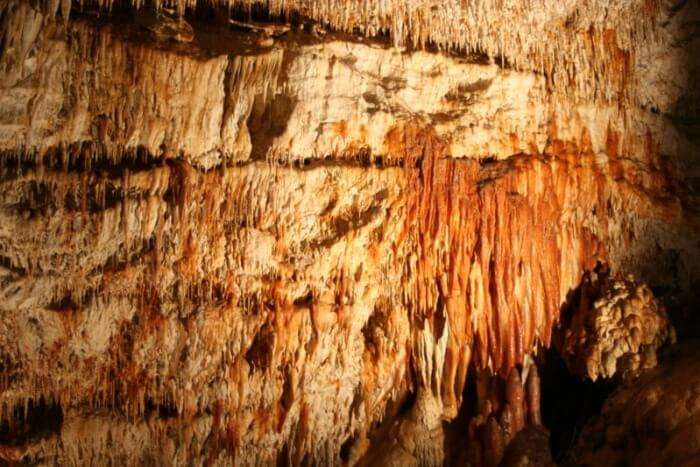 As much as Slovakia is known for its rich historical and cultural heritage, this country is also famous for its mesmerizing natural places. The land of Slovakia is home to more than 100 of caves that lie beneath the mountain landscapes.
Demänovská Cave of Liberty is a karst cave discovered in the year 1921. It was open to the public in 1924. The entrance of this cave is located at an altitude of 870 m.
Location: Low, Tartras Slovakia
Contact: +421 915 834 644
Suggested Read: Slovakia Nightlife: 12 Popular Clubs To Visit For A Hip Vacation

8. Old Town Hall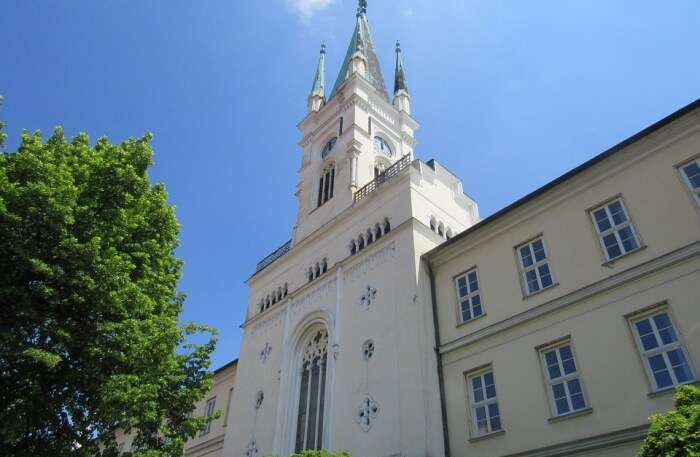 This is basically a massive complex which comprises a number of buildings. It was built in the 14th century and today it features a famous museum that showcases the ancient era.
The architecture of this place is influenced by a mixture of different contemporary forms like Gothic architecture, Gothic Revival architecture and Renaissance Revival architecture. For people who like to explore the historical past of a city, this museum has answers to all your questions!
Location: Hlavné námestie 501/1, 811 01 Staré Mesto, Slovakia
Contact: +421 2/591 008 47
Suggested Read: 17 Spots For Snorkeling In Europe Every Underwater Enthusiast Must Visit
9. Devín Castle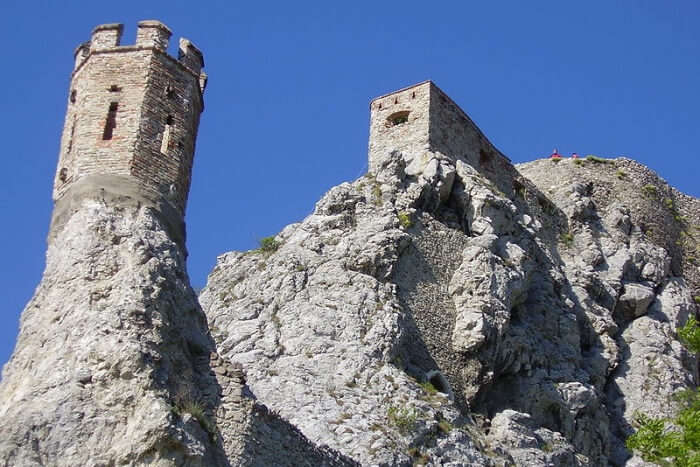 Located in Devín, this caste is said to be inspired by the gothic architecture and is a borough of Bratislava, capital of Slovakia. This castle is so rich in its historical and cultural artifacts that it will take you back in time.
On the upper floors of this castle, there is a permanent exhibition called "Architectural Development of Devin Castle" where you can find ancient art, sculptures, and paintings of the time between 11th to 19th centuries.
Location: Muránská 1050/10, 841 10 Devín, Slovakia
Contact: +421 2/657 301 05
10. Bojnice Castle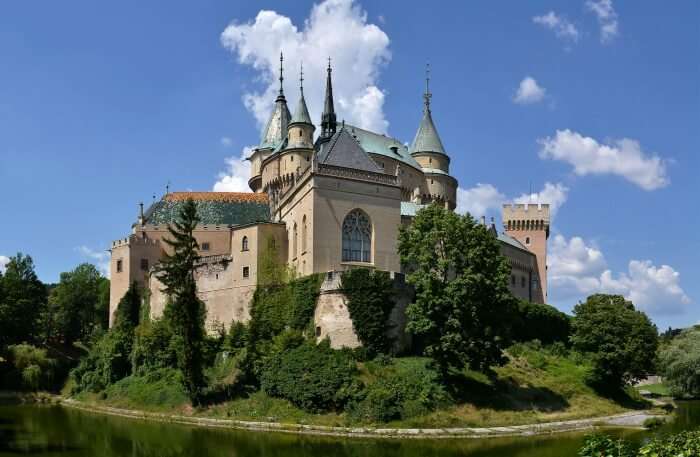 This is a complete dreamlike castle which will make all your fantasies about fairy tales come alive. The architectures and colors of the wall will remind you of the Disney castles.
The area is surrounded by lush green trees and the ambiance is filled with liveliness. This was built in the 12th century. Also, make sure that you visit this place earlier because this castle is only open till 3 pm.
Built-in the style of Gothic Revival architecture, the walls narrate the story of the ancient times. The interiors of this place will leave you awestruck.
Location: Zámok a okolie 1, 972 01 Bojnice, Slovakia
Contact: +421 46/543 06 33
Suggested Read: This Winter, Escape To The Best Honeymoon Destinations In Europe In Winter
11. Štrbské Pleso

This is one of those tourists' spots that are immensely dominated by natural beauty. Here, you will come across the awe-inspiring view of the mountain lake which you can't find at many places. If you are looking for places to visit in Slovakia in winter, then Štrbské Pleso is the perfect spot for you!
The surreal view of the snow-capped mountains glinting through the sun's rays is a beauty to behold. Being the second largest lake, this place is surrounded by natural beauty and peacefulness. This place is less crowded and if you are someone who is looking for the peacefulness of mind, you will surely not regret visiting this place.
Location: High Tatras, Slovakia
12. Michael's Gate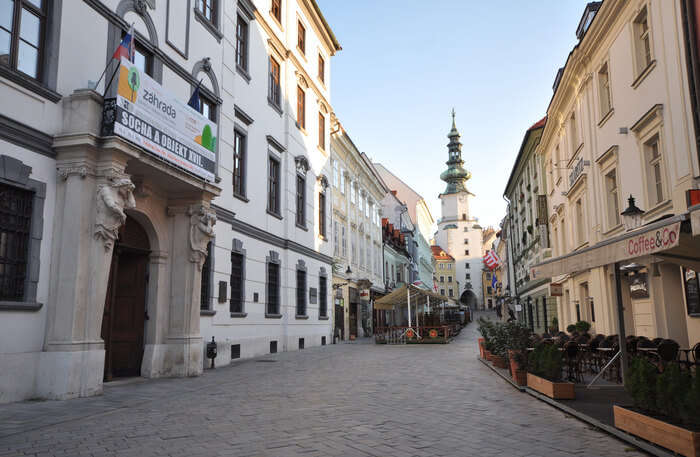 This building ranks among one of the oldest town buildings with seven floors. This place houses all sorts of local and international food stalls along with pubs and ladies clubs.
These place will make your feel as if you are in a city that reflects it rich influence of cultural blend. This place closes at 6pm so make sure that you visit here early.
Location: Michalská ulica 22 806/24, 811 03 Bratislava, Slovakia
Contact: +421 2/544 330 44
Suggested Read: 12 Restaurants In Slovakia That Will Make Your Vacation Flavorsome
13. Košice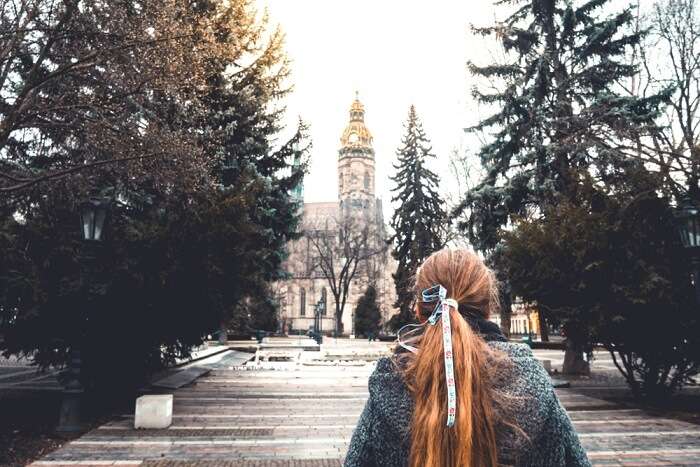 Košice is a beautiful city close to the border of Hungary. Its old-world charm makes it one of the top places to visit in Slovakia. The city goes back to the medieval period and has some breathtaking tourist attractions like the St. Elisabeth's Cathedral and the Spiš Castle. If you are looking for best places to go in Slovakia with kids, then you can also head to the Košice Zoo. This city in Slovakia no doubt has something or the other to offer to all its tourists.
Further Read: 31 Traditional Festivals In Europe That Will Up The Fun Factor Of Your Euro-Tour In 2021
Slovakia is a land of some of the most awe-inspiring tourist spots. From hilly mountains to mesmerizing rivers and ancient caves, this place has got so many options for you to explore. When planning your trip to International, make sure you go through the list mentioned above. With the list of some of the best places to visit in Slovakia handy, your trip would be hassle-free.
People Also Read:
Places To Visit In Austria Places To Visit In Ukraine Places To Visit In Bratislava
---
Looking To Book An International Holiday?
Book memorable holidays on TravelTriangle with 650+ verified travel agents for 65+ domestic and international destinations.
---