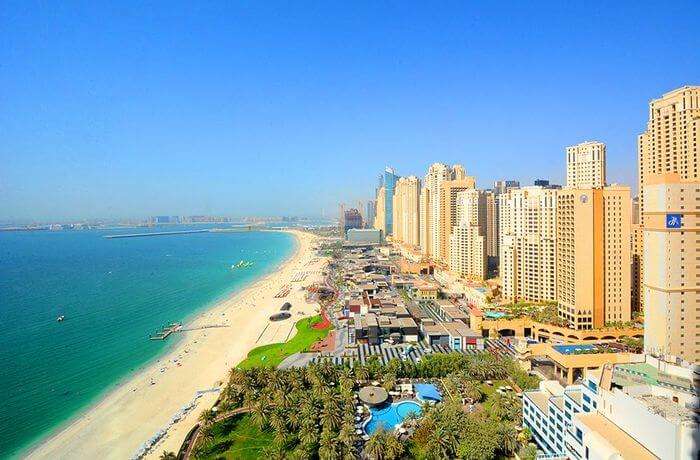 Overview
A must-have experience in Dubai is relaxing by some of its popular and well-maintained beaches after a long day of shopping and sightseeing. Staying at Dubai hotels near beach of its own is an unmatched experience. Dubai is a global commercial and tourism hub, and the largest city in the United Arab Emirates (UAE), with something for every kind of traveler.It is one of the most expensive cities in the Middle East, With a skyline that offers views of some iconic architectural marvels such as the world's tallest building, the Burj Khalifa. The global city is ideal for family holidays as it also has a range of tourist attractions from a dolphinarium and exotic bird shows to one of the longest cable car lines in the world that overlooks the Dubai skyline. The city is also home to the world's largest shopping centre, Dubai Mall.
Located on the southern end of the Persian Gulf, Dubai also makes for an exciting tourist destination for couples as the Arabian Gulf, with its glittering waters, is a sight to behold. Dubai's beautiful beaches, thronged by thousands of tourists each year, also offer splendid views of world-famous structures like the Burj Al Arab tower and hotel, a landmark Dubai hotels near beach if travelers enjoy a lively ambiance, head to the more popular beaches like Al Mamzar Beach and Mercato Beach that boast numerous amenities. If a quiet and soberer beach is up against the alley, Al Sufouh Beach is the answer. The Radisson Blu Hotel, Dubai Media City, and The Westin Dubai Mina Seyahi Beach Resort & Marina are great options to stay close by. Some of the popular beaches in Dubai are Umm Suqeim Beach, JBR (Jumeirah Beach Resort) Open Beach, Kite Beach, Black Palace Beach and Royal Island Beach Club.
Special Experiences
While most Dubai hotels near beach have private beach fronts, the Carlton hotel also offers individual cottages to guests on the beach. The poolside has its coffee shop, which guests appreciate. The Westin Dubai boasts of a chic waterfront eatery and a South American restaurant with a live band, apart from a stunning private beach. If guests are a business traveler, the Radisson Blu hotel is the ideal amalgamation of work and pleasure owing to its location in the central business district and a nightclub within the hotel premises.
Facilities
A majority of the Dubai hotels near beach offer endless amenities that are expected and more. Apart from delectable global cuisines in the restaurants, most hotels also offer some Arab delicacies such as Baklava. Continental food is readily available, with different complimentary breakfast platters. An outdoor pool, mostly facing the beach, along with spa services and a jacuzzi is also on offer at hotels like the Five Palm Jumeirah Dubai. Rooms are equipped with Wi-Fi, and most have large balconies with stunning views of the Gulf. Other facilities at these hotels like the Waldorf Astoria Dubai Palm Jumeirah include a fully-equipped gym, room service, laundry services and cleaning. One can find rental cars or complimentary shuttle services easily as well.
Dining
Most Dubai hotels near beach like the Sofitel Dubai Jumeirah Beach have an in-house restaurant as well. While breakfast is complimentary and mostly Continental, head to these restaurants for lunch and dinner to experiment with some unique Arab dishes, a broad range of Dubai hotels near beach like the Jumeirah Zabeel Saray also offer bars, so people can genuinely experience some wine and dine. Sea-facing and poolside cafes are a delight to eat at. Hotel staff are professional, courteous and well-trained, and offer their best attention and services at all times.
FAQs
Q1. Are the Dubai hotels open to hosting pets?
A. No, almost all the hotels here are not pet-friendly. So before planning a travel with the furry friend, one must check with the hotel for their provisions on the same.
Q2. What are the free services that one can avail?
A. Internet, fitness centres, outdoor pools, telephone and bathroom accessories are some of the free services that one can avail at the Dubai hotels near beach.
Q3. Do hotels in Dubai serve Indian food?
A. Yes, almost all large hotels in Dubai serve Indian food. The Jumeirah Beach hotel, the Four Points by Sheraton Bur Dubai and the Armani Hotel Dubai serve excellent Indian food.
Q4. Which hotels are the best near Dubai's famous beaches?
A. The Burj Al Arab Jumeirah, the Jumeirah Beach Resort and The Westin Dubai Mina Seyahi Beach Resort & Marina are some of the best properties close to Dubai's famous beaches.
Q5. Do all the hotels have a private beach?
A. The hotels near the beach have a beachfront or are 1-5 minutes walking from the beach. Some hotels such as Carlton offer cottages on the beach. One must confirm with the hotel before booking.
As a tourism hub, Dubai spoils guests for choices when it comes to hotels. After enjoying a long day of shopping, sightseeing and discovering the city, what could be more perfect than going back to the comfortable hotel? Apart from global hotel chains such as the InterContinental, the Carlton, the Westin and Radisson Blu, one could also consider some homegrown hotel properties such as the Jumeirah Dar Al Masyaf—Madinat Jumeirah, Rove Dubai Marina and Anantara The Palm Dubai Resort.