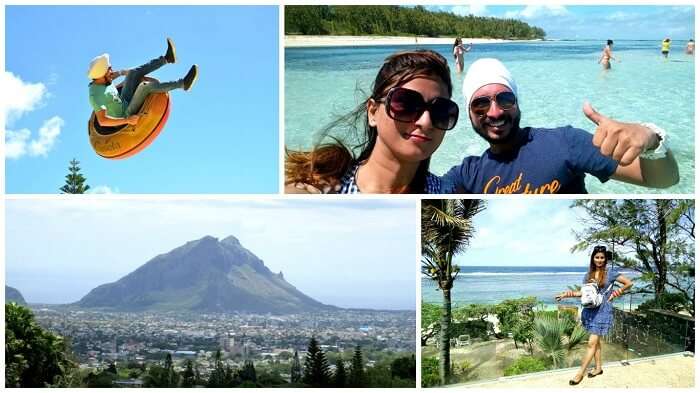 It all comes together as a perfect jigsaw puzzle with the right person, at the right time, and the right place. Read on as Gagandeep and his wife graciously stride into the lap of luxury with a dreamy honeymoon to Mauritius. Their trip cost them a total of INR 1,32,000 which included their flights, transfers, accommodation, sightseeing, and breakfast.
Along with some convincing research on the internet, I received recommendations from a few friends to go to Mauritius on a honeymoon. I arrived on the TravelTriangle website after searching for Mauritius Honeymoon packages. I found their way of providing customized itineraries interesting and an innovative way to travel.
After inquiring on their website, I got a revert from their travel executive. Amit from TravelTriangle, understood my needs for the honeymoon itinerary and connected me to various agents providing multiple offers for the same trip. I selected the best deal given to me by 'Goin' My Way' agency.
Jumping with joy would've been an understatement to describe my mood. A perfect destination with the right amount of ingredients such as beaches, luxurious stay, and lovely cuisine awaited me and lovely wife in Mauritius.
Day 1: Mauritius, here we come!!
We took our flight from Delhi and arrived in Mauritius at 3 pm. Upon our arrival, the driver was present to receive and take us to the hotel. The ride from the airport to the hotel was pretty scenic. We checked into the hotel at 5 pm along with a very warm welcome from the hotel staff.
In the evening, my wife and I walked on to the beach near the resort to explore and enjoy the surroundings. Post dinner, we had a word with the travel agent and had our itinerary tweaked after hearing recommendations from the people already here in Mauritius.
Day 2: Divine temples, 7 coloured earth, and stunning waterfalls.
Monday Blues to Mauritius Blues: How Mauritius Spoilt Me For Life
The next day, after breakfast, we got ready for the South Island Tour. We started the tour being driven in a shared coach with two other couples. First up, we visited the Ship factory and Mangal Mahadeva statue in Mauritius.
Next up, we saw the beautiful natural coloured earth formations. The interesting part about the coloured formations was the fact that they were actually ash from a volcano hundreds of years ago. Who knew that something so beautiful could come from such a scary occurrence.
We wound up the tour with visiting the scenic Chamarel waterfalls, where we had a good photo session. At 5 pm, we returned to the hotel and relaxed for a while. After having an early dinner, we thought of taking a romantic late night walk on the beach to give a romantic ending to the day.
Day 3: Chirping with birds in Casela
We decided to utilize our free day by visiting the vibrant Casela Nature Park. We started our trip to the bird park a little early at 8.30 am because one of the couples with us had a departure the same evening.
After arriving in Casela, it felt like walking onto the sets of Jurassic Park. Green surroundings, dense forest cover, and a mixture of animal sounds. While on safari, we got a chance to see animals like the majestic white lion, zebra, and many types of tropical birds. After the safari, we went for a bit of fun to enjoy the tube slide ride. Flying in a tube like a sitting duck wasn't how I pictured my honeymoon, but it was fun!
We returned to the hotel at 5 pm, after which we had a delicious dinner. Post dinner, we returned to the room and decided to call it a night.
Planning A Vacation With Kid? Preeta & Dilon's Family Trip To Mauritius Will Give You Fun Ideas
Day 4: Snorkeling with fishes
A day for us where we would just chill out, rest and take things slowly. Such days are very rare, even in vacations. Post breakfast, we decided to do some snorkeling by borrowing the swimming gear from the hotel. It was a great experience, swimming in such clear water where we got to see some beautiful corals and rare fishes.
In the evening, the hotel had arranged a candle light dinner for us. It was a very romantic evening spent with my better half, something that I will never forget.
Day 5: Rip-roaring adventures at Ile Aux Cerf
Family First! A Special Bonding Experience With Family On A Trip To Mauritius
After having a delicious breakfast, we got ready to visit the Ile Aux Cerf Islands. We had booked a package that combined the island tour and water sports activities for both of us. We took part in a variety of thrilling activities like parasailing, tube ride, speedboat ride, and underwater sea walking.
There was only one activity that I hadn't done in the past- underwater sea walking. It turned out to be surreal and amazing as we walked on the seabed feeding the fishes. Moving on to the island, it had the best beaches I had seen in my life. White sand, crystal clear water, lush green landscape perfectly scattered on the island. You couldn't have painted the scene any better.
We departed from the island at 4 pm for the hotel, with tired legs and refreshed minds. Upon returning, we had dinner and rested for the night.
Day 6: Unwinding in sunny paradise
On our honeymoon, I made sure there was enough days in the trip that my wife and I would spend with each other and not worrying about what to visit next. With not much to do, we began the day with a delicious brunch, followed by relaxing under the shade besides the infinity pool. Also a chance for me to heal the crazy sunburn that I got the day before due to which my skin was peeling off like a snake!
In the evening, we unwinded our final night in Mauritius with a nice quiet dinner with music playing in the background. Soon enough, at 8 pm we returned to our rooms and rested for the night.
Day 7: Shopping in Flacq and bidding farewell
Shopping in Mauritius In 2022: 12 Spots That Offer Both Luxurious & Crafty Items!
On the final day of our honeymoon, we woke up early had breakfast and packed our bags. Since our flight was scheduled to leave at 9 pm, we checked out at noon but kept our bags at the hotel for a few hours.
Just a two-minute walk from the hotel was a bus stop, from where we took a bus to Flacq for some shopping. After buying loads of gifts and souvenirs, we returned to the hotel at 4 pm to collect our bags. We were transferred to the airport for our flight to New Delhi.
We couldn't have asked for a better start to our married life. A week spent with my wife in one of the most romantic destinations that exist on earth. Mauritius provided us with a very warm, comforting, and picturesque honeymoon that we'll keep in our hearts forever.
High Points:
The day spent at Ile Aux Cerf
The stay at the hotel was simply magical
Low Points:
Flexibility regarding arrangement of transport was a little less from the agent side.
Tips to travelers:
Make sure you carry a decent sunscreen to prevent sunburn.
Bet you never thought Mauritius could be this much fun!  Fulfill your dream vacation with your loved one here in Mauritius!
Frequently Asked Questions About Honeymoon To Mauritius
Is it safe for people to go to Mauritius?
Yes, Mauritius is a very safe place to visit on a vacation. One of the safest countries to travel to, Mauritius offers complete safety to travelers. However, one is always advised to take care of one's belongings on a vacation.
What are the must-visit places in Mauritius in a vacation?
Some of the must-visit places for travelers include: 1. Trou Aux Biches 2. Belle Mare Plage Beach 3. Seven Coloured Earth Of Chamarel 4. Ile Aux Cerfs 5. Pereybere Beach
What are some of the places for snorkeling in Mauritius?
Some of the best places for snorkeling in Mauritius are: 1. Trou Aux Biches 2. Flic En Flac 3. Pointe Aux Piments 4. Isle Aux Cerfs 5. Blue Bay Marine Park
What are the various water sports that people can be a part of in Mauritius?
Some of the watersports that take place in Mauritius are scuba diving, parasailing, cave sea kayaking, water skiing, windsurfing, seaplane ride, and sea hovering are some watersports that you can be a part of in Mauritius.
How many days are enough for a trip to Mauritius?
At least 6 to 7 days are required for a trip to Mauritius. You can enjoy the mesmerizing beauty of the beaches or also indulge in a lot of activities available in Mauritius.
What is the best time of the year to visit Mauritius?
The best time for you to visit Mauritius is between the months of May till December when the weather is pleasant and cool and one can enjoy sightseeing and other adventures on the island.
What are the famous places for shopping in Mauritius?
Some of the best places for travelers to shop in Mauritius include: 1. Port Louis Central Market 2. Quatre Bornes Market 3. Flacq Market 4. Grand Baie Market 5. Grand Baie La Croisette