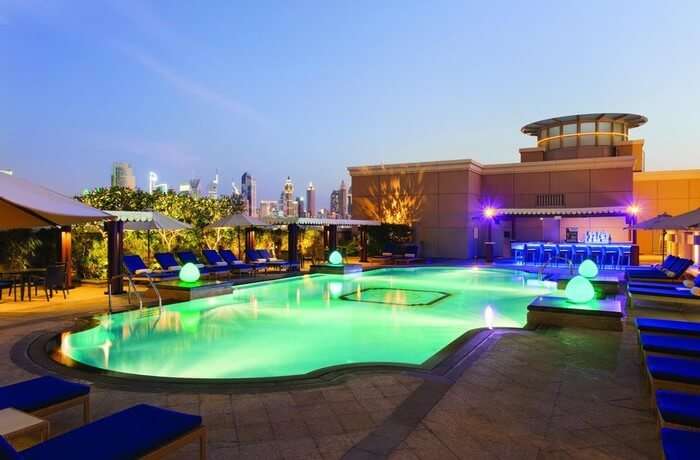 Overview
With a vibrant street life that exudes a unique sense of community spirit, Bur Dubai more set in an older version of Dubai as compared to the other sleek and ultramodern townships built around it. People who visit Bur Dubai can find themselves experiencing the true local life in Dubai hidden away from all the glitz and glamour of the showy touristy areas.As such this article will help the holidaymakers find hotels in Bur Dubai that can make the stay here memorable beyond words.
Bur Dubai is all about traditional little shops set up in ancient souks, the historic yet well-restored districts of Al Fahidi and Shindagha as well as the Dubai Museum. As such the hotels in Bur Dubai try their level best to keep themselves rooted in the history of this mesmerizing city while trying to grow and provide world class services to their guests. Travelers can find different options when it comes to the hotels. Although located in one of the busiest and most crowded areas in Dubai, stepping inside these hotels in Bur Dubai can feel like stepping through the looking glass. Here the peace and tranquillity that one can find amidst the lush green spaces in these hotels can almost make time stand still.
Special Experiences
Hotels in Bur Dubai are as varied as the locals who dominate the area. Ranging from 5-star luxury hotels where travelers can pamper themselves to the fullest to the budget hotels where holidaymakers can get the most amazing services within the budget, one can find everything in these hotels in Bur Dubai. Speaking of Luxury hotels in Bur Dubai, Queen Elizabeth 2 Hotel is a unique experience all by itself. Just staying at this property is more exciting than the services at all other Dubai hotels combined! What makes this hotel so special is the fact that it is fashioned inside the world's most celebrated ocean liner – Queen Elizabeth 2. This floating hotel is docked permanently at the Mina Rashid marina and is known far and wide for the plethora of services that one can find here. For the budget hotels, one of the first names that travelers can take a look at is the where the guests can enjoy themselves at the outdoor heated swimming pool as well as visit the mini market on site and enjoy some amazing discounts.
Facilities
Any traveler coming to Dubai is looking for world-class amenities as well as stunning properties where they can unwind. Hotels in Bur Dubai understand that and have in store some of the finest facilities for their guests. Hotels in Bur Dubai, irrespective of the type or category of the hotel, strive hard to incorporate all the modern ways and provide their guests with any services they may require when staying there. Massages, Spa centers and swimming pools with stunning views are a must to all the hotels in Bur Dubai, along with room services, daily maids, a 24-hour front desk as well as a tour desk, spacious and well-decorated rooms as well as fitness centers. Luxury hotels like The Canvas Hotel Dubai offer their guests live evening entertainment so that they do not have to go around the area looking for evening activities. On the other hand, traditional budget hotels like the Al Khoory Inn offer special services for children so that the little guests at their hotel can enjoy as much as the adults.
Dining
Being the traditional center of Dubai, Bur Dubai is dotted with little artistic cafes where one can enjoy a wonderful meal or just a lite snack when the mood hits them. As such the restaurants at the hotels are the exact opposite with multiple options for fine dining as well as casual eating options. Serving everything from Local Emirati Cuisine to international dishes these restaurants at the hotels have set a whole new standard for food. The budget hotels in Bur Dubai like the President Hotel also offer their guests limited yet delicious dining options within the hotel premises. At the President hotel, guests can find Kolavam Restaurant where they can relish Indian cuisine while at the bar at this hotel one can enjoy some Enligh beers and delicious cocktails.
FAQs
Q1. What are some of the free services that one can avail at these hotels?
A. Wifi, luggage storage, concierge and tour desk facility, room cleaning and laundry, access to the swimming pool and fitness center, parking, access to the bar and restaurants are some of the free services that the guests can enjoy at these hotels.
Q2. Is it possible to avail the option of in-room dining at these hotels?
A. While most of the hotels in Bur Dubai do allow the guests to dine inside their rooms and also provide room service option, it is always better to check with the hotel before making a booking.
Q3. Which languages are used frequently in the hotels?
A. English and Arabic are the most frequently spoken languages at these hotels along with a few others like Hindi, French and Italian.
Q4. Are there any shopping opportunities within the hotel itself?
A. Yes, travelers can enjoy shopping at the mini markets and the gift shops located in the hotel complexes where they can get some fantastic discounts as well.
Q5. Can one bring pets along?
A. Ideally, no, since the hotels here are not pet-friendly and some of them are very strict about not allowing pet animals to stay on their premises.
Hotels in Bur Dubai are preferred by all those who wish to experience the different side of Dubai. Here travelers can find the traditional life of the Arabs taking place on the busy streets and the traditional markets while the travelers sit at one of the ethnic eateries and feast on some excellent local delicacies. Hotels in Bur Dubai are a must have experience for anyone traveling to Dubai. Here are a few names to help travelers when searching for a place to stay in Bur Dubai – Grand Hyatt Dubai, Burjuman Arjaan by Rotana, London Crown Hotel, Ibis Styles Dubai Jumeira, Raffles Dubai, Hyatt Regency Creek Heights Residences, Sheraton Dubai Creek Hotel & Towers, etc.