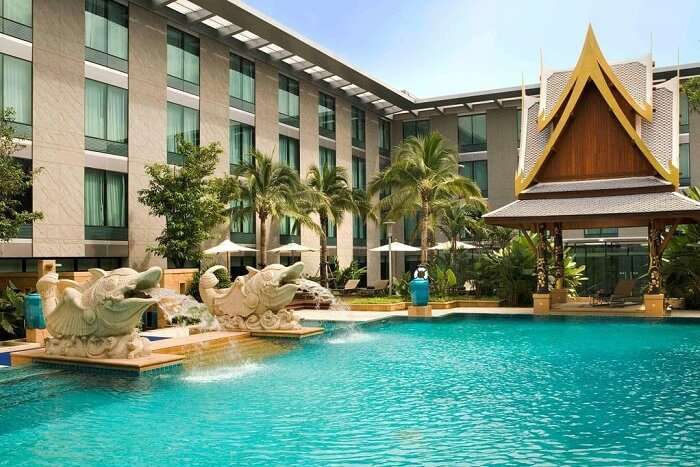 Overview
No matter what the destination is, the choice of the right hotels is a matter of huge concern for every traveler while planning a trip. The Hotels Near Suvarnabhumi Airport offer the best of the services that the customers could ever expect at these locations. Hotels near Bangkok Suvarnabhumi Airport provide easy access and look after all the needs of their guests with dedicated efforts and commitment. These hotels provide classic accommodations with all the basic facilities like fine and smartly designed rooms, flat screen TVs, Wi-Fi connectivity, great services, worth mentioning hospitality, highly skilled staff and management etc. The warm and joyful ambiance of these hotels is certain to ensure a comfortable and relaxing stay for the guests. Vacationers can enjoy the taste of the delicious food served at the eateries of these hotels and loosen up a bit from the boring and tiring lifestyle at their bars. With the spa facilities, one can refresh and rejuvenate oneself at ease. Guests visiting Hotels Near Suvarnabhumi Airport are sure to cherish every moment of the stay at its level best.
Special Experiences
The Hotels Near Suvarnabhumi Airport offer some special services that ensure an ecstatic stay for their guests. Novotel Bangkok Suvarnabhumi Airport Hotel has a grand ballroom and a well-equipped business centre. This 4-star hotel has 5 boardrooms and provides an airport shuttle service as well for added convenience. Dwella Suvarnabhumi Hotel also has the provisions for a message centre, business centre and also provides an on request chargeable airport shuttle service. At the Suvarnabhumi Ville Airport Hotel, the upgraded rooms have balconies, and direct pool access and the suites have sitting areas, terraces and glass-enclosed bathrooms. This hotel has a spa offering Thai massage, a business centre and in addition to these, a 24/7 airport shuttle service. The special services provided by the hotels Near Suvarnabhumi Airport make it an experience worth looking forward to.
Facilities
The facilities at the hotels Near Suvarnabhumi Airport add to the splendor of these hotels. Guests can enjoy staying in the elegant and fine rooms with Wi-Fi connectivity, flat screen TVs, laundry services, minibars, tea and coffee making facilities etc. These hotels provide free parking facilities, car & bike rental services as well. Coffee and tea making facilities are available in many of them to provide a homely feeling. Boxtel @ Suvarnabhumi Airport provides concierge and baggage storage services and is free for kids under 11 years of age coming with an adult. Many of these hotels provide excellent spa and massage centres. New Siam Palace Ville Hotel provides cars for hire, sauna, concierge, currency exchange and baggage storage services along with well-refined rooms. The room service and hospitality of the staff ensure the guests of the proper management and provisions of these facilities that make the stay of their guests comfortable and memorable.
Dining
The Hotels Near Suvarnabhumi Airport have a wide range of amazing dining options to offer. The staff and management of these hotels make it an aspect worth looking forward to. Bangkok Marriott Hotel Sukhumvit has a chic rooftop restaurant cum bar which is one of the main highlights of the hotel. Novotel Bangkok Suvarnabhumi Airport Hotel has 5 restaurants and 2 bars, each catering its own area of expertise and making every moment of the guests joyful. Some of the hotels like Grand Inn Come hotel provide free breakfast to their customers. The bars at these hotels are managed by highly skilled and well-trained bartenders. Dining is a major contributory factor to make any accommodation better from just good, and this fact is well taken care of by these exquisite and hospitable Hotels Near Suvarnabhumi Airport.
FAQs
Q1. Are the hotels near Suvarnabhumi airport pet-friendly?
A. No. One would hardly find a hotel that welcomes pets in this area. Hence, one should prefer not to bring the pets along.
Q2. Do the hotels provide concierge services?
A. Yes, some of the hotels like Novotel Bangkok Suvarnabhumi Airport Hotel provide concierge services. However, guests should check with the hotel prior to booking.
Q3. Do these hotels provide an airport shuttle service?
A. Yes, most of these hotels provide an airport shuttle service which may be complementary or chargeable, depending upon the hotel.
Q4. Are Hotels Near Suvarnabhumi Airport kid-friendly?
A. Most of these hotels are kid-friendly.
Q5. What are the major languages spoken at Hotels Near Suvarnabhumi Airport?
A. Thai and English are the most exchanged languages here.
The Hotels Near Suvarnabhumi Airport stand as great places to stay at for the trip to Bangkok aided by their great accessibility and comfort. One should definitely spend a few days at ease and enjoy the hospitality and services of these hotels. Suvarnabhumi Ville Airport Hotel provides wheelchair accessible entrance and has even got the provision of providing cars for hire. Novotel Bangkok Suvarnabhumi Airport Hotel takes the feasibility of the guests to another level and provides wheelchair accessible entrance, lift and parking as well. For the entertainment of the guests, some of the hotels even offer live shows which are charged for separately. The Hotels Near Suvarnabhumi Airport is a complete package and a smart choice for the stay during a visit to Bangkok.