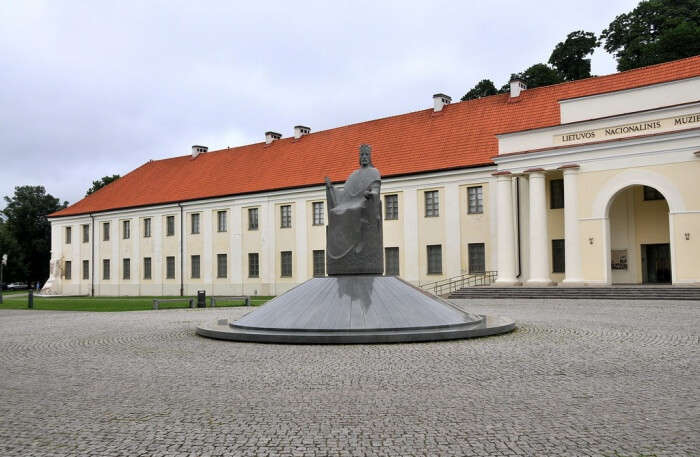 Located on the southernmost tip of the Baltic state, Lithuania is a large state that has many historical places. The museums in Lithuania are one such attraction that you must visit and explore on your trip. And while there's no doubt that there are various unique places that can be seen in this country, there are also experiences that you ought to tick. So, make sure that you on your next adventure to the country, you take a tour of as many of these museums as possible!
10 Best Museums In Lithuania
It will be really amazing to know more about all these museums. In fact, the museum of genocide victims is the best one. So, if you are searching to see some of these places, then look no further.
1. Trakai Island Castle Museum

If you are planning for a complete day trip, then this museum will be the best place. The construction of this castle was made on an island during the 14th century. However, the structure of the museum is of modern time. It will appear that the museum is newly made. In the year 1962, the castle was converted into a museum. At the present time, there are exhibitions that are held on a regular basis. The palace of the grand dukes of Lithuania is the most remarkable one.
Location: Kestucio Str. 4, Trakai 21104, Lithuania
Timings: 10 AM -7 PM.
Fees: For adults-8, 00 Eur, for students and senior citizens- 4,00Eur.
Must Read: Monaco In April: Your Personal Guide To Explore The Serene Country In Europe
2. KGB Museum

This museum is located on the former KGB building. The visitors can also view the former KGB prison and also the premises where death sentences were implemented. It will really give you a wonderful feeling to know about the ancient facts. The museum also focuses on the 20th-century stories. It is best to take a guide before planning to go to the museum. The Lithuanian museums is a great one
Location: Auku g. 2A, Vilnius 01113, Lithuania
Timings: 10 AM -6 PM.
3. National Museum of Lithuania

Image Source
This national museum of Lithuania represents the virtual gallery of about 6000 children who had drawn the pictures during January 13. Basically, the drawing was created in the year 1991 when the Russian Paratroopers tried to occupy the television tower. There was a drawing competition that was conducted and the theme was January 13. This museum must be visited.
Location: Arsenalo g. 1, Vilnius 01143, Lithuania
Timings: 10:00 AM – 6:00 PM
Suggested Read: Winter In Bratislava: A Detailed Guide To This Blissful City In Europe
4. Holocaust Museum

There are some incredible stories that can be noticed here. By visiting this museum you can gather a lot of information about the entire place. The area is a large one and so you will really enjoy the whole ambiance. Even you can also notice the stories of World War II. The other name of this museum is Green House.
Location: Pamenkalnio g. 12, Vilnius 01114, Lithuania
Timings: 9:00 AM – 4:00 PM
5. Telia Nemuziejus

This is a high technology museum and you will really come across various things. It is a fun-filled museum and you will spend some good time with friends and relatives. You will also notice 5 virtual reality experiences. The best among this is the hot balloon flight above the Old Town of Vilnius. This is really loved by the kids. It takes about one hour to have a full view of the whole museum. Besides this, the Palanga amber museum is a very famous one.
Location: Vokieciu g. 4, Vilnius 01130, Lithuania
Timings: 11:00 AM – 8:00 PM
Suggested Read: Love Winters A Lot? Experience The Beauty Of Russia In November
6. Birzai Castle

It is also an amazing place where many things have been preserved wonderfully. It is also a well repaired and preserved castle. This museum has a beer tasting corner that is greatly enjoyed by most of the tourists. Apart from this, there are some restaurants that serve good and delicious foods to the tourists. The castle has preserved some war tanks very beautifully.
Location: 1-19 Parodos gatve, Birzai 41001, Lithuania
7. Kretinga Museum

There are many good archeological things preserved in this museum. The silver coins, the tools of the farmers are nicely preserved in this museum. They are placed in a wonderful manner. Most of the people mainly come here to see these things. It is also a charming and a small museum. Traditional equipment can be noticed here.
Location: Vilniaus g. 20, Kretinga 97104, Lithuania
Suggested Read: 6 Best Cape Town Museums to Experience the Country's Profound Traditional History
8. The Venclova House of Museum

This museum is especially dedicated to two poets. One is Antanas Venclova and the other is his son named Tomas Venclova. It is a very well maintained museum that has a beautiful interior. If you come to this museum you will be really amazed to see its interior. The museum has a beautiful interior and this attracts people from all over the world. You will really feel nice to see this museum. It is worth to see this museum.
Location: Pamenkalnio g. 34, Vilnius 01114, Lithuania
Timings: 10:00 AM – 5:00 PM
9. Centre for Civil Education

It is also a great place for learning and gaining good information about the creation of modern Lithuania. There are some stories and videos that will take you that world. It is so real and fantastic place. There are some political histories that are also mind-blowing. If you come to this place, then there is a scope to visit the sculpture garden of the Presidential Palace. During the vacations and summer time, this place remains overcrowded. It will provide you with an unforgettable experience.
Location: Totoriu g. 28, Vilnius 01121, Lithuania
Timings: 9:00 AM – 4:00 PM
Suggested Read: Summer In Lithuania: A Traveler's Guide To Enjoy A Vibrant Summer Vacation At This European Country!
10. Communications History Museum

This is a great place for film animation. If you have a strong passion to see animated films then this is the best option. The museum also has a good collection of radios, telephones and other related accessories. Once you visit this place you will like to come here again and again. This place is ideal for students who are pursuing a good career in film animation. They can gain a lot of knowledge from this place. It should be visited by the tourists. The sculptures are wonderfully made.
Location: Rotushes a. 19, Kaunas 44279, Lithuania
Further Read: Lithuania In Winter: 10 Best Experiences That You Must Have For A Picture-Perfect Trip
In short, Lithuania has many places that must be visited. If you are willing to come to this place then these museums are a must-witness attraction. So, ensure that while you plan your Europe holiday with TravelTriangle, you also include these places in your tour itinerary.
---
Looking To Book An International Holiday?
Book memorable holidays on TravelTriangle with 650+ verified travel agents for 65+ domestic and international destinations.
---