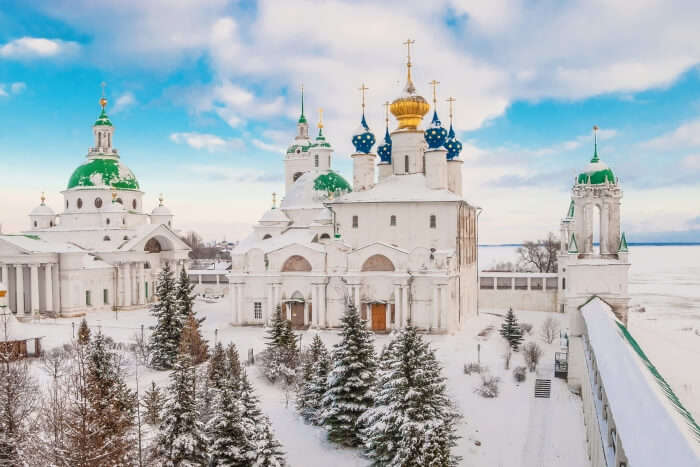 Russia is the largest country in the world, occupying a large portion of Asia as well as of Eastern Europe. This country has a rich culture that attracts most of the tourists. It is a crazy adventure for people who travel to Russia in November for the first time.
Russia shares its border with various countries like Norway, Finland, Poland, Lithuania and many more. This country has n number of churches, parks as well as the building where tourist could hang out.
The Baikal Lake in Russia is the world. Even it shares the diversity of landscapes as well as climatic zones so that a person can enjoy all the seasons.
How Russia In November Looks Like

Most of the people have a common thought that Russia is a country that is always cold, but it is not true. People living in Russia experience both summer and winter at times. Most of the people like visiting Russia in November because during this time the country mostly remains covered with snow.
It is vital to know that the temperature varies from place to place. It means that the temperature is different in different cities so, one should collect all the information from the weather report before planning the trip in November. The temperature of Moscow Russia in November fall below -20 degrees and it even increases time to time. In Siberia, the temperature can even go below 50 degrees.
 Russia Travel Guide: Explore The Vibrant Culture Of This Extraordinary Land!
Advantages Of Traveling To Russia In November

1. You tend to find hotels at a low rate. Apart from the hotel, the tickets of the airline as well as of trains are low.
2. The country is completely covered with snow and it looks very attractive to the visitor.
3. It is the perfect time for the people who love to go skiing on the slopes.
4. People love to see the view of Russia snow in November and that is the reason they prefer to choose to visit Russia this month.
Russia in November weather is very cold and that is the reason it is suggested that tourists should carry warm clothes along with them.
Some of the clothes recommended to be worn by the people visiting Moscow Russia in November are:
 Russia Travel Tips: For A Pleasant Vacation Amid The Scenic Landscapes Of This Country!
What To Wear?

1. Make sure to wear boots that are covered with fur so as to provide complete safety to your feet. Try to get the shoes or boots that have a thick sole.
2. Buy a long coat, typically till knees or below. But when you visit some location outside, then it is suggested to buy a coat that has fur on the inside.
3. People who wish to walk in low temperatures are suggested to wear thermal pants as well as boots.
4. You can even wear gloves so as to give protection to your hands.
 9 Russian Lakes That Can Be Visited For A Refreshing Day Out In The Snowyland!
Places To Visit In Russia In November
The lively city of Moscow comes alive in the winter months. While the weather can get a little too chilly at times, the sheer beauty of the place will keep your spirits up. Keep a mix of historic and contemporary places in your Russia itinerary to get a taste of the city's heritage and modern ambiance. Check out the places that you must visit in Russia in November.
1. Sparrow Hills

The Sparrow Hills or Vorobyovy Gory is one of the most famous tourist spots in Moscow, Russia. It is a true delight during winters and you can enjoy magnificent views of the Mexico city from the top of the Sparrow Hills. The place boasts of beautiful parks that are flocked by tourists and locals both. One of the biggest parks in Russia and Europe Luzhniki Olympic Complex is right in the heart of Sparrow Hills that regularly hosts cultural events and musicals apart from sporting events. It was also one of the venues for the recent Summer Olympics.
2. Red square

It is suggested that people should visit Moscow in all the weather conditions – be it winter or summer. It is suggested that Red Square is the best place to visit in Moscow in November. It is one of the most beautiful spots of Moscow, which attracts most of the tourists. Located in the heart of the Russian capital the famed Red Square is home to numerous attractions like the St. Basil Cathedral, The GUM, The Kremlin and also the State History Museum. The square is so vibrant and diverse that you will need at least one whole day if not two to enjoy every nook and cranny of the place.
3. Saint Basil Cathedral

It looks just like an enormous wedding cake during the winter season. Built in late 16the century, it is the primary attraction in the Red Square of Moscow. The Saint Basil Cathedral is covered with churches on the nine sides. Covered in snow, the place is a must visit during November as you will get to witness some of most wonderful cultural extravaganza here. Also, you can be a part of the enormous preparations for Christmas at the church, which is their most importsnt festival.
4. Krasny Oktyabr

It is even known as the red October and adds beauty to the place. It is the hottest hub in complete Moscow. It is because this place keeps the person warm even in the coldest days. Most of the youngsters are found in this pub have a good time with their loved one. Even it offers excellent dishes to visitors so that they can feel content. This place is designed in an alluring way so as to catch the view of visitors. Red October offers great discounts to the visitors so that they could enjoy appropriately.
 Safari In Russia: Top 3 Places Where You Have Chances To Spot A Siberian Tiger
5. Novodevichy Convent

It is one of the best places in Moscow that leaves the person speechless. This place looks very cheerful especially in the month of November because it is completely covered with snow. In winters, this place looks like the castle of the beautiful princess. Sportivnaya is the station that is located near to this place making easier for the travelers to travel.
6. Cathedral of Christ the savior

It is a glossy white place that has a giant dome, which resembles the ice castle in the month of November. A person can perform various activities in this place so as to enjoy the beauty of place appropriately. It has the largest air swimming pool that is inside so that the visitors could feel delighted after visiting this place. Its nearby station is Kropotkinskaya so if you wish to come to this place, then make sure to check the metro map carefully.
 11 Romantic Places In Russia That Will Add A Spark To Your Trip In 2022
Winter is the perfect time to visit Russia, especially in November so that you can see the real beauty of the place. But at the same time, it is suggested to carry proper clothes along with you during the vacation to avoid any medical emergency.
So, plan a vacation to Russia in November is not less than a fairy island so it is suggested to visit this place once in winters. But before deciding the vacation places, it is suggested that to go online and grab as much information as possible about the places you want to visit.
Frequently Asked Questions About Russia In November
Does it snow in Russia in November?
Yes, if you want to enjoy the season of snow, November is a great time to visit Russia. With temperatures falling as low as -3 degrees, tourists are bound to experience mystical snowfall. Overall Russia receives snowfall for a span of 10 days.
Which are the best places to go in Russia during November?
Russia during the winters in a city covered in beautiful white snow. Some of the best places to visit during this time include Sparrow Hills which is a popular tourist hub in Moscow. Another great place to visit is the Saint Basil Cathedral which has a charm of its own, dressed from head to toe in the white snow. Other places one can visit are Novodevichy Convent and Red Square.
Can one attend any festival in Russia in November?
Yes, some of the upcoming festivals in Russia during the months of November are: 1. International Folklore Festival – 14th November 2019 2. Dominican Flow Bachata Fest – 22nd November 2019 3. International Festival of Music and Arts, Easter Fairytale – 29th November 2019
How should one pack for Russia in November?
Since the city will be covered in snow, it is best to pack your warm coats, woollen sweater as well as your thermals. Further snow boots may be required in case of heavy snowfall. Since some parts of the country may also experience rain, carrying a raincoat is advisable as well.
Which is the best area to stay in Moscow?
If you plan on staying on Moscow for your Russian holiday, then Kitay-Gorod is a good choice. It houses some of the most famous attractions of the city and is perfect for first-timers in Russia. Other than this, one can also consider a stay at Basmanny, Tverskoy and Presnensky is one is on a budget.
Is Russia safe for tourists?
Yes, Russia is safe for tourists visiting the country. Infact, you will find many tourists in cities like Moscow and St. Petersburg.