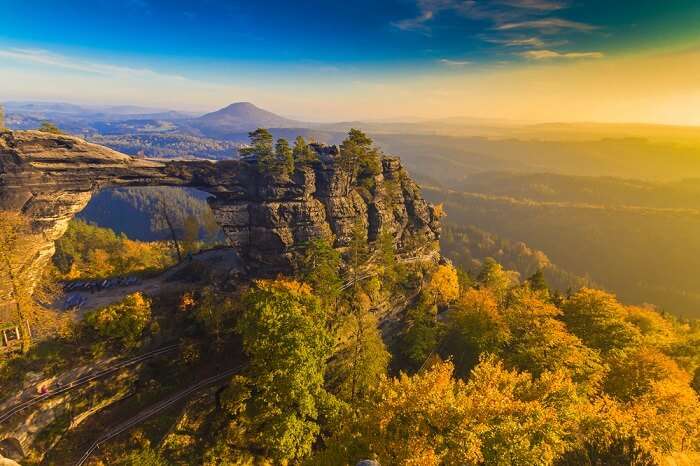 One of the most prized possessions of the Central European region, the Czech Republic is home to many tourist attractions in its area of 78,866 square km. With a highly varied landscape, the region offers stunning sights to thousands of visitors who flock the area each year. There are four national parks in Czech Republic and each one of them deserves a visit for their own unique reasons. Take some time from roaming round in the beautiful cobblestone streets in the capital city of Prague to the corners of the country where you will find these national parks, known for their breathtaking flora and fauna.
4 Mind Blowing Czech Republic National Parks
We have curated a list of the best national parks in Czech Republic to help you plan your itinerary better. So, which of these will you like to start your holiday with?
1. Krkonoše National Park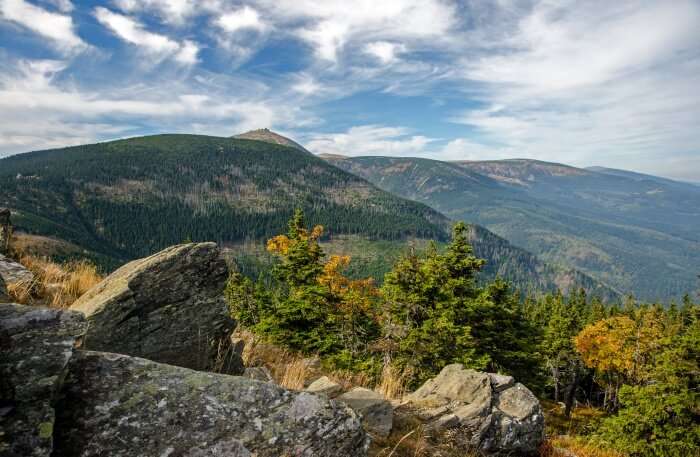 Often referred to as the best national park in Czech Republic, this beauty is located in the Hradec Králové and Liberec regions. The history of this park goes way back to the month of May in 1963 when it was first established. The park is located at an altitude that ranges between 1300 feet to 5256 feet in different parts and this park also inhabits a part of the Krkonoše Mountains, the highest mountain range in the Czech Republic. Of all the medals up its sleeve, it has also been given the recognition of a Biosphere Reserve Site by the UNESCO.
Krkonose National Park spans an expanse of approximately 363 sq. km and you can consider hiking to the summit for the gorgeous views of a Polish Hut and the chapel of St. Lawrence which was constructed in 1681. The summit offers unparalleled views of both Poland and the Czech Republic and gives you a rare chance to spot an alpine butterfly fluttering by.
Must Read: Prague Castle In Czech Republic: An All-Inclusive Guide To A Fairytale Palace
2. Šumava National Park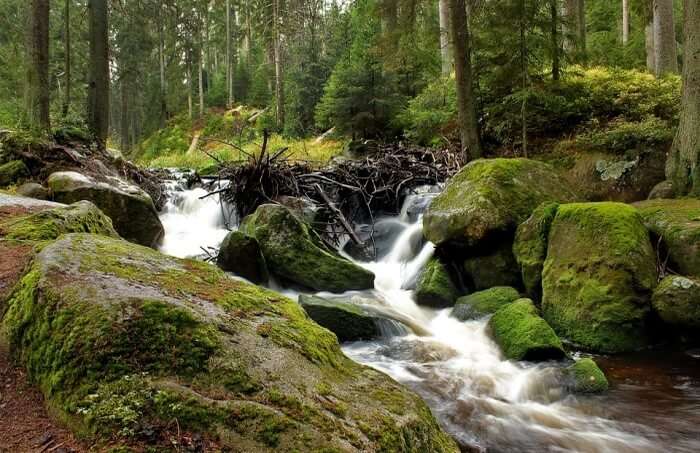 It is a fairly recent national park, when contrasted with Krkonose and is located in the Czech Republic's South Bohemian Regions. It was first established in 1991 and the elevation ranges from 4,521 ft to 1,870 ft spanning approximately 685 sq. km. Sumava National Park is a part of a UNESCO Biosphere Reserve as well, and rightly so! Of all the beautiful elements of nature present here, a few are glacial lakes, peat bogs and patches of primeval forests. While the natural vegetation of the park has been replaced by spruce plantations; many non-native species thrive here today including an absolutely stable population of lynxes.
An interesting fact that you might not know is that there are more than 150 miles of ski trails inside this park. In the summer, one has the option to go hiking the trails in the park or kayaking down the Vltava, Otava and Vydra rivers. Try to spot the exotic and stunning Capercaillie (wood grouse) during your time here since there are only 300 birds left of this species.
Suggested Read: Shopping In Czech Republic: For Adding More Charm To Your Wardrobe With A European Touch
3. Podyjí National Park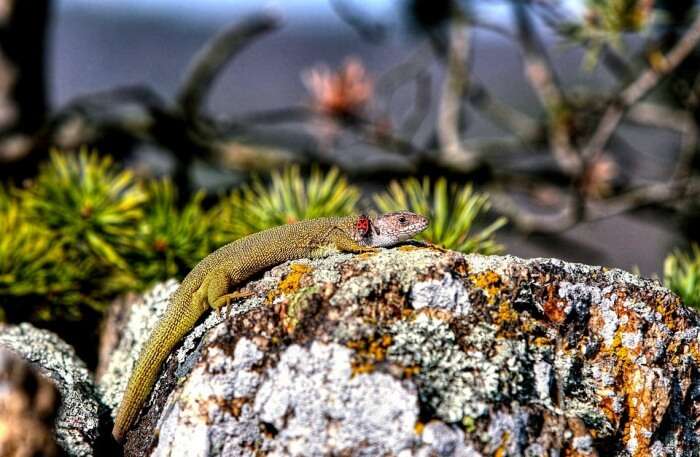 The third National Park in this list but an equally important and beautiful one as the two mentioned above, the Podyji National Park is located in the South Moravian Region, where it has been since 1991. Podyji National Park was built with an objective to provide security to the Dyje River valley's forested areas and is spread over an area of 63 square km with the elevation ranging from 534 to 214 m.
There is a wide variety of habitats here including grasslands, forests, shrubland, wetlands, arable land, etc. An interesting thing to do here is to visit and get pictures clicked in the ruins of ancient castles that can be accessed through many designated trails in the park. There are more than 70 species of plants that one can find here, 152 species of birds. 65 species of mammals and 7 species of reptiles.
For an ethereal experience, go for a hike in the Dyje Canyon where you can look at the stunning rock formations, boulder fields and rocky cliffs as you stand with your binoculars on to spot otters, eagle owls and kingfishers. Of all the things that this park is known for, a particularly interesting one is the presence of unique species of reptiles and amphibians such as the fire salamander, great crested newt, tree snake and emerald lizard. With so many things to do, you cannot go wrong with any of the national parks in Czech Republic.
Suggested Read: 3 Days In Prague: For An Enthralling Holiday In This Scenic City Of Czech Republic!
4. Prague National Park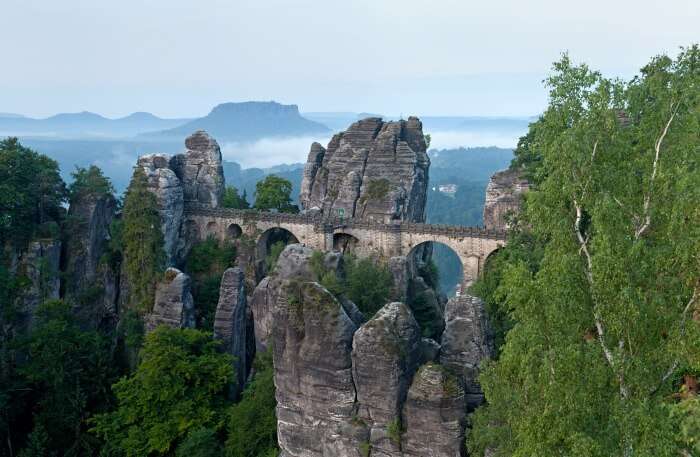 This one is known by many different names such as České Švýcarsko National Park, Bohemian Switzerland National Park and is located in the north-western part of the Czech Republic, also known as the Czech Switzerland; this is one of the most visited national parks in Czech Republic. This is the youngest park in the list and was established fairly recently, in 2000 and is spread over an area of only 79 square km. The smaller size does not mean that there are not enough surprises inside!
The national park is known for its mountainous landscape which has patches of varying topography inside, ranging from patches of forest, sandstone arches, and other natural features. If that is not enough, one can spot many ancient castles in the region as well. You might have heard of the most popular feature here if you have heard of Prague National Park, which is Pravcicka Brana, known for being the largest natural stone bridge that exists in Europe.
Moreover, this is only one of the many attractions that you will find while hiking on the trails in this park. Climbers love this national park, but there are some restrictions so you should check out the website before planning anything crazy! All castles and no nature makes your vacation a dull one! The national parks in Czech Republic are tourist attractions that are waiting to be visited by you! Plan a comprehensive tour itinerary by booking your travel packages to the Czech Republic from Travel Triangle for an unparalleled holiday experience.
Suggested Read: Czech Republic Nightlife: 5 Electrifying Night Scenes In The Beer Country!
Best Time To Visit Czech Republic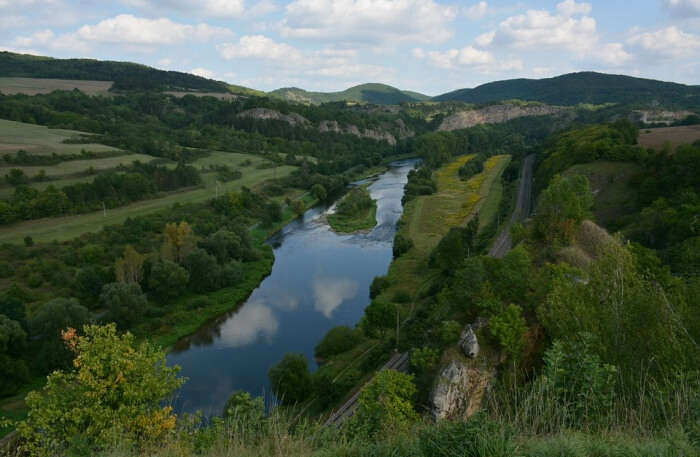 If you are planning a trip to the Czech Republic, try aligning it during the spring season between mid-March to mid-May for an absolutely pleasant experience. Fall is another great option and any time between September and November will guarantee you a great crowd and pleasant weather. The high season in the region falls between June and August and if you are one for the crowds, you should definitely consider visiting during those months. If you are looking for a good vacation but not a lot of hustle, consider visiting Czech during the spring or fall months.
Further Read: Top 10 Theme Parks In Czech Republic For 2022 That Will Bring Out Your Inner Child
Excited much? We bet you are. These four national parks in Czech Republic are sure to leave you in a trance with their endless natural beauty, breathtaking landscapes, and a diverse array of flora, fauna, and avifauna. Make sure you visit all of them on your trip to the Czech Republic. And when you're back, don't forget to write about your awesome experience in the comments section below!
People Also Read:
National Parks In Greece National Parks In Germany National Parks In Netherlands
---
Looking To Book An International Holiday?
Book memorable holidays on TravelTriangle with 650+ verified travel agents for 65+ domestic and international destinations.
---