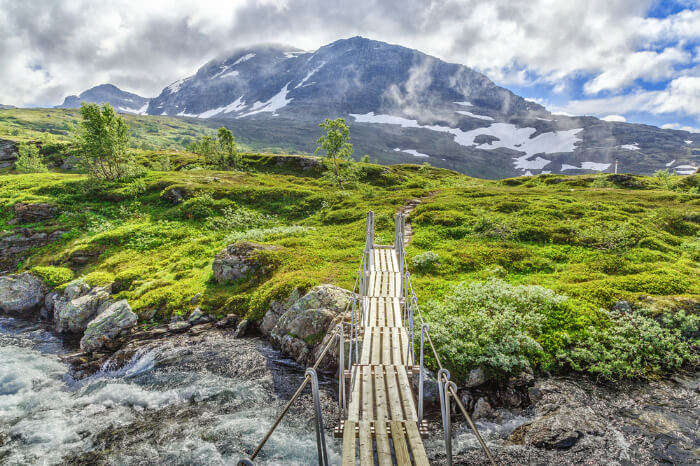 Norway is a Scandinavian country, known for its beautiful and picturesque scenery. It has a rugged landscape shaped by the ice age. This country features mountains, hills and valleys, waterfalls and a long coastline with fjords and islands. Norway is a shelter to a rich biodiversity. It has almost 16,000 species of insects, 20,000 species of algae, 2800 species of vascular plants, 95 species of mammals, 45 freshwater species of fish and many more. It is also a shelter to whales, basking sharks, polar bear and brown bear. Norway has been ranked as the world's top tourist attraction by the National Geographic. It is known for its dramatic breathtaking scenery and the unique phenomenons called 'aurora borealis' or the northern lights and the midnight sun (during summers).
10 Best National Parks In Norway
Since Norway is sparsely populated, there are a many places that are still not intervened by urban settlements. 60 percent of the area is covered with mountains and forests which are up to 5 km dense. Thus majority of this area are covered with rocky wilderness and hence converted into national parks. Norway has got 47 national parks in total, out of which 37 are on the mainland and 7 on the Svalbard. You can go hiking, skiing or simply roam around the park although vehicles are not encouraged considering the environment safety. Here is the list of some of the best national parks in Norway that you must visit.
1. Jotunheimen National Park

Established in the year 1980, this park is spread over an area of one thousand km square. Surrounded by the glacier scarred terrains, this parks homes over 250 mountain peaks with a height of 1900 meters. The highest of them are Galdhopiggen and Glittertind. The turquoise lakes with clear blue sky and snow capped mountain peaks sparkling in the sun make it a perfect paradise like view. The waterfalls and rivers along with slow moving glaciers together create a blissful music that will give you long lasting memories. Thus the parks arrestingly beautiful features has made it the most popular national park all over Norway and is a must visit place!
Location- Fjordane and Oppland, Norway Southern part of Norway.
Must Read: 10 Best Norway Restaurants To Try All Delicacies On Your Next European Vacation!
2. Jostedalsbreen National Park

Established in 1991, this park features the largest glacier in the mainland Europe. This national park is awe inspiring and breathtakingly beautiful. The rocky grey mountains whose peaks are covered with snow complete a passage between the clear blue sky and crystal clear water beneath. The lush green valleys and glinting of sun capped peaks of the mountains add beautiful colors to this picturesque view that we already have. The endless array of amazing views that something that you will get to see when you go for hiking in this place.
Location- Norway
3. Folgefonna National Park

Spread over an area of 454 sq km, this park is located on the Folgefonna peninsula. This park was opened in 2005. This park in itself is a delight to visit. Featuring some of the breath taking natural wonders, a visit to this park will leave you with memories of a lifetime. The scenic mountains covered with ice gives you a glimpse of what heaven looks like! The chattering rivers rushing down between the mountains to the sea reminds you of the paradise. This wet and wild landscape is a true work of art and you must visit this beautiful place.
Location- 5470 Rosendale, Norway
Suggested Read: Castles In Norway: 8 Places To Give WIngs To Your Fairytale Fantasy
4. Hardangervidda National Park

This is the largest national park in Norway which is spread over an area of approx 3000 sq km. It spans from Numedal and Uvdal in the east and Røvelseggi and Ullensvang in the west. It is also the largest national park in the northern Europe. Along with enjoying the awe inspiring view of this place, you can also indulge in some fun and adventures activities here. You can go for hiking, cycling or horseback riding amidst the wilderness of the gigantic mountain plateaus. The awe striking scenery of this place is a beauty to behold forever. Being peaceful and calm, this place is full of blissful ambience everywhere. Also you may get to catch the glimpse of the herd of reindeers on the landscapes of the mountain.
Location- Norway
5. Breheimen National Park

This park was established in 2009. This park is known for its versatility and well marked trails. It is named after Breheimen mountain range that dominates this park. This park has ever changing scenery with plethora of spectacular sights for the tourists to enjoy. Hiking, skiing and mountaineering are some of the adventurous activities that you can indulge yourself into once you visit this park. This place is great for explorers who can walk high up to the mountains only to discover glaciers with breathtaking view.
Location- Nigardsbreen, 2693 Jostedal, Norway
Suggested Read: Want To Visit Norway In Winter? This Guide Will Help You Plan Your Trip Well
6. South-Spitsbergen National Park

South-Spitsbergen national park covers the southernmost part of the island of Spitsbergen. It also is home to large colonies of bird of different species which beautify the surrounding even more! This place is surrounded with ever stretching ice caps and glaciers creating a picturesque view of the whole surrounding. Although this area is dominated by ice, it also sparsely vegetated. Although it is located in one of the remote location, coming here coming here is worth the effort because of its amazing view and ambience.
Location- southern end of Spitsbergen Island in the Svalbard archipelago, Norway
7. Rondane National Park

This park is less icy and greener. It features almost 10 peaks towering over the height of 2000 m. This park has got mountain, plateaus and lofty peaks. The area is surrounded by lush green grasses and thick forests with tall trees. This is a perfect place for hikers who want to have a view of the stunning scenery of the whole park from the top. The highest mountain here is Rondeslottet which white rocky and barren and still scenic. Exploring this place is a delightful experience and one can easily get lost in the beauty of this place!
Location- eastern Norway
Suggested Read: 10 Incredible Tourist Places One Must See In Norway's Bergen
8. Forlandet National Park

This park was established on June 1, 1973 and ever since then it is famous for its breath taking scenery and picturesque views. This parks covers the entire island of Prins Karls Forland. This park features huge swathes of sea. This park also shelters stone seals and guillemots. You can take a boat trip around the sea cliffs and find yourselves complete lost while trying to take in every last detail of this magnificent place. A tour of this park will give you some unforgettable beautiful experience for sure!
Location- Norwegian archipelago of Svalbard. Norway
9. Dovrefjell-Sunndalsfjella National Park

This is one of the newly established parks, being created in the year 2002. This park is home to a large number of wild reindeers. The main motive to establish this park was to protect and preserve the pristine alpine ecosystem. The sprawling mountains are a good place for trekking. You can also get a glimpse of reindeers, musk oxen and wolverines. The lofty peaks towers over a height of 2200 meters. There is also a beautiful waterfall that adds even more beauty to this place.
Location- Norway
Suggested Read: The All You Can Fly Pass In Norway Is Giving You Unlimited Flying For Two Weeks
10. Femundsmarka National Park

The sprawling wilderness of this place is bewitching in their beauty. As you make your way through the beautiful trails of this path, it gives a beautiful view of the surrounding. This place is untamed and mostly desolated. The low lying hills create a picturesque backdrop. Mostly marshes and lakes dominate the park. And the scenery of this whole place is simply breathtaking!
Location- Norway
Further Read: Grab This Chance To Tail The Aurora Northern Lights All Day In Norway
Are you excited to visit this beautiful country now? Norway is ranked as one of the best tourist places in the world for valid reasons. This place not only has some of the most breathtaking scenic views but is also considered to be one of the safest places in the world. So, plan a trip to Norway soon and make sure that you visit these world famous national parks and go home with long lasting beautiful memories.
People Also Read:
National Parks In Belgium National Parks In Germany National Parks In Netherlands
---
Looking To Book An International Holiday?
Book memorable holidays on TravelTriangle with 650+ verified travel agents for 65+ domestic and international destinations.
---