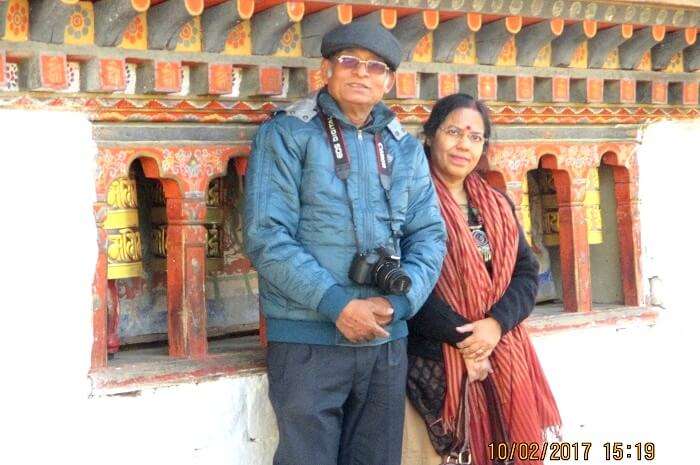 A quest for inner peace, tranquility, and nirvana is one of the must-do journeys in a traveller's life. Pradip and his wife traveled on a 6 night/7 day family trip to Bhutan in a search for divine blessings and Shangri-La. What they got in return was a far greater understanding of how tranquility and nirvana only lies within.
Trip duration: 6 nights/7 days
Trip cost: INR 37,400
Month of travel: February 2017
Agent name: Himavat Travels
I heard a lot of good things for a long time about Bhutan, and at last after retiring from service, I planned to visit Bhutan. A landlocked country which also happens to be the smallest country in Asia located entirely within the Himalaya mountain range. Bhutan was voted recently as the happiest country in the world. I couldn't wait to find out why.
Family Trip To Bhutan: Incredible Things To Do On A 6D Trip
Being senior citizens, we were very much concerned about our age and the hilly terrains we were going to. We were eagerly looking for someone who can take care of our travel plans. After searching on the internet, we found TravelTriangle, who can serve to all our travel needs and requirements.
TravelTriangle customized a wonderful holiday itinerary for six nights and seven days starting from Phuntsholing, the financial center of Bhutan. While travelling from one end to another we realized why Bhutan is called The Last Shangri-La.( a mystical, and harmonious valley,)
Day 1: Journey from Kolkata to Bhutan
This Couple's 5 Day 4 Night Trip To Bhutan Was Epic And How
We started our journey with a train from New Jalpaiguri railway station to Hasimara, a town barely 15 kilometres away from the Bhutan border. From Hasimara Railway station, we had a car and our guide and driver David who tirelessly accompanied us to every spot, restaurant, and hotel.
Our curiosity and attraction on our trip to Bhutan, pressed us to ask various questions. First one being about, the language in which are children taught. Apparently, in the schools in Bhutan, they have english is the medium of instruction and Bhutanese (Dzongkha) is taught s the national language.
We began exploring Bhutan with a visit to Phuentsholing at the Himalayan foothills. A fascinating place blended with different ethnic groups. Before it grew dark in the evening, we made a quick visit to Zangtho Pelri Lhakhang, the haven of Guru Rinpoche containing paintings on Buddha's life and Bodhisattvas. An hour later, we checked into the Hotel Meet Point for the evening as our trip would take us further into Bhutan the next day.
Review for Hotel Meet Point:
The rooms and service was not up to the mark. The staff should've been a bit more proactive.
Our rating for Hotel Meet Point: 3/5
Day 2&3:Exploring the rich heritage of Thimphu
30 Joyful Things To Do In Bhutan To Lose Yourself In The World's Happiest Country in 2022!
On our way to Thimphu, I asked our driver David about the religious beliefs in Bhutan. He was a knowledgeable guy who informed me that the culture and traditions are deeply rooted in Buddhist heritage.
We arrived in the capital of Bhutan in the afternoon. Thimphu is center of government, religion, and commerce. After checking into the Hotel Chopel Norkhil, we had lunch and moved on for sightseeing in Thimphu.
We started by visiting the Buddha Point where we found a gigantic Buddha Statue, a large valley, and a bird's eye view of Thimphu city and it's Memorial Chorten Stupa. We were surprised to note that the traffic everywhere in Bhutan, especially in Thimphu moved very smoothly. People were crossing the roads safely without terrible sounds of horn and absence of traffic lights. We Indians could surely learn a thing or two from our neighbors.
In the evening, we spent a little time at the government aided handicraft emporium. Afterwards, we move back to the hotel for dinner and called it a night.
Honeymoon Trip To Bhutan: The Much Needed Blessing For A Fresh New Start
The next day, we completed the rest of our sightseeing tour in Thimphu. Our visits began in the morning after breakfast and started from The Folk Heritage Museum, to Tashichho Dzong (also known as the "fortress of the golden religion) which houses His Majesty, the King of Bhutan, and ended at the National Library which gave us a new insight into the indo-china history.
Review of Hotel Chopel Norkhil
The rooms and services of the hotel was comfortable. The staff at the resort were very helpful and welcoming.
Our rating of Hotel Chopel Norkhil: 4/5
Day 4: High altitude at scenic Dochula
The next day, we drove early morning to Punakha city, via the Dochula pass. A gorgeous mountain pass in Bhutan that arrives at a staggering height of 10,000 feet.The pass is littered with 108 beautiful chorten (or stupas) ,mani wall, and prayer flags on the road. All in all it makes for a fascinating cab ride one would never forget.
Another peculiar thing I noticed during our trip was that I could see people smoking in a corner or away from the public eye. David again had the cure to my curiosity by informing me that Bhutan was one of the first countries to ban public smoking.
We had an intensely spiritual experience upon visiting the temple of fertility at Punakha Dzong (the place of great happiness) where two rivers Pho Chu and Mochu meets. This majestic dzong served as the religious and administrative center of Bhutan.
The beautiful location and golden dome shaped tower added to the charm of the place, as we clicked pictures around the Dzong just before it grew dark.
A Honeymoon Trip To Bhutan That Shows Why It's The Happiest Country In The World
Review of Hotel Tashi Gastel
The rooms in this hotel were decent although the service and management of clients could've been better.
Our rating of Hotel Tashi Gastel: 3/5
Day 5: The other side of the beautiful valley..
We began our day with breakfast and soon our trusted companion David, drove us to Paro. The only city with a commercial Airport in Bhutan. As we drove towards the north side of the valley, the first thing we witnessed was the view of Airport which was unique, as it gave the feeling of a quaint and rustic airstrip.
As we were headed towards yet another monastery in Bhutan, we managed to View the dramatic Wangchu and Paro Chhu river valleys. We paid a visit to the oldest fortress of the country- Simtokha Dzong. The fortress has now been converted into a school for Dzongkha language.
Day 6: The icing on the cake..
A Trip To Bhutan With Friends: The First Chapter In My Travel Diary, Many More To Come!
This day, we experienced the most remarkable moment of our trip to Bhutan when we found snow on the road and on the valleys on our movement towards chelela pass. My wife and I were so happy that we felt like dancing on the road.
Afterwards, David dropped us at a trail from where we walked to the "fortress of the heap of jewels". I must say, that the translations of these monasteries and temples sounded so fascinating that it gave us a feeling that we're on a royal expedition commissioned by the King of Bhutan.
Review of Hotel Samden Norzhin
The two nights we stayed in Paro were very comfortable. We were satisfied with the services provided to us by the hotel management.
Our rating of Hotel Samden Norzhin: 4/5
It is rather impossible to express our feelings about the beauty of Bhutan. I myself am ready to visit Bhutan again and again and am requesting my friends to visit Bhutan and get the meaning of peace and aroma of life. After such a memorable trip to Bhutan I finally had the answer to why Bhutan is called The Last Shangri-La.( mystical, harmonious valley,)
High points:
The culture and the calm mentality of the people in Bhutan is impeccable.
Seeing snowfall on our penultimate day was truly special.
Low points:
The hotel provided to us in Punakha could've been much better
Bhutan has an aura and tranquility unlike no other. Book your Bhutan family package and witness the divine power first hand!