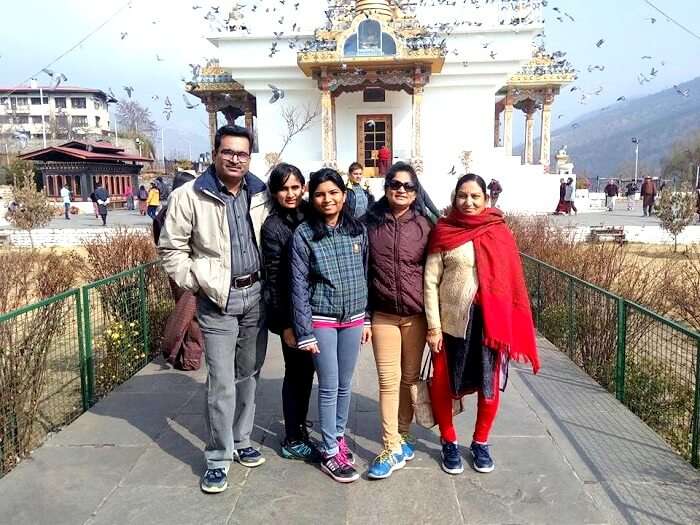 Bhutan proved to be a blissful experience for Manisha and her family. They covered the serene monasteries and some of the highest motorable passes in the world. Read on as Manisha talks about her adventurous trip.
'Travel is the time I take out from my schedule to break the monotony of professional life, to spend more time with the people with whom it is circumstantially difficult otherwise and enjoy the beautiful experiences that that life offers.'
I am a practicing Obstetrician and Gynecologist and my profession demands my presence urgently at any time of the day. It is difficult to spend uninterrupted time with family when I am working in the city. Hence, my family and I try to take time out and travel so we can spend some quality time with each other in a beautiful place with no tension of work in our minds.
It was that time of the year when we had to have our annual family trip. My mother Mrs. Vimal Bagree(68 yrs.), my husband Dr.Dharmesh Jhawar(46 years), my daughters Donisha Maheshwari(18 years) & Pratiti Maheshwari (16 years) were on board.
Route
Bhutan was decided as our location as we thought it will be a great experience for the kids and my mother. Needless to say, it was the perfect choice. The trip turned out to be exactly as we planned.
As far as package is concerned, we researched and came across the TravelTriangle website which was offering customizable Bhutan tour package. We posted a query and were connected to some agents who quoted different prices. We finally chose the one offered by Ad tours and travels pvt. Ltd.
We were just waiting for the trip to begin.
Trip Type: International Family Trip
Duration: 6 Days and 5 Nights
Total Budget: INR 52499.9
Inclusions: Accommodation at Hotel Sambhav, Thimphu,Galling Resort, Paro, Hotel Shelgaon, Phuentsholing, Transfers, Breakfast, Sightseeing in Thimphu and Paro valley and much more.
Exclusions: Paid activities, if any
Day-1- Enroute Bhutan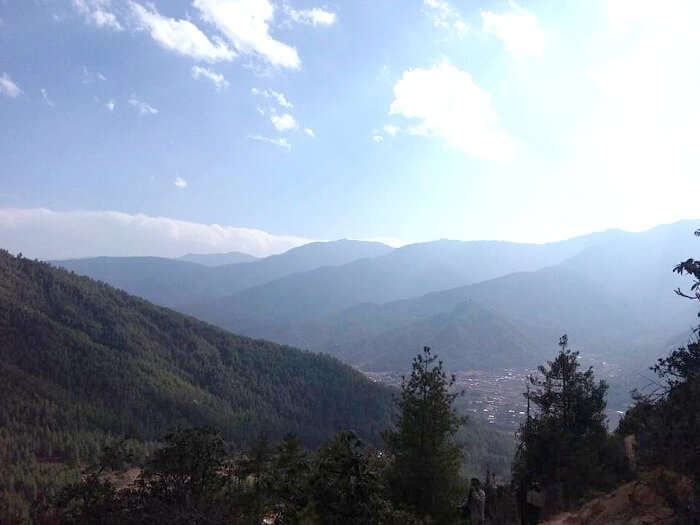 Reasons Why You Lose A Lot If You Miss Out On Bhutan Travel Experience!
We all gathered at New Delhi airport. My husband, my younger daughter Pratiti and I flew from Surat, whereas my mother travelled from Bikaner and my elder daughter from Jaipur. We were seeing each other after a long time so we were quite excited. We flew down to Bagdogra hustle free, and as soon as we landed, we received a call from the taxi driver Vinod ji to pick us up and drop us to Phuntsholing.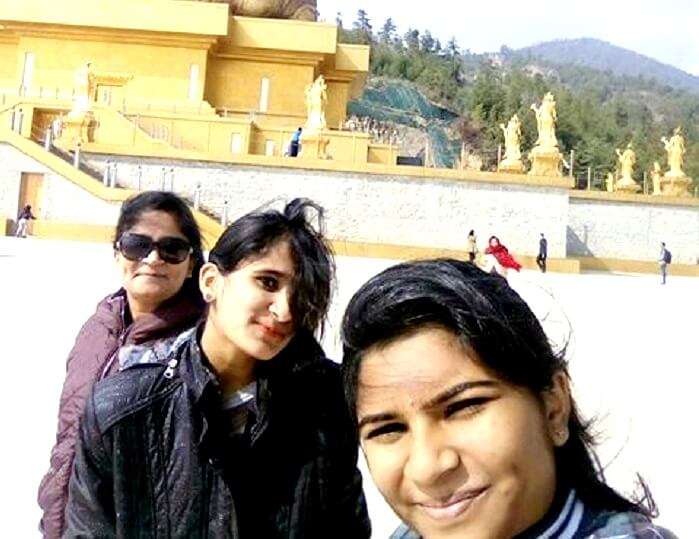 The drive was comfortable and the driver was also a very nice and a cooperative fellow, who kept on guiding us about the region. We were to stay overnight at Shelgaon Hotel in Phuentsholing. We checked into our hotel, had dinner at slept off, quite exhausted from travelling.
Hotel review: Shelgaon Hotel
The hotel is quite average. The owner is a warm and a friendly chap but the staff is not very welcoming. The hotel is overall quite clean and the food is decent too.
Day 2 – Sightseeing in Thimphu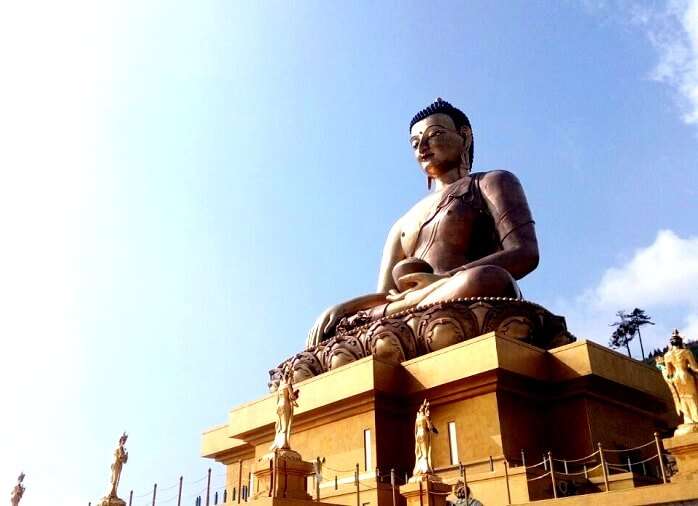 Trip To Bhutan: This Journey Has Only Further Fueled My Desire To See The World
We got up early in the morning and after a quick breakfast, we went to the immigration office for completion of formalities. We were given a local SIM for communication in Bhutan & were introduced to our driver for the trip Mr. Yeshei, a young and a vibrant person. We came back to our hotel, packed up and left for Thimphu. After reaching, we checked into our hotel, Hotel Sambhav. We relaxed there for sometime before starting Thimphu sightseeing tour.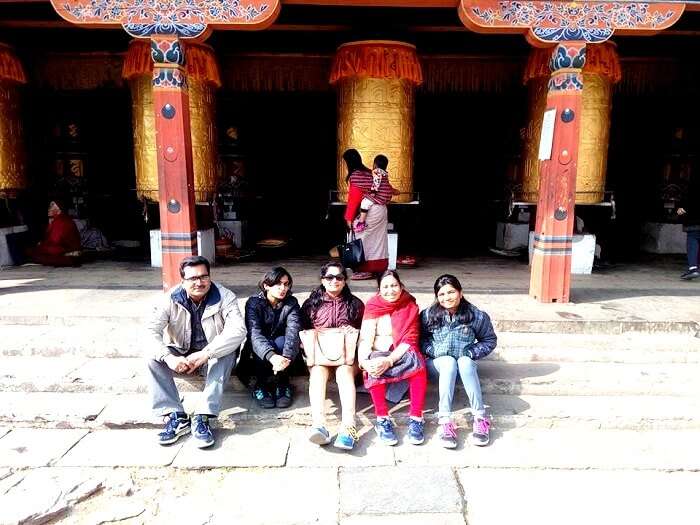 Hotel review: Hotel Sambhav
A very good hotel with clean and spacious rooms. Basic amenities such as hot water, room heater are available, which are very much required in Bhutan winters. The food is average . The staff is pretty decent too. Overall, quite a comfortable stay experience.
In the evening, we went for a stroll to the Thimphu Bazar. It was very scenic to see the flashes of lights from vehicles waving & swiveling while passing uphill and downhill .We walked in the roads for sometimes before coming back to our hotel for dinner and sleep.
Day 3: Celebrations in Thimphu and a visit to Paro Valley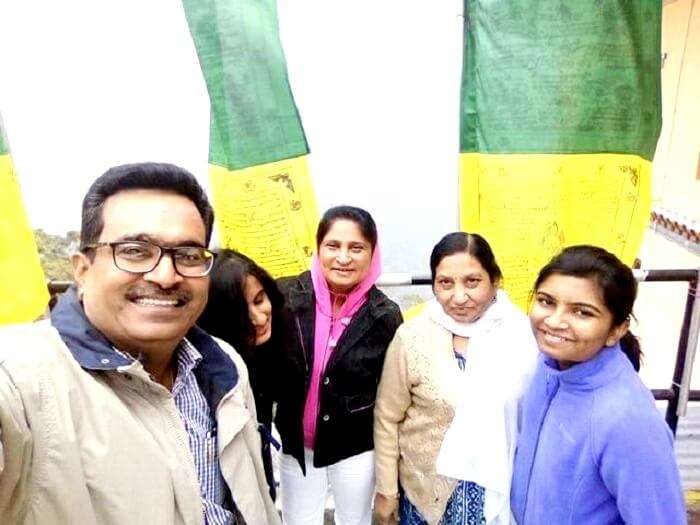 21st February is celebrated as King wangchuk's birthday in Bhutan. It is important occasion for the Bhutanese and is celebrated with much pomp and show. To witness the celebration, we first visited the monastery where many newborn babies were coming for naming ceremony. Post that, we visited the mesmerizing Buddha point, a very popular place in Thimphu. It houses a very tall Buddha statue; the view of the Grand Buddha idol is awesome.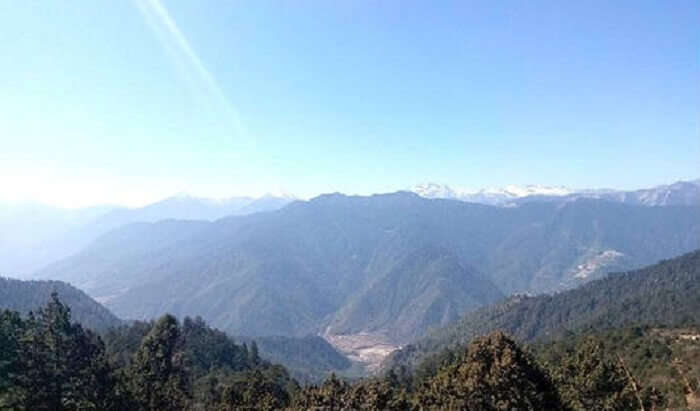 Visit These 53 Tourist Places In Bhutan In 2022 To Change Your Worldview
Post sightseeing, we left for Paro valley. The journey was comfortable as always, with the able driver Yeshei. Post reaching, we checked into our hotel, The Galling Resort.
Hotel review:The Galling resort
The resort initially looked quite average but the rooms were good. Most importantly, the staff was very welcoming and cooperative. The food was also good. The ever smiling staff was always ready to help. Overall, a very comfortable experience.
Day 4: Trek to Taktsang Monastery
"Life's a climb, but the view is great"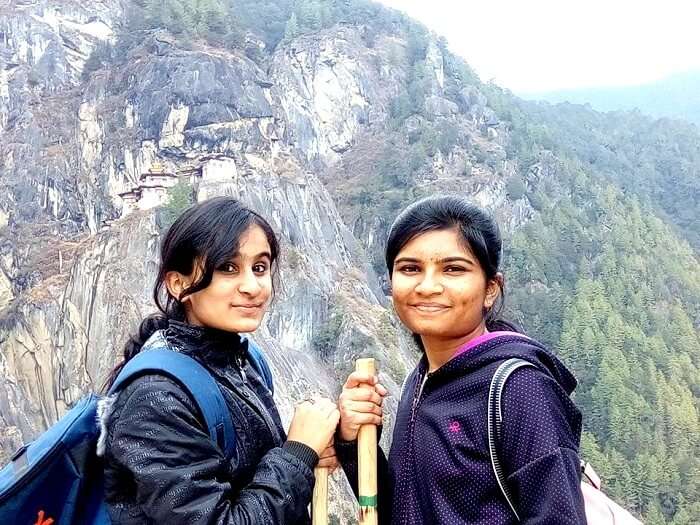 We got up in the morning, had a sumptuous breakfast and left for Taktsang monastery. The way to Taktsang was a very tedious one. Going on horsebacks looked like a risky business so my mother decided that she will stay in the resort itself while the rest of us will trek up to the monastery. All four of us started toiling the path and we finally reached the top after 3 hours. Motivation from the fellow travelers & God's help was a great push that made us reach the monastery safe and sound. It was like winning a battle.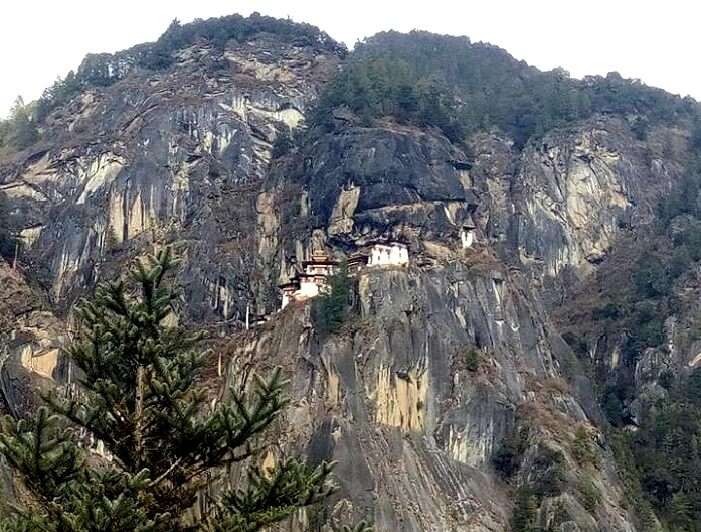 Tip:
The trek to Taktsang monastery is a difficult one so I would like to advice to the future visitors, to undertake this journey only if they are physically fit. Otherwise it might turn out to be a difficult and an unpleasant experience.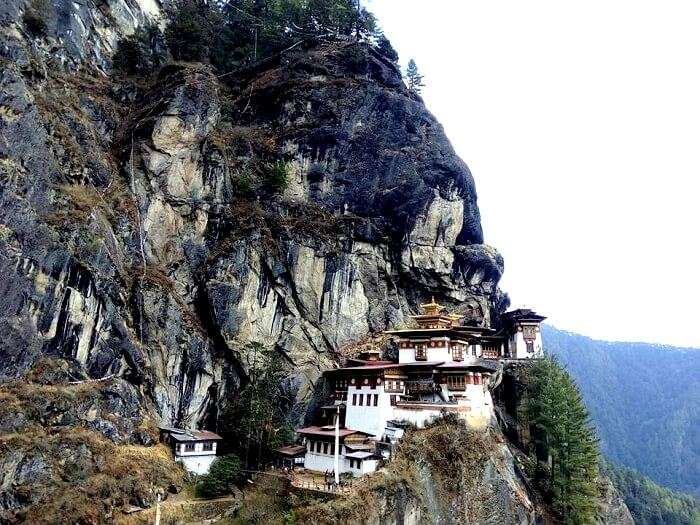 12 Best Hotels In Bhutan – The Mystical Himalayan Kingdom
We stayed in the monastery for sometime, soaking in the sun and taking in the surreal view.
After coming down we freshened up and visited Paro market and had a good Bhutanese cuisine at Hideout restaurant, just behind the amphitheater of the Paro Market. It is a brilliant place to eat. We had Ema Datshi & noodles,and they were delicious. One must try these dishes there.
Day 5: The gorgeous Chele La pass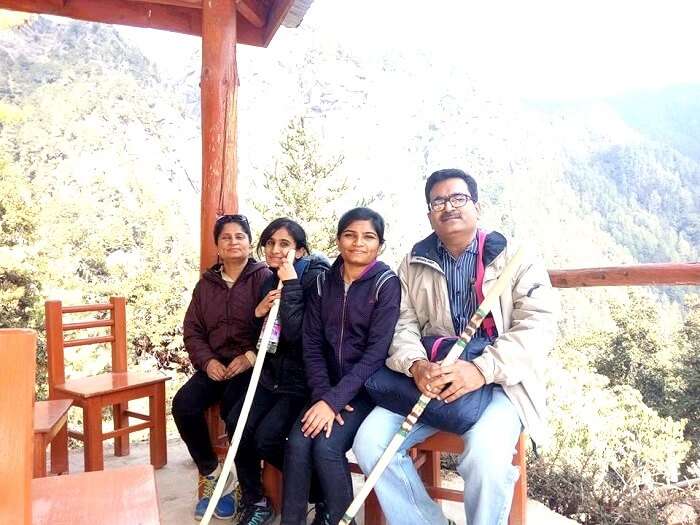 This day, we visited the Chele La pass, one of the highest motorable passes in the world. It was a beautiful journey to the pass and our guide was very informative. The view of the valley and the mountains was heavenly. The chilly winds don't allow you to stand at the highest point for a long time.
We were able to see the aircraft landing at Paro airport, one of the most difficult and one of the highest runways in the world.
Later, we came back to our resort for dinner and sleep.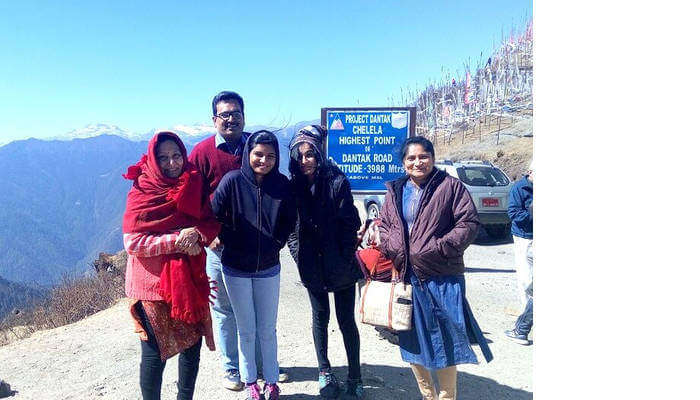 Trip To Bhutan: A Picture Perfect Country Of Peace And Power
We did not realize our trip was over and it was time to go back. We left for Phuntsholing on time, but our journey got delayed because of severe fog. Our driver Mr Yeshei proved to be of great help, again and safely drove us to the city.
One thing which made me proud of being an Indian in Bhutan was the roads maintained by the Indian Army. I salute them for maintaining a good condition of roads in such a difficult terrain.
We halted in Phuntsholing for the night and left for Bagdogra airport next morning to catch a flight back home.
Summarising the trip, I think Bhutan was a brilliant experience for me and my family. We enjoyed a lot in the country that was full of natural beauty and amazing people. I would highly recommend this place to anyone who is searching for peace and looking to have a good time with loved ones. I am very thankful to TravelTriangle for helping us plan such a perfect trip, keeping all our needs in mind. The memories of this trip will be etched in our hearts forever!
Highlights of the trip:
Taktsang Monastery is a beautiful place and should be covered every tourist visiting Bhutan
Paro valley is a must visit place; highly recommend it
Low points of the trip:
The weather in bhutan is unpredictable. It was the only glitch in our trip

Tips for future travelers:
Those who are interested in visiting places like Taktsang monastery should be physically fit. One should start preparing for these kind of treks in Bhutan, a month in advance.
Do your own research and prioritize the place you wish to visit. Bhutan is a beautiful country which offers a variety of sightseeing options to choose from. One can talk to travel agents as they have proper information about the places to visit.
Even you can have an amazing family trip to Bhutan and have the time of your live with your loved ones. Hurry, book a Bhutan tour package now!