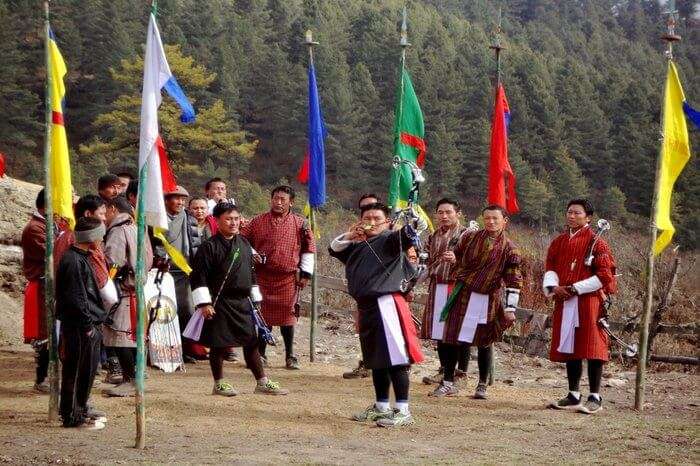 Trekking to sublime mountains, exploring the colorful villages, meditating inside the peaceful monasteries, and learning the history of the dzongs—there are plenty of things to do in Bhutan that are sure to leave you mesmerized. Tourist flocking to the happiest country in the world arelured by its natural beauty, old monasteries, its colorful festivals, and warm Bhutanese hospitality.
Top 15 Things To Do In Bhutan
India's beautiful neighboring country has something for all; it attracts families, friends, and hundreds of bikers and solo travelers every year. And it is primarily because for travelers, there is no dearth of places to see and things to do in Bhutan.
1. Taktsang Goemba (Tiger's Nest) – Go For A Trek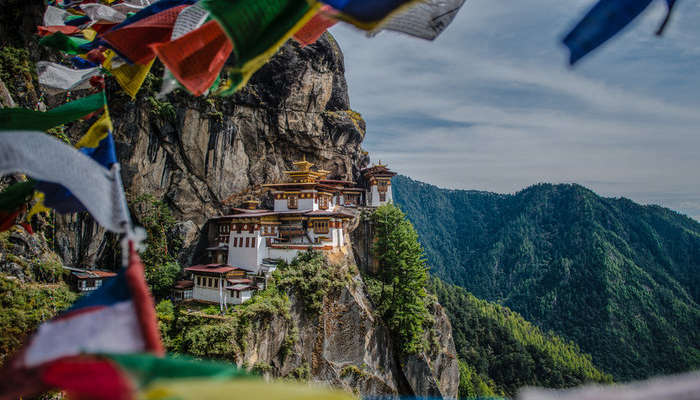 The trek to Taktsang monastery in Paro, popularly called the Tiger's Nest, is one of the best adventure activities in Bhutan. After being destroyed by fire, the monastery was rebuilt in 1998. Rising 9480 ft above the ground, it challenges the trekkers to walk the rocky winding path.
Taktsang Cafeteria is the only rest point on the way offering lip-smacking vegetarian Bhutanese food. The colorful prayer flags, the rattling sounds of prayer wheels, the view of Paro Valley, and the calming chants will accompany you throughout the trek. Remember to start your trek early as the monastery closes at 1:00 pm.
Duration of the trek: 3-4 hours
Suitable for: Beginners
Things to know: Cameras, phones, lighters, and backpacks are not allowed (Deposit at the entrance). Take off your shoes before you step inside the altar.
Must Read: 10 Best Restaurants In Paro For A Yummy Scrummy Bhutanese Palette
2. Trongsa Dzong – Dig Into Bhutan's History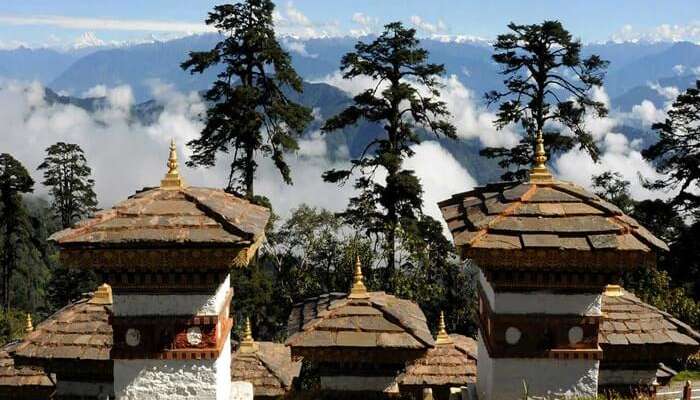 If you love to explore historical places, then Trongsa Dzong – the ancestral home of the Royal Family is one of the best tourist places in Bhutan. Built approx 463 years ago during the times of Trongsa Penlop Chogyal Minjur Tempa, the fortress boasts of a great location overlooking the Mangde river. Also, it has witnessed many major events that have shaped the kingdom's history.
As you wander through Trongsa Dzong, don't miss visiting its 24 chapels and the museum in the watchtower. The street-like corridors, beautiful courtyards, and stone stairs tell you the tales of bygone times.
Timing: 06:00 am – 05:00 pm
How much time to spend in Trongsa Dzong: 2 hours
3. Bumthang Valley – Explore The Switzerland Of East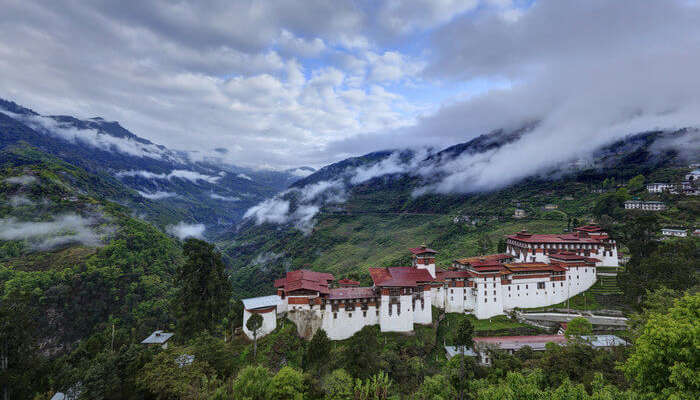 Among the best things to do in Bhutan is to take the Bumthang Cultural Trek and explore much more than the beauty of the Bumthang valley. The cultural trek offers picturesque views of the monasteries, temples, and the quaint villages. You also get to explore the beautiful villages and experience great hospitality. Until the 1970s, the area was only accessible by muddy trails and mules.
Ura Valley is another place lost in the mist of time in Bumthang. You'll find quaint villages with clustered houses, potato fields, and sheep pastures. This is the kind of valley where you can go on a photo walk.
Besides the breathtaking mountains and the natural beauty, Bumthang valley is blessed with some of the oldest Buddhist temples in Bhutan. Bumthang is the place where Buddhism was first introduced and where saint Pema Lingpa was born.
4. Trashiyangtse – Hike To This Heavenly Place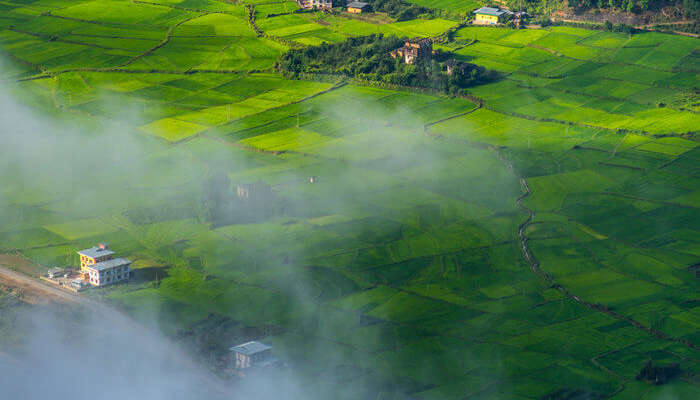 If nature mesmerizes you, a visit to Trashiyangtse is going to be captivating, to say the least. Born out of Trashigang district in 1992 as a separate district, it sits in the middle of a small river valley making it an ideal place for long refreshing walks in the countryside. Another one of the best things to do in Bhutan is exploring one of the most important stupas – Chorten Kora, situated next to the Kulong Chu River in Trashiyangtse.
Trashiyangtse is also a starting point for hikes to nature reserves, paper workshops, wood carving, and monasteries. If you're interested in bird-watching nearby, then a long walk to Bomdeling Wildlife Sanctuary, which is home to Black-necked Cranes that migrate from Tibet in winter. Bomdeling is also popular for its brilliant woodcraft.
Best time to visit Trashiyangtse: Late October to mid February when the Black-necked Cranes visit Bhutan
Suggested Read: Reasons Why You Lose A Lifetime Travel Experience If You Miss Out Bhutan
5. Wildlife Sanctuaries – Go For Bird Watching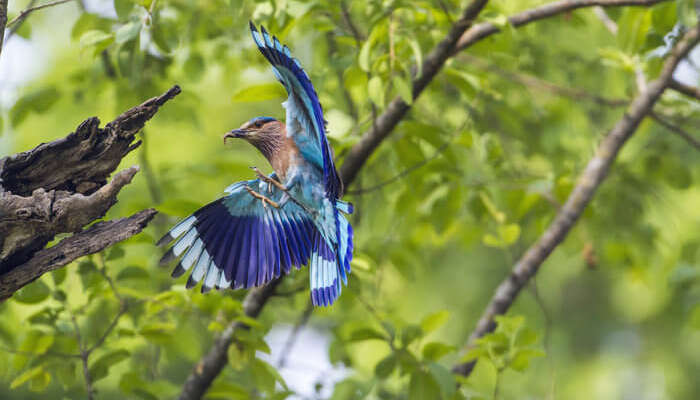 The kingdom of Bhutan is a paradise for bird lovers, and bird-watching is one of the most popular Bhutan attractions. The country harbors many species of birds, including Himalayan Monal, Rufous-necked Hornbill, Black-necked Crane, Ward's Trogon, and Snow Pigeon. It is beautiful to listen to the music of birds and see them soar high in the sky spreading those colorful, smooth wings.
There are many tour guides around the sanctuaries to take you on a bird-watching tour. Bumdeling Wildlife Sanctuary, Jigme Dorji National Park, Jigme Singye Wangchuck National Park, Adjoining India's World Heritage, and Thrumshingla National Parks are some of the protected areas in Bhutan where you can also find migrating and endangered birds.
Permit required: While Bhutan is open to tourists some areas are restricted. You'll need a special permit from the Bhutanese government. Tour guides can help you obtain a permit.
6. Punakha & Semtokha Dzongs – See Ancient Art Come To Life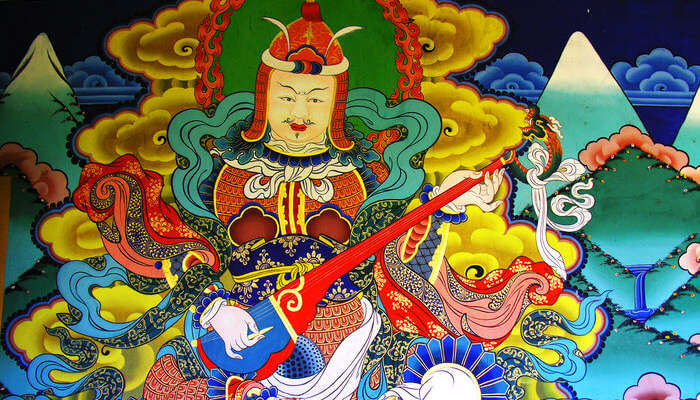 Bhutan focuses on preserving their culture, and their art is a major part of their culture. Bhutanese art is based on their religion and follows a certain style which is uniform. The craftworks follow traditional values rather than emphasizing innovation. The importance of their culture lies in their art and craft.
If you want to witness the beautiful art and craft, you must take a tour of the different dzongs of the kingdom, including Punakha Dzong and Semtokha Dzong. A DIY art and craft tour is one of the best things to do in Bhutan for every art lover.
Things to know: Dzongs are symbolic centers of religious and secular affairs, so one should dress modestly.
Suggested Read: 9 Compelling Reasons To Plan A Trip To Bhutan While Autumn Lasts
7. The Memorial Stupa – Rediscover Yourself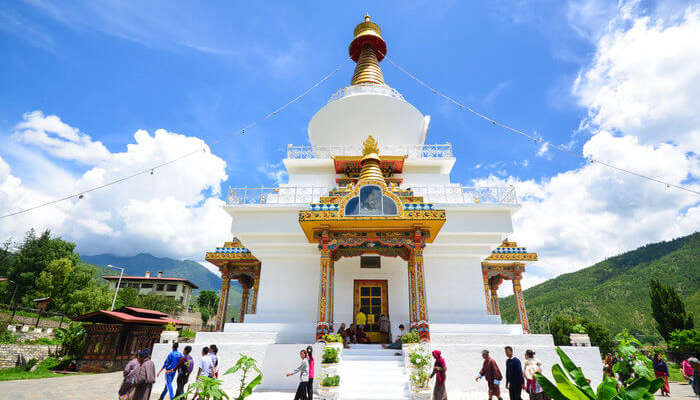 If you want to get lost in the realm of peace, then head to The Memorial Stupa built in 1974 in the memory of the third king, Jigme Dorji Wangchuck. The stupa is one of the best Bhutan attractions with its shining finial, beautifully carved sculptures of deities, vivid paintings attract, and ultimate peace. Some hermits and devoted Buddhists often walk into the mountains for months to meditate.
8. Bhutanese Cuisine – Relish The Delicacies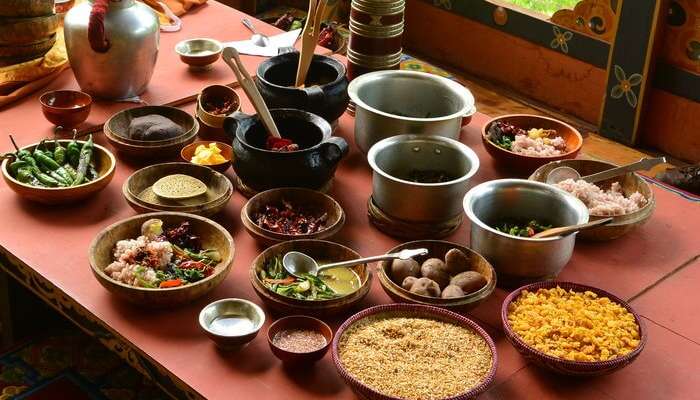 When we think of Bhutan, we generally imagine varieties of non-veg food offered in small & cozy cafes. While it's true that you get various types of non-veg cuisine, there are also plenty of options for vegetarians. For instance, Datshi – a staple food of the people of Bhutan. Datshi is made in various forms and the most famous is Ema Datshi. Ema means chilli; Ema Datshi is made using cheese, chillies, vegetables, and pepper.
Folk Heritage Museum Restaurant (Thimphu), Zombala, Bukhari at Uma by COMO (Paro), Ambient Cafe (Thimphu), Galingkha (Thimphu), and Chig-ja-gye at Taj Tashi (Thimphu) are some of the best restaurants in Bhutan to try different flavours and textures of Bhutanese food.
A local food tour is amongst the best things to do in Bhutan and is highly recommended.
9. Shopping – Explore The Local Stores Of Bhutan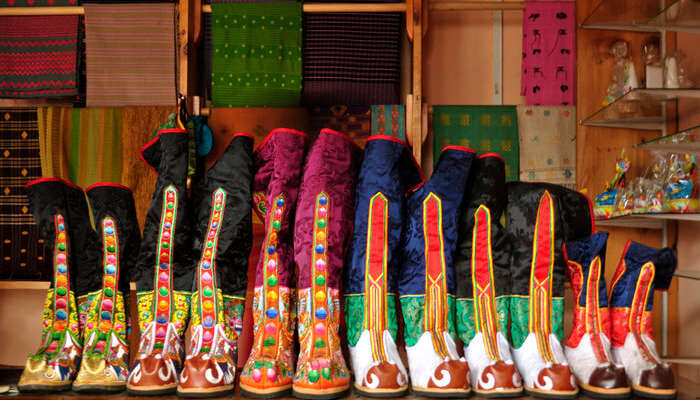 Norzin Lam is the city's major thoroughfare lined with hotels, cafes, stalls, and shops. It's one of the best places to shop in Bhutan. You can get everything from embroidered boots to handmade papers. Some of the good things to buy in Bhutan include carpets, silver, colorful masks, jewelry, hand-woven bamboo items, and wooden products. The lively market offers a wonderful photo opportunity to tourists, explorers, and photographers.
10. Changlimithang Archery Ground – Try Archery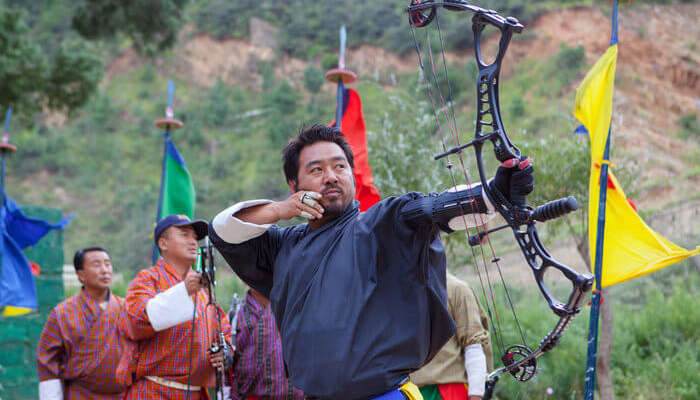 If you are in Bhutan, you must attend the archery competitions that are one of the best Bhutan attractions and its national sport too. While sauntering the highways and byways of Bhutan, you'll find colorful gatherings of men dressed in their traditional robes taking turns to shoot arrows.
The archery competitions draw many to this social event and competitions are organized between towns, villages, and amateur teams. It's a fantastic glimpse into their culture.
11. River Rafting – Treat Your Adventurous Soul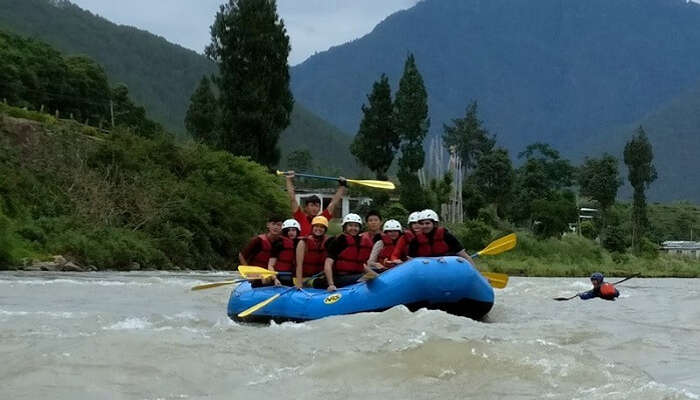 Unlike the regular river rafting in strong currents, rafting in Bhutan is a pleasurable ride while floating down the river. You will get to marvel at the lush greenery, rare birds, clear skies, and blue waters of Bhutan. The best time to do this activity is after the monsoon season as the flow of water increases. Thus, you can plan a vacation in October or November.
Location: Po Chu River and Mo Chu River
Suggested Read: Visit These 21 Tourist Places In Bhutan In 2019 To Change Your Worldview!
12. Kayaking – Try A New Adventure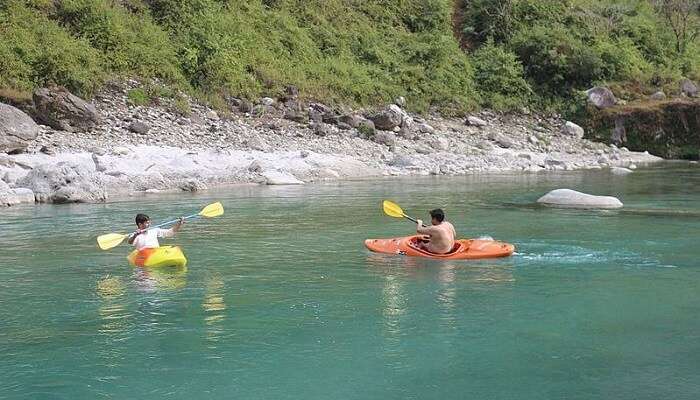 Bhutan not only gives a chance to indulge in whitewater river rafting but also offers travelers to opt for kayaking. Six rivers in Bhutan give ample opportunity to water sports enthusiasts and amateur kayakers. You can opt for what kind of current flow you want from slow to violent.
Location: Near Paro Valley and Punakha Valley
Duration: March-April, October, November
Suggested Read: Bhutan In December: A Quintessential Travel Guide For An Exquisite 2019 Vacation!
13. Suspension Bridge – Capture Postcard-Worthy Images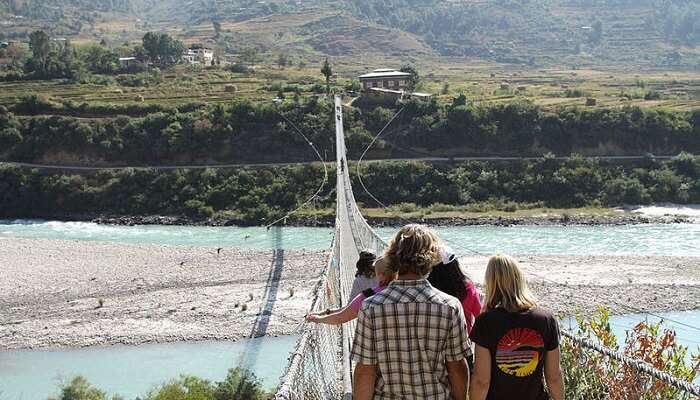 Near Punakha Dzong, you will get to witness the beauty of one of the longest suspension bridges in Bhutan. Encircled by the mountains of Bhutan, the whole setting of the suspension bridge is captivating for any nature lover. You will be surprised to know that the bridge does not shake even a little despite being such a long bridge.
Location: Punakha, Bhutan
Suggested Read: Trekking In Bhutan: An Experience Like None Other!
14. Wildlife Safari – Explore The Wildlife Of Bhutan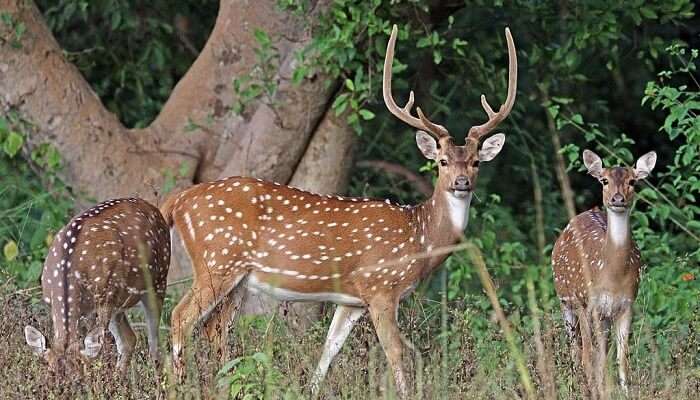 Bhutan is one of the splendid places to witness the biodiversity in Asia. The thick forests of Bhutan give a chance to see an amalgamation of flora and fauna. You will get to see black bears, golden langurs, Asiatic lion, tigers, and a variety of birds. To get a better view of these animals without tiring, you can opt for a wildlife safari.
Location: Forests of Mo Chhu River
Duration: April-June, September-November
15. Fishing – Go Catch Them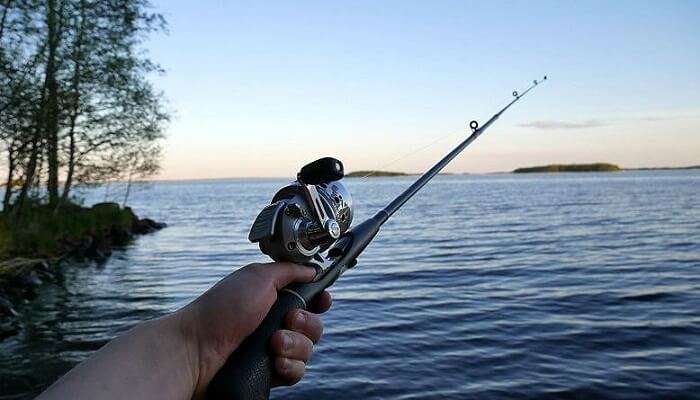 This might come as a surprise to you but Bhutan is also known for fishing as it is home to a number of species of fishes. The two most common types of fishes here are brown trout and snow trout. While exploring Bhutan, you can take a permit for fishing and go to one of the fishing spots.
Location: Thimpu Valley, Bumthang Valleys, and Paro Valley.
Duration: March-May, September-November
Further Read: 12 Best Hotels In Bhutan – The Mystical Himalayan Kingdom
Bhutan is the kind of place where you'll find hand-painted wall murals, crimson chilies drying in the sun, and cozy cafes wherever you go. Explore its vibrant culture as you indulge in your favorite activities in Bhutan. Plan your vacation to Bhutan with TravelTriangle and convince all your friends to tick off this destination from your bucket list. Wait no more, pack your bags, and get set go!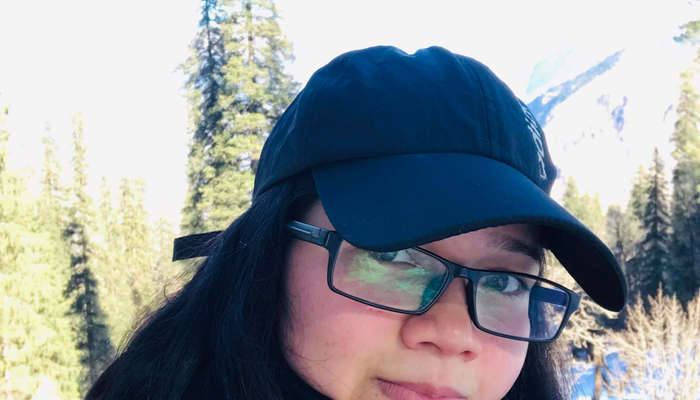 Comments
comments