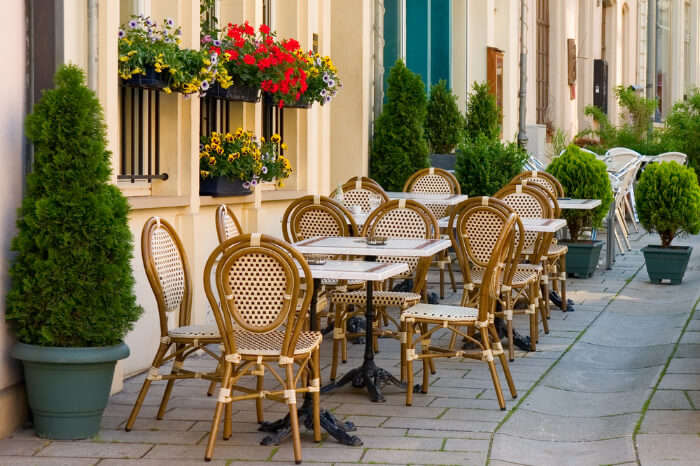 Luxembourg is a small European country that is surrounded France, Belgium and Germany. The diversity of the place is amazing. The top attractions off the country are in Luxembourg city. Though the small towns are equally vibrant and worth visiting. The countryside of Luxembourg is quite beautiful and serene. Those who love historic places are going to love Luxembourg, because the country has many beautiful forts and palaces that are a popular tourist destinations. And those who have a soft corner for food will enjoy exploring the amazing restaurants in Luxembourg and the food that they serve. The country is very charming and you are bound to love the place!
12 Top Restaurants In Luxembourg
When visiting a new place, it is given you would want to try out new dishes and some good restaurants. But many a times it happens that you aren't aware of any good places or you don't know the address of them or how far are they. Hence in lieu of helping you, we have compiled a list of restaurants from various cuisines that you can give a try while you are in Luxembourg.
1. Restaurant Clairefontaine

The food of the Restaurant Clairefontaine is great in terms of taste and presentation. The presentation of the food is something different and beautiful here. The place is also praised for its excellent service. So in short The restaurant Clairefontaine is a perfect place to enjoy some wholesome meals that are great in taste.
Address: 9 Place de Clairefontaine, 1341 Luxembourg
Phone: +352 46 22 11
Must Try: wines
Google ratings: 4.7
Must Read: Luxembourg In Winter: 9 Best Places To Explore This Winter Wonderland
2. Yamayu Santatsu

Many a times we are afraid of trying new cuisines thinking that we might not like how it tastes. But vacations and travelling are one such time when you can let go of your fears and inhibitions and try something new. Yamayu Santatsu is a great restaurant if you like or want to try out Japanese cuisine. The place is known for serving authentic Japanese dishes that are a treat for your taste buds. The restaurant serves delicious sushi, and you might even get to see how a sushi is prepared!
Address: 26 Rue Notre Dame, 2240 Luxembourg
Phone: +352 46 12 49
Must Try: sushi
Google ratings: 4.4
Suggested Read: 10 Best Day Trips From Luxembourg For A Perfect European Holiday
3. Restaurant Orchidee

If you are on a look out for some regional food, then you should definitely try out Restaurant Orchidee. The place serves amazing food. The staff is very courteous and helpful. The ambience is pretty too. These things together make the dining experience here at Restaurant Orchidee a great one. Do make sure you keep this place as a must visit while you are in Luxembourg, for treating your taste buds to great food!
Address: 9 Route de Thionville, 2611 Luxembourg
Phone: +352 24 87 37 39
Must Try: chicken tikka masala
Google ratings: 4.5
Suggested Read: 35 Best Places To Spend Christmas In Europe 2022: Where Festivities Breathe Magic Into The Air!
4. Ambrosia restaurant

Ambrosia restaurant is a place you would enjoy eating at if you are looking for an atmosphere which is casual and has a comfortable appeal to it. The music played in the background sets a very nice atmosphere. The menu has a lt of options to choose from. But a little forewarning, the menu is available only in French. But the staff is great and helping, they will surely help you with the translations.
Address: 10 Rue Notre Dame, 2240 Luxembourg
Phone: +352 26 47 80 44
Must Try: turkey dishes, chicken dishes
Google ratings: 4.4
5. Cyrano

The place is quite popular with the locals but not so much with the tourists. But you should not miss out on the amazing food the place has to offer and for sure visit them for mouth watering dishes. The menu is quite extensive and is bound to leave you confused as to what to offer and what not to order. And the best part of that the menu is available in English so you will be able to choose on your own. The wine of the place is said to be really good. Do give it a try!
Address: 2 2 Rue du Laboratoire, 1911 Luxembourg
Phone: +352 27 48 90 87
Must Try: wine
Google ratings: 4.4
6. Restaurant Himalaya Luxembourg

If you miss Indian food and are on a hunt to find a perfect place that serves Indian food, then your search has come to an end with the Restaurant Himalaya. The place serves great Indian food. But if you are thinking the cuisine is limited to only Indian food; then you are wrong, the place even serves the cuisine of Nepal. So you can mix and match and enjoy both the cuisines. The portion of the food is quite generous and good for the price paid.
Address: 8 Rue de Rollingergrund, 2440 Luxembourg
Phone: +352 661 183 672
Must Try: lamb jalfrezi, naan breads, Nepali dumplings
Google ratings: 4.5
Suggested Read: 13 Frolicsome Beaches In Europe For All The Excited Beach Bums Across The Globe
7. Athena

Athena is a great place to enjoy some delicious Greek meals. The place has good ambience and makes the dining experience a lot more memorable. The best thing about the place is the menu. The restaurant has made an effort to make sure that a no one faces any problem while placing an order and hence the menus are kept multilingual. The portions served are in good quantity and the pricing of the dishes are moderate.
Address: 56 Rue Adolphe Fischer, 1520 Luxembourg
Phone: +352 26 48 37 51
Must Try: chicken dishes
Google ratings: 4. 5
8. Namaste

This is another place you should visit if you are looking for some great Nepalese and Indian cuisine. The taste is flavoursome and is appetizing. The portions served are also apt. The restaurant also provides the buffet service. If you do not want buffet, you can order on the basis of a-la-carte. The place also has vegan options, so you can moderate the food according to your preferences. The staff is also friendly and are eager to help you.
Address: 19 Rue de Strasbourg, 2561 Luxembourg
Phone: +352 26 12 31 21
Must Try: naan bread
Google ratings: 4.1
Suggested Read: 17 Spots For Snorkeling In Europe Every Underwater Enthusiast Must Visit
9. Batucada

The Batucada restaurant has got a nice and chill atmosphere. If you are travelling with family, this is a perfect place to spend some family time. The food served here is Brazilian. This cuisine is not your regular cuisine and hence you should definitely give it a try. The portions are in good quantity and the price you pay for the dishes are not very heavy on your pocket. It is a must visit place to spend some great time over some great meals.
Address: L-, 1 Plateau du Saint-Esprit, 1475 Luxembourg
Phone: +352 26 20 08 80
Google ratings: 4. 4
10. Nirvana Cafe

The Nirvana Cafe is a great place to enjoy some lip smacking dishes. The place serves both vegan and non vegan. Hence anyone who comes here gets to try the scrumptious meals that they serve here. The buffet is quite popular here and has a lot of variety that you can try. There is no alcohol served here neither you can carry your own alcohol. The place serves really health dishes, so if you are someone who is health conscious, you are going to love this place. They even offer student discounts here.
Address: 1 Avenue de la Gare, 1611 Luxembourg
Phone: +352 691 866 745
Must Try: Indian Chai
Google ratings: 4. 6
Suggested Read: This Winter, Escape To The Best Honeymoon Destinations In Europe In Winter 2022!
11. Brasserie Guillame

The Brasserir Guillame is a nice place to try some lip smacking seafood. The meals they serve are fresh and delicious. There is an option of either sitting inside or outside. Since the place serves such a nice food, it is bound to attract a lot of customers. So at times you can find the place a little crowded. It is best that you book a table in advance. The quantity served is also good.
Address: 12 Place Guillaume II, 1648 Luxembourg
Phone: +352 26 20 20 20
Must Try: fish dishes
Google ratings: 4.1
12. Beet

Those who prefer vegan food, it can be quite a challenge to find a place that serves good vegan food. But at Beet you will find dishes that are not only vegan but also dairy free. So those who are lactose intolerant and or vegan can enjoy some great dishes here. The choice of food they offer are extensive. It is a must visit for anyone looking for a healthy eating options.
Address: 32 Place Guillaume II, 1648 Luxembourg
Phone: +352 26 20 13 75
Must Try: burgers
Google ratings: 4.4
Further Read: 31 Traditional Festivals In Europe That Will Up The Fun Factor Of Your Euro-Tour In 2021
Travelling to a new place is an exciting yet a very tiring time for most of the tourists. A good hearty meal is the need of the hour at such times. This list has restaurants from a wide array of cuisines. You can choose them as per your liking and preference. We hope that the list helps you in deciding your choice of restaurant in Luxembourg. These restaurants can make your holiday in Luxembourg a food trip.
---
Looking To Book An International Holiday?
Book memorable holidays on TravelTriangle with 650+ verified travel agents for 65+ domestic and international destinations.
---