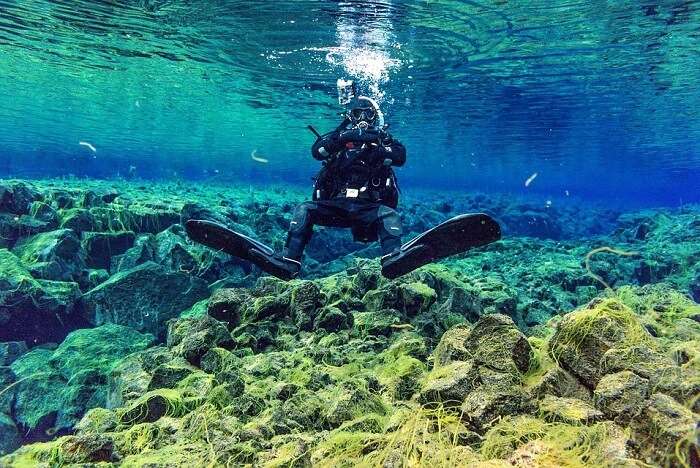 Cover Image Credit: Maxpixel
Everyone knows that underwater diving is the best way to experience marine life, but it requires you to purchase some super expensive equipment to be able to experience it. On the other hand, snorkeling doesn't require much equipment or practice to experience the amazing views of marine life in their natural habitat. We've prepared a list of 15 of the best destinations to go snorkeling in Europe.
15 Best Spots For Snorkeling In Europe
Here are the 15 best destinations to go snorkeling in Europe that we've shortlisted keeping in mind several factors like location. Here, take a look:
1. Elafonisi Beach, Crete, Greece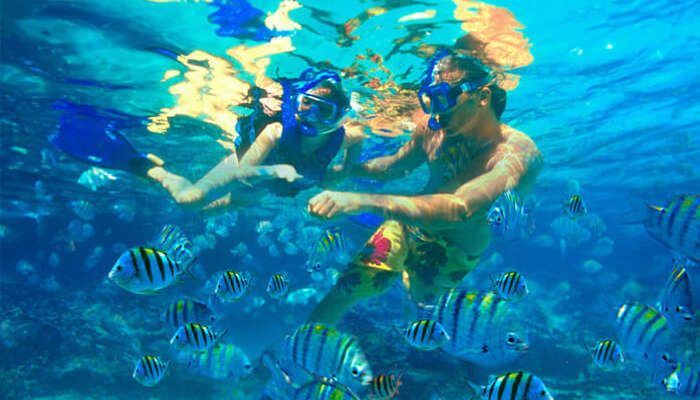 If you wish to do snorkeling in Europe, then Elafonisi beach is among the top 10 snorkeling spots in Europe. Located on the Crete Island in Greece in the Eastern Mediterranean Region, this place offers a diverse variety of marine life of the Mediterranean to the marine life enthusiasts. The clear blue waters shining like the clear sky let you witness the marine life clearly and allows you to explore the depths of the sea easily.
Must Read: Islands In Turkey: 5 Spectacular Islands In The Europe Of Asia
2. Russalka, Black Sea, Bulgaria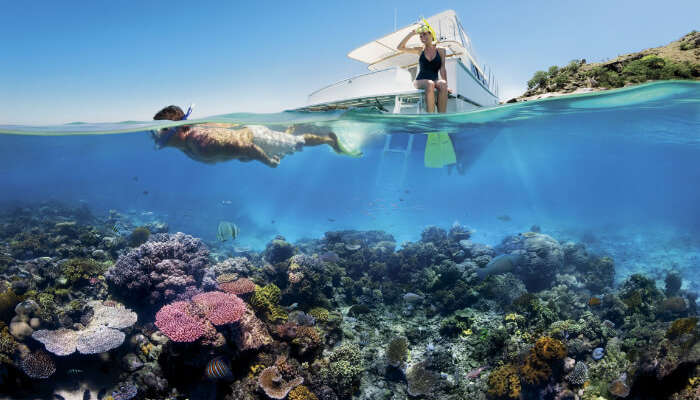 It is not only the well famed Mediterranean that's great for snorkeling in Europe. The Black Sea, despite having water with many sediments, can also be a good place to snorkel. One of them is Russalka in Bulgaria, a top snorkeling destination in Europe. Although the marine life here is fairly small, you can see shipwrecks from the Ottoman era.
Suggested Read: 12 Offbeat Destinations In Europe Straight Out Of Fairy Tales
---
Europe Holiday Packages On TravelTriangle
Explore the most beautiful places to visit in Europe, from Paris to the Venice canals and from the Greek islands to the Swiss alps. Book customized packages by expert agents on TravelTriangle. Inclusive of airport transfers, cab, resort, sightseeing and meals. Best holiday experience Guaranteed. Book Now
---
3. Reserva Natural da Berlenga, Portugal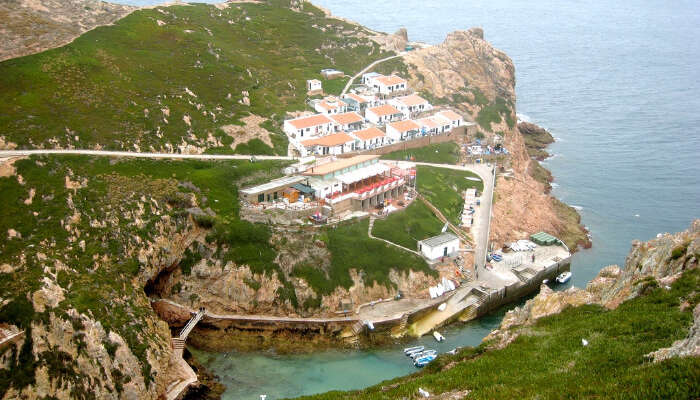 Image Source
Located just 10 km off the shore from Peniche in Portugal, Reserve Natural da Berlenga is a rocky island. Known for its natural and wild beauty, this place is one of the best places for experiencing great snorkeling in Europe. The areas near around the shoreline are among the greatest for snorkeling in Europe, having visible shipwrecks in the clear deep blue waters and a collection of some of the finest biodiversity known to man, this place is a wonderland for nature lovers.
Suggested Read: 8 Restaurants In Hungary That Can Match Any European City For Culinary Travel
4. Makarska, Croatia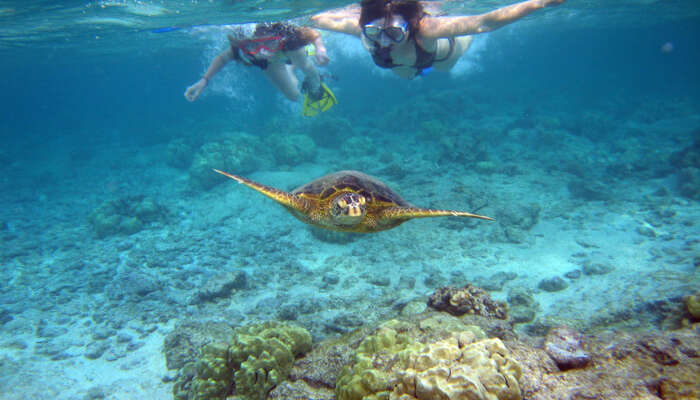 After snorkeling in France, Italy and Spain, come visit the Adriatic Sea coast in Makarska in Croatia. The species here are completely different and the fresh water springs on the seabed allow the formations of some of the most amazing corals such as the Golden Sponge species. If you are lucky, you might spot a seahorse while snorkeling in Europe at this destination.
Suggested Read: 15 Festivals In Europe That Will Up The Fun Factor Of Your Euro Tour In 2019
5. Maddalena Archipelago National Park, Sardinia, Italy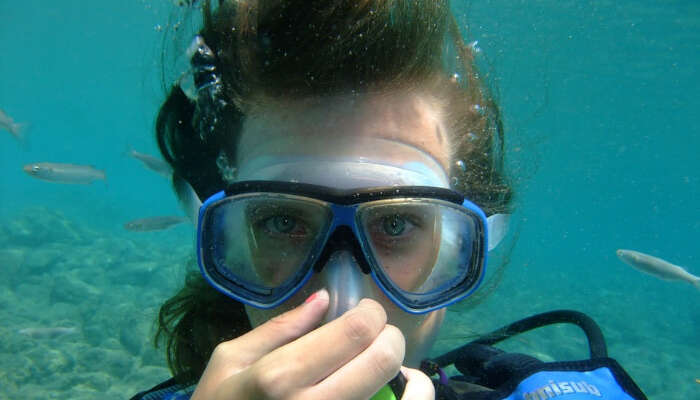 Maddalena Archipelago National Park is a national park located on the northern part of the Sardegna Island and all of its surrounding areas. Surrounded by the Mediterranean Sea, it is among some of the best snorkeling destinations in Europe. This place is like the best of both worlds and is a must visit place for snorkeling lovers.
Suggested Read: Shopping In Denmark: All About The Places To Shop For Best Danish Goods!
6. Illes Medes, Costa Brava, Spain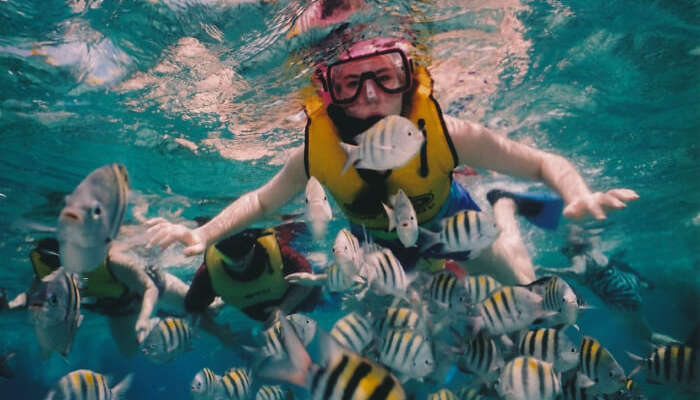 Considered to be among the best destinations for snorkeling holidays in Europe for 2018, Illes Medes is a protected marine reserve. This means that the growth of fishes and plants is natural here. The people here mind their own business, so you won't be disturbed by those doing adventure activities at the beach. You'll get the most fulfilling experience here.
Suggested Read: 6 Museums In Italy Across 6 Cities. Which One Will You Choose For Your European Adventure?
7. Ghar Lapsi, Malta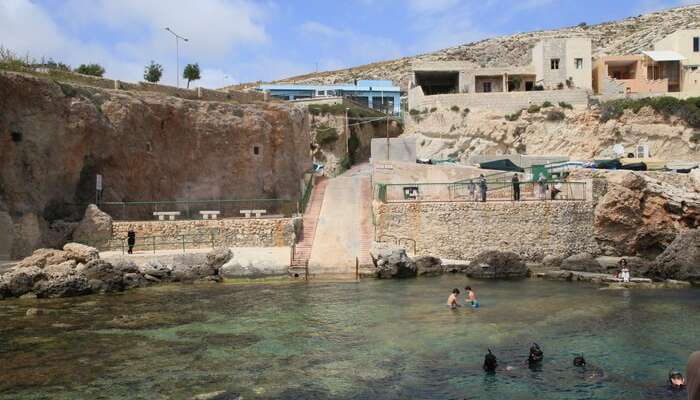 Image Source
This is another great European place for marine life lovers. The clear waters and caves with white sands here make the whole experience wholesome and fun. You can go explore the natural caves which are bustling shelters for fishes, and can also find some great variety of fishes at the sandy beaches. You can even find beautiful reefs in these waters and explore their beauty.
Suggested Read: 11 Best Castles In Denmark To Witness The Unparalleled Beauty Of The Country
8. Coco Beach, Nice, France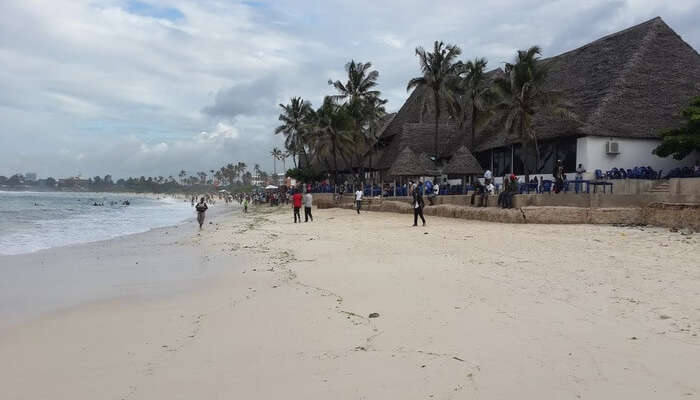 Nice has always been an important place for visitors to France, but it is really surprising how such a beautiful and serene place can exist near an industrialized town like this. Although the beach is really busy during the season, the water is crystal clear. Also, there are many diving companies offering dives but if you want to snorkel, then you can explore the less busy coves near the beach but that doesn't mean you won't have to look out for Jet Skis and things like that.
Suggested Read: Shopping In Czech Republic: For Adding More Charm To Your Wardrobe With A European Touch
9. Lake Silfra, Thingvellir National Park, Iceland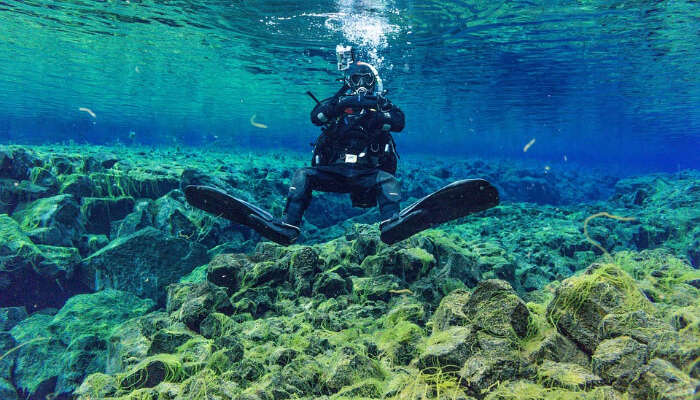 Image Source
Lake Silfra is a glacial lake. This means that the water is crystal clear and perfect for snorkeling. There are water geysers nearby, which means that the water is fairly warm for snorkeling. You can witness various varieties of freshwater fishes here, and the visibility here is such that you can even see the fissures where the two continental plates meet. There is also a lagoon besides the lake with its shallow bottom which can be visible clearly from the top.
Suggested Read: Our Trip To Europe In May Was Nothing Less Than A Dream Come True!
10. Isola Rossa, Sardinia, Italy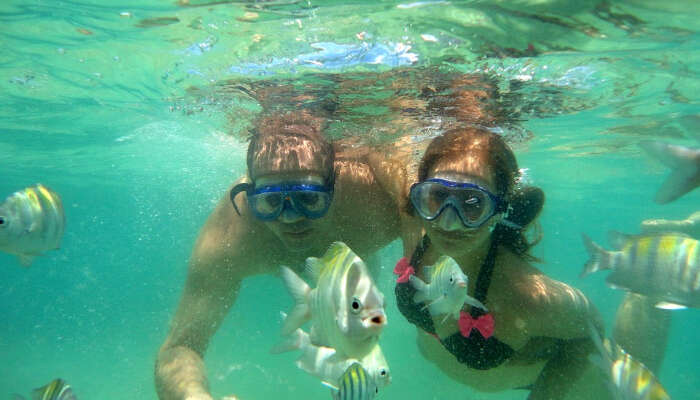 The red rock beaches around the small Mediterranean town of Isola Rossa are a great place to explore biodiversity among the beaches of Europe. There are a decent number of pools and inlets for exploring fishes and the water is crystal clear with some rare sediments. The reef as well as the beach is sandy and yet, full of life and biodiversity.
Suggested Read: 20 Best Places To Spend Christmas In Europe 2018: Where Festivities Breathe Magic Into The Air!
11. Skiathos, Greece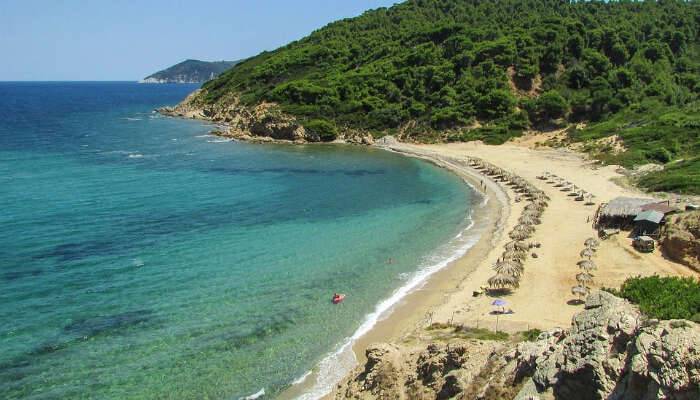 Image Source
A really beautiful place in the Aegean Islands of Europe, snorkeling here can be a bit difficult because of low visibility due to presence of sediments. Snorkel in the rocky islands with hidden beaches to find some rare and exotic fishes. Some beaches have white sand stretching for miles. The best ones for snorkeling are the rocky ones.
12. Paphos, Cyprus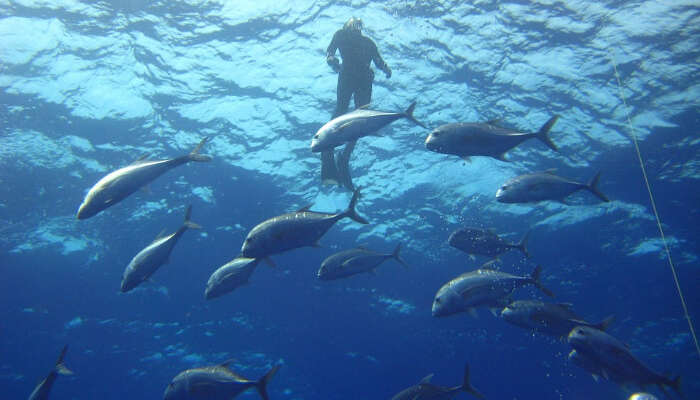 Famous for presence of both small as well as big caves, this small town along the eastern coast of Cyprus is a heck of a beautiful place to visit. The best places to snorkel here are small and secluded beaches and the area near the lighthouse. You can find all kind of marine animals here – from small unbothered fishes like the pipe fish to big marine animals like octopuses.
Suggested Read: 10 Cafes In Prague: Enjoy Croissants, Sausages And More In A Perfect European Fare
13. Bovisand, Devon, UK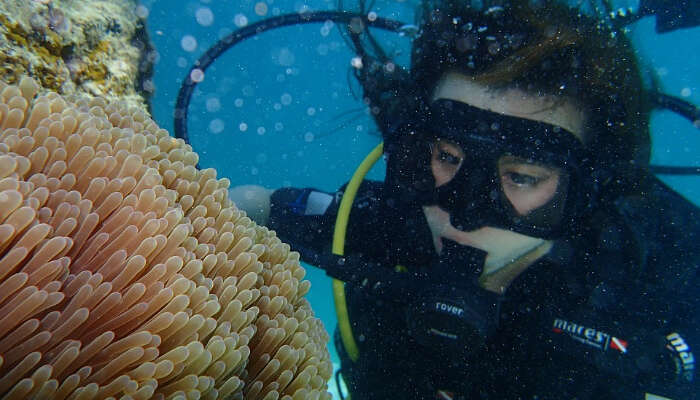 Among the best and the most well-known snorkeling places in UK, Bovisand is situated near the Plymouth harbor. Protected by the bad weather, this place is an ideal snorkeling destination. The shallows in this place are sandy at the bottom but you have a good chance of seeing big fishes here. If you go a little further, you may have a chance of witnessing sharks.
14. Lobos, Canary Island, Spain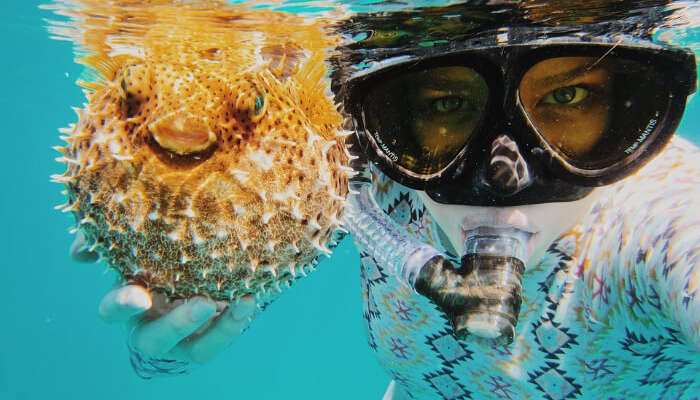 Among the smallest of the canary islands of Spain, this place offers some of the most exquisite snorkeling places in the whole of Europe. Located just 2 km away from the Island of Fuerteventura, this place is among the best spots for snorkeling enthusiasts. Now a protected marine reserve, the area remains undisturbed and the fishes and plants grow without any disturbance from the outside world.
15. Ustica, Sicily, Italy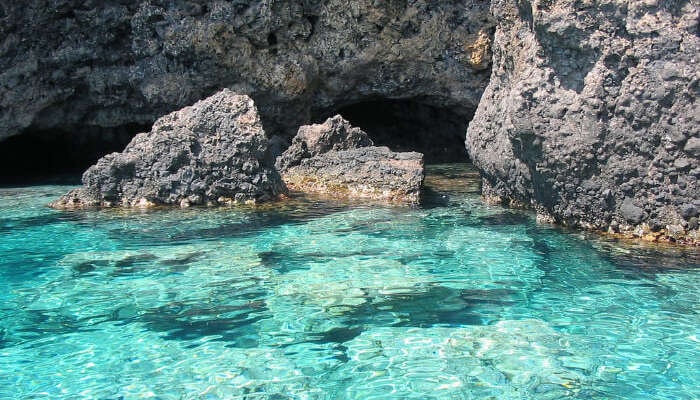 Image Source
Located in the Tyrrhenian Sea, west of the Island of Sicily in Italy, this place is one of the best spots for snorkeling in Europe. You can find lots of fishes and species of marine animals in the clean waters here. Don't miss this place if you're visiting Italy. Make sure to wear safety gear while snorkeling in Europe and have a gala time.
Further Read: 10 Churches In Netherlands Which Offer A Glimpse Of The Ancient Structures Of Europe!
Snorkeling is one of the best experiences you can have in your lifetime and Europe is full of some of the best destinations for the same. The beaches and waters are so clear and beautiful that the experience is unlike any other. Make sure to visit these spots for snorkeling in Europe the next time you go on a trip on Europe.
Frequently Asked Questions About Snorkeling In Europe
Q. Is there any good snorkeling in Europe?
A. Some of the best places for snorkeling in Europe are in Spain, Coast Brava, and Illes Medes. You get to witness natural marine plants and fishes while snorkeling.
Q. Where can I snorkel in the Mediterranean?
A. Though there no coral reefs to admire in the Mediterranean Sea one can still explore the marine life in Croatia, Spain, and France.
Q. What is the best time to go snorkeling?
A. The best time to snorkel is either late in the morning or early in the afternoon. This time has been decided according to the tidal waves.
Q. Is Croatia good for snorkeling?
A. Croatia is one of the best places to do snorkeling in Europe. Clear waters adorned with pebbles at the bottom give a good view of underwater life.
Q. Is snorkeling hard?
A. Snorkeling is comparatively considered easier than other water activities like scuba diving. So, it is not hard to do snorkeling.
Q. Is snorkeling safe for non-swimmers?
A. Yes, snorkeling is absolutely safe for even non-swimmers as it is a surface sport and snorkeling does not require to go deep into the water.
Q. Can you breathe underwater while snorkeling?
A. Yes, you can breathe while snorkeling. A tube is attached to the snorkel face mask that allows you to do normal breathing.
Q. What is the difference between snorkeling and scuba diving?
A. In snorkeling, you don't go deep inside the water and you perform this activity while on the surface of the water. On the other hand, scuba diving is an intensive sport that requires certification and proper equipment to perform it. Moreover, this activity takes you deep inside the marine water to get a good look at the fishes and coral reefs.
---
Looking To Book An International Holiday?
Book memorable holidays on TravelTriangle with 650+ verified travel agents for 65+ domestic and international destinations.
---
People Also Read:
Solo Trip To Turkey 7 Days In Turkey Honeymoon Trip To Turkey
Comments
comments