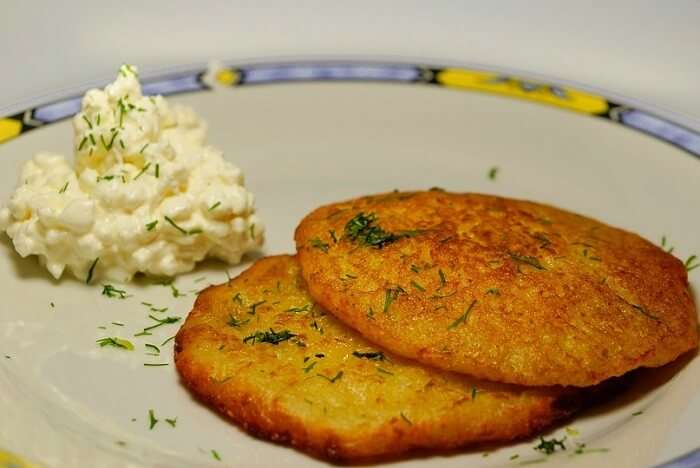 You can know a lot about the country through its food. Having said that, when you are traveling to a place, it is a given that you would want to try some of the local cuisine. Think of food as a window which offers a sneak peak into the customs and traditions of a country. For instance, some of the best Swedish cuisines are said to be hundreds of years old. Sweden is a beautiful blend of customs, and that reflects in its food.
Top 13 Swedish Cuisines You Must Hog On
As mentioned above, Swedish has an amazing variety of food. The word 'husmanskost' is used for denoting traditional Swedish dishes that have been prepared using the local ingredients. We've shortlisted 13 Swedish cuisines that you should not miss on your trip to Sweden. Take a look:
1. Black Pudding
The name is not the only thing which is unusual about this particular dish. Black puddings are a variant of blood sausage. Blood sausage is the one of the oldest form of sausage. When preparing a dish in which animals are used, the blood of these animals often lands up in the trash. To ensure minimum wastage, the pudding is made. If you want some proteins and carbohydrates, the black pudding should be your go to. The pudding is available in baked, fried and grilled form. Some of the other ingredients which are used in this pudding are thyme, mint and few other spices.
Must Read: Shopping In Sweden: 10 Best Places For Pampering The Shopaholic In You!
2. Pancake
Pancakes are easily available almost everywhere in the world. But what makes the Sweden pancakes different is the fact that there are so many varieties of it available. So if you are a pancake lover, Sweden will seem like paradise. Apart from the ordinary pancake, which is called the pannkakor and is served with pea soup, there are other forms of pancake available such as potato pancake, pork pancake, saffron pancake and Swedish pancake egg cake. Traditionally, the pancakes are served with jam or fruit.
3. Potato Dumpling
While you are at Sweden, you are bound to stumble into potato dumplings on a restaurant menu. One of the most popular forms of dumpling, potato dumpling is known in Sweden as kroppkakor. The preparation of potato dumplings differs from place to place. The potato can be boiled or raw. The stuffing can be of pork, onion or mushroom. The choices are galore. Take your pick.
Suggested Read: 10 Quintessential Hotels In Sweden Fitting Every Pocket
4. Gravlax
This is by far one of the top Swedish foods. Smörgåsbord is one of the most popular festivals in Sweden. It is basically a type of feast in which there is a variety of food to choose from. Think of it as an all-you-can-eat buffet party. Gravlax is the numero uno choice for a Smörgåsbord. Gravlax is a dill-cured salmon and is often served with a mustard sauce. Apart from serving it as a main course, it is also served as a starter.
5. Cinnamon Buns
The people of Sweden are known for having a sweet tooth. You will find a variety of desserts in this country. The cinnamon buns are one of the top Swedish party foods. The cinnamon buns are most often served with coffee, cookie or a piece of cake. They're popular with locals as well as tourists. We bet that you will find them in every Swedish household.
Suggested Read: 15 Best Things To Do In Sweden For Treating The Explorer In You!
6. Toast Skagen
Toast Skagen gets its name from a fishing port in Denmark. The dish consists of prawns and shrimps served on a toast. It is considered as a classic dish in Sweden. It is mostly synonymous with elegant food. You will find Toast Skagen in all Swedish restaurants without fail. The dish is prepared by mixing the prawns and shrimps with mayonnaise and other seasonings. The seasoning can vary according to personal preferences.
7. Ostkaka
Cakes have been a part of every celebratory event since time immemorial. They are devoured by a lot of people around the world. Sweden is no exception. The Ostkaka is basically a cake. 'Ost' is derived from the word cheese and 'kaka' means cake. Hence, it is a cheesecake or Swedish curd cake. The cake is usually served with jams like strawberry, lingonberry and cherries. The dish is best enjoyed when served lukewarm. So for all the cake lovers, you know what you have to try next.
Suggested Read: Sweden Nightlife: 12 Pubs & Clubs That Make It Irresistible
8. Gubbröra
The word 'Gubbröra' means old man's mix. It is often served as a starter. The Swedish cuisine most often consists of seafood that has been salted so that the dish can last a long time. This particular dish is an egg anchovy salad. This is another top Swedish food. Make sure to order this dish the next time you visit a Swedish restaurant. You won't regret it.
9. Ärtsoppa
Who doesn't love soup on a warm wintery evening? Though soup is served in many countries, the soup of Sweden is quite different for many reasons. Ärtsoppa translates into pea soup. It is yellow in colour. But what stands apart is the fact that this pea soup is served with pancakes as a dessert. The dish constitutes of boiled peas, a small amount of onion, salt and pork. It is served to the Sweden Armed Forces too, making it a special dish.
Suggested Read: Sweden Honeymoon: Top 10 Soul-Stirring Destinations For A Romantic Escape!
10. Filmjölk
The breakfast in Sweden is generally sandwiches, porridge and Filmjölk. 'Filmjölk' is a Swedish word for fermented milk. It is found in abundance in the country. It is usually served with cereals, corn flakes or muesli. This is considered to be a traditional Swedish breakfast. To live in Sweden like a local, you should definitely try their traditional breakfast.
11. Mom's Meatballs
The name owes its origin to the fact that the Swedish meatballs or köttbullar is supposed to be cooked with love. This is indeed a beautiful concept and is an equally popular Swedish cuisine. The recipe of the meatballs again varies from place to place. Some prepare it with thick brown gravy while others prefer it to have a thin meat juice. The preference is yours!
Suggested Read: Sweden Wildlife: 10 Popular Species Of This Scandinavian Fauna
12. Raggmunk
Raggmunk is popularly known as potato pancake. It consists of grated potatoes, which are then mixed with flour and milk. At times, egg is used in its preparation. One trick behind its preparation is that it does not use new potatoes. There has to be enough starch to hold the pancake together and hence, new potatoes are not used. It is a popular dish in Europe.
13. Sweet treats
There are a plethora of Swedish snacks that are served in the country. One of the most popular snacks is the sweet yeast rolls, which are extremely popular during Christmas. Another delicacy is the gingersnaps. These are cut out in different shapes and forms and are then decorated with frosting. They form an integral part of Swedish cuisine. Make sure to hog on them on your trip.
Further Read: These Treehouses In Sweden's Jungle Are What Childhood Dreams Are Made Of!
We have tried to mention as many popular Swedish Cuisines as we could. Sweden is a beautiful country and has a lot to explore in terms of places and in terms of food. When we are away from home, it becomes extremely important to understand the culture and customs of the locals of a country we are visiting. With the help of our blog, we hope you can decide which mouthwatering food you want to try while you are on a trip to Europe.
---
Looking To Book An International Holiday?
Book memorable holidays on TravelTriangle with 650+ verified travel agents for 65+ domestic and international destinations.
---