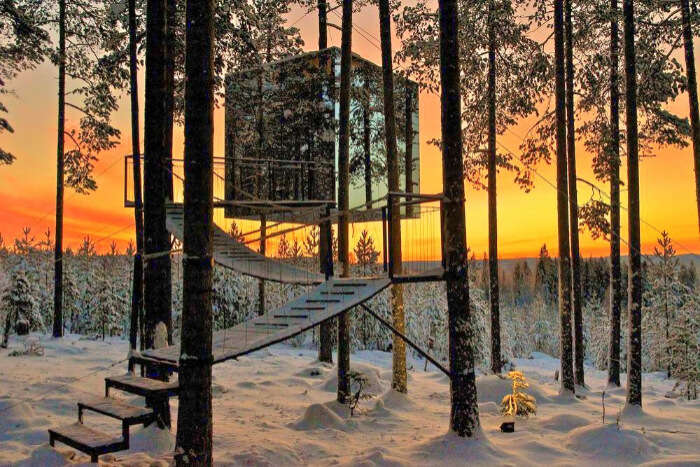 If the idea of living in a tree house far-far away from your life's drama stirs your imagination, you might want to check these tree houses set right in the middle of Harads pine forest in Sweden. Tree houses are among the idyllic childhood symbols, and this Treehotel near Lule River lets you live your special childhood dream.

The Treehotel was inspired by the movie "The Tree Lover". It's a tale of three men who are from the busy city and now want to go back to their roots by building a tree house together in the woods. The concept behind this is to offer a great quality accommodation in a harmonious place, where people will forget all their worries and just relax.
These wonderful tree houses are built by Scandinavia's leading architects. All the tree houses are suspended 4-6 meters above ground, offering spectacular views of the Lule River and the snow-capped mountains. If you want to spend a night in one of these tree houses, it'll set you back an average of INR 35,000.
Here are the tree houses by Treehotel that'll make you want to live there forever!
The Mirrorcube – A dreamy tree house with mirrored walls reflecting the surrounding

The Blue Cone – A simple wooden tree house offering breathtaking mountain views

Dragonfly – The biggest treehouse amid the calm jungles of Hardas

The Bird's nest – A Gigantic bird's nest that looks like a part of the wild world

The Cabin – A Wonderful tree house overlooking the Lule River valley

The Ufo – This is all you need for a comfortable escape to childhood dreams

7th room – Allows guests to watch the magnificent northern lights, what else you need!

Further Read: 13 Amazing Tree Houses In India: A Treat For Your Younger Self!