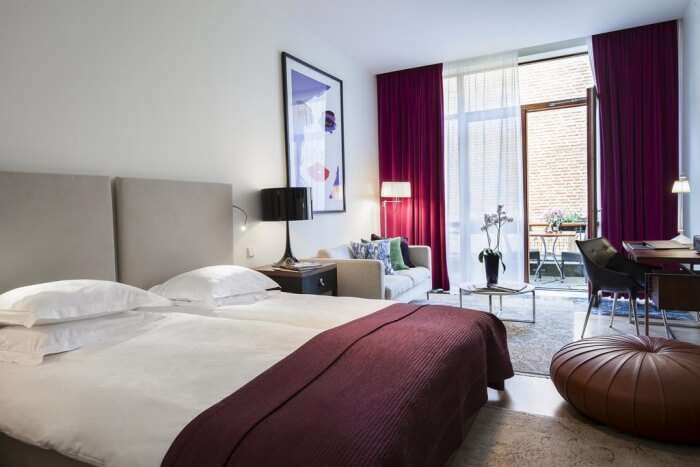 Sweden is a country with stunning landscape, rich culture and good people. The country has made its mark with its architecture. So definitely, you have this in your wishlist. In case you don't we're presenting another inspiration for you, with this list of quintessential hotels in Sweden, suiting travelers with different budget.
Starting from the cheapest ones, the list moves on to luxurious stays, even the ones that go beyond the usual definition of a hotel. So, let's begin!
1. Generator, Stockholm

Location: Torsgatan 10, 111 23 Stockholm, Sweden
Giving value for every penny spent, Generator is centrally located in the famous city of Stockholm. This may be among the cheap hotels in Sweden, but you can experience luxury right here. With dedicated spaces for restaurants, meeting rooms, luggage storage and chill out zone – you are certainly going to feel like loyalty. Generator also makes your stay more easy by providing valued facilities such as bike hire.
What's special: With as much as 9 room types, ranging from sharing to studio and family room, this hostel/hotel is the ultimate value for money, without a second thought.
Tariff per night: £ 14 onwards
2. City Backpackers Hostel, Stockholm

Location: Upplandsgatan 2, 111 23 Stockholm, Sweden
For those looking for the best hotels in Stockholm Sweden, City Backpackers Hostel is certainly a smart pick. The building dates back to 1897, the hostel also comes with a single dorm if you want some privacy. The social areas are perfect for interaction, especially for solo backpackers looking forward to socialize with like minded people.
What's special: There are a lot of free things offered, apart from the breakfast; such as events and sauna.
Tariff per night: £ 16 onwards
3. Scandic No. 53, Stockholm

Location: Kungsgatan 53, 111 22 Stockholm, Sweden
Defining what we call chic, Scandic No. 53 is one of the finest hotels in Sweden. The hotel is located in the heart of Stockholm and is surrounded by shops and restaurants. Prime locations of the city such as Stureplan, Old Town and Central Station are just stone throw's away. The bed looks as comfy and cozy as it is, and you can work miles away from your workplace with hotel's free unlimited wifi.
What's special: The hotel is pet-friendly and offers organic buffet breakfast, so you start your day with something fresh and healthy.
Tariff per night: £ 64 onwards
Must Read: 10 Best Hotels In Stockholm For A Perfect Stay In The Finest City Of Scandinavia
4. Hobo, Stockholm

Location: Brunkebergstorg 4, 111 51 Stockholm, Sweden
When we speak of the finest boutique hotels in Sweden, Hobo is often found at the top of the list. Located in central Stockholm's Brunkebergstorg area, Hobo features 201 rooms, along with bar, restaurant, cafe, stage and pop-up area. The rooms offer stunning Swedish views and the rooms are cozy, designed keeping in mind the traveler of today's time.
What's special: Hobo frequently hosts events, such as music concerts, art galleries, panel discussion. You can stay updated with what's coming during your trip, through their Facebook page.
Tariff per night: £ 74 onwards
5. Avalon Hotel, Göteborg

Location: Kungstorget 9, 411 17 Göteborg, Sweden
With a dash of colors here and there, Avalon Hotel is one of the best hotels in Gothenburg Sweden. The property is a feng shui certified hotel, where emphasis is laid on fragrance, sound, light and furnishing. Adding on to the experience is the delectable choice of food and drinks. As it stimulates all your senses, this will be an escape worth cherishing. The hotel is centrally located and you have six types of accommodation to choose from, right from Moderate to the Penthouse Suite.
What's special: The hotel goes miles beyond to refresh each of your senses, through the principles of Feng Shui.
Tariff per night: £ 104 onwards
6. Berns Hotel, Stockholm

Location: Näckströmsgatan 8, 111 47 Stockholm, Sweden
Berns Hotel in Stockholm has won numerous awards. The hotel welcomes travelers with arms open wide, offering the best of every facility imaginable. With super cozy and enchanting rooms, Berns is also known for making the night with its enlivening club. But it's not just about all that fun, if you are on a business trip, the hotel will please you with its 'Events and Meetings' feature.
What's special: Berns Hotel is also a place you can come to, in order to catch a glimpse of Stockholm's electrifying nightlife.
Tariff per night: £ 119 onwards
Suggested Read: Sweden Honeymoon: Top 10 Soul-Stirring Destinations For A Romantic Escape!
7. Icehotel, Jukkasjärvi

Location: Marknadsvägen 63, 981 91 Jukkasjärvi, Sweden
One of the most unique hotels in Sweden, Icehotel in Jukkasjärvi – as the name suggests- is build entirely from ice. Everything from the facade to the bed is made from ice from Torne River. Each year, the hotel is reconstructed and the look is revived. The details here is something that deserves a special mention, just spare a glance at the chandler or just the walls; any corner indeed.
What's special: The hotel is located in a pristine surrounding and lays emphasis on sustainability. Other than being made entirely of ice, the hotel provides warm hospitality and a number of activities to indulge in.
Tariff per night: £ 124 onwards
8. Sankt Jörgen Park, Göteborg

Location: Knipplekullen 8-10, 417 49 Göteborg, Sweden
A hotel where everyday is a celebration, Sankt Jörgen Park is more than just a stunning stay. This is where your life becomes more fun, as you splash around in the pool, challenge your peers over a game of golf, or indulge in sports. The award-winning spa of Sankt Jörgen Park is a gem indeed, where you can relax your senses. Whether you're up for fine dining or losing yourself in high spirits at the bar, the hotel will serve you with all of that.
What's special: The Sankt Jörgen Park offers packages that matches different preferences, combining different facilities of the hotel.
Tariff per night: £ 172 onwards
9. Ett Hem, Stockholm

Location: Sköldungagatan 2, 114 27 Stockholm, Sweden
Formerly a private residence, the property dates back to 1910. Ett Hem is recognized as an Arts & Crafts edifice, adorned with Scandinavian aesthetics. We are not lying when we say everything about Ett Hem is truly poetic – right from its lush manicured garden to the ornamental decor of its rooms and suites. Step into a delicate yet everlasting world of Ett Hem, listed among the finest hotels in Sweden.
What's special: The exquisite kitchen of the hotel offers dishes prepared from fresh produce. The menu is decided each day, and there is something in unique that awaits.
Tariff per night: £ 349 onwards
10. Treehotel, Norrbotten County

Location: Edeforsvägen 2A, 960 24 Harads, Sweden
A hotel like none other, Treehotel takes camouflaging to another level. Tucked amidst the sky-kissing pine forest, this one makes you a part of nature, especially with its Mirrorcube style of accommodation. Witness the magic of Northern Lights, go fishing, kayaking, rafting or pick mushrooms and berries – there is a myriad of experiences that await. Other than Mirrorcube, Treehotel also offers six other types of accommodations, such as – Bird's Nest, The Cabin, 7th Room, The UFO, Dragonfly, and Blue Cone.
What's special: Most of the accommodation types are perched on trees. The mirror exteriors make an excellent camouflage. Also, there are a number of activities provided such as safaris, hiking, rafting, and ziplining, among others.
Tariff per night: £ 460 onwards
An escape to this beautiful country is made even more memorable with these finest properties. If you wish to explore the Swedish miracles without any hassle whatsoever, you must browse through our Sweden tour packages, and pick the one best suits you!
Further Read: The Vipp Shelter In Sweden Brings You Closer To Nature By Building Your Private Hotel In The Forest
---
Looking To Book An International Holiday?
Book memorable holidays on TravelTriangle with 650+ verified travel agents for 65+ domestic and international destinations.
---