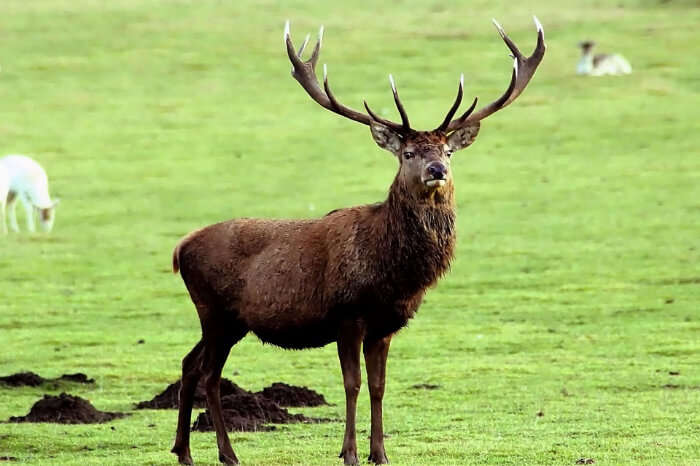 Sweden can be quite an interesting place to spot wildlife. The diverse variety of animals, birds and reptiles found in this country is a good indication towards growing biological variety in the Scandinavian countries. While one can be easily overwhelmed in finding the different and exotic breeds of wildlife in this country, the experience in itself can be pretty rewarding. So, let us find out about the vivid species of Sweden wildlife
Top 10 Species From The weden Wildlife
If you are looking to birdwatch or document the lives of animals in the wild, Sweden will not disappoint you with its large variety of animals in the wild. This here is a list we have comprised for you, consisting of 10 different species of wildlife in Sweden.
1. Beavers
Central Sweden is pretty famous for its beaver population. Look no place faraway than beside water bodies like lakes or rivers to spot most of these animals in context here. Guests can take on the adventure of Beaver Safari tours, and the friendly Beavers will welcome you instead of recognizing you as a threat. Additionally, take abode in one of the many Beaver lodges around the area and who knows, maybe you will be surprised as one of the friendly little ones show up near your lodge's water bodies towards the evening.
Must Read: Sweden In Winter: 8 Reasons To Spend A Cool Vacation At This Winterland!
2. Moose
These creatures can be found universally through the Swedish mainland. Mostly densely habituated near plantations and forests, the ones living near villages and human settlements are often less shy than the others, so don't hesitate to get up close and personal with them. Skinnskatteberg near Stockholm offers a really good Moose watching can be done usually while driving a car, or on hiking trips with friends.
3. Wolves
To be fair, spotting a wolf in Sweden is a rare phenomenon. You might as well have to wait several years for the illustrious affair. Usually found in the Central to Southern region of the nation, they can prove to be pretty elusive and hard to catch a glimpse of in the wild, pretty much true to their nature. However, Sweden offers professional Wolf tracker which guests can join to get an experience of the Wolf Howling Tour which tracks the creatures through their sounds for an overall much more rewarding experience.
Suggested Read: Paragliding In Sweden: 8 Sites To Enjoy Paragliding In The Swedish Sky
4. Arctic Foxes
Usually these creatures can be found in the hilly areas of North-Western Sweden – Jämtland and Norrbotten being one of the most famous areas in the country for the same. However, beware, because treacherous paths await you as you attempt to traverse and reach upto these areas and can become pretty much impossible to trek to on foot without the help of a guide. Arctic Fox tours however take place in Jämtland which you can be a part of if interested.
5. Bears
Pretty much the largest land predator in Sweden, bears can grow up to be very large and weigh as much as more than 300 kgs. Apart from Europe, when coming to the Scandinavian country of Sweden, areas like Dalarna, Gävleborg and Jämtland are famous for being bear habitats. These creatures are usually shy, peace loving and not willing to show themselves out in the wild much, so guests do not need to fear them. Go to the aforementioned areas with professional wildlife trackers to increase your chances of spotting one exponentially.
Suggested Read: 10 Sweden Travel Tips For Having A Hassle-Free Holiday In The Scandinavian Nation!
6. Lynx
Arguably one of the most difficult mammals to spot in the country of Sweden, lynx is spread all across the country. One of the most high density areas include Sörmland, Uppland and Bergslagen, near Stockholm. Dawn and dusk when the sun rises or sets is your best bet to spot one of these rarely seen creatures anyway, and above the tree line in mountainous areas increase your chances way more.
7. Wolverines
Due of his acclaimed fictional namesake, wolverines can easily be a popular wildlife attraction if present in any country. They can however only be spotted in the remotest of the reaches of Swedish mountains. Chances of missing them are much more, but you might just get lucky as some have reported spotting one or two during their skiing trip in the mountains during the winter. Recent years have shown the wolverine population spreading towards the South Eastern forested regions of Central Sweden.
Suggested Read: Sweden In October: Your Pocket Guide To Plan A Perfect Holiday In This Winter Wonderland
8. Wild Boar
Wild Boars, or more commonly referred to in the masses – wild pigs, are fairly difficult to spot in Sweden. Southern Sweden starting from the region of Skåne to Stockholm show the densest population reserves. Open fields during the dusk and dawn in the region of Sörmland are easy places to spot them, because they rarely like to be seen to unfamiliar eyes during the daylight.
9. Otters
Otters in Sweden are mostly found by the riverside in Northern Sweden. Gysinge bruk by river Dalälven is one of the hightened areas showing otter activity. These cute little creatures prefer to live near freshwater areas, but can also set abode near marine environments along the coast.
Suggested Read: Celebrate A Magical And Adventurous Christmas In Sweden
10. Reindeer
Almost 280,000 reindeer herds can be found in the country of Sweden, according to the Swedish Sami parliament. Although major numbers being habituated in Norway, guests can get lucky spotting one or two of the Christmas reindeers in the country during their trip to Sweden. But in recent times, their numbers have been decreasing according to statistical estimates.
Further Read: Visit These Glorious Castles In Sweden To Relive The Old World Medieval Charm
You are sure to not be disappointed on your trip to Sweden, if you are looking to spot wildlife or birdwatch in the country. Be a little cautious though, too much of eagerness would lead them to hide themselves away from the open. Rest assured, animals from this list will surely amaze you. So, plan a trip to Sweden today!
---
Looking To Book An International Holiday?
Book memorable holidays on TravelTriangle with 650+ verified travel agents for 65+ domestic and international destinations.
---