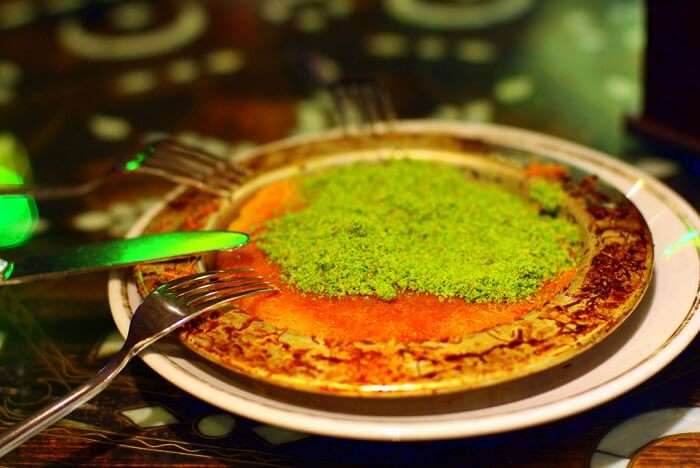 In Turkey, much like in India, sweets are meant to be shared. Whether they are taken after a meal or enjoyed along with a cup of tea or coffee, desserts are a popular part of Turkish cuisine. There is an enormous range of desserts in Turkey. From baklava and milk desserts to rolls and fruit or nut desserts, all of these dishes make up the rich culture in Turkey. Some sweets even involve pumpkin, turkey and chicken! Most of these desserts are consumed between meals at snack time. The variety in these Turkish desserts comes from a deep cultural exchange between civilisations.
Top 12 Desserts in Turkey You Must Taste Now
Since there is so much variety in Turkish desserts, we have compiled a comprehensive list of desserts in Turkey to guide you through some of the best sweet dishes this country has to offer. The brevity of the blog will make sure you do not confuse the names of the sweets with each other:
1. Baklava
This dessert is layered dough, specifically phyllo dough which is flaky and thin, stacked with butter and sugar syrup. It is usually cut into rectangles or circles. There are many Turkish varieties of this popular dessert. It was originally created in the time of the Byzantine Empire. The traditional preparation involves stuffing nuts like pistachios, hazelnuts or almonds between layers of leaves known as yulfka leaves. The city of Gaziantep is famous for its baklava. We strongly recommend you to eat it fresh.
Best place to eat: Karakoy Gulluoglu restaurant, Istanbul
Cost: INR 670/- for 0.5 kg
2. Kunefe
Image Source
This is a traditional Turkish pastry made of cheese that is soaked in a sweet syrup. It is meant to be eaten hot and can be relished with a cup of tea. Kunefe has a crisp exterior and is soft and melty inside. It is served at some places with cream or ice cream. It is popular in south Turkey. The stretchy unsalted cheese used in Kunefe is unique to the region. The dish is popular in Antakya, a city located on the Mediterranean.
Best place to eat: Ekol Hatay Kunefe or Lezzet i Sark , İstanbul
Must Read: 10 Iconic Places To Visit In Kusadasi On Your Turkey Trip
3. Lokum
Lokum is the most well known Turkish candy in the world. It was popularised by a European traveler centuries ago. Earlier, there were three colours that indicated three distinct flavours: red stands for rosewater, green for bitter orange and yellow for lemon. Now, other flavours exist too such as pistachio, hazelnut, almond or other nuts, cinnamon, cream, coconut, mint, ginger, clove, and coffee, and even fruity flavours like strawberry, sour cherry and apricot. Lokum is usually served with Turkey's unique coffee.
Best place to eat: Haci Bekir, Istanbul
Cost: INR 1000/- per kg
4. Asure
Asure is a mixture of sugar and grains, like wheat and haricot beans. The dish is garnished with hazelnuts and walnuts. Asure is linked to old traditions and is shared with a motive of spreading harmony. This pudding is said to be the oldest in the world and is similar to Indian Kheer. It is also called Noah's pudding as it is said to be made with the ingredients he first tasted after surviving the flood. It is served during the first month of the Islamic calendar for this very reason. There are many variants of this dessert.
Best place to eat: The Pudding Shop, Sultanahmet
Suggested Read: Top 5 Mesmerizing Temples In Turkey Which Are Absolutely Worth Visiting On Your Next Trip!
5. Helva
Similar to halva, Helva is eaten separately as a meal in itself. It is made from tahini, which is sesame paste. You can get Helva everywhere in Turkey. Some versions of it are also made with semolina or wheat flour. It is a rich, dense, crumbly dessert made using lots of nuts, butter and sugar.
Best place to eat: Koska Stoka stores, Istanbul
6. Revani
Image Source
Revani is a type of a dense sponge cake that has a granular texture from the semolina. In Greece, Revani is made with ground almonds and honey or orange flower syrup. But, the Turkish Revani is different because it uses only semolina flour and sometimes yogurt, depending on the recipe, and is soaked in a sugar syrup. It is topped with crushed pistachios. The semolina flour comes from grinding durum wheat and is usually used to make pasta. It is also found in other desserts, such as helva.
Best place to eat: Local bakeries
Suggested Read: Celebrate 2022 Christmas In Turkey And Make It Merry With These Fantastic Experiences
7. Tavuk Gogsu
Tavuk Gogsu is a white pudding made from chicken. Tavuk Göğsü is said to taste like rice pudding but surprisingly, it does not contain rice. Its texture is creamy and smooth. It's served with cinnamon and vanilla and, believe us, there is absolutely no trace of the taste of chicken. The meat is added to create the elastic texture of the desert. It is cooked for a long time in milk. The dish has been linked time and again to a medieval French dessert called blancmange.
Best place to eat: Saray Muhallebicisi cafe, Istanbul
8. Lokma
Image Source
Lokma is a street dessert. Lokma literally means "bite" in Turkish. It is generally the size of a chestnut. Lokma is a small, round piece of dough fried in oil and flavoured with honey, sugar or cinnamon. It has a crunchy outside sometimes covered with lemon flavored syrup and a soft center. These sweet fried dough balls are like mini doughnuts, but more rich and chewy rather than bread or cake-like.
Suggested Read: 7 Turkey Waterfalls That Are Counted Among the World's Most Stunning Waterfalls
9. Maras Ice Cream
Turkish style Maras ice cream is poles apart from all the other ice creams served around the world. It is a creamy ice cream with an elastic like texture, often served with a knife and a fork. It is made from goat's milk, sugar and powdered tubers of wild orchids in Turkey. These tubers are dried and ground into a whitish powder called "salep" which is used to make the ice cream. It is available in different flavours such as vanilla, peach, nuts and pistachio, among others. You are very likely to see Maraş Ice Cream sellers within two minutes of walking on the streets of Istanbul.
Best places to eat: on the streets of Istanbul
10. Trilece
Trilece is a soft cake, like a type of tiramisu, made from different types of milk (cow's milk, sheep's milk and buffalo milk). It is served with a caramel layer on top. Adapted from the European tres leches, its origins can be traced back to Spain. This dessert is a relatively new popular dish in Turkey. The locals relish it and so do the tourists.
Best place to eat: Baltepe Pastanesi, İstanbul
Suggested Read: Theme Parks In Turkey: 10 Places That Will Bring Out The Adrenaline Junkie In You
11. Sekerpare
Image Source
Sekerpare is a type of a cookie that is sweet and sticky. It is made from semolina flour and powdered sugar, baked golden brown, and left to soak in sweet lemon syrup. The more the syrup soaked by them, the better they are said to become. The blending of all the ingredients and the slow kneading of the dough by hand is the key element to preparing the ideal şekerpare dough. Şekerpare is made in nearly every Turkish home and is sold in every bakery or sweet shop. You will also find it on almost every restaurant menu. It is one of the most enjoyed Turkish sweets apart from baklava. It goes perfectly with a cup of Turkish tea or coffee. They are generally cheaper than baklava.
Best place to eat: Local bakeries
12. Ayva tatlısı
Image Source
'Ayva tatlısı' means quince dessert in Turkish. This dish is basically quinces cut in half that are cooked in a light syrup, put in the oven, and finally dropped into a thicker syrup. After more than an hour of slow cooking, you will end up with a very tender and sweet quince. It is usually sprinkled on top with pistachios or walnuts. There is an alternative to this too found in Turkey that is made with pumpkins! It t is called Kabak Tatlısı. It is almost like eating candied fruit. Ayva tatlısı is easy to prepare and is served in most Turkish restaurants. It can be stored in the fridge for several days.
Best place to eat: Saray Muhallebicisi, İstanbul
Further Read: Cruises From Turkey: 9 Liners That Will Set Your Luxury Records Straight
There are several other desserts in Turkey that one can try. Kazandibi, for example, which is a form of Tavuk Gogsu and marzipan, is delicious. The ones that we have mentioned above, though, can be easily found all over the country. These are the most popular ones. We hope our blog comes handy on your trip to Turkey and that your travel experience is enhanced by this information. Your culinary journey awaits you!
---
Looking To Book An International Holiday?
Book memorable holidays on TravelTriangle with 650+ verified travel agents for 65+ domestic and international destinations.
---