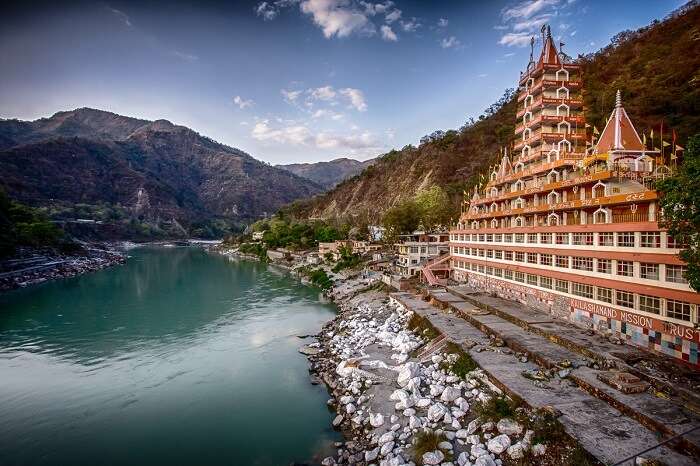 Reckoned to be the most revered pilgrimage centres of India, people from all across the world visit Haridwar to spend some time in tranquility and pay their respects to the Holy River Ganga. Being the busiest during the Kumbh Mela, a trip to Haridwar promises to be an enlightening experience for everyone. Be it temple hopping, spending a few days in the Ashrams, or enjoying the local cuisine, these the famous tourist places to visit near Haridwar make the journey worth the experience.
Top 10 Tourist Places Near Haridwar
If you are visiting the spiritual city, here are some of the tourist places nearby haridwar you can visit once you have taken a holy dip in the RIver Ganges:
Har Ki Pauri Ghat
Chandi Devi Temple
Kankhal
Pawan Dham
Rishikesh
Doodhadhari Barfani Temple
Triveni Ghat
Lakshman Jhula Rishikesh
Mansa Devi Temple
Bharat Mata Mandir
1. Har Ki Pauri Ghat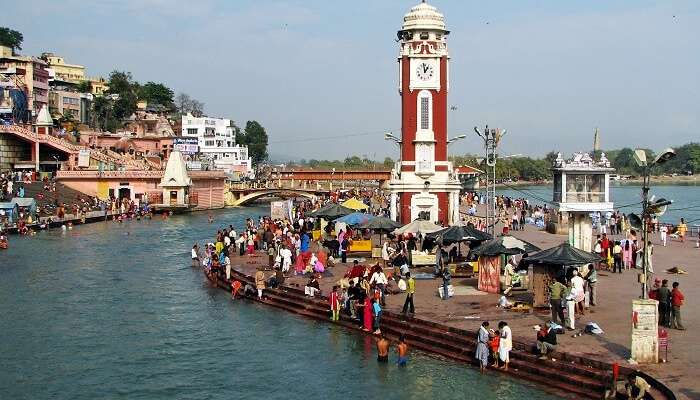 Har Ki Pauri Ghat is a holy bank on the river Ganga and is considered to be one of the must-visit places near Haridwar. Located at a distance of about 2 kilometers from Haridwar Junction Railway Station, this revered place is a major landmark of the holy city of Haridwar. Every evening at sunset, the Har ki Pauri Ghat becomes a mesmerizing spectacle when the aarti is performed on the River Ganga and it is indeed a sight not to be missed.
Location: Mayapur, Haridwar, Uttarakhand 249401
Suggested Read: 6 National Parks In Uttarakhand That Would Please Your Eyes & Calm Your Adventurous Side
---
Uttarakhand Holiday Packages On TravelTriangle
Witness the beauty of Uttarakhand and indulge in spiritual pilgrimages, adventure sports, and treks. Visit Nainital, Rishikesh, Haridwar, Auli, Jim Corbett, and more. Get best holiday deals on TravelTriangle.
---
2. Chandi Devi Temple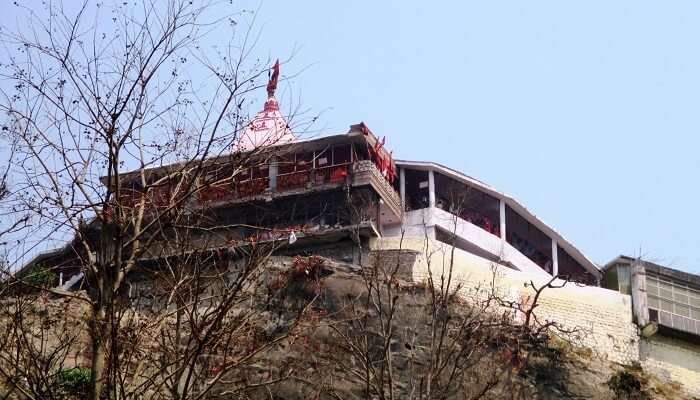 Of the many tourist places near Haridwar, Chandi Devi Temple is the most famous one. To reach the temple one has to either trek for 3 kms from Chandighat or take a recently introduced ropeway service. Thousands of devotees flock to the temple, especially during the festivals of Chandi Chaudas, Navratri, and the Kumbh Mela in Haridwar.
Location: Haridwar, Uttarakhand 249408
3. Kankhal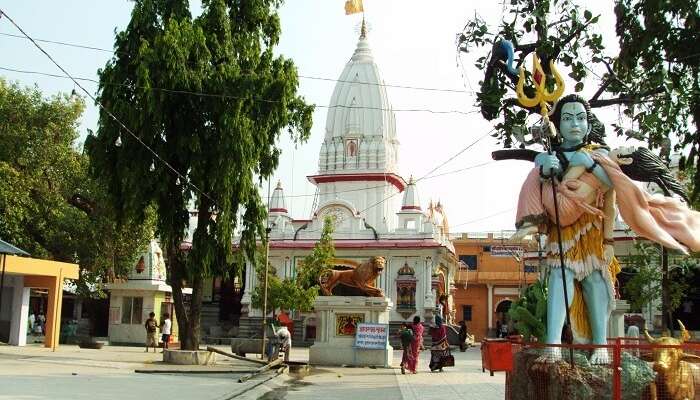 A small colony named Kankhal is one among the many places of interest near Haridwar which is much famed for its Daksheswara Mahadev Temple, Maa Anandamoyi Ashram, and Patanjali Yogpeeth. Also known as one of the 'Five Pilgrimages' in Haridwar, it is one of the most-sought attractions along with other four pilgrimages of Har ki Pauri, Kushwart (Ghat in Kankhal), Bilwa Teerth (Mansa Devi Temple) and Neel Parvat (Chandi Devi Temple).
Location: Haridwar, Uttarakhand 249408
Suggested Read: 8 Engaging & Thrilling Things To Do In Haridwar
4. Pawan Dham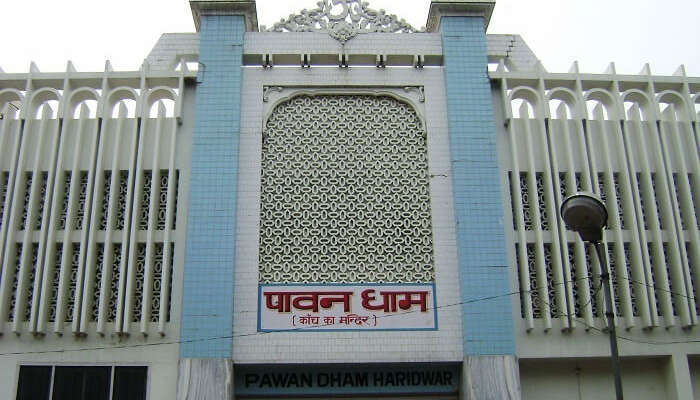 Popular of all the tourist places nearby Haridwar, Pawan Dham reflects the fine artistry and craftsmanship of the age-old era through the usage of glass pieces. The temple was built by the attempts of Swami Vedantananda Ji Maharaj and the splendid glass work along with the artistically designed walls stand as the special attractions of the temple. While the stories of Hindu Mythology adorn the walls, the marble idols of Hindu gods and goddesses such as Lord Hanuman, Ganesh, Shiva, Durga, Santoshi Mata also attract a lot of travelers from all over the country.
Location: Sapt Sarovar Road, Haridwar, Uttarakhand 249411
Suggested Read: 15 Amazing Hill Stations In Uttarakhand: From The Most Popular Hill Towns To The Unexplored Ones
5. Rishikesh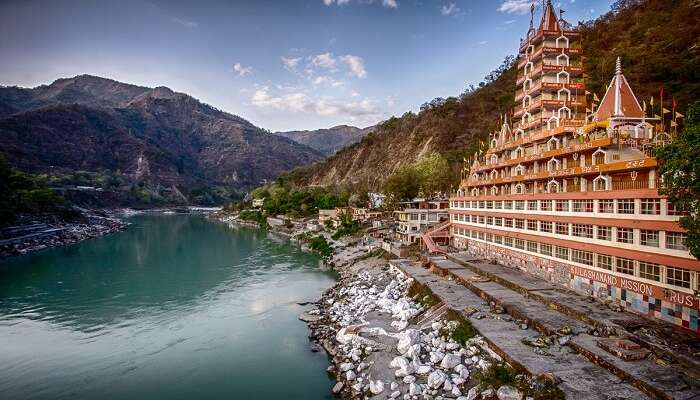 Located at a distance of just 26 kms, Rishikesh is one of the best places to visit near Haridwar for the peace seekers, and adventure enthusiasts alike. Referred to as the 'yoga capital of the world', Rishikesh is also famous for different adventure trails, river rafting, shopping, yoga retreats, and temple hopping. Also, do not miss out on visiting the confluence of the Ganga, Yamuna, and Saraswati that serves as the main ghat for taking a holy dip.
Distance From Haridwar: 19.8 Kilometers
6. Doodhadhari Barfani Temple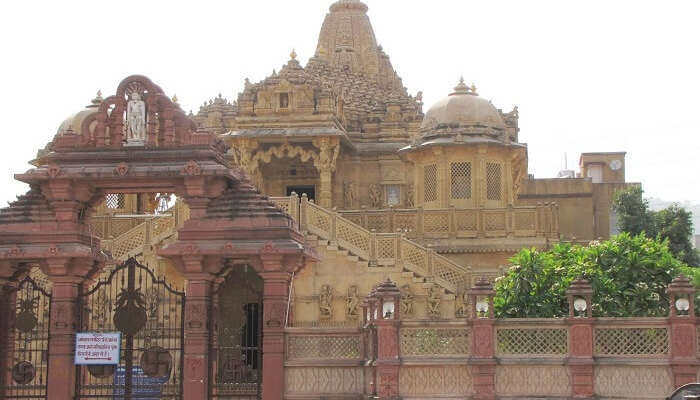 Striking a perfect balance between spirituality and nature, tourist places near Haridwar offer the choicest of experiences for those who seek an abode of peace and tranquility. Temples are definitely places of interest near Haridwar. One such famous attraction is the Doodhadhari Barfani Temple that is located in the ashram "Doodhadhari Barfani Baba". Considered to be one of most elegant temples in Haridwar, the temples of Rama-Sita, and Hanuman built in white marbles in the complex are a must visit by everyone.
Location: Bhupatwala, Haridwar, Uttarakhand, 249411
7. Triveni Ghat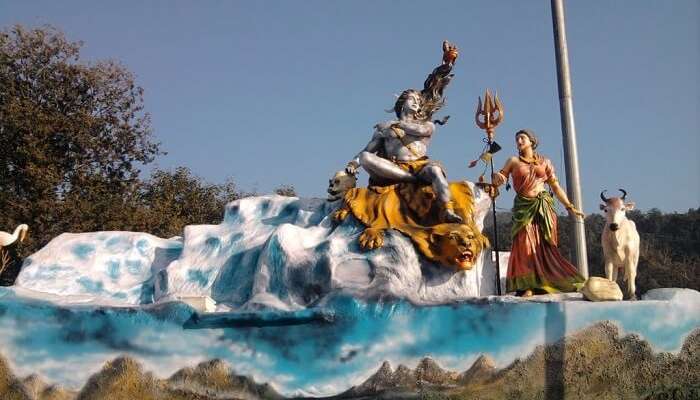 Of all the tourist attractions, Triveni Ghat is one of the best places to visit near Haridwar and Rishikesh. The Ghat is located at the confluence of three religious rivers Ganga, Yamuna and Saraswati wherein pilgrims visit this place to take a holy dip in Triveni Ghat before visiting the famous temples of Rishikesh. One can also witness an amazing sight here during the evening aarti, a ceremony that is accompanied by lights, drums, chanting, and the entire ghat glowing with lamps.
Location: Mayakund, Rishikesh, Uttarakhand 249201
Distance From Haridwar: 24 Kilometers approx.
Suggested Read: Uttarakhand Govt To Promote Ghost Tourism!
8. Lakshman Jhula Rishikesh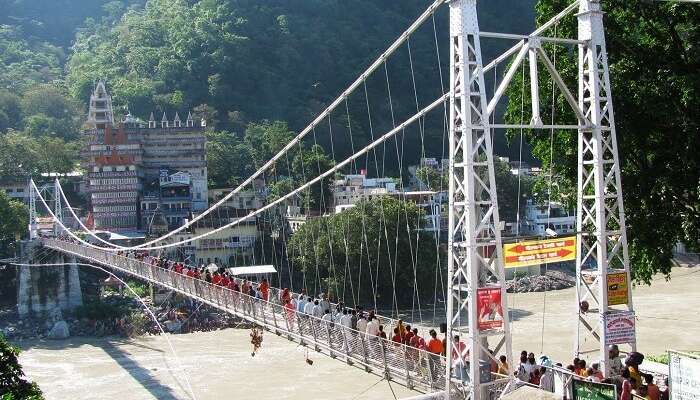 Being one of the most famous attractions in Rishikesh, Lakshman Jhula is an iron suspension bridge which is also considered to be one of the best tourist places nearby Haridwar. It was erected over the Ganges River, and was originally a jute rope bridge. Measured to be 450 feet long and 70 feet above the river, Lakshman Jhula offers breathtaking views of the famous temples, ashrams, River Ganga, and the surrounding markets that are famous for wooden souvenirs, Rudraksha, gems, local jewelry, and street food.
Location: Laxman Jhula, Rishikesh, Uttarakhand 249302
Distance From Haridwar: 24 Kilometers approx.
Suggested Read: Street Food In Haridwar: 10 Famous Delicacies That Will Surely Titillate Your Taste Buds!
9. Mansa Devi Temple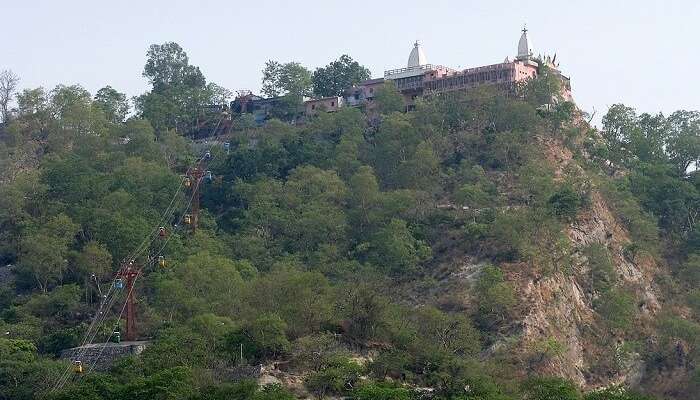 Mansa Devi Temple is one of the famous places to visit near Haridwar that is located atop the Bilwa Parvat on the Shivalik Hills in Haridwar. Dedicated to Goddess Mansa Devi, travelers can either walk for 2 kms from the foothill or take a ropeway from Manas Devi Road to reach the temple through which, one can also witness the panoramic views of the entire city of Haridwar city.
Location: Haridwar, Uttarakhand 249401
10. Bharat Mata Mandir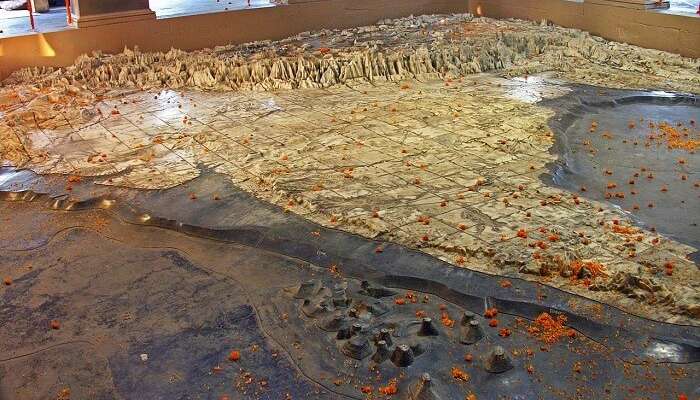 Located at Motichur, Bharat Mata Mandir is one of the many places of interest nearby Haridwar that is dedicated to Mother India and was built to commemorate the commitment of all the patriots and freedom fighters. Standing tall at a height of 180 ft., each of the eight stories of this famous temple displays a different theme dedicated to several legends and deities.
Location: Sapt Sarovar Road, Motichur, Haridwar, Uttarakhand 249411
Further Read: 10 Enchanting Lakes In Uttarakhand: Pick From Daring Treks & Soothing Getaways
So when are you packing your bags? With so many beautiful places to visit near Haridwar, there is no dearth of mesmerizing attractions for travelers to explore on their enchanting trip to this one-of-a-kind site with TravelTriangle's amazing Uttarakhand packages!
Frequently Asked Questions About Tourist Places Near Haridwar
Q: Which place is Haridwar?

A: Haridwar is a spiritual city in Uttarakhand from where the Ganges River flows.
Q: What is famous in Haridwar?

A: Har ki Paudi is a famous place wehre pilgrims from all over the world come to take a dip in the holy water of Ganges. The evening aarti at Ghats is also a spectacle you should not miss. It is a famous tourist spot since there are many tourist places near haridwar within 100 kms.

Q: What is there to do in Haridwar at night?

A: You can sit by the ghats in the night but night guards may not allow you when they are on patrol. You can travel to tourist places in uttarakhand near Haridwar if you want.

Q: What is the best time to visit Haridwar?

A: February-March and August-October is the best time to visit Haridwar.
Comments
comments