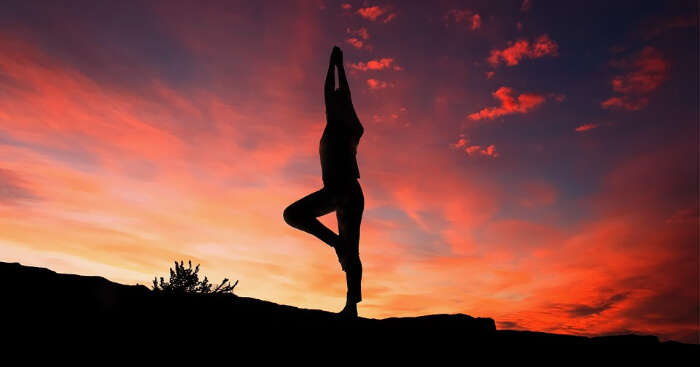 If you want to embark on a spiritual and cultural journey, Haridwar can be your next destination. Although it is popular as a pilgrimage spot, there are plenty of things to do in Haridwar for every kind of traveler. The city receives hundreds and thousands of tourists every year from all over the country as well as the world not just because of its heritage charm, but also because of the laid-back life and peaceful ashrams. From temple hopping and trekking to dips in the holy water and rafting in the wild waters, tourists have a wide range of activities to choose from.
13 Best Things To Do In Haridwar
If you are wonerding what to do in Haridwar on your spiritual trip then here are some interesting things that you must not miss out on while holidaying here. Once you reach this holy city, it is easy to lose yourself in the tides of people that flow through the city every day so it is important to fix an itinerary before your intended visit.
1. Dip In Holy Waters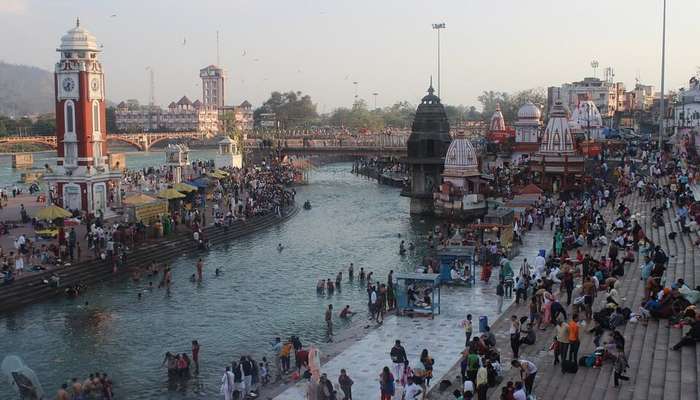 It would be a cardinal sin to come to Haridwar and not take a dip in Bramhakund at Har-ki-Pauri ghat. More than religious reasons, being a part of hordes of devotees to take a dip in the cold Ganga water is an experience in itself, especially early in the morning. It definitely tops the list of things to do in Haridwar for Indians and foreigners.
Must Read: 10 Tourist Places Near Haridwar That Will Leave You Enchanted Forever In 2019!
---
Uttarakhand Holiday Packages On TravelTriangle
Witness the beauty of Uttarakhand and indulge in spiritual pilgrimages, adventure sports, and treks. Visit Nainital, Rishikesh, Haridwar, Auli, Jim Corbett, and more. Get best holiday deals on TravelTriangle.
---
2. Praying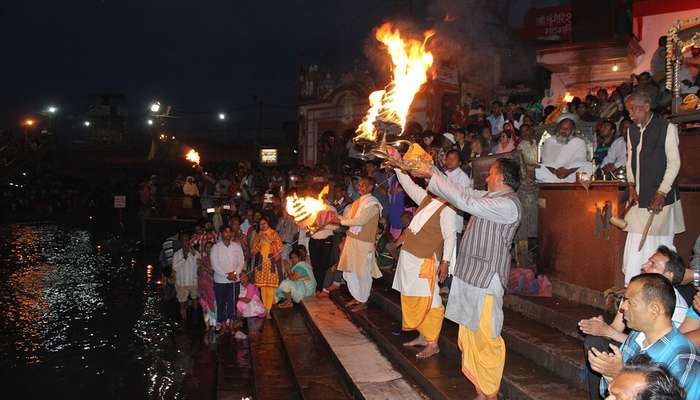 The Ganga arti is performed at the same Har-ki-Pauri ghat in the evening and is truly a spectacle to behold. A number of priests chant prayers in chorus while maneuvering the giant artis in a synchronized fashion, while hundreds of decorated diyas float in the river. Witnessing this grand event is definitely one of the top things to do in Haridwar at night.
Suggested Read: 17 Super Fun Things To Do In Rishikesh
3. Temple Hopping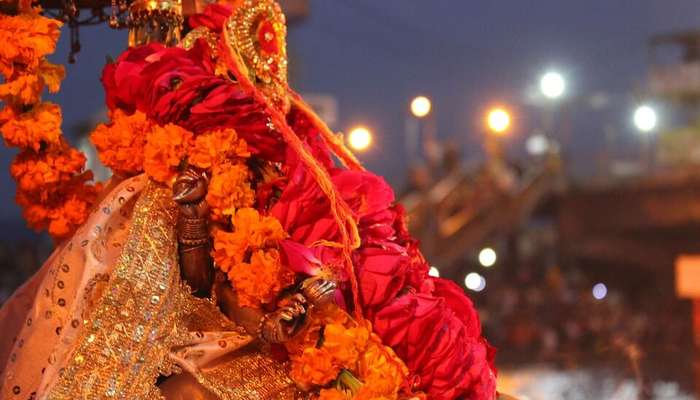 Since Haridwar is a religious site and a heritage city, there are plenty of temples to visit. Chandi Devi temple, Daksheshwara Mahadev temple, Maya Devi temple, Vaishno Devi temple and Mansa Devi temple are some of the most popular ones. Even if your purpose to visit this city is not its temple, you must pay a visit to the most popular ones.
4. Meditation And Yoga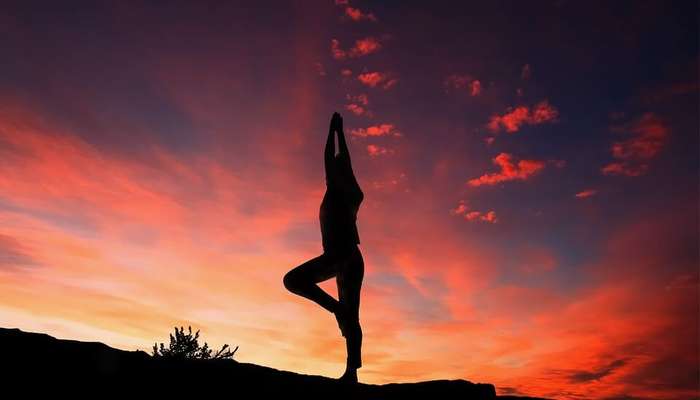 India is the birthplace of yoga and this holy city is the hub. As a result, yoga and meditation are some of the most popular things to do in Haridwar and Rishikesh, especially for those in search of inner peace and enlightenment. There are plenty of ashrams scattered across these two cities that provide the perfect spiritual getaway for those who seek it. In this city, Saptrishi ashram is one of the more popular ones which houses 42 cottages that are lent out to devotees and enthusiasts.
Suggested Read: 10 Best Places To Visit In Haridwar For A Spiritual Vacay
5. Ayurvedic Treatments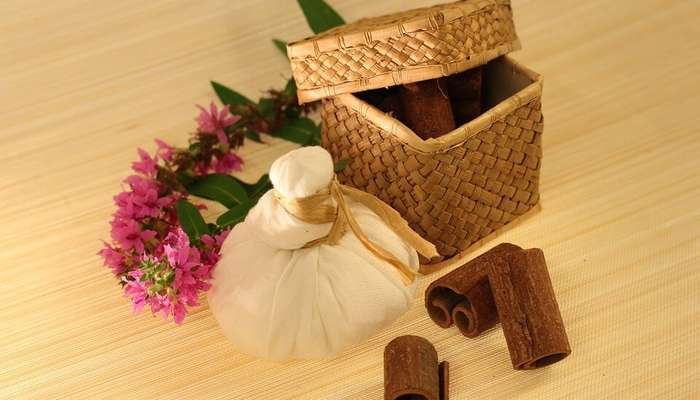 Are you still looking for awesome things to do in Haridwar and Rishikesh? Being historically seeped in its cultural roots, Haridwar is one of the best places to receive ayurvedic treatment. If you want to indulge in the ancient methods of healing, visiting a certified ayurvedic clinic in Haridwar should be on your things to do list. Aurovalley asharam, Santosh Puri asharam, and Patanjali ashrams are some of the most popular ones in the city.
6. Birdwatching And Photography Tour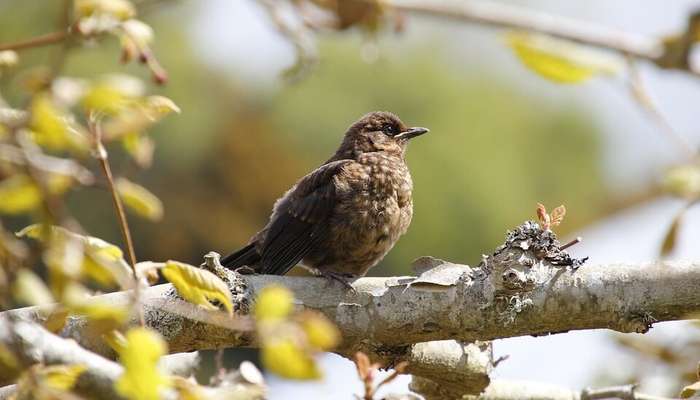 If you are wondering what else to do in Haridwar that's different and unique, then a visit to the Neel Dhara Pakshi Vihar is definitely a must. Located 3.5 km away from the city, this quaint place is a home to diverse migratory birds every winter. If you want to lose yourself in the soothing music of the Himalayas or migratory birds, it's the place for you. This is one of the best things to see in Haridwar.
Suggested Read: 7 Honeymoon Places In Uttarakhand For An Idyllic Escape Right After The Wedding
7. Wildlife Safari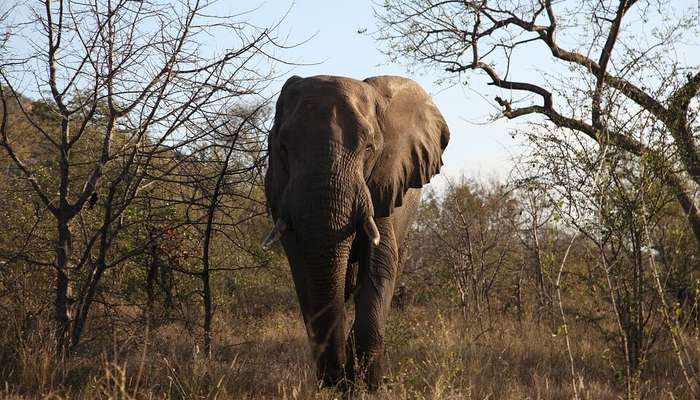 Another interesting things to see in Haridwar is Rajaji National Park which is spread across 1,150sq km and located around 10 km from Haridwar. There are two gates: the Chandi Devi Entry Gate is near Haridwar while the Kunao Entry Gate is near Rishikesh. A visit to this national park is the perfect answer to those who want to know what to do in Haridwar besides religious and spiritual activities.
8. Shopping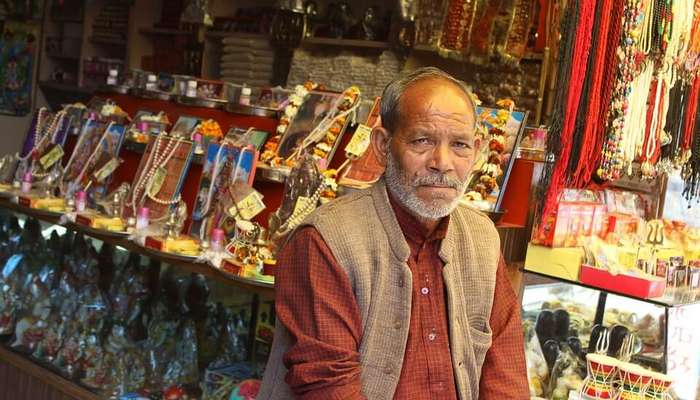 This is last on the list since shopping is really not one of the prime things to do in Haridwar owning to the city's core religious roots. However, if you are one of those travelers who simply cannot go home without a bag full of souvenirs, there are enough markets to quench your thirst. Four major bazaars namely: Moti Bazar, Jwalapur, Bara Bazar and Kankhal are scattered across the city selling mostly handicrafts, religious curios, and ayurvedic medicines.
9. Bungee Jumping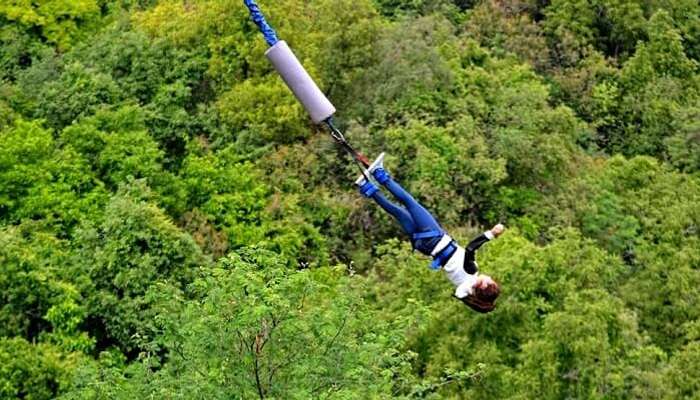 Image Source
Looking for a thrilling activity in Haridwar? Well, you will be surprised to know that Haridwar is famous for its adventure activities like bungee jumping. It is not only a spiritual hub but also offers a variety of exciting activities to indulge in. So, if you are looking for a fun weekend getaway then head to Haridwar and get ready to treat your adventure soul
Suggested Read: 6 Best Resorts Near Rishikesh And Haridwar
10. Mountain Biking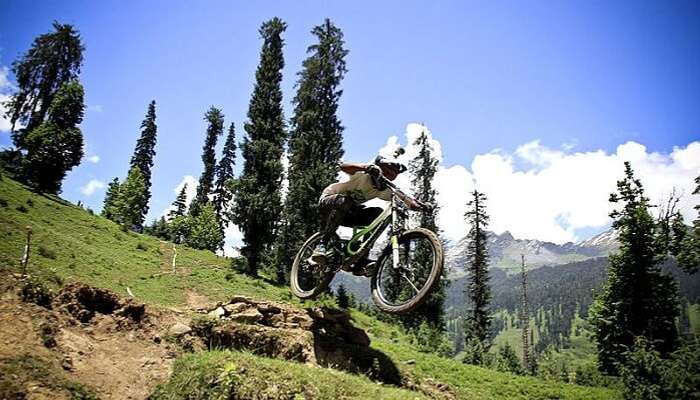 Image Source
Want to explore Haridwar and Rishikesh in a different way? Well, you can opt for mountain biking which will make you familiar with the untrodden paths and lanes of the cities. Hire a mountain bike, wear sports shoes & helmet, and get ready to rush down the lanes of Haridwar with your adventurous friends. Don't miss out on these activities as it is one of the best things to do in Haridwar.
Suggested Read: Restaurants In Haridwar: After A Dip In The Holy River, It's Time For Some 'Pet Puja'
11. Ziplining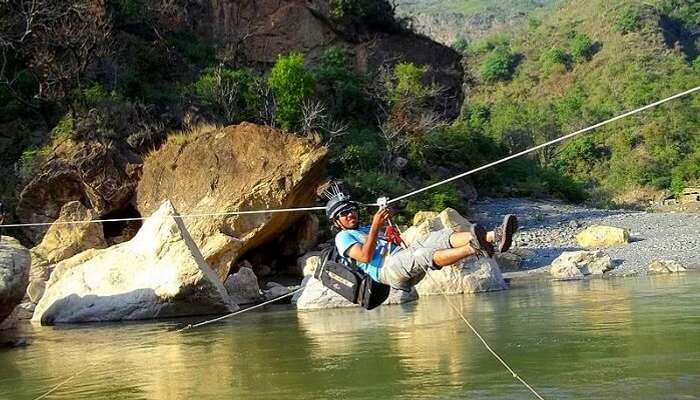 Image Source
Another amazing activity that you can opt for is ziplining. This activity lets you savor a bird's-eye view of the whole Haridwar. Imagine yourself rushing against wind and getting a mesmerizing view of the River Ganges! Won't it amazing to try this out? So, get ready to explore Haridwar with this super-adventurous activity.
12. Waterfall Rappeling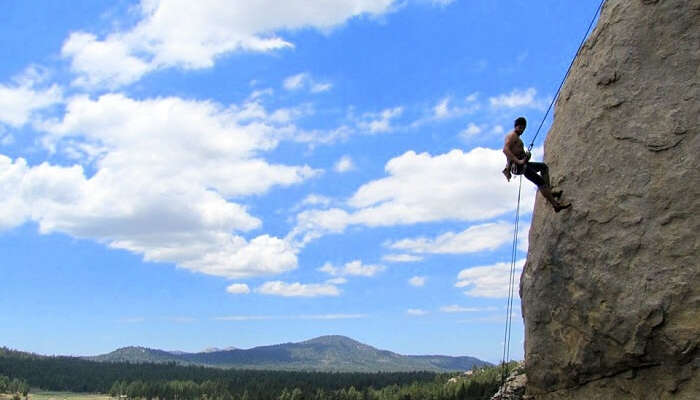 Image Source
You might not have known this before but Haridwar gives a chance to experience waterfall rappeling on the hilly terrains. Ropes and safety gear are tied around you to avoid any mishappenings. You go slow with the rush of water and experience some of the best moments of your life when the water hits your face.
Suggested Read: Street Food In Haridwar: 10 Famous Delicacies That Will Surely Titillate Your Taste Buds!
13. Rafting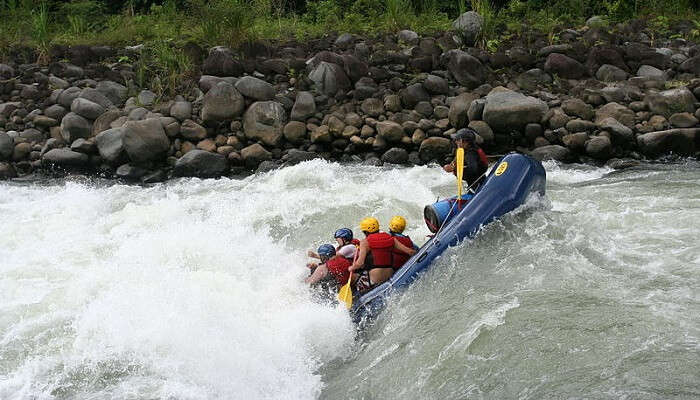 Image Source
Who has not heard about river rafting in Rishikesh & Haridwar? This is spot is now commonly famous for this activity which gives a chance to explore River Ganges in its extreme flow from Rishikesh to Haridwar. You are decked with all the important safety gear and ropes so that you don't fall down. Almost every year, thousands of youngsters travel to Haridwar to indulge in this activity, especially in summer. So, make sure that you opt for river rafting as it is one of the best things to do in Haridwar & Rishikesh.
Further Read: Top 18 Places To Visit In Uttarakhand
Haridwar welcomes various types of tourists and travelers throughout the years. You can say it is the laid-back and old-town charm of this place that attracts people, but everyone has a different reason to plan a trip to Haridwar. So, if you are looking for some exciting activities, make sure that you include all these things to do in Haridwar. What are you waiting for? Get ready to plan a trip to Haridwar and experience all the interesting things on your own.
Frequently Asked Questions
Q. What is special in Haridwar?
A. So, Haridwar stands for " The Gateway to Lord Vishnu". In order to reach Badrinath, one of the four Char Dhams, with a temple of Lord Vishnu, Haridwar is a typical place to start a pilgrim's journey. Therefore, the name Haridwar.
Q. Which city is close to Haridwar and is also on the bank of Ganga?
A. Har Ki Pauri Ghat is a holy bank on the river Ganga and is considered to be one of the must-visit places near Haridwar. Located at a distance of about 2 kilometers from Haridwar Junction Railway Station, this revered place is a major landmark of the holy city of Haridwar.
Q. What is Haridwar famous for?
A. One of the most visited pilgrimage sites in Haridwar; Pavan Dham is famous for its unique temple architecture and craftsmanship. The temple is also famous for the elaborately adorned idols.
Q. How many days are enough for Haridwar?
A. Usually, a week is enough for anyone to visit all the famous places in Haridwar. Haridwar is not a very big city so this much time is sufficient for anyone to visit all the temples and the river Ganges.
Q. Is Haridwar safe?
A. Is it safe to travel to Haridwar? The road conditions in Haridwar largely remain unaffected during the monsoons. So, it is pretty safe traveling to Haridwar in a personal vehicle in the day as well as at night. However, common sense is always important to keep oneself out of trouble.
Q. What is the best time to visit Haridwar?
A. The right time to visit would be February, March, August – October. The summer months between March and June when the days get hot but the nights remain pleasant. One way to cool off is by taking a dip in the holy Ganges. In July there is a festival called Savan where thousands of people flock to Haridwar. So, if you want to explore the best places to visit in Haridwar then visit in these months.
Looking To Book A Holiday Package?
Book memorable holidays on TravelTriangle with 650+ verified travel agents for 65+ domestic and international destinations.
---
People also read:
Things To Do In Palakkad Things To Do In Mussoorie Things To Do In Dehradun
Comments
comments