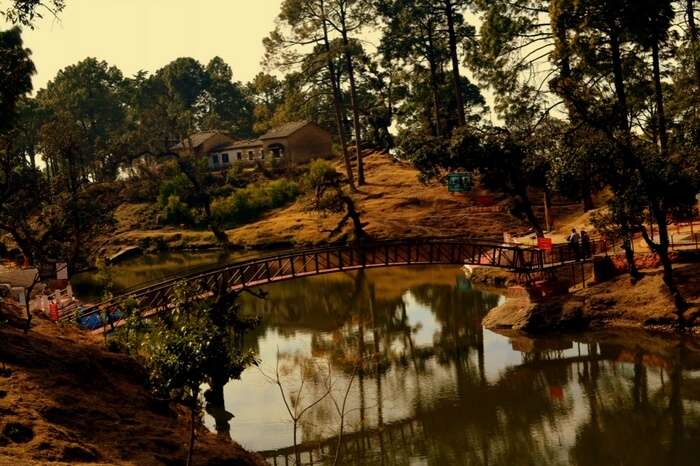 Mighty mountains, lush green pastures, and tangled circuits are some of the prominent geographical attributes that define the Himalayan state of Uttarakhand, but it's the lakes in Uttarakhand that call for a special mention. The land of legends enveloped by nature's surrealism has been a holy paradise where nature breathes life everywhere.
Located at some of the most challenging heights, these lakes lie nestled amidst mountain peaks. Depending on the weather, they love playing hide and seek with the sun or, for better, stay underneath layers of snow.
Here are top 10 of the most enchanting lakes of Uttarakhand – while a few of them daring treks fit for adventurers, other are relaxing getaways, perfect for a lazy weekend escape.
1. Roopkund lake, Chamoli: Why so mysterious?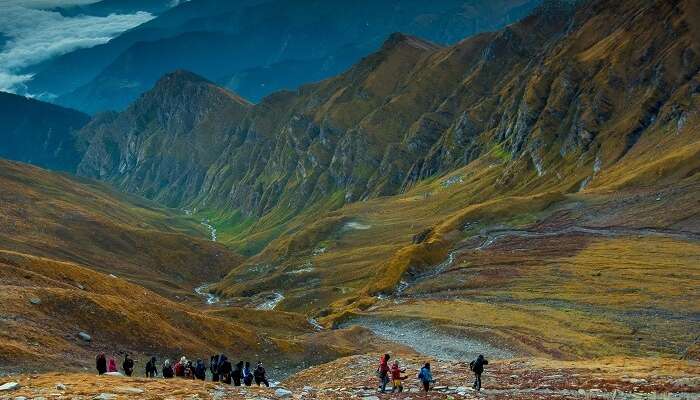 The highest lake in Uttarakhand also makes one of the toughest treks in the Indian subcontinent region. Roopkund lies in the remote corner of Chamoli district by the Trishul Peak. It is also known as mystery lake because of hundreds of human skeletons that have been found on the banks of the lake.
But reaching Roopkund is not as easy as it looks. Visited mostly by some of the hardcore travelers, one must trek the last leg of 23 km to make it to the lake. The trek starts from Wan village (village) and passes through scenic vistas leading up to the lake in the glacier.
Roopkund remains frozen throughout the year but summers make an ideal time to trek up to the lake. When the ice melts, skeletons lying around in the water can be seen through water.
Elevation: 5029 meters
How to reach: Start from Kathgodam (Nainital district) to reach Lohajung. Frequent buses run from Kathgodam to Lohajung, which take around 14-15 hours. Distance from Lohajung to Wan village is 20 km, which can be covered by shared auto. Wan is the base camp of the trek. From there it's a 23 km upward trek to Roopkund lake.
Best time to visit: Pre-monsoon, and post-monsoon
Known for: Trekking, and nature's magnificence spectacle
Must Read: Roopkund Trek: Unravelling The Skeleton Lake Mysteries
---
Uttarakhand Holiday Packages On TravelTriangle
Witness the beauty of Uttarakhand and indulge in spiritual pilgrimages, adventure sports, and treks. Visit Nainital, Rishikesh, Haridwar, Auli, Jim Corbett, and more. Get best holiday deals on TravelTriangle.
---
2. Kedar Tal lake, Uttarkashi: 5000 meters into the sky!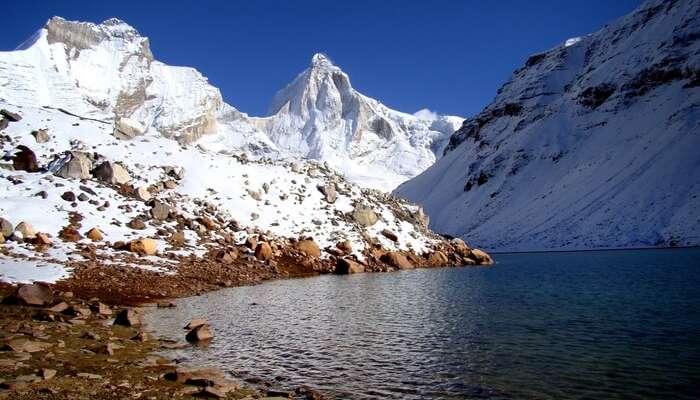 Perched at an altitude of 5000 meters, Kedar Tal is a glacier lake located at a distance of 18 km from Gangotri in the Uttarkashi region. One of the most picturesque lakes of Uttarakhand, Kedar Tal cuts an astonishing view with Thalayasagar Peak (6900 meters) in the backdrop. Mostly visited by the adventure enthusiasts, the trek route is all decked up by alpines and snow.
Elevation: 5000 meters
How to reach: From Rishikesh – the nearest railhead – it is further a 5.5-hour bus journey to Gangotri. Also, there are plenty of bus options from Delhi to Gangotri, which is a 12-hour journey covering 530 km
Best time to visit: Mid April – June & August – Mid October
Known for: Trekking (Gangotri-Kedartal is the most popular), sighting Bharal (blue sheep), Himalayan black bear, and migratory birds
Suggested Read: Camping In Lansdowne In 2019: A Perfect Weekend In The Himalayas
3. Hemkund lake, Hemkund Sahib: Cuddled by 7 mountain peaks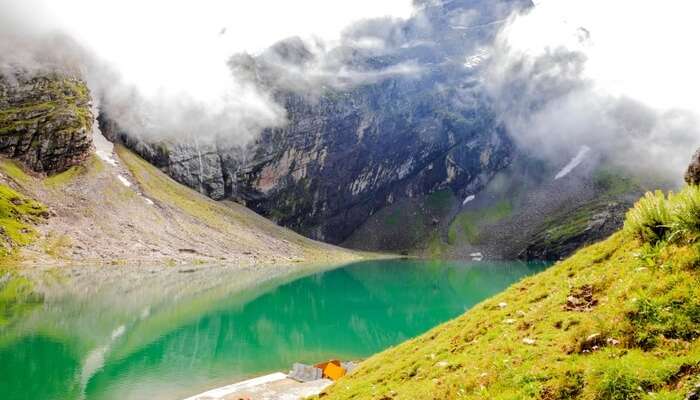 One of the most important of places of relevance for Sikhs, Hemkund lake bears the famous Hemkund Sahib. The place is known for its historical relevance because Hemkund is also believed to be the place where lord Laxman completed his penance.
The ultimate trek from Govindghat to Hemkund is epitomized by the forest of pines, wild roses, alpines, and ferns. And all this beautiful set up makes it one of the most sought after lakes in Uttarakhand.
Elevation: 4632 meters
How to reach: Rishikesh railway station is 273 km from Govindghat, also known as the take-off point for the Hemkund trek. A 13 km trek enables you to reach the shores of Hemkund lake.
Best time to visit: May – June & September – October
Known for: Pilgrimage, and trekking
Hey, don't forget to catch the enchanting vista of Valley of Flowers as you move up north while starting from the Govindghat basecamp.
Must Read: Go Camping In Chopta For A Lovely Weekend In The Mountains In 2019
4. Satopanth Tal lake, Satopanth glacier: Bypass to heaven!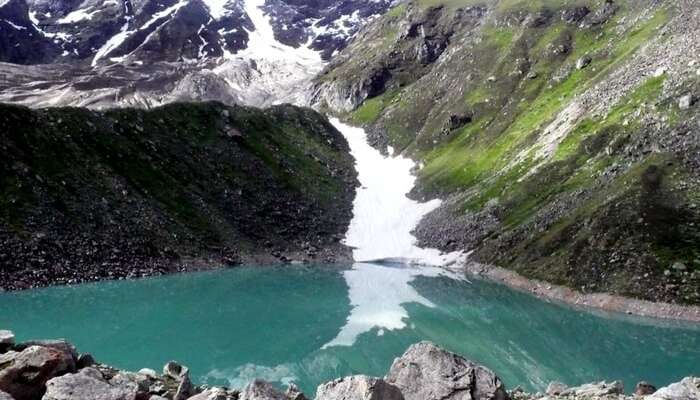 Image Source
Satopanth is another one in the list of popular lakes of Uttarakhand lying in the lap of the Himalayas and holds religious significance to Hindus. The legend states that it was the place where Bheema was denied entry to the heaven. Further Sathopanth stretches to Swargarohini peak form where Yudhisthira and the dog accompanying him, are believed to enter heaven.
The trail to this Uttarakhand lake along with secluded surroundings is absolutely breathtaking. It is tough to find rest houses or villages around, so camping under stars is the only option.
Elevation: 4600 meters
How to reach: Buses and taxis ply from Dehradun, Haridwar, and Rishikesh to Badrinath. Badrinath to Satopanth lake is a 25 km trek.
Best time to visit: May – September
Known for: Pilgrimage, and trekking
Suggested Read: 12 Things To Do In Mussoorie For A Hill Station Holiday Experience In 2019
5. Dodital lake, Uttarkashi: Freshness & lush meadows around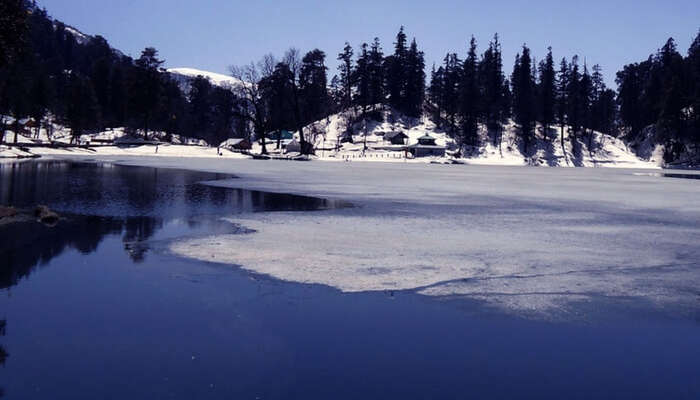 Image Source
Named after Dodi- a typical trout found in the lake, the water of Dodital lake is believed to hold medicinal advantages for human skin. The crystal clear Dodital lake is at a distance of 32 km from Uttarkashi and is preferred by those trekking in the Uttarkashi region. The allure of the lake lies in the white flakes that encrust the lake and make it one of the popular Uttarakhand lakes.
Lots of Himalayan birds venture the lake region during the peak season which makes it ideal for bird-watching along with trekking.
Elevation: 3024 meters
How to reach: Dodital lake can be easily reached from Rishikesh/Haridwar (180 km) by a taxi. The taxi will drop you at Sangam Chatti from where Dodi Tal is a 22 km trek.
Best time to visit: Throughout the year except January and peak monsoon
Known for: Himalayan Golden Mahseer fish, and migratory birds
Suggested Read: 27 Amazing Hill Stations In Uttarakhand For An Adventurous Escapade In 2019
6. Deoria Tal lake, Garhwal: Chaukhambha overlooking, what-a-sight!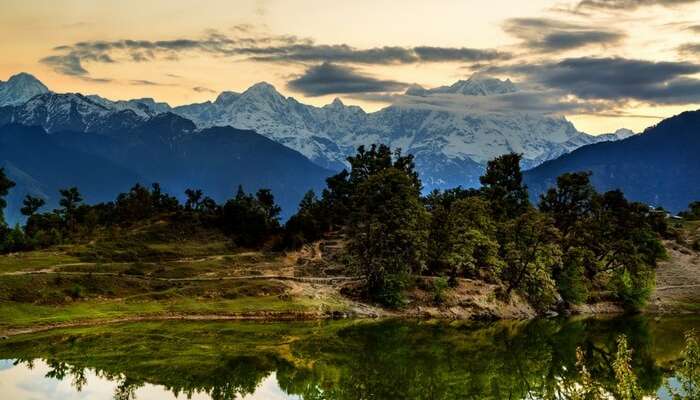 With the surreal reflection of Chaukhamba peak in the water, Deoria Tal is one more in the list of famous lakes in Uttarakhand that must be on your bucket list. It is also known as the emerald lake by the virtue of greenish appearance.
The picturesque lake enveloped by lush green meadows and snow capped mountain peaks falls in the Kedarnath Musk Deer Sanctuary, another reason why you should be planning a trip to the place soon.
Elevation: 2438 meters
How to reach: Rishikesh to Sari village is a 7-hour drive (220 km). Further, Deoria Tal is a 3 km trek from the village
Best time to visit: Throughout the year
Known for: Musk deers, reflection of the Himalayas in the lake, camping, and trekking
You can also plan a further trek to Chopta village, which is also known as mini Switzerland of Uttarakhand.
7. Bhulla Tal Lake, Lansdowne: Into the heart of Lansdowne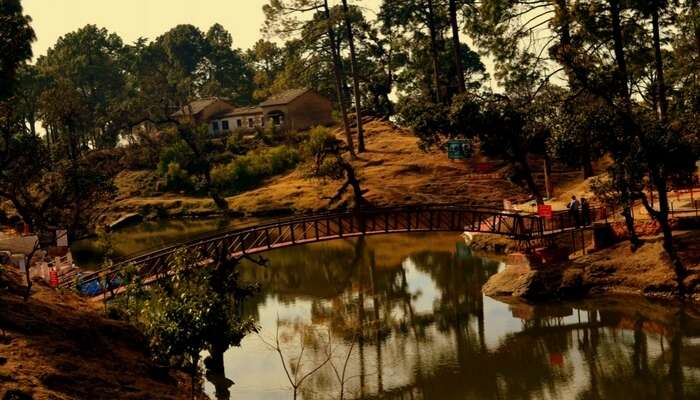 Tucked in the peaceful environs of Lansdowne, Buhlla Tal is a well maintained artificial lake which also serves as a top tourist attraction in the city. The lake is surrounded by highlands and greenery, and is an ideal place to hangout with friends and family.
The lake lies within the cantonment area and is maintained by the Indian Army. This lake of Uttarakhand is your ideal retreat if you are looking for few moments of solace.
Elevation: 1700 meters
How to reach: The lake is a 1-km walk from the Lansdowne city centre
Best time to visit: Throughout the year
Known for: Boating, and sightseeing
Catch the lake's beauty at its best during the wee hours, mostly at the time of sunset, the view is worth every moment spent there!
Suggested Read: 10 Things To Do In Lansdowne & Have A Refreshing Getaway
8. Khurpatal lake, Nainital: A tourist's delight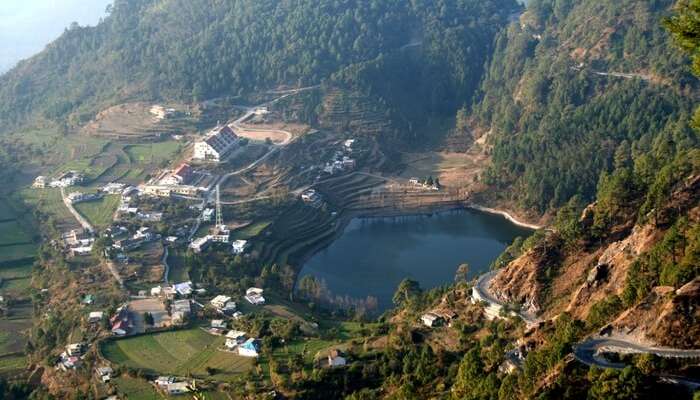 Located at a distance of 12 km from the city centre of Nainital is the enchanting Khurpatal lake. Enclosed by hills dotted with lofty pine and cedar trees, and boasting of clear water, this lake in Uttarakhand is a must visit when you are in or around Nainital.
The location of Khurpatal village makes it a more peaceful getaway than the comparatively crowded Nainital city.
Elevation: 1635 meters
How to reach: The 12 km distance from Nainital can be covered by an auto or a taxi
Best time to visit: Throughout the year
Known for: Good harvest of fish, sightseeing, and nature trails
9. Bhimtal lake, Bhimtal: Kumaon's pride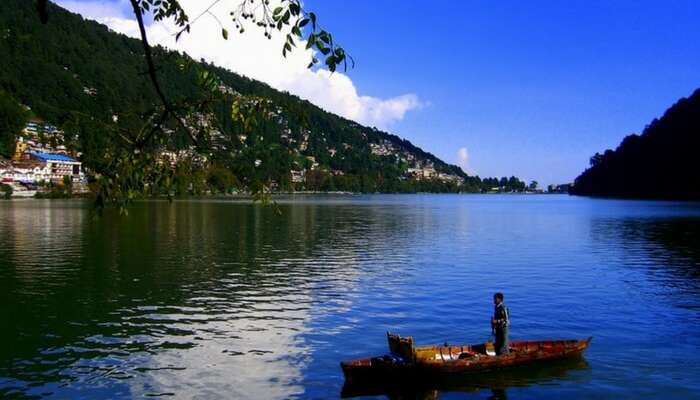 Image Source
When the mist subsides, the pristine Bhimtal lake appears underneath it. One of the most visited lakes of Uttarakhand, Bhimtal, is the perfect allure for honeymooners planning a trip to Nainital. Given that the place lies in the close proximity of Nainital and hotel rates are comparatively cheaper, Bhimtal lake is obviously a preferable choice for the travelers.
Elevation: 1375 meters
How to reach: 20 km from Nainital, can be reached by a private taxi
Best time to visit: Throughout the year
Known for: 17th century Bhimeshwar temple, boating, and sightseeing
10. Sattal lake, Nainital: Group of 7 freshwater lakes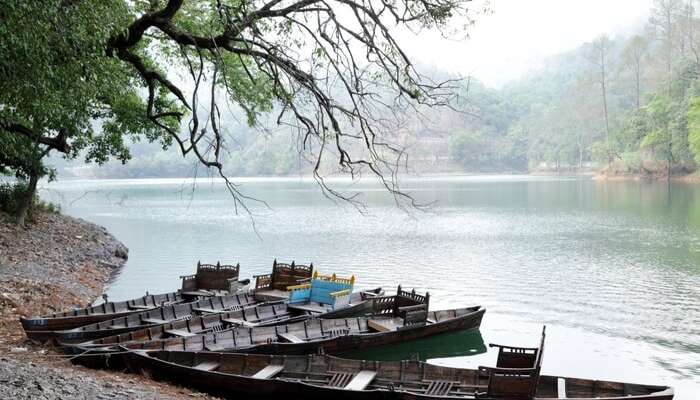 A club of 7 interconnected freshwater lakes, Sattal lake is another tourist attraction near Bhimtal, a town of the Nainital district. Sattal lake, which is 3 km long and 200 meters wide is another popular one in the list of popular lakes in Uttarakhand. Dense greenery comprising of oak and pine make the lake surrounding a spectacle to behold.
Elevation: 1370 meters
How to reach: Take a taxi from Nainital, it's at a distance of 22 km from the city centre
Best time to visit: Throughout the year
Known for: Sightseeing, boating, rappelling, and water zorbing
Other popular lakes in Uttarakhand are Sahasra Tal, Neel Tal in Uttarkashi, Naukuchiatal in Nainital, Beni Tal in Chamoli. Take a trip to any of these famous lakes in Uttarakhand and have a wonderful holiday in Uttarakhand.
---
Looking To Book A Holiday Package?
Book memorable holidays on TravelTriangle with 650+ verified travel agents for 65+ domestic and international destinations.
---
Comments
comments