Of secluded islands, pristine beaches, deep blue ocean, soft white sand beaches, and the prolonged silence, Seychelles is a breathtaking paradise that abounds in natural beauty. An archipelago of about 115 different islands, Seychelles boasts of island-dotted seas, palm-fringed beaches, museums, art galleries, rich flora and fauna, and most of all, great sites for water sports.
5 Best Water Sports In Seychelles To Quench Your Adrenaline Rush
Be it the thrills of scuba diving, the joys of surfing, or witnessing the rich coral reefs via snorkeling, the best of water sports in Seychelles offer it all.
5. Surfing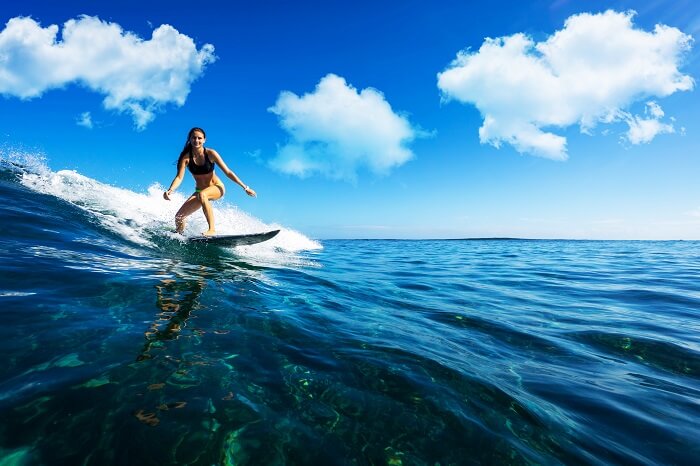 Suggested Read: 12 Best Beaches In Seychelles For An Euphoric Holiday Experience!
Although Seychelles does not come across as a surfing destination, surfing is one of the best Mahe water sports that is quite popular amidst the locals and the adventure enthusiasts. Be it the longboard surfers or the shortboard ones, the crystal clear waters of the Indian Ocean offer amazing surfing spots in Seychelles to test everyone's skills, and hone it well too.
Best Time For Surfing: October to December
Best Surfing Hotspots: Anse Lazio in Praslin, Grand Anse Beach, Anse Forbans, and Anse Gaulette in Mahe, Anse Patate in La Digue, and more
4. Kayaking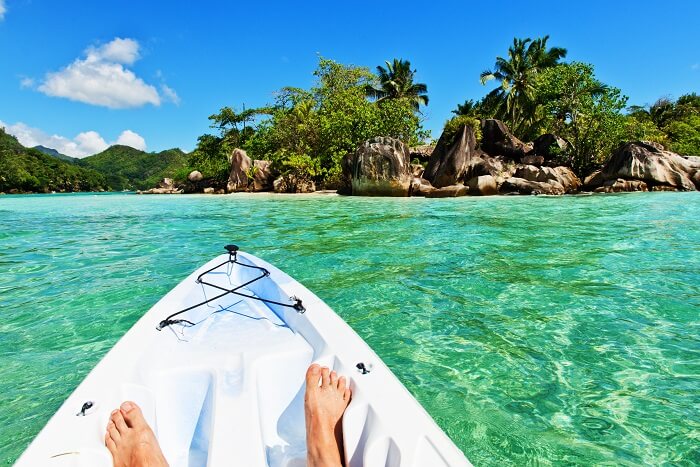 Described often as one of the environment-friendly water sports in Seychelles, kayaking is one of the best Seychelles activities that allows one to enjoy the open spaces, explore the beautiful mangroves, fresh air, and the feeling of being one with nature. Much famed as the perfect string of pearls that is set in the azure waters of the Indian Ocean, get going to explore the beautiful coves of Seychelles as you indulge in the best of kayaking in this paradise.
Best Time For Kayaking: April to May, and October to November
Best Kayaking Hotspots: Port Launay in Mahe, route from Round Island to Moyenne Island, Au Cap in Praslin, Takamaka in Mahe Island, and more
3. Sailing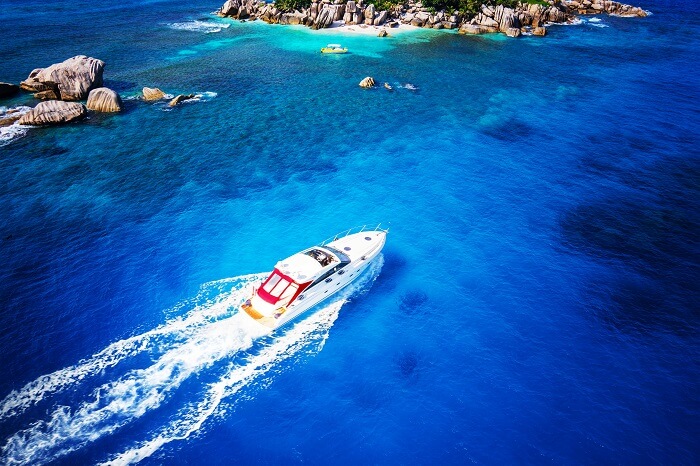 Suggested Read: 10 Best Hotels In Seychelles For A Perfect Island Vacation
Sailing is not just a source of traveling from one island to another but one of the best water sports in Seychelles. Given the favorable weather conditions and the suitable winds of the respective seasons, sailing in Seychelles can be best enjoyed on the inner islands as sailing on the outer islands increases the risk of damaging the coral reefs. However, one can explore the numerous grottos and coves that Seychelles has to offer by indulging in the best of sailing.
Best Time For Sailing: December to March (north-westerly winds), and May to September (south-easterly winds)
Best Sailing Hotspots: Cerf Island, St. Anne Marine National Park in Mahe, La Digue Island, Praslin, and a guided tour to the Moorings, and more
2. Snorkeling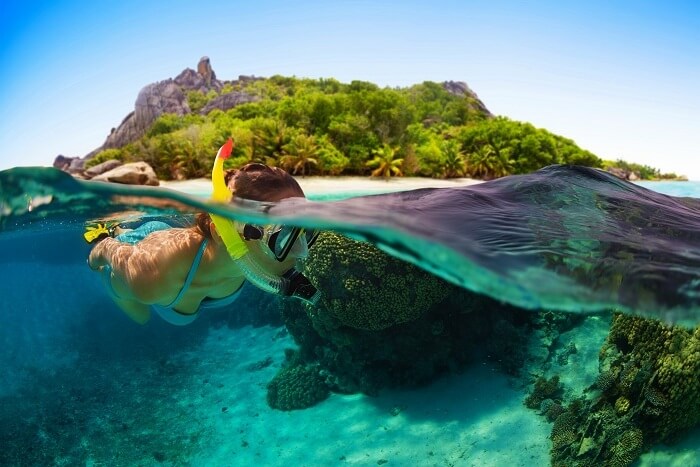 The best way to explore the life underwater and all by yourself in Seychelles is via snorkeling. Considered to be the second-best of all water sports in Seychelles, snorkeling takes you closer to the rich marine life to which the quixotic waters of Seychelles serve as home. Witness exotic fishes like batfish, butterfly fish, parrot fish, and about 100 other types of fishes in the heart of Indian Ocean. Comprising of one of the best snorkeling spots in the world, there's a bigger surprise waiting for you to be explored in the crystal clear waters of Seychelles.
Best Time For Snorkeling: October to January
Best Snorkeling Spots: Beau Vallon Bay, Sainte-Anne, Baie Ternay, and Port Launay in Mahe, Anse Source d'Argent in La Digue, Anse Lazio Beach in Praslin, and more
1. Scuba Diving
Suggested Read: Honeymoon In Seychelles: An Affair To Remember!
Scuba diving and Seychelles are synonymous with each other and often go hand-in-hand. Considered to be the best water sports in Seychelles that is a must-experience for all travelers alike, scuba diving offers the most unforgettable underwater diving experiences ever. Home to numerous diving sites, encounter some of the best marvels of nature as you get to the depths of the Indian Ocean.
Best Time For Scuba Diving: April to November
Best Scuba Diving Hotspots: L'ilot, Desroches Island, St. Pierre, South Marianne Island, the Ennerdale Wreck, Brissare Rocks of Beau Vallon, and St. Anne National Park in Mahe, Aride Island, Trompeuse Rocks, and more
Other Water Sports In Seychelles: Parasailing, Banana Boat Ride, Windsurfing, Jet Skiing, Water Skiing, Glass Bottom Boats, and more.
Irresistible much? Indeed a paradise on Earth, these water sports in Seychelles are worth updating your travel wish list once again. And if you're saying waiting is not for you, book one of the customizable Seychelles holiday packages, and let TravelTriangle craft a personalized vacation for you!
Comments
comments