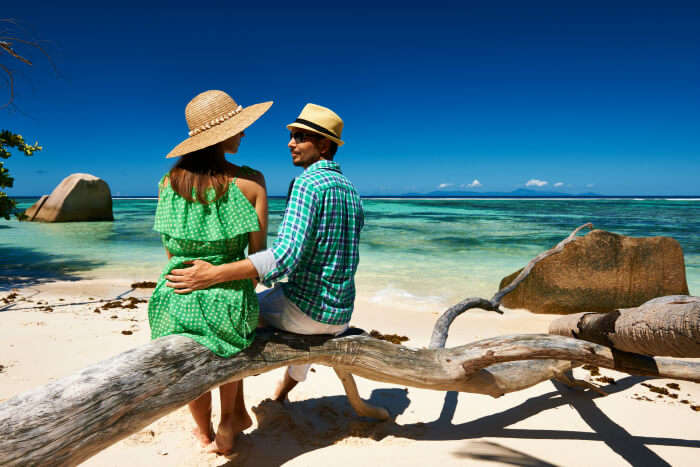 Seychelles is known for its quixotic beauty and monumental luxury. Considered to be a playfield of the riches, it is slowly emerging as the best honeymoon destination, especially for Indian couples. Its white sand, pristine turquoise water, and ultra-luxurious resorts and hotels make for a good combination to start a new life together on your Seychelles honeymoon.
Seychelles offers everything you'd want on your honeymoon – glimmering beaches, exquisite beauty, delish delicacies, heart-warming people and carnival-like spirit of the place. But before you start planning, look at the essentials to have a fairytale honeymoon in Seychelles. Here we cover must see places, best stops to breathe in the beauty and celebrate the love, food that complements your moods, and experiences that you'd never forget.
About Seychelles

The Republic of Seychelles is situated off the coast of East Africa in the Indian Ocean. It consists of 115 islands some are granite and others are coral islands. The largest of the islands is Mahé and Victoria on it is the capital, in fact, the world's smallest capital.
The climate of the islands is pleasant all year round. The currency of the place is Seychelles Rupee. The time-zone of Seychelles is +4 GMT, which is 1.5 hours behind India. There is no limit on how much foreign currency you can bring in and carry out of the Republic. However, you can not bring in or take out more than SCR 2,000 of the country.
Duty-free items include 2 liters of wine, 200 ml of perfume, one video camera and other knick-knacks not exceeding the value of SCR 3,000. It is illegal to consume alcohol in public. Consumption or any kind of harm imparted to Coco de Mer, the native fruit of the country which is artistically in the shape of human genitals, will make you end up in jail.
Must Read: Explore Memorable Honeymoon Packages In And Outside India!
Ideal Duration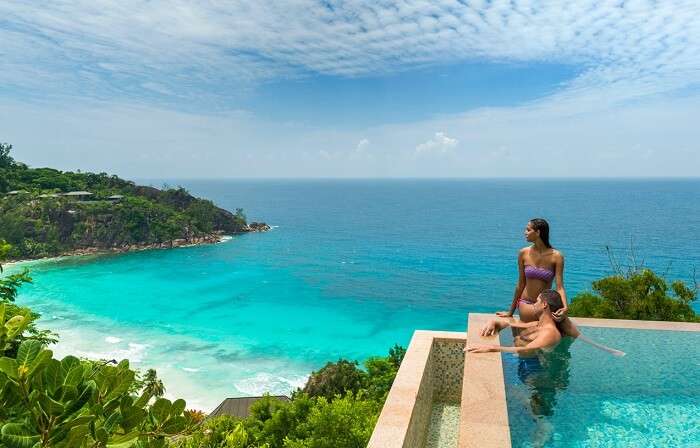 Ideal duration for a honeymoon in Seychelles is 6 nights and 7 days. Since the set of islands are so beautiful and engaging, even 7 days could leave you asking for more. So, while you're planning to visit Seychelles Islands with your partner, don't forget to have these minimum number of days for exploring and you can still extend if you wish to relax and rewind before heading back home.
Suggested Read: Seychelles Food: From Shark Chutney To Bat Curry, Try The Bizarre Cuisine On The Island
Famous Islands For Honeymoon In Seychelles in 2022
It is hard to decide upon the best Seychelles honeymoon destination. There are many beautiful islands with a host of pristine beaches, azure waters, and tropical vegetation. So, we give you some of the most beautiful honeymoon destinations in Seychelles that you can include in your trip.
1. Praslin Island

The unspoiled island is famous for Vallée de Mai, the world-renowned home to the infamous Coco de Mer palms. And what better way to gift your wife an invaluable black pearl? You can even go for artful delicate jewelry made of a real pearl. A place you must visit if you want to pamper and impress your partner, all at the same time. This island has a mesmerizing national park, known as Praslin National Park which adds beauty to its scenic charm. So, make sure you visit this place on your trip as it is the best island in Seychelles for honeymoon. 
Things To Do: Relax at Anse Lazio beach, go on inner-island tours, visit Praslin National Park
Suggested Read: 5 Water Sports In Seychelles That'll Let You Dive In The Azure Ocean!
2. Mahe Island

The largest island in the Republic of Seychelles is home to the highest mountain ranges in Seychelles. Also, the world's smallest capital, Victoria is on Mahe Island. Pack a picnic basket and set out to indulge yourself in the best dazzling views of Mahe Island. Spot the colorful birds and refreshing vegetation on the trails and have an unmatched experience. You may never know, but the seclusion can lead to a fulfilling hike with your new soulmate.
Things To Do: Enjoy snorkeling at Beau Vallon, go hiking at Morne Seychelles National Park
Suggested Read: 10 Sizzling And Unusual Honeymoon Destinations For The Crazy Ones
3. La Digue Island

Stunning beaches like Petite Anse and Anse Anse Source D'Argent are pretty famous here. Also, beach horse-riding and expedition trips to tiny Félicité Island, which has a population of only 12 people, from the island have their own attractions that you can surely visit this place for. You can spot various types of flora and fauna in the Veuve Nature Reserve on this island and get the best of your honeymoon!
Things To Do: Spend time at Anse Cocos, take a tour of L'Union Estate Farm
Suggested Read: 25 Places To Visit In Seychelles: Islands, Beaches, & Tourist Attractions
4. Curieuse Island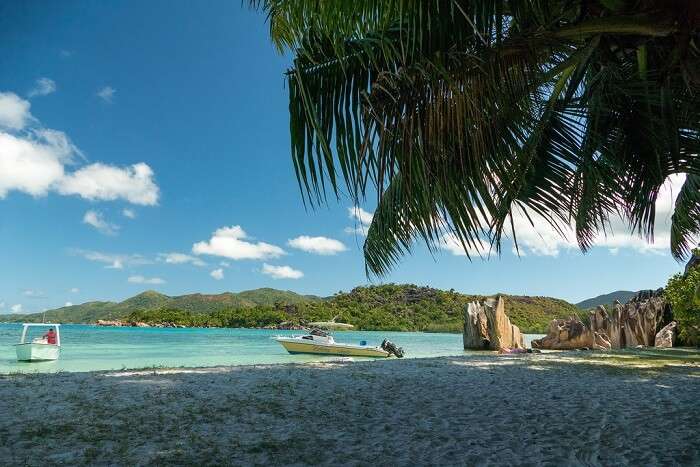 Curieuse Island has a marine park, which is quite fun for couples and is counted among the best Seychelles honeymoon destinations. The red colored soil makes for a refreshing picture background after all the blue and white. Home to the illustrious Coco de Mer, Aldabra tortoises, mangrove forests, takamaka trees, green sea turtle breeding, hawksbill, and the Seychelles Black Parrot – Curieuse Island should have a definite spot in your Seychelles honeymoon itinerary.
Things To Do: Visit Vallée de Mai, enjoy water activities at Cote D'Or Beach
Suggested Read: A Trip To Seychelles In December 2022 Is How You Can End The Year On A High Note
5. Eden Island

Located just 3 km from the capital of Victoria, Eden Island is a beautiful artificial island. The exuberating views make it the best place to stay in Seychelles for honeymoon. The island is all about luxury villas, lofty mansions, and big shopping malls. You will feel like you have transported to a different world altogether.
Things to do: sightseeing, indulge in luxury
Suggested Read: 15 Best Hotels In Seychelles For A Perfect 2022 Tropical Holiday On The Beach
6. Silhouette Island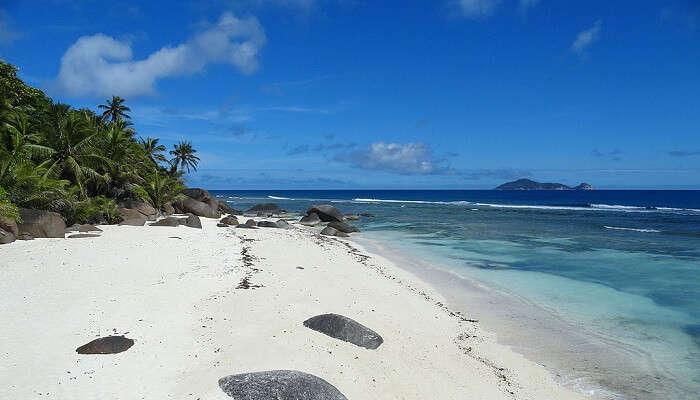 A stunning piece of land amidst the Indian Ocean, staying on Silhouette Island is one of the best things to do in Seychelles for honeymoon. The iridescent charm of the island will leave your jaw dropped. It is one of the most beautiful islands in the archipelago of Seychelles to have a picture-perfect honeymoon. This is also where you will find all the best resorts in Seychelles for couples. Not only is it isolated but it also offers a variety of exciting activities for couples to indulge in on their honeymoon.
Suggested Read: Monsoon In Seychelles: A Handy Guide To Explore The Country In The Rainy Season
Things To Do In Seychelles On Honeymoon

Here is a list of some of the things to do in Seychelles on honeymoon. Include these to add some excitement and interesting memories to your honeymoon.
Go island hopping through causeways, holding hands and talking about your bright future.
Take a nice stroll on one of the beaches under the glittering sky and spend some quiet time with your partner.
Enjoy the stunning sunsets and start the new day with dazzling sunrises.
Relax with the tropical couple massage and enjoy the melodic silence.
Take a walk through the 'Garden of Eden' at Praslin Island of Seychelles.
Explore the secrets of Victoria Island, mounted on a rental bike and soak in the refreshing weather.
Go for water sports and share unhindered laughs and joyful shrieks with your lover.
Bag your own beach in the tropical heaven and have a picnic there.
Victoria market is the place where you can witness the lifestyle of the natives of Seychelles. Apparels, footwear, eatables and dairy produce; the market has everything you can think of for a great shopping experience in Seychelles.
Add L'Union Estate to your plan and meet giant tortoises.
Plan a hiking tour if you like exploring and enjoy the magnificent views of the island.
Suggested Read: 6 Ways To Enjoy The Best Of Nightlife In Seychelles
Places To Visit In Seychelles For Honeymoon
Being one of the favourite destinations for couples from all across the world, there are certain Seychelles honeymoon places that you must check out on your honyemoon trip to Seychelles. Take a look for all you need to know.
1. The Clock Tower

The monument has been in Seychelles for 115 years and is a proud renowned one still admired and praised by the locals. It is considered to be one of the most popular Seychelles' location to click a selfie with the clock tower in the background. Built in the memory of Queen Victoria, this monument is made of cast iron and was made by Gillet & Johnson. So, while you're out and about in this scenic land, be sure not to miss this famous landmark of great historic significance which is counted in the list of top places to visit in Seychelles for honeymoon. 
Location: Seychelles
Suggested Read: Summer In Seychelles 2022: A Travel Guide For All Those Who Love Beaches!
2. Seychelles National Botanical Gardens

Located on Mahe Island, the Botanical Gardens are quixotic. Taking a nice stroll down the sprawling gardens and clicking pictures with interesting flora will be the most cherished memories of your Seychelles honeymoon trip. Established in the year 1901, this botanical garden is currently under the administration of Ministry of Environment. If you're a nature lover, this place is a must visit for you to soak in the blissful vibes of nature.
Location: Victoria, Seychelles
Suggested Read: One Week In Seychelles In 2022: Take Tips From This Duo's Honeymoon Trip
3. Anse Georgette

The breathtaking beauty of Anse Georgette is quite unsung as of yet. Not so popular, the place can be an absolute haven for couples who are not so keen to have a crowd around all the time. This place is surely a must visit if you wish to spend some quiet time with your partner. Known for an extremely soothing spot, just to observe the beauty all around, if not for anything else, you can simply unwind here amid all the scenic views and waves splashing across the shore.
Location: Seychelles
Suggested Read: Praslin Island In 2022: A Picturesque Emerald Of The Seychelles!
4. Morne Seychellois National Park

Morne Seychellois National Park is one of the most popular Seychelles National Parks for nature loving couples. Sprawling over a region of 3045 hectares, this park is home to a variety of flora and fauna. In fact, it is so vast that it covers 20% of the island. The highest peak of Seychelles is also located in this park. If you are visiting Seychelles islands for honeymoon, then make sure to add this place to your itinerary.
Location: Seychelles
Suggested Read: Seychelles Visa For Indians: Applications, Requirements And More
5. Victoria Market

If your spouse is shopaholic, then take them to the Victoria Market Seychelles islands for honeymoon so that they can shop their heart out. Also known as Sir Selwyn- Selwyn Clarke Market, it is where you can experience the true colors of Seychelles.One can buy indigenous fruits and vegetables that you only find on the island. Apart from shopping souvenirs, you can also try local Creol cuisine and completely immerse in the eccentric vibe of the island.
Location: Victoria, Seychelles
Timings: 8 am – 6 pm
Suggested Read: Casinos In Seychelles: 8 Best Places To Try Your Luck In This Picturesque Land In 2022!
6. Mahé Island

Mahé  Island is one of the smallest capitals of the world and on of the most popular islands of they Seychelles archipelago with verdand forests, tall mountains and picturesque beaches which are a rich source of flora and fauna. Spend some time with your partner on the pink beaches, with clear blue waters touching the horizon. Mahé  Island  is one of the best islands in Seychelles for honeymoon.
Location: Seychelles
Must Read: Seychelles Islands In 2022: An Archipelago Of Exotic Beaches, Luxury Resorts, And Surreal Beauty!
7. Sainte Anne Marine National Park

Located off the shore of Mahé Island, the Sainte Anne Marine National Park is a group of 6 small islands that are closely located. At this national park, you get to explore some of the rarest marine creatures and a diverse coral reefs. the Sainte Anne Marine National Park is one of the best places to visit in Seychelles for honeymoon if you enjoy water sports such as snorkeling,  glass bottom excursions and scuba diving in Seychelles. 
Location: Sainte Anne Island, Seychelles
Suggested Read: 4 Zoos In Seychelles: Satiate The Wildlife Enthusiast In You With These Places
8. Anse Intendance

The white sand beaches, the azure waters and the tall palm trees bordering this beautiful beach, Anse Intendance is the ideal  seychelles honeymoon destinations and  one of the best places to visit in Seychelles for all the beach lovers. This cresant shaped island is perfect for a lazy beach day for the newly weds where they can find themselves surrounded by breathtaking vistas, seclusion and tranquility. Enjoy sun bathing, photography, and surfing while reviving romance with some quiet time for contemplation!
Must Read: Honeymoon In Seychelles: An Affair To Remember!
Best Cuisines In Seychelles

Your Seychellois honeymoon is incomplete without Seychellois food. The basic ingredients of Seychellois cuisine are seafood, coconut, breadfruit, and chilies. It is one of the spiciest cuisines with a mix of fresh seafood.
Some of the most popular Seychellois delicacies are Kat-kat Banana, Coconut Fish Curry, Catini Requin, Bouillon Bréde, Soupe de Tectec, Tamarind Chatini with fish, Carotte Bananas, breadfruit, and palm leaves.
Palm wine and Calou are the favorite beverages for people of Seychelles. Most of the favorites are made from coconut sap. Bacca, Seybrew, Ekyu, Coco D'Amour, and Dark Takamaka Rum are other beverages liked by many locals and tourists.
Suggested Read: World's Most Expensive Celebrity Honeymoon Destinations
---
Planning your honeymoon but confused about where to go? These honeymoon stories help you find your best honeymoon trip ever!
---
Where To Stay For Honeymoon In Seychelles
Looking for stay options and wondering is Seychelles is good for honeymoon? Here are some of the finest resorts in Seychelles that will prove you why Seychelles is the finest places for honeymoon. Here, have a look.
1. Four Seasons Resort Seychelles

To soak in the best of luxurious experience amid the soothing Seychelles vibes, be sure to consider this 5 star resort where comfort meets style with some really panoramic views all around. That's right! It is the best resort in Seychelles for honeymoon where you can spend an absolute lavish stay with your partner. Each villa is full air-conditioned in here and has a private swimming pool and a patio. With two restaurants Kannel and ZEZ offering a number of mouth-watering cuisines, you couldn't ask for more!
Island: Mahe
Tariff Range: INR 1,20,000 to 1,80,000 per night
Website | Reviews
Suggested Read: Secrets Of The Seychelles: A Pocket Guide To Witness All The Hidden Gems
2. Constance Ephelia Resort

Staying at this 4 star resort is surely an experience of a lifetime. A private garden area and separate seating compliments all the accommodation options in the resort along with the many in-house restaurants that offer authentic Mahe food, you just cannot resist trying. A wellness spa and gym with many activities like snorkeling, swimming and tennis will help you stay fit and relaxed on your honeymoon in Seychelles.
Island: Mahe
Tariff Range: INR 30,000 to 50,000 per night
Website | Reviews
Suggested Read: Budget Hotels in Seychelles
3. Acajou Beach Resort

With a variety of accommodation options, you'll surely be spoilt for choice. Whether you stay in the cabin styled log rooms, or the rooms with the beach view, this property will surely provide a serene environment for you and your loved one. You can unwind and relax in the infinity pool at this site or even enjoy a massage therapy to calm your senses. So, what are you waiting for? Get your bags packed and prep up for that honeymoon in Seychelles that you've always wanted!
Island: Praslin
Tariff Range: INR 17,750 to 30,000 per night
Website | Reviews
Suggested Read: 8 Things Not To Do In Seychelles In 2022 For Avoiding A Social Faux Pas
4. Le Meridien Fisherman's Cove 

Pamper yourself with lush tropical gardens and sceluded coves of Le Meridien Fisherman's Cove. A cozy accomodation option with elegantly furnished rooms, private patio, and a pool which borders the white sand beach, the palm trees and the blue waters of the sea. A perfect place to relax and enjoy the company of each other for a perfect honeymoon in Seychelles. Enjoy breakfast buffets or à la carte dinner at their in house restaurant. You could also enjoy a beach day and try out a few water sports at Beau Vallon Beach  which is a few meters away. 
Island: Bel Ombre
Tariff Range: INR 34,000 to 54,000 per night
Website | Reviews
Suggested Read: 6 Things You Should Buy While Shopping In Seychelles
5. Cerf Island Resort

The panormic views, the sandy beaches, the clear blue waters and the cosy cottages makes Cerf Island Resort your dream honeymoon destination.  Be ready to get pampered with outmost luxury, great services, delectable cuisines, music and entertainment and ample of private space to share some giggles and sunshine with your love. Enjoy à la carte at their in house restaurant with breathtaking views of the sea and join in for Creole evening with Creole food and live music entertainment. Is there anything else that you could need to make your honeymoon in Seychelles any more romantic?
Island: Cerf Island 
Tariff Range: INR 34,000 to 41,000 per night
Website | Reviews
Suggested Read: Nature Travel At Its Finest: Our Romantic Trip To Seychelles Was A Delight!
6. Raffles Seychelles

Enjoy the views of the most beautiful beaches of the world while you enjoy a luxurious stay at the Raffles Seychelles. A beautiful resort tucked away in the lush greenery and blissful seclusion of the gentle slopes of granite formations, the resort offers spacious and airy villas with a private pool and two infinity pools. Packed with world class ameinities, rooftop terrace,  shisha lounge and private dinner on the beach, this place is for those seeking intimate residential charm in paradise.
Island: Praslin
Tariff Range: INR 76,000 to 85,000 per night
Website | Reviews
Suggested Read: This 8 Days Itinerary For Seychelles Helped Us Plan An Amazing Holiday On The Island
How To Reach Seychelles

In total, there are six major airports in The Republic of Seychelles. Two of the most prominent ones are:
Seychelles international Airport at Victoria
Praslin Island Domestic Airport at Praslin
More than 25 International Airlines operate out of Seychelles International Airport. There are non-stop flights to 14 cities, however, sadly, no Indian city is a part of the group yet. There is a halt at Abu Dhabi for tourists from India. With over 320 international flights departing from Seychelles, it is not a hyperbole to say that it is very well connected to the world.
An average round trip for a person would cost somewhere around INR 90,000.
Suggested Read: 15 Alluring Resorts In Seychelles For A Luxurious Stay In 2022!
Getting Around In Seychelles

Travelling in Seychelles is not a concern. You just need to shell out some bucks. And every place, no matter how secluded, is accessible. You can take your pick from rental bikes, inter-island flights, helicopter rides, ferries, jetties, speed boats, catamarans, taxis, car-hires-for-a-day, and bus.
Further Read: Mauritius vs Seychelles – Which Honeymoon Destination Wins The Love Showdown?
All geared up for your dream honeymoon in Seychelles? Pack your bags, Book your next trip to Seychelles with TravelTriangle and set out on a romantic journey to begin the ethereal journey of your lives together.
Disclaimer: TravelTriangle claims no credit for images featured on our blog site unless otherwise noted. All visual content is copyrighted to its respectful owners. We try to link back to original sources whenever possible. If you own the rights to any of the images, and do not wish them to appear on TravelTriangle, please contact us and they will be promptly removed. We believe in providing proper attribution to the original author, artist or photographer.
Please Note: Any information published by TravelTriangle in any form of content is not intended to be a substitute for any kind of medical advice, and one must not take any action before consulting a professional medical expert of their own choice.
Frequently Asked Questions About Honeymoon In Seychelles
Is Seychelles good for a honeymoon?
Seychelles is known for its exotic beauty and has all the luxuries for a perfect tropical honeymoon making it an ideal destination for a romantic honeymoon.
What is Seychelles famous for?
Seychelles, the archipelago of 115 islands is known for its deep blue waters and white sand beaches and exotic sea life and has lately become one of the most popular destinations for honeymoon.
Which are the most romantic places to visit in Seychelles?
Some of the best places to visit in Seychelles for the newlyweds to get some quiet time together are:
1. Anse Source D'Argent
2. Sainte Anne Marine National Park
3. Mission Lodge Lookout
4. Vallée de Mai National Park
5. Anse Intendance
What is there to do in Seychelles on a honeymoon?
Some of the fun things to do in Seychelles on a honeymoon are:
1. Sunbathing.
2. Scuba Diving in Seychelles & Snorkeling.
3. Rock Climbing.
4. Jet skiing
5. Trekking and hiking
6. Island hopping
Which is the best time to visit Seychelles for honeymoon?
Seychelles is an all-year destination, but April to June and September to early-November are the best times of the year to go on a honeymoon to Seychelles as the weather is very pleasant and ideal for all sorts of water activities as well. You could also plan your honeymoon in Seychelles in March.
Which is the best beach in Seychelles?
3 of the best beaches in Seychelles that you should definitely explore on your honeymoon are:
1. Beau Vallon, Mahe- best for diving
2. Anse Intendance, Mahe- best for surfing
3. Anse Source d'Argent, La Digue- for snorkeling
How much does a Seychelles honeymoon cost?
The cost for a honeymoon in Seychelles depends on a number of factors such as the choice of hotels, activities, food, travel, etc. On average, the cost for a honeymoon trip can cost you about 50-75k per person + flight charges.
Are food and drink expensive in Seychelles?
Seychelles is not among the cheap destinations in the world when it comes to food and drinks. Food is quite expensive in Seychelles and a typical 3-course meal in a mid-range restaurant here can easily cost you over INR 2,000.
What is the Jelly Fish Tree found in Seychelles?
A Jelly Fish Tree is a native plant to the island of Seychelles and was first named as 'Medusagyne' by John Gilbert Baker who took inspiration from Medusa, the popular mythical figure in Greek mythology.
Are there temples in Seychelles?
Hinduism is the second-largest population in Seychelles. You can find a number of temples in Seychelles. Some of the popular ones are:
1. Arulmigu Navasakti Vinayagar Temple
2. Tempio Hindu Temple
---
People Also Read:
Honeymoon In Mexico Honeymoon In Switzerland Honeymoon In Belgium