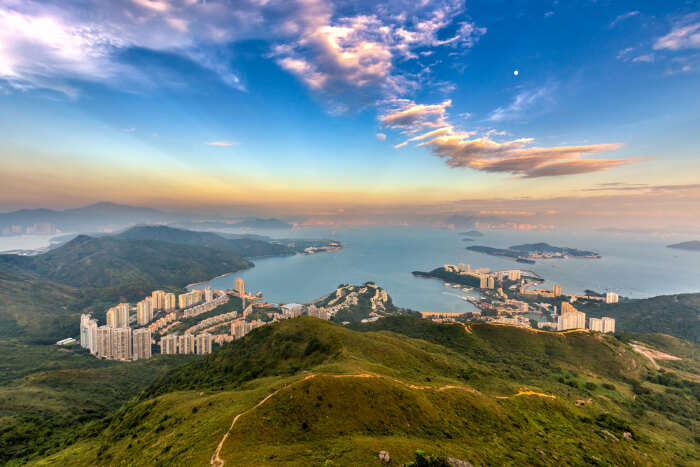 A residential area very famous among foreigners, Discovery Bay in Hong Kong holds a community of around 16,000 people in an exquisite location. With numerous people from English-speaking countries as well as with facilities like private clubs and English language schools, it has gained immense popularity over the years. The International Airport of Hong Kong, as well as the Lantau Island profuse natural resources, are located very close to the Discovery Bay.
While most of the recreational facilities at this bay are private, tourists and locals can go to the wonderful beach that is a whopping 300 meters long. Hence, many tourists like enjoying their lunch or dinner at the beach. But, Discovery Bay is not actually a tourist attraction. It is just a residential area that is popular among tourists.
About Discovery Bay In Hong Kong

Discovery Bay is a fascinating development built privately in Hong Kong. The initial buildings of the bay were opened in 1982. Although a popular and frequently visited town, Discovery Bay is only about 2 kilometers long and about half a kilometer wide. And while it is named the Discovery Bay, it actually consists of three bays as well as a marina. The three bays include the Tai Pak Bay, Nim Shue Bay, and Yi Pak Bay. Tai Pak Bay boasts of a fascinating 300 meter-long sandy beach.
The marina consists of so many yachts that a few people actually live on the yachts rather than on the land. It is situated very close to Disneyland and the International Airport of Hong Kong. While the advanced countries laying workers off from reputed companies, it is seen that employment for English-speaking foreigners is increasing each day in Hong Kong. But the professionals also want English-language schools for their kids along with recreation facilities. Discovery Bay is thus, the new and modern Western-style housing, situated in a serene and peaceful setting along with plenty of native English-speaking people. For people who like outdoor activities, they are provided with many interesting activities on Lantau Island. Tourists are often astonished and shocked by how big and sparsely inhabited the Lantau Island is. Not only does it have beaches that are amongst East Asia's emptiest, largest and cleanest beaches, but also a number of good hiking areas. Also on offer, are best transportation facilities in Asia!
Must Read: 8 Hostels In Hong Kong For A Leisurely Yet Lively Vacay
How To Reach Discovery Bay

Image Source
The residential district of Discovery Bay, on Lantau Island is only 15 kilometres from the central business district of Hong Kong Island. There are no cars or cabs here and the only modes of transportation are boats, buses, trains or even planes. Here is how you can reach here using different modes of transportation.
By Water: The most common way in order to reach this bay is via ferry. A 24-hour ferry service helps in connecting the Discovery Bay to the central business district. It takes around 25 minutes of the ferry and around 10 minutes of walking on the pier, to travel from central business district to the bay or vice versa. The ticket price for this ferry is around 31 HKD, which sums up to around 4 USD.
By Rail & Road: Although there is no facility of a direct MTR train to Discovery Bay, the Tung Chung MTR takes you to the station of Tung Chung. From here, there are buses available which can take you to the Discovery Bay through the Discovery Bay Tunnel. Thus, traveling through the train by taking a train from Central, in Hong Kong Island to the Tung Chung, and then hopping on a bus from there to Discovery Bay costs you twice the time required for traveling in the ferry from Pier 3. This is because traveling by bus from Tung Chung to the bay alone, takes around 15 -20 minutes.
By Air: There are no direct flights to the Discovery Bay. One has to first take a flight to the International Airport in Hong Kong, which is also the 13th busiest airport in the world. After reaching the airport, the buses available there directly connect you to the Discovery Bay from the airport itself. The journey takes only about 20 to 30 minutes.
Places To Stay At The Discovery Bay
The biggest problem you have to deal with while planning a trip to any destination is the accommodation. The place has to be safe and secure while also being affordable. Fortunately, there are a lot of places in the vicinity of Discovery Bay that tick both those boxes. Here are a few places where you can stay at the Discovery Bay:
1. Auberge Discovery Bay Hong Kong

Image Source
This is a beautiful hotel located in a quiet, pristine area that makes sure you have a wonderful time whilst your trip to the amazing Discovery Bay. The rooms are extremely spacious and one feels very comfortable in here. The hotel is situated only 1.2 km from Discovery bay so you can reach the bay very easily, enjoy throughout the day and return back to the hotel to rest in a comfortable environment.
Suggested Read: 7 Beautiful Islands In Hong Kong To Have An Amazing Tropical Vacay
2. Disneys Hollywood Hotel

Loved by all the kids, this wonderful hotel near Discovery Bay and Disneyland is amongst the best in the business as it provides visitors with great rooms and delicious food. The hotel is situated only 2.5 km from Discovery bay and the rooms are beautiful and airy, making sure you have a pleasant experience whilst your stay here.
3. Silvermine Beach Resort

Image Source
This excellent resort, in the Lantau Island in Hong Kong belongs to the most popular resorts amongst tourists. With luxurious rooms on offer at very reasonable prices, this is surely a place where you should stay whilst on a trip to the beautiful Discovery bay. Traveling between the hotel and the bay is very easy.
Suggested Read: New Year In Hong Kong: 6 Exciting Ways To Ring In 2022
Things To Do At The Discovery Bay
As this is the suburbs, there is hardly anything apart from the beach and golf club where you can indulge in some fun activities. But while the options are limited, they are worth experiencing as you can have an amazing time even with the few activities you can participate in.
1. Explore the Plaza

Image Source
The hub of life in Discovery Bay, the Plaza is a beautiful place where one can find a number of shops and restaurants. Shopping or just roaming around the Plaza is a wonderful experience. There are no cars here and it is thus, very quiet and a exhilarating experience.
Suggested Read: A Guide To Spring Lantern Festival In Hong Kong: All About Love, Lights And Legacy
2. Indulge in sports at Golf Course

Boasting of an 18 hole course as well as two 9 hole courses, the Discovery Bay Golf Course welcomes non-members only on certain weekdays and is not available every day. And access to the golf course is a whopping $1,700, which clearly isnt cheap. But you can also have fun in the swimming pool here as well as play tennis at the tennis court on site. To satisfy your hunger, there are a number of restaurants serving delicious food.
3. Have lots of fun at the beach

Image Source
This is the most popular site amongst visitors as they can indulge in a lot of activities at the beach. This 400m long private beach is always open to both residents and visitors, making it a must-visit for all those visiting the discovery bay. Also very close, is the Hong Kong Disneyland where you can choose from loads of options to have fun.
Places To See At Discovery Bay
In contrast to the crowded and small streets of Hong Kong Island, Discovery Bay is comparatively spacious and very luxurious. Many people come here just for the simple pleasure of unwinding, relaxing and enjoying the calm, serene environment here. Here are a few places you can visit at the Discovery Bay:
1. DDeck

Situated near the Discovery Bay Pier, D'Deck boasts of scrumptious international cuisines in a spacious, wonderful setting. Offering a breathtaking 180- sea view, D'Deck provides the most beautiful visual and culinary experience, that satisfies both, your tummy and soul.
Suggested Read: World's Longest Sea Bridge Connecting Hong Kong & Macau With China Is Now Open
2. Our Lady of Joy Abbey

Image Source
This is a beautiful monastery in Tai Shui Hang on the Island of Lantau in Hong Kong. Earlier known as the Trappist Haven Monastery, it was given a new name on January 15, 2000: Our Lady of Joy Abbey. It is located on a scenic hiking trail that leads up to Mui Wo from Discovery Bay.
3. Epicland

This is Hong Kongs largest indoor family entertainment center, that features not only Asias biggest indoor slides but also a number of fun & learning games that are sure to entertain people of all ages. The most exciting activities here include laser tag, mini golf, a playground as well as a toddler area.
Further Read: Camping in Hong Kong: 11 Best Sites In The Middle Of The Bustling City
Hence, the Discovery Bay in Hong Kong proves to be at the top of the most favourite tourist destinations amongst tourists. Book your trip to Hong Kong with TravelTriangle and have a great time here!
---
Looking To Book An International Holiday?
Book memorable holidays on TravelTriangle with 650+ verified travel agents for 65+ domestic and international destinations.
---