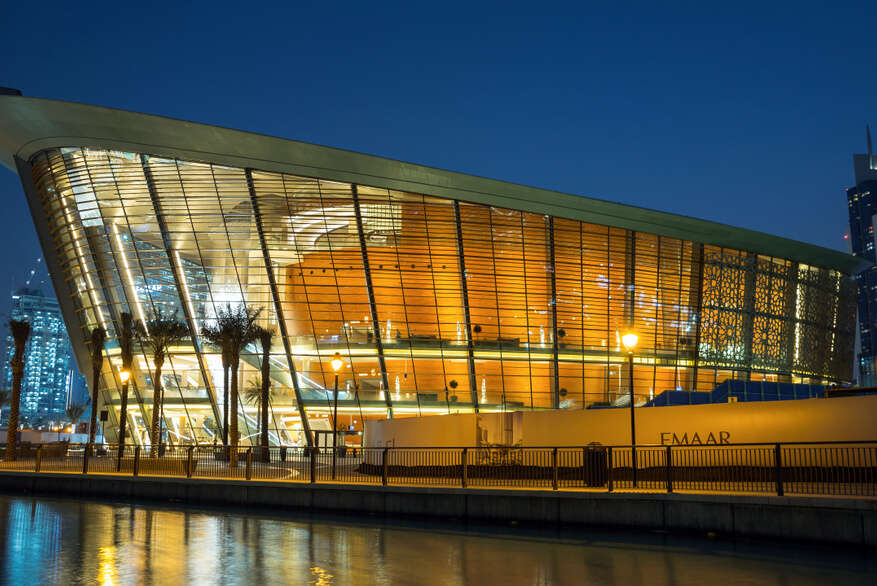 The famous Opera District in Downtown Dubai is home to the Dubai Opera. This Opera was built in 2016 by Emaar Properties. It is a multi-format performing arts center that can seat an audience of 2000 people. The Dubai Opera is a huge property of 60,000 square meters in downtown Dubai. This property can be converted into a theatre, a concert hall, an exhibition center or even a banquet hall.
Why Visit Dubai
Dubai is the number one shopping destination in the middle-east. The Dubai Malls, the traditional Souks and the duty-free shopping at airports are a great attraction to tourists. There are many ways in which tourists in Dubai can have a great time in the city. This includes visiting the Dubai Aquarium, the Wild Wadi Water Park, and the famous Dubai Opera.
Must Read: Aquaventure Waterpark: Slides, Rides, Sharks, Sting Rays And More In Dubai
How To Reach Dubai Opera
Getting to the Dubai Opera is easy as it is located in the heart of The Opera District in downtown Dubai. Accessibility to the performing arts center is easy as it is equipped to facilitate access even to special needs individuals who want to visit the Opera. The box office is located on the Opera Plaza on Sheikh Mohammed Bin Rashid Boulevard. The box office timings are daily from 10 AM – 9 PM.
Suggested Read: Dubai New Year: The Guide For A Celebration You Will Never Forget!
Brief Info About Dubai Opera
The Dubai Opera is a true architectural marvel in the city as it is designed to resemble Dhow. A Dhow is a traditional sailing vessel in Dubai and is a truly iconic structure that represents the city. This theatre has hosted a variety of events such as art displays, trade shows, exhibitions and weddings. Dubai Opera is a global destination for top quality productions and performances from all over the world.
Suggested Read: Bastakia In Old Dubai: The Ancient Foundation Of The Dazzling City Of Dizzying Heights
Activities You Can Indulge In At Dubai Opera
Dubai Opera hosts musical and theatre productions, plays, comedy routines, orchestras and other performing arts productions from all over the world. Some of the genres include Rock, Pop and Jazz, Opera, Ballet and Classical, Musicals and theatre productions and family and comedy performances. Musicians and artist from the middle-east perform regularly at the Dubai Opera.
Suggested Read: Dubai Marina: The One Stop Destination For Breathtaking Panorama And Unparalleled Luxury
Type Of Shows That Have Been Held At Dubai Opera
Dubai opera has hosted a myriad of shows in the past and continues to do so efficiently. We've shortlisted a few shows that took the world by the storm. Take a look:
1. Placido Domingo who is known as the King of Opera performed at the Dubai Opera. The Nutcracker is a famous Russian ballet that has performed at the Dubai Opera.
2. International Artists like Julio Iglesias, Anoushka Shankar, Rita Ora, the Vengaboys, and classical ballets like The Swan Lake have all performed at the Dubai Opera.
3. Many world-renowned comedians also perform stand up comedy on comedy nights at the Dubai Opera. At any given date, there are a number of performances at the Dubai opera that include a wide variety of genres.
Further Read: Restaurants In Palm Jumeirah, Dubai: 10 Places To Polish Off The Plates In Style
Tourists on a trip to Dubai should include Dubai Opera on their itinerary while visiting this global city. Make sure to indulge in all the touristy things that we've mentioned above. Don't letthe opportunity to visit Dubai's world famous opera slip from your hands.
---
Dubai Holiday Packages On TravelTriangle
Travel Dubai in Luxury. Visit grand Burj Khalifa or the breathtaking Palm Islands. Enjoy Dhow Cruise, International Buffet Dinner, Dubai City Tour, Desert Safari, Ferrari World and Abu Dhabi City Tour. Book your Dubai holiday package on TravelTriangle.
---