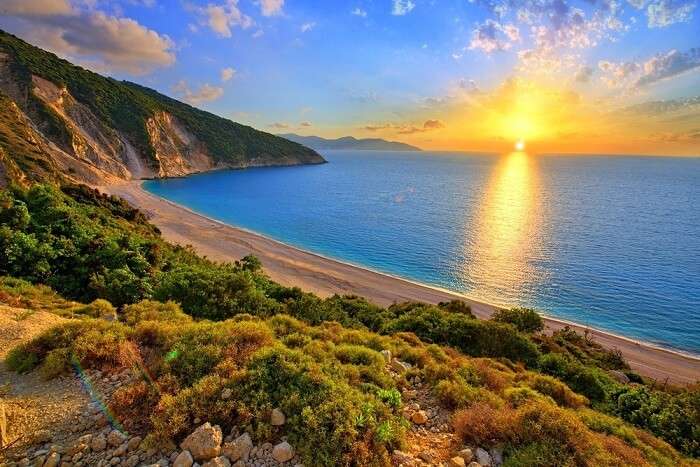 Greece is famous all around the world for the most beautiful beaches. The beaches in Greece are the perfect getaway if you're planning on a vacation where you're surrounded by crystal clear water while laying on the best sandy beaches in Greece. Whether you visit one or any of these beaches in Greece, they are definitely bound to leave you with unforgettable memories lasting for a lifetime.
Best Time To Visit Greece
The best time to plan your vacation is during May-October when Greece is very sunny and pleasant during this time in Greece. July-August is considered to be the hottest months to visit Greece.
June and September are considered to be the months mostly visited by honeymooners and couples. And, one of the best ways to reach Greece is by flight, which is considered to be very convenient any time of the year.
The 10 Most Splendid Greece Beaches
So without any further ado, we have put together a list of some of the best beaches in Greece that you must definitely visit on your next beach vacation.
Elafonissi, Crete
Navagio (shipwreck), Zakynthos
Myrtos Beach
Red Beach in Santorini
Black Beach of Santorini
Simos Beach
Porto Katsiki
Paradise Beach
Vlychada Beach
Sarakiniko, Milos
1. Elafonissi, Crete
Elafonissi beach is located in the southwest region of Crete. It is known for its pink coral and white sandy beaches, with light blue crystal-clear water everywhere. The best part about the water is that it's quite shallow, which is convenient for anyone to easily wade through the stunning lagoon, to reach the mile-long islet. Apart from that, you can also spend time relaxing by renting out the sunbeds on the beach for a small fee or spend your time indulging in delicious Greek food in one of the restaurants at the beach. And, don't forget to visit the Chrisoskalitissa monastery, which is just a few minutes away from the beach. Elafonissi is perfect for any age group to enjoy their time in one of the best beaches in Greece.
Must Read: 10 Castles In Greece That Stand As Witnesses Of The Country's Glorious Past
2. Navagio (shipwreck), Zakynthos
Many years ago, there was a ship which sailed the sea here, which washed up on the beach due to a tragic accident, giving this secluded beach its name. Navagio is situated on the northern side of the Zakynthos island in Greece, it is surrounded by majestic white limestone cliffs, turquoise blue water and white sand, making this beach look out-of-this-world.
The shipwreck is one of the most photographed elements on the beach, apart from the scenic views all around. This beach is considered to be one of the most beautiful beaches in Greece till date, and if you are planning on visiting this beauty, the only way to reach here is by boat. We advise you to not miss out on visiting the island of Zakynthos and witnessing this stunning beach yourself.
3. Myrtos Beach
Myrtos beach is located in Kefalonia is surrounded by steep mountains and extremely tall cliffs behind the Myrtos beach. These are just a few elements which add to the charm of this beautiful beach in Greece. So, if you are looking to enjoy the sun, get a tan on the beach and swim in deep blue water, then this beach is perfect for you.
Myrtos beach has also been voted as one of the best beaches in Greece to visit 12 times in-a-row. While visiting the beach make sure you wear sand shoes, because the sand tends to look like an actual rock, which could be a bit hard on thin soles, while your walking towards the beach. So it is best to wear shoes if you plan on walking to the beach.
Suggested Read: 10 Restaurants In Greece That Are All About Classy Interiors & Delicious Cuisines!
4. Red Beach in Santorini
The name Red Beach says it all, it is known for its unique look due to volcanic lava, which gives the rocks, pebbles and red sand and its mesmerizing red color. It is surrounded by crystal-clear water, giving this beach its picturesque views that can't be found anywhere else in the world.
The beach is very narrow in shape so it is best to avoid visiting Red Beach during July or August because it is very crowded during at this time with tourists. And if you like to snorkel, this is the perfect place to do so because the geological formations give the seabed a deep red hue at the bottom of its seabed. Make sure you carry all your necessities such as water, and w few snacks before making your way to the beach, as the canteens by the parking lot are a bit expensive.
5. Black Beach of Santorini
The Black beach of Santorini is also known as Perissa or Perivolos beach. It is considered to be one of the best beaches Santorini also has to offer. Black beach is known for its black sand, pebbles and also for its relaxed atmosphere. Some of the best beach parties are held here with world-renowned DJs pouring in from all over the world. So make sure you visit because you are bound to have a great time here during your visit.
The Black Beach is also filled with some amazing beach bars that play great music, serve delicious food and yummy cocktails, while you enjoy your time relaxing on a rented sunbed at the Black Beach in Santorini.
Suggested Read: Shopping In Greece: 10 Spots To Shop For The Quaint, Quintessential, And Quirky
6. Simos Beach
Simon Beach is located on a small island called Elafonisos, which has turquoise blue water, with sand dunes and the most unique flora ever seen on the beach. gives Simos beach is known for its super calm waters and its nightlife. Almost anyone can enjoy swimming at the beach because the water is so calm, crystal-clear and shallow. So, kids or the elderly can enjoy a good amount of time in the water, without a worry.
In the evening hours, Simos Beach comes alive with live music and people dancing at the bars located near Simos Beach. Simos Beach is known as one-of-the best beaches in Greece for families to visit, which makes it even more ideal for you.
7. Porto Katsiki
Porto Katsiki is ranked as one of the best beaches all around Europe till date. This beautiful beach has the most coveted and secluded location with a mix of turquoise and aquamarine colored water, with a strip of a white sand beach underneath a grassy cliff. Porto Katsiki is just simply breathtaking, to say the least.
If you are planning on indulging in watersports such as surfing or wind sailing, we advise you to carry your own sporting gear. As there are only a few things available on rent like umbrellas and sunbeds. You can either choose to climb down the stairs to the beach, or you can also reach Porto Katsiki by a water taxi boat.
Suggested Read: Visit Greece In October For A Relaxing Vacation In The Wondrous Greek Setting
8. Paradise Beach
Located on the infamous island of Mykonos this beach is truly paradise. The island of Mykonos is known for its lively nightlife, food and the best beaches in Greece. Mykonos is visited by visitors from across the globe to see the best sandy beaches in Greece with white sand and turquoise blue water everywhere. You can also step in the water usually warm, and enjoy a swim and lay on the beach. You can eat delicious Greek at food at the restaurants at Paradise Beach, without moving an inch. Paradise beach is the perfect place for you to indulge in food, drinks and enjoy the views.
9. Vlychada Beach
Vlychada Beach is also referred to as the White beach of Santorini. This beach is known for its unique landscape which appears as the moon, due to its majestic white volcanic rock formations. Vlychada is known for its relaxing atmosphere and away from the noisy beach bars and any water sports. So the only thing you can do here is a swim in the sea, enjoy friendly conversations, have a picnic or enjoy laying on the sunbeds on the beach. There is also an old chimney belonging to a factory which is a really good place for photography enthusiasts.
Suggested Read: Greece In December 2021: A Guide To Explore The Gem Of Aegean Sea During Winters!
10. Sarakiniko, Milos
This beach is located on the north side of Milos. Sarakiniko also has a unique look to the beach which makes it look lunar-like. It has polished boulder which is white in color and made out of volcanic rocks that embrace the tiny cove. The water is turquoise in color and shallow, making it one of the best beaches for families in Greece. You can enjoy sunbathing on the rocks and also admiring the white volcanic rock formations. Sarakiniko is also one of the best beaches in Greece that you should visit during your trip.
Further Read: Visit Greece In March For A Vibrant, And Colourful Spring Vacation
This right here is just a peek into what Greece has to offer. There are still many beaches which can be explored in Greece. You will definitely be in awe with every glance you take because these are considered to be some of the best beaches in Greece, hands down. So, don't wait any longer and start planning your holiday in Greece for the most memorable vacation of your life. Happy Tripping!
---
Looking To Book An International Holiday?
Book memorable holidays on TravelTriangle with 650+ verified travel agents for 65+ domestic and international destinations.
---