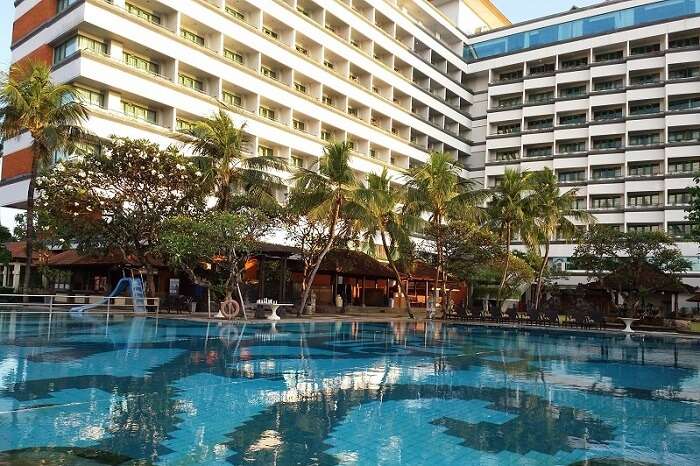 Overview
Inna Grand Bali Beach Sanur is located less than a 5-minute walk from the white sandy shores of Sanur Beach in Sanur. This 4-star property offers world-class facilities with an atmosphere of comfort and privacy.Offering mesmerizing views of the sea, the hotel is a perfect place for couples, and business and leisure travelers. The hotel maintains 3 outdoor pools, and 12 boardrooms for every occasion from the meeting, incentive, convention to exhibition or even a company gathering or small party or private celebration. Featuring an ideal combination of modernity and tradition, Inna Grand Bali Beach Sanur offers a variety of accommodation options which are designed with Balinese modern and contemporary touch with intent to provide the comfort to its patrons. Moreover, the hotel is just a 25-minute drive from Bali Denpasar International Airport and a 15-minute walk from Danau Tamblingan Street.
Amenities
Other than this, Inna Grand Bali Beach Sanur takes good care of its guests by proving a number of facilities. Guests can take advantage of the exclusive facilities like free access to the fitness centre by staying at the hotel. The staff at the front desk assists with laundry requests, arranges massage treatments at the on-site spa with Jacuzzi, and organise meetings at the meeting/banquet facility, all with additional charges. It also features restaurants and bars within the hotel premises for the convenience of the guests. Moreover, it provides free Wi-Fi, free parking and an airport shuttle to all its guests.
Dining
As far as dining options are concerned, Inna Grand Bali Beach Sanur maintains 2 on-site restaurants. Bali Kopi Shop opens for breakfast, lunch and dinner, which serves delectable Asian, Indonesian, and Western fusion dishes to its guests. Moreover, patrons can head to Baruna Seafood Restaurant to taste Mediterranean style with seafood specialities, Indonesian and international cuisines. Other than this, it maintains a casual indoor bar lounge named Rajapala Snack Bar which serves an array of beverages including cocktails, wines and beers and a special monthly cocktail. It takes about a 10-minute stroll from the property to the culinary spot in the surrounding area like Danau Tamblingan Street.
While surrendering oneself to the tranquillity of the place, let go of all the stress and anxieties and indulge in a range of well-being activities arranged by the hotel. Special spa treatment and fitness centre services are likely to engage one in a total mind-body workout. Also, the hotel aims to gain modernity with tradition.
Hotel Accommodation
Deluxe Rooms
Junior Suite
Regency Suite
Executive Suite
Presidential Suite 7th Floor
Presidential Suite 8th Floor
The hotel maintains 246 well-furnished rooms on a ten storey tower building. The rooms are equipped with all the modern facilities categorised as Deluxe Rooms, Junior Suite, Regency Suite, Executive Suite, Presidential Suite 7th Floor and Presidential Suite 8th. The air-conditioned rooms at Inna Grand Bali Beach Sanur are all tastefully decorated and fitted with modern amenities like a flat-screen cable TV, mini bar, personal safe and a wardrobe. The rooms come with an attached bathroom featuring a hot and cold shower and bath facilities complete with slippers and complimentary toiletries. Moreover, towels, linens, and an electric kettle are also available in the room. Guests can also enjoy views of the lush green garden or the sparkling ocean from the rooms.
Hotel Highlights
Have an unforgettable culinary experience at the hotel's restaurants
Relax your senses and mind at the spa with Jacuzzi
Enjoy the seashore and sunbath while reclining on sun beds
Try signature cocktails and mocktails at the in-house bar
Take advantage of the exclusive facilities like free access to the fitness centre
Fitness enthusiasts can avail the services of personal trainers
Enjoy lush green views or sea views from the rooms
Indian Restaurants Near The Hotel
Curry In Bali
Little India
Sitara Indian Restaurant Denpasar
FAQs
Q1. How much time does it take to reach the International Airport?
A. Inna Grand Bali Beach Sanur is located around a 25-minute drive from Bali Denpasar International Airport
Q2. Does the hotel offer airport pickup from the airport?
A. Yes, the hotel provides airport shuttle services to its guests.
Q3. What are the leisure things to do in and around the hotel?
A. Inna Grand Bali Beach Sanur allows you to enjoy sports like golf. One can enjoy spa sessions within the hotel premises and can even go for a workout at the fitness centre. Guests can explore the natural beauty of place by opting for Jogging and bicycling. One can indulge in water sports including fishing, diving and snorkelling.
Q4. Does the hotel maintain a business centre?
A. Yes, the hotel maintains a business centre for all its guests.
Q5. Does the hotel provide free Wi-Fi to its guests?
A. Yes, the hotel provides free Wi-FI in and outside the rooms to all the guests.
Set against the glittering Indian Ocean, Inna Grand Bali Beach Sanur is a perfect place for nature lovers! Here, experience the beauty of raw nature and find solace while being surrounded by vibrant greenery and soothing ambience. The hotel is also known for offering warm hospitality with friendly staff. One can enjoy stunning views of the sea, emerald gardens and beach from the rooms most of the rooms. Whether it's a spa treatment, gym or water sports, the guests have endless ways to unwind. Get a taste of authentic local and international cuisine made from the freshest ingredients in the in-house restaurants. Further, guests can also indulge themselves in beach picnics, shell-craft lessons and supervised scuba diving. Meanwhile, adults can enjoy the hotel's bars to experience the nightlife of the place. The flawless and personalised services of the hotel are what a traveller looks for.