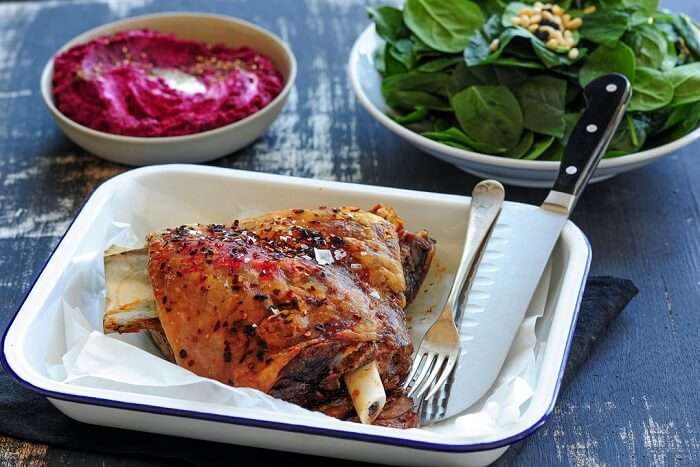 With the explosion of tourism to this small Island nation of Iceland, people have started getting familiar with the existence of Icelandic cuisine as something different from Scandinavian one. Chefs in popular restaurants in the Western World have started to try and replicate Iceland food items. Although slowly becoming popular, most people don't know what to expect once they reach Iceland.
Best Iceland Food Items
To help you get the best of authentic Iceland food, we have prepared a list of must-try Icelandic dishes and where to try them for you to have the best food journey through this beautiful nation:
1. Icelandic Lamb Soup
This local delicacy has been continuously consumed in Iceland for centuries, popular amongst the visitors and tourists to Iceland, this local delicacy is a perfect food for the dark winter days of Iceland. There's no static recipe for this one, the ways of cooking may vary from family to family depending on the myriad of traditions and culture they follow.
Where to eat: Café Loki
Location: Lokastígur 28, 101 Reykjavík, Iceland
Must Read: 35 Best Places To Spend Christmas In Europe In 2022
2. Reykjavik's Hot Dog
Made with a blend of some of the simplest ingredients like Beef, Pork, Chicken, Lamb, and some special herbs, these hot dogs are considered the best in the world. With Crispy outside and the juicy blend of meats in the inside with crunchy onions and veggies, this simple food has become a worldwide star. Even though the popularity of this food item has crossed the sky, it still remains as affordable as any hot dog in the USA.
Where to eat: Baejarins Beztu Pylsur
Location: Tryggvagata 1, 101 Reykjavík, Iceland
3. Fermented Shark
One of the most popular dishes which has gained fame internationally, the fermented shark might be the first dish you hear whenever a talk about Icelandic Cuisine pops up. The traditional way of fermenting shark meat is by burying it in the ground and then urinating on it before leaving it to fry for months. Thankfully the fermentation process has now been improved, today the process involves burying the shark in the ground and then letting it dry.
Where to eat: The Icelandic Bar
Location: An Ingólfsstræti, 101 Reykjavík, Iceland
Suggested Read: Indian Restaurants In Vienna: A Taste Of Home In The Heart Of Europe
4. Sheep Head
Another one of the old traditional dishes that are not so common these days unless pre-ordered several hours before. If you get past the site of the clumsy fermented sheep head in your plate, according to the locals the cheeks taste the best. Traditionally eaten eyes first, most people eat it cheek first these days because some don't want to eat the eyes and some want them at the last.
Where to eat: Myrin Mathus
Location: 10, Vatnsmýrarvegur, 101 Reykjavík, Iceland
5. Dark Rye Bread
Rúgbrauð is a traditional dark rye bread eaten in Iceland in Europe. The bread is made by baking it traditionally inside a wooden casket or special steaming pots and burying them in the ground near a hot spring. The bread is crust-less, dark in color and rather sweet in taste. Eaten as a side dish accompanied by Butter with various Icelandic meat dishes, the bread can be brought from any of the grocery stores, it's available on most of them.
Where to eat: Gamli Bistro
Location: Reykjahlíð, Iceland
Suggested Read: 10 Churches In Netherlands Which Offer A Glimpse Of The Ancient Structures Of Europe!
6. Dried Fish Jerky
If you are a fan of the texture of jerky and if you like Fish, this is a must eat dish for you. Easily purchasable at any supermarket, it is eaten as a side dish with many meaty main courses accompanied by the Icelandic Sheep butter. Please ensure that it is stored in an airtight container because the smell will make it unbearable.
Where to eat: Wake up Reykjavik
Location: Austurstræti 17, 101 Reykjavík, Iceland
Suggested Read: Head To San Marino Now: The Fastest Growing Travel Destination In Europe
7. Skyr- The Icelandic Yoghurt
This a thick dairy product absolutely loved by the locals in Iceland. Best described as a fusion of Yoghurt and Cottage Cheese. Made using Pasteurized milk and bacteria similar to yogurt, this delicacy is often served with traditional berry jams. The delicacy tastes somewhat like Greek Yoghurt. Nowadays with automation cooking, the dish has become easier and it doesn't take that much time now, there's no need to worry the chefs have ensured that the taste remains same as in past.
Where to eat: Rjoma Bio Erpsstadir
Location: Erpsstadir, Budardalur, Iceland
Suggested Read: Do Not Forget To Visit These 10 Incredible Castles In Italy On Your Next Trip To Europe
8. Slow Roasted Lamb
The Icelandic hill sheep are one of the purest breeds in the world and they have been grazing on the same land since the first settlers brought them in the 9th Century AD. Lambs in Iceland are bred and reared naturally that's why the meat is considered one of the best in the world. The traditional way to cook Slow Roasted Lamb is putting them on a low temperature with fresh herbs for hours which gives them the fresh aroma and the taste.
Where to eat: Laekjarbrekka
Location: Bankastræti 2, 101 Reykjavík, Iceland
Further Read: Top 9 Places To Visit In Zagreb To Savor The Best Of South Europe In 2022
Continuing the tradition of their forefathers, the Icelandic people continue to serve authentic Iceland food to the outside world. They are constantly gaining admiration for their cuisine — as it becomes famous to the outside world with each passing day opening of this small Island nation to the world. Visit Europe at the earliest to experience these culinary delights.
---
Looking To Book An International Holiday?
Book memorable holidays on TravelTriangle with 650+ verified travel agents for 65+ domestic and international destinations.
---