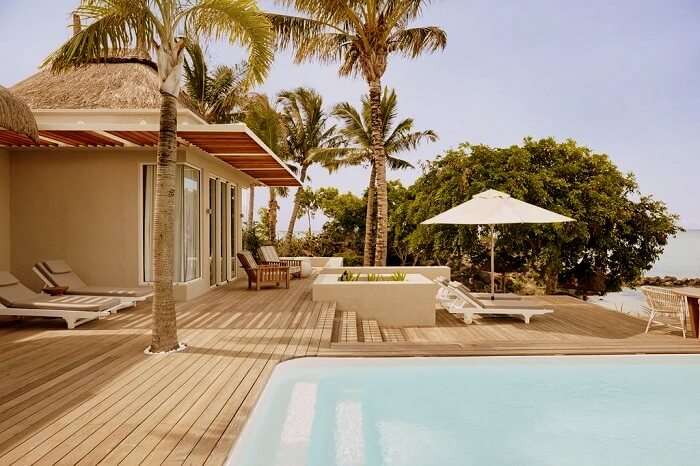 Overview
Honored as one of the elegant and boutique resorts in the country, Legends Hotel Grand Gaube Mauritius is a timeless escape bespoke to perfection. The hotel welcomes all sorts of travelers whether one is on his honeymoon or on his family vacation. It has everything to cater to the needs of the visitors. Set amidst lush tropical gardens, this hotel has beaches and lots of natural beauty. انواع القمار It is enveloped by undulating coves and the calmest of lagoons. The villas are decked with all luxurious amenities which are enough to offer one an opulent staying experience. Their contemporary four poster junior suites in Legends Grand Gaube give way to the sleek oversized bathrooms and ensure intimacy, privacy, and the finest ocean views. These villas and rooms are inspired by different elements and hence with corresponding color schemes and materials.
Situated pretty close to the fishing village of Grand Gaube, this beachfront resort is actually located 18 km from Maheswarnath Hindu Temple and 13 km from Chateau de Labourdonnais Museum. It is located in the close proximity to a plethora of tourist attractions.
Amenities
Along with featuring plush settings, incredible decor, and stunning views, Legends Hotel Grand Gaube Mauritius is also famed for its plenty of facilities and services. This place is a golfers' paradise with its own driving range. Apart from this, it has richly intimated salon, complemented by a secluded outdoor dining oasis.
Dining
This ravishing hotel is widely known for its spectacular architectural beauty and picturesque location. With over 6 restaurants on site, this hotels brings it's guests all the flavors. The Palm Court Restaurant serves some delicious Indian, Mediterranean and Italian cuisines. The Beach Rogue Restaurant brings along some lip-smacking international favorites while the INTI Restaurant will give one the taste of some Peruvian food. Bodrum Blue is known for its savoring Turkish Delicacies and if one wants to taste some Creole food, then head over to the Creole Smoke House. The hotel also has a BB's Restaurant that guests can try as well. There is an onsite coffeehouse and a bar and as well where one may enjoy a drink or two.
Needless to mention, that Legends Hotel Grand Gaube Mauritius is Island's most popular and resplendent hotel and thus offers guests an ultimate luxury and comfort.
Hotel Accommodation
Superior Double Room
Deluxe Double Room
Junior Suite
Ocean Junior Suite
Lux Suite
Family Suite
Prestige Junior Suite
Lux Villa
Ocean Villa
Legends Hotel Grand Gaube features rooms, suites, and villas so that traveler can choose as per his needs. Rooms are divided into categories i.e. superior rooms and deluxe rooms, suites are further divided into senior suites and junior suites. All these rooms, suites and villas are elegantly designed and thus allow visitors to experience luxury at its best. With their bespoke interiors, great ambiance, soothing lighting, dazzling views, this accommodation are ideal for all sorts of travelers. Their premium villas with their high-end features and amenities welcome large families or extended group of friends. These villas offer retro chic indoor-outdoor lifestyle and acres of space.
Hotel Highlights
Enjoy sports like Tennis and a variety of water sports offered by the hotel
Relax and unwind at the spa and wellness center at the hotel
A gym enthusiast is sure to love the large and well-equipped fitness center here
The hotel features a well-designed kid's club and thus cater to the needs of the young ones
Enjoy fine dining experience at the hotel and savor the authentic a well as international flavors
Indian Restaurants Near The Hotel
Happy Rajah
Thali Express
Le Tandoor
FAQs
Q1. Can one bring their pets inside Legends Hotel Grand Gaube Mauritius?
A. Yes, of course. Legends Hotel Grand Gaube Mauritius is a pet-friendly property and thus guests can bring their pets here.
Q2. Is Butler service available in the Legends Hotel?
A. Yes. High-end villas at Legends Hotel Grand Gaube Mauritius features private butler service for guests.
Q3. Will one be able to find an on-site bar at Legends Hotel Grand Gaube Mauritius?
A. Yes sure. Legends Hotel Grand Gaube Mauritius features a poolside bar where visitors can enjoy a complete range of drink options along with the stunning poolside views.
Q4. Will one have to pay something for enjoying breakfast at Legends Hotel Grand Gaube Mauritius?
A. No. Complimentary breakfast is served in 1 of the 4 restaurants at Legends Hotel Grand Gaube Mauritius.
Q5. Can one find Jacuzzi facility in Legends Hotel Grand Gaube Mauritius? بطولة امم اوروبا 2023
A. Jacuzzi is available in all plush suites at Legends Hotel Grand Gaube Mauritius so that guests can experience luxury at its best.
One is sure to fall in love with the majestic ambiance and awe-inspiring charm of Legends Hotel Grand Gaube Mauritius. Overlooking the Indian Ocean, this property is a perfect mix of luxury and pleasure. This place is a pristine paradise with the spectacular views of the turquoise waters and golden sandy beaches. Moreover, the paradise island of Mauritius multiples its charm and beauty by manifolds. Mauritius is famous for its ethereal beaches, coral islets, white sand, azure water, commendable weather, unique culture, and friendly people. This place is ideal for honeymooners and offers a plethora of places where one can cheer some memorable moments with their loved ones. As a true destination resort, Legends Hotel Grand Gaube Mauritius is a perfect choice to make one's vacation unforgettable. Undoubtedly, staying in this resort is an entirely new way savor the beauty of Mauritius.