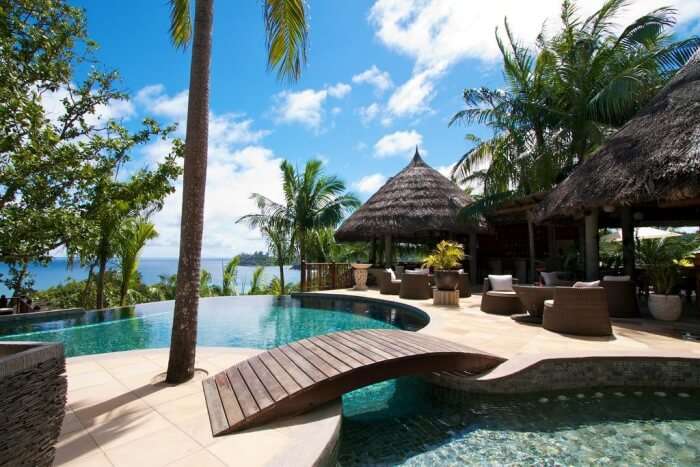 Overview
Mahe is the first and preferred destination in Seychelles no matter where one is headed. There are many Mahe budget hotels which offer a world-class experience to its visitors. Mahe is very diverse and is also the largest of the islands of Seychelles. It is known for its abundant beauty, with its palm-fringed and sandy beaches and the clear blue sky throughout the year. Staying at such an island can only be possible in dreams, but it can become a reality when travelers choose to stay at Mahe budget hotels.This island is barely visible in the world map; however, it is the best-kept secret of the world. The Granite Mountains are visible from a distance, even though they are located away from the shores. The lush green mountains touch the coasts of Mahe at the foothills. Most cheap hotels in Mahe are situated along pristine beaches, and each island is unique in its characteristics. It is thriving with the tourism industry and through exports of seafood like Tuna fish and various other seafood.
Special Experiences
The best way to experience Mahe is by staying on the beach at the Mahe Budget Hotels. Exploring the idyllic Eden Island is a unique experience in itself. Those who wish to do this, need to find cheap hotels in Mahe that are quiet and enjoy plenty of walking around. The tranquil sea waters turn amazingly noisy during the nights with various noises from the sea creatures. One of the resorts that offer this fantastic experience is Daniella's Bungalows, which is hidden in a quiet nook of Eden Island. It is one of the small Mahe budget hotels. However, they offer uncompromised services. Home cooked food is one of the best specialty of this hotel. All modern amenities like Wi-Fi and high-speed internet are available here. It is a home-run resort. Another such resort is Villa Roscia with similar facilities, and it is also run by the owner, who also lives in the villa. Mahe and its popular nooks and corners are best known for the picture-perfect sceneries and vistas.
Facilities
Tourists often get worried about staying at Mahe budget hotels because they feel they may end up compromising quality and overall holiday experience. Places like Maison Soleil do not let tourists feel that way, as they offer top of the class amenities at affordable prices. Some of the unique facilities include prompt room service, breakfast on the house and a free welcome drink. The best way to experience their warm welcome is to skip the cocktail and enjoy delicious tender coconut water. It is known best for its immaculate cleanliness. The top rated resort for its service is the Romance Bungalows, which has maintained an outstanding reputation. As the name suggests, it is a quiet place for newlyweds and romancing couples. The service is very prompt and delivered at lightning speed. There are special amenities like wellness beauty therapies and a crowd-free beach.
Dining
Tourists can explore a lot of places to dine in Mahe that are easy on the pocket. Many cheap hotels in Mahe Seychelles offer best services and restaurants with beautiful ambiance. These vistas are not just reserved for the top star hotels and are affordable for all tourists. Ocean View Guesthouse offers breakfast and dinner by the seaside with a beautiful view from their sea-facing balcony. They are best rated for their breakfast, which includes a wide range of cuisines while dinners are usually organized with a lot of live counters, including Teppanyaki. Mahe budget hotels like L'Habitation Hotel offers a dining experience that is out of the world. Many tourists, who visit this place, are awestruck with their service and the experience of dining here. Even though the choices are limited, each dish is lovingly prepared and delicious. The desserts that they serve are the talk of the town in Mahe.
FAQs
Q1. Why is Mahe the best place to stay in Seychelles?
A. Mahe is a beautiful, clean and affordable for many people who are on a budget trip. Mahe's proximity to other important beach destinations within Seychelles is also a good point to note.
Q2. Is Mahe good to travel to with children and pets?
A. There are many child-friendly beaches in Mahe, and it is ideal for children as the sea is never rough and there is no worry about strong waves. Children can happily wade in the water and be safe. There are many pet-friendly beaches in Mahe, and there are no specific restrictions against pets.
Q3. How expensive is Mahe?
A. With cheap budget hotels, Mahe is very affordable and not very expensive for a budget conscious traveler.
Q4. Which is the best island on Mahe?
A. Eden Island is the best for staying in Mahe, as it is quiet and also a top-rated attraction in Mahe.
Q5. Are the beaches clean in Mahe?
A. Seychelles is best known for its spectacular cleanliness and plastic-free policy. All the beaches are clean and spic and span.
No matter what the final destination in Seychelles, all the tourists have to start from Mahe. It is impossible to miss this tiny island which is the biggest in Seychelles. For most people, Dubai is an expert in creating artificial islands. However, Mahe has not left any stone unturned. Eden Island in Mahe is an entirely artificial island that is built to characterize the rest of Seychelles. Tourists can now enjoy the beauty of Mahe by staying in cheap hotels in Seychelles Mahe island. Mahe is the best wealth of this country and its top features its pristine beaches, swaying palms, and sea life. There are giant turtles that come to the seashore, and it is not difficult to spot sharks and dolphins swimming and frolicking in the water. The beautiful views of the Granite Mountains are best visible from every corner of Mahe. To experience this mystic world on a budget, it is best to opt for cheap hotels in Mahe, Seychelles.